On the way home from my birthday trip to Dubrovnik, I spent the night in Barcelona before returning to the USA. I stayed at the Hyatt Regency Barcelona, which is only about 10 minutes away from El Prat Airport.
Hyatt Regency Barcelona Review
Booking
I booked the hotel for €169, which was more expensive than going into the heart of Barcelona and staying at Hotel SOFIA, another Hyatt hotel I love, but it just made sense considering the late arrival and early departure.
Location
After arriving at close to 11:00 pm, I just wanted to get to the hotel, take a nap, and then get up and get my work done prior to the flight. The Cabify app would not work…annoyingly, I would request a text message verification and none arrived. I ended up just hopping into a taxi, where I paid just under €20 for the short ride to the hotel. I paid another €20 to go back the following morning.
This isn't necessarily the hotel you want to stay in if you are a tourist in Barcelona. Although not too far from the city center, I'd certainly consider this more an airport hotel than a city hotel.
I found the hotel hopping. On the roof of the hotel, an architecturally odd building that looks like a relic of the 1970s, is a night club and being a Friday the place was hopping.
Here's what the hotel looks like during the day:
I weaved my way through the crowd to the front desk of the hotel, which was deserted. The agent was brand new, but thanked me for being a Globalist and apologized there were no suites available. He offered me the drink of my choice (presumably from the hotel bar, located just behind the check-in desk on the lobby level), but I just requested a glass of water.
The hotel has a very odd elevator system in which you input what floor you are traveling to on a keypad and it then directs you to which elevator to use. Once inside the elevator, there are no buttons to press. This was not a very efficient system and wait times for the elevator were bad both late at night and in the morning when I was trying to depart.
King Room
My king room, 815, was small, but clean, with a "real" king bed (not two twins pushed together), desk, and small couch. The room had no character really…it felt like most Hyatt Regency hotels in the USA!
The wall above the desk had a universal outlet and a pair of USB-A ports.
A refrigerator had two bottles of water, though the promised espresso machine in the room was not present…instead, there was just a water kettle.
The restroom had a toilet, sink, and walk-in tub (it appeared my room was an accessible room, based upon the handlebar over the toilet). Toiletries were in individual bottles and by Pharmacopia.
Previous Stay – King Suite
As a point of comparison, I was upgraded to a suite during my prior stay at the hotel (which I did not review). That room, 2404, included a living room, a huge walk-in bathroom, a guest bathroom, and a bedroom about the same size as a standard room.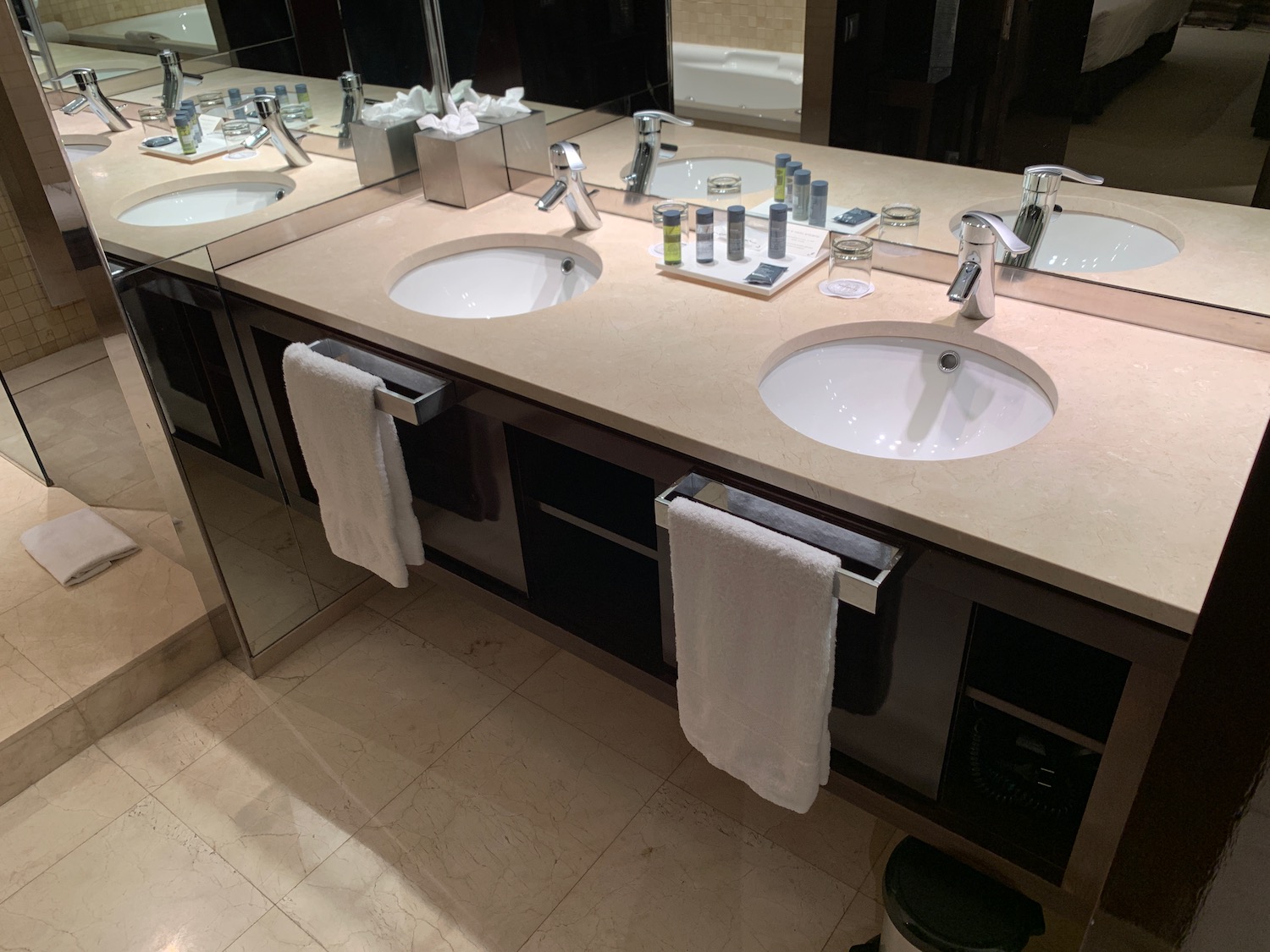 The views from the hotel are not stunning:
Dining
This hotel has several food and beverage options.
Breakfast At Azimut Restaurant
Each morning, a large buffet is offered at Azmiut, 7:00 am – 10:00 am on weekdays and 7:30 am to 10:30 am on weekends. Nothing struck me as particularly noteworthy, but I enjoyed a fried egg with watermelon and espresso as the sun rose.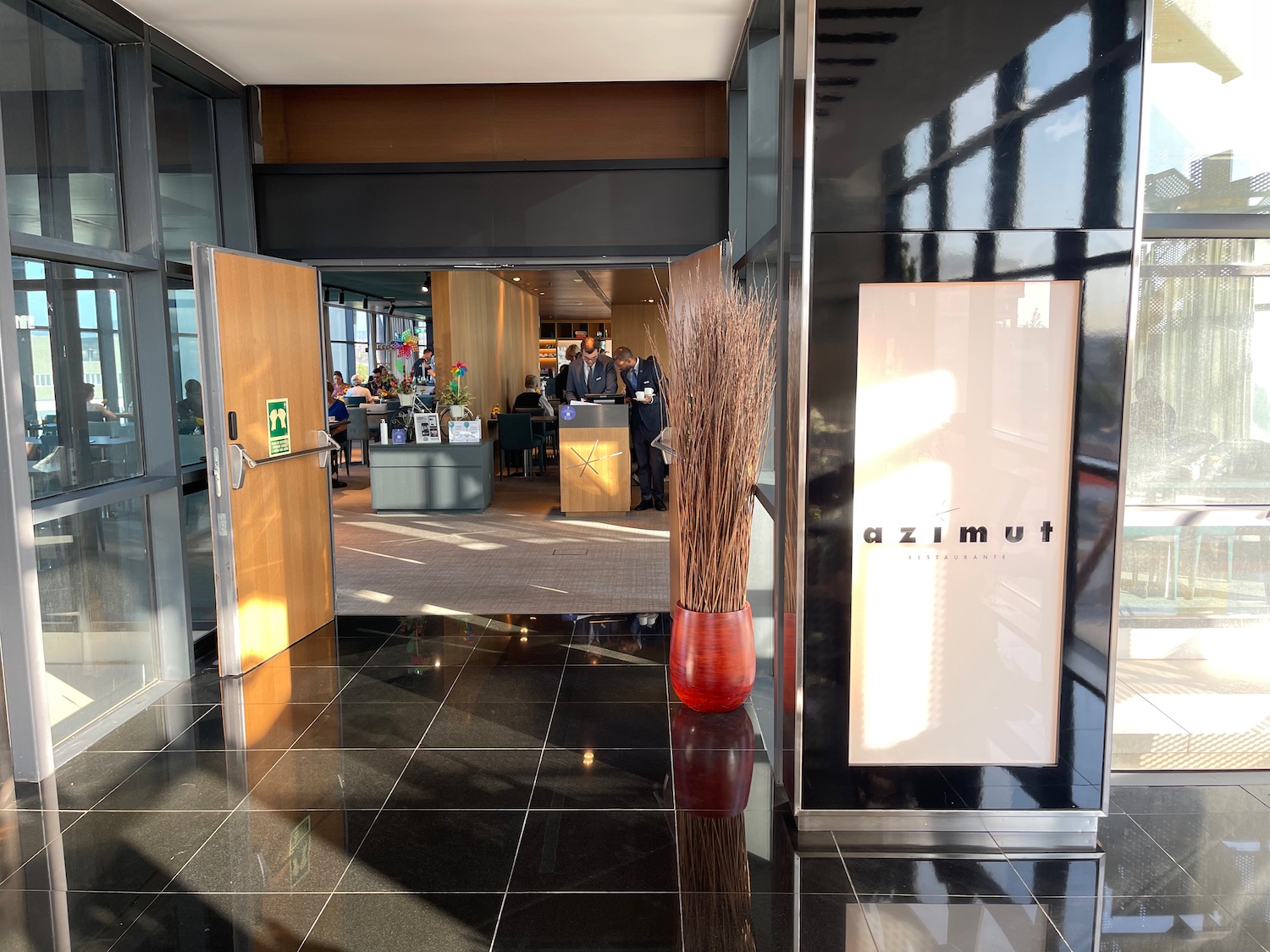 Axis Lounge Lobby Bar & Terrace
The aforementioned lobby bar offers indoor and outdoor seating and is open until 1:00 am.
Skyfall Cocktail Club
Skyfall is why the hotel was so packed when I entered. It seems to be quite the popular place on weekends.
Terrum Restaurant
The hotel's main restaurant, Terrum is curated by Chef Juanjo Martínez and open weekdays for lunch from 1:30 pm to 3:30 pm and daily for dinner from 7:30 pm to 10:30 pm.
Market
Also on the lobby level is a 24/7 market, with coffee, beer, wine, soft drinks, and food items like sandwiches, salads, and baked goods.
Regency Club
A Regency Club does offer evening cocktails and hors d'oeuvres, though I arrived too late and left too early to experience it. Breakfast is in Azimut rather than the Regency Club.
Fitness Center – Metropolitan Sport Club
Perhaps my favorite (and least favorite) part of this hotel is that the fitness center is located off-site. The hotel allows guests to access the Metropolitan Sport Club, a gym chain that is pretty posh. You're given a token at the front desk which you can use to access the turnstile to enter this gym. The equipment is great and there's a swimming pool, sauna, and steam room. It was perfect, except for the fact that it did not open until 9:00 am on Saturday…I only had 45 minutes to use it before rushing to the airport and had to eat my breakfast first.
Pool
Finally, the hotel does have its own pool, but it is small and only open from 10:00 am to 7:00 pm.
CONCLUSION
Both of my stays at the Hyatt Regency Barcelona have been pleasant, with kind service, a nice breakfast spread, and a great fitness center located next door. The location is not ideal if you are exploring Barcelona, but it's a great place to stay the night before a flight.