The Marriott Newark Airport is convenient and clean, serving as a pricey yet welcome crash pad after a late evening arrival into EWR with an early departure the following morning.
Marriott Newark Airport Review
Booking
My SAS flight arrived at 9:00 pm, too late to make a same-day connection home from Newark to Los Angeles. I chose the Marriott because it is the only on-site hotel at Newark Liberty International Airport and because I had an expiring award credit with Marriott (up to 40,000 points) that was only good for another two weeks. While that was perfect timing, I probably would have chosen this hotel anyway considering I had an early morning flight to Los Angeles.
The nightly rate was $339 so it was certainly not a great use of points, but it was also nice to save the $339 (plus taxes) out-of-pocket.
Shuttle + Walking From Terminal To Hotel
The hotel has a shuttle, but as I proceeded out of Terminal B, I saw the hotel in the distance and just walked over. I had to cross a few barricades and a couple streets in the process, but within five minutes I was standing in line waiting to check-in.
Check-in lines were two parties deep and the lobby was packed, but 10 minutes later I had my room key and was on my way upstairs to my room, 1003.
I do not stay in many Marriott hotels and it seems that every time I do, they are like this one: drab but clean and efficient. My room included a queen-size bed, end tables with plugs on each side, an L-shaped couch, a desk, a TV, and a closet without a door.
From my room, I could look out at the airport control tower.
The small bathroom included a single sink, toilet in the middle of the room, and small shower. Bath products were in large bottles secured to the wall.
I logged into the internet and was surprised to see that guests who are not Marriott Convoy members are charged $12.95/day for basic internet (my "enhanced" internet was free due to my Platinum status).
Speaking of that, I was not offered any sort of room upgrade on account of my Platinum status and did not even ask…I just wanted to sleep.
And sleep I did (though I unplugged the phone first, just in case). I went right to sleep and slept well, but woke up quite early so that I could exercise and eat breakfast before the flight.
Fitness Center
Awakening before dawn, I trudged down to the fitness center, which was quite crowded considering the early hour, and managed to workout for about 45 minutes. The gym was limited in terms of resistance equipment, but in a sense I welcomed that since it forced me to do more "manual" exercises like push-ups and planks that I should be doing more often anyway.
After my workout I headed over the Elite Club Lounge for breakfast.
Elite Lounge
Located through a door in the restaurant on the ground floor, I just waltzed right into the unstaffed club lounge for breakfast (my Platinum status included access).
There was a sign-in sheet at the front desk (I have to wonder if that is ever actually checked), but no staff member.
But the breakfast spread was admittedly quite decent, with a buffet including fresh fruit (even berries), hardboiled eggs, cereal, yogurt, bagels, muffins, croissants, pastries, toasting bread, pancakes, scrambled eggs, bacon, sausage, and potatoes.
I walked away from breakfast satisfied and ready for a productive flight ahead.
The coffee wasn't great, though (far too weak)…but I drank it anyway. Tea and juice were also available.
The dining room was quite large, through mostly empty for the 20 minutes I was there.
Aviation Grill
For guests without lounge access, breakfast is served at Aviation Grill, which also serves lunch and dinner (open from 6:00 am to midnight) and also is home to the hotel bar.
The Lobby Shop
For those just looking for something quick, The Lobby Shop is also located on the lobby level (as the name implies…) and sells light snacks and Starbucks Coffee. It appeared to be open 24/7.
I also noticed complimentary apple cider and water outside the Lobby Shop in the morning, which is a nice touch (though coffee would have been nice).
Business Center
I rarely use them, but sometimes they come in so handy…the lobby level also includes a business center with desktop computers and complimentary printing, faxing, scanning, and copying.
Walk Back To EWR
Again, rather than wait for a shuttle back to the terminal, I just walked through the parking lot and was shortly back at the terminal (seven minutes). Again, I had to hop over a few barricades with my carry-on bag, but it was no big deal.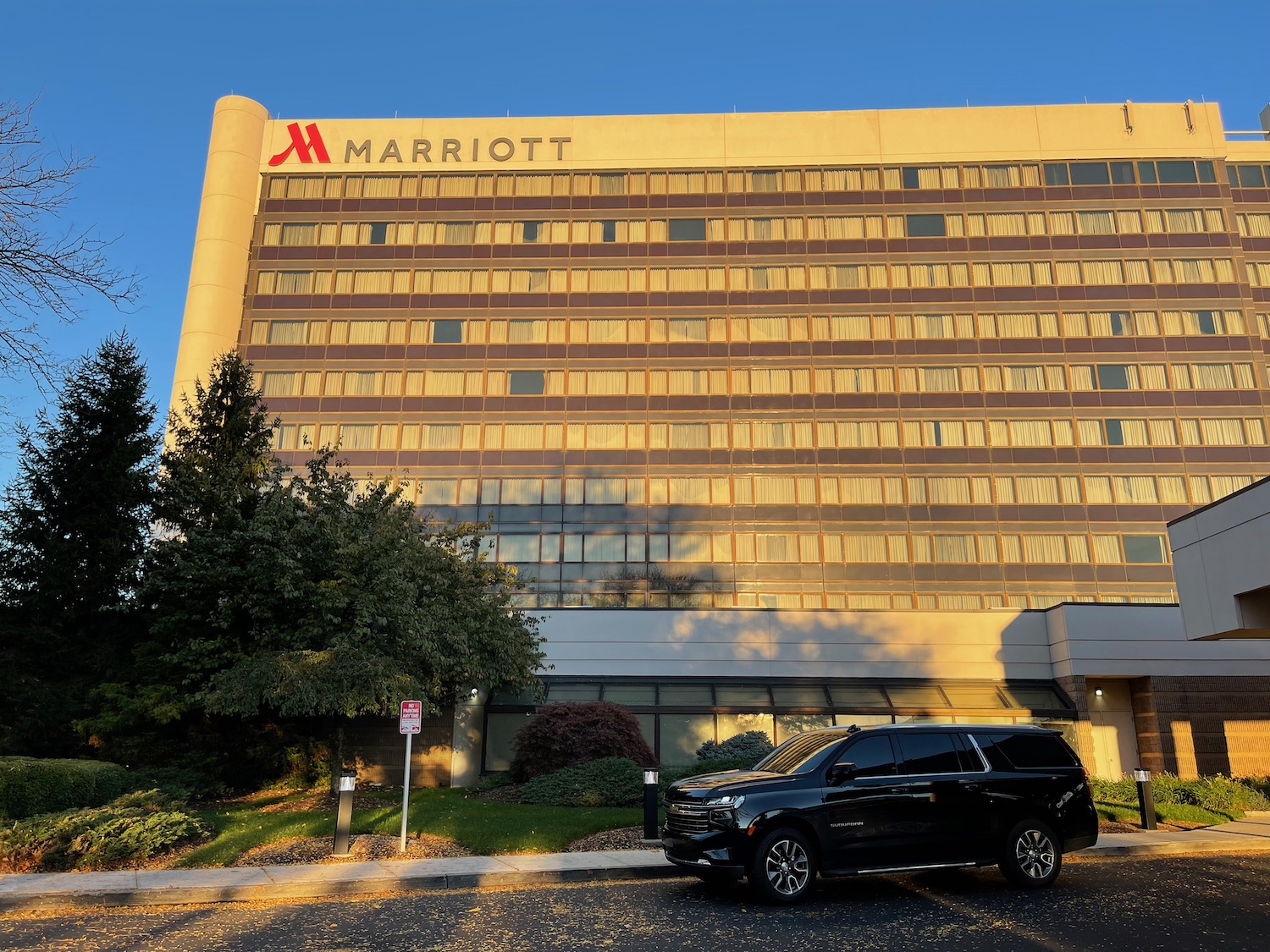 CONCLUSION
I needed a convenient hotel close to the airport and that is exactly what the Marriott Newark Airport is. It's pricey for what you receive, but in this case it is about the location, location, location and in a similar circumstance I would not hesitate to return here again.