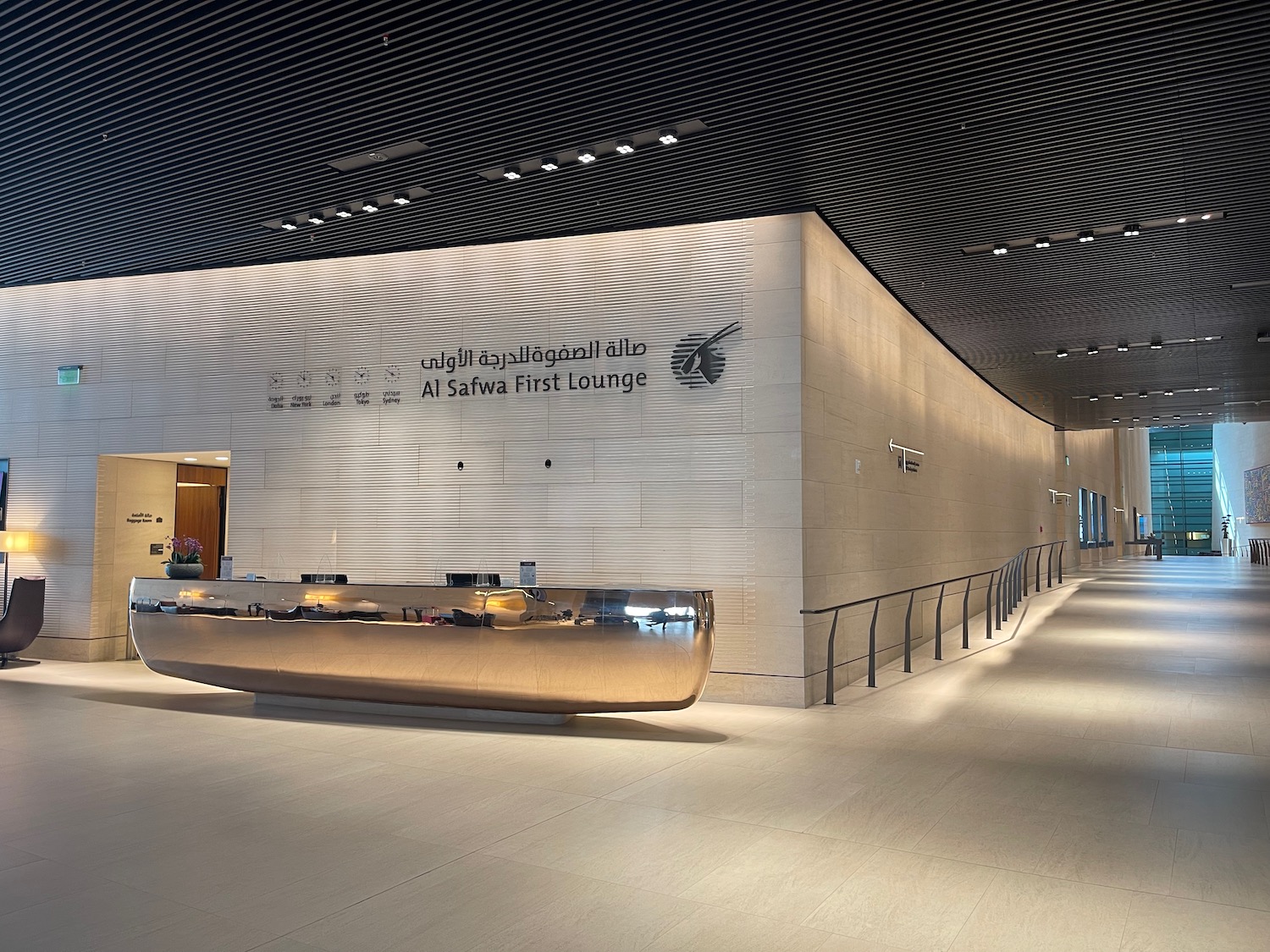 The Qatar Airways Al Safwa Lounge is a restful oasis for first class passengers and represents one of my favorite lounges in the world. If you are flying in first class on Qatar Airways, this lounge is worth arriving early for.
Qatar Airways Al Safwa Lounge Review
I visited this lounge ahead of my flight to Amman. Qatar Airways classifies business class within the Middle East as first class, thereby making the Al Safwa lounge a cornerstone of the premium cabin offering.
Hours + Access + Location
Qatar Airways closely guards access to its Al Safwa lounge, allowing entry only for Qatar Airways first class passengers or Privilege Club Platinum members traveling in business class with Qatar Airways. Other oneworld Emerald members are not granted access unless flying in first class on Qatar.
The lounge is open 24/7 and located on Level 3, with an entrance (via escalator or elevator) not far from the security checkpoint. As you enter, your boarding pass may be scanned at the bottom of the escalator or instead may be checked upstairs.
You can also enter from the other side. If you're on the Level 2 (the main departures level) just follow signs to the Al Safwa Lounge.
Design + Seating
Modeled after the Doha's Museum of Islamic Art, the lounge has a very minimalist look. While opinions may be divided over architectural and design preference, there is no disputing this is a unique lounge. Personally, I love the look of this lounge. The fine art, water fountain, and natural light create an inviting environment.
As you enter the lounge, you will see seating between the reception and restaurant. Each seat has a power outlet. I love sitting down with the sound of water running nearby.
Peek out through a door near the restaurant and you will find another large sitting area with self-serve drinks.
In addition to the dining area, there is more seating by the window between the reception and spa.
Spa
A full range of spa services are available, though are not complimentary.
You can review the menu here:
My layover was too short for a treatment, but I plan to try one out next time.
Restrooms + Shower
In years past, there (strangely) no complimentary showers available unless you reserved a private bedroom (more on that below). Today, you can use one of the showers located in the locker room of the spa. Proceed to the spa and ask at the desk to use a shower. You will be escorted to the gender-segregated lockers.
Toiletries like dental kits or shaving kits were available.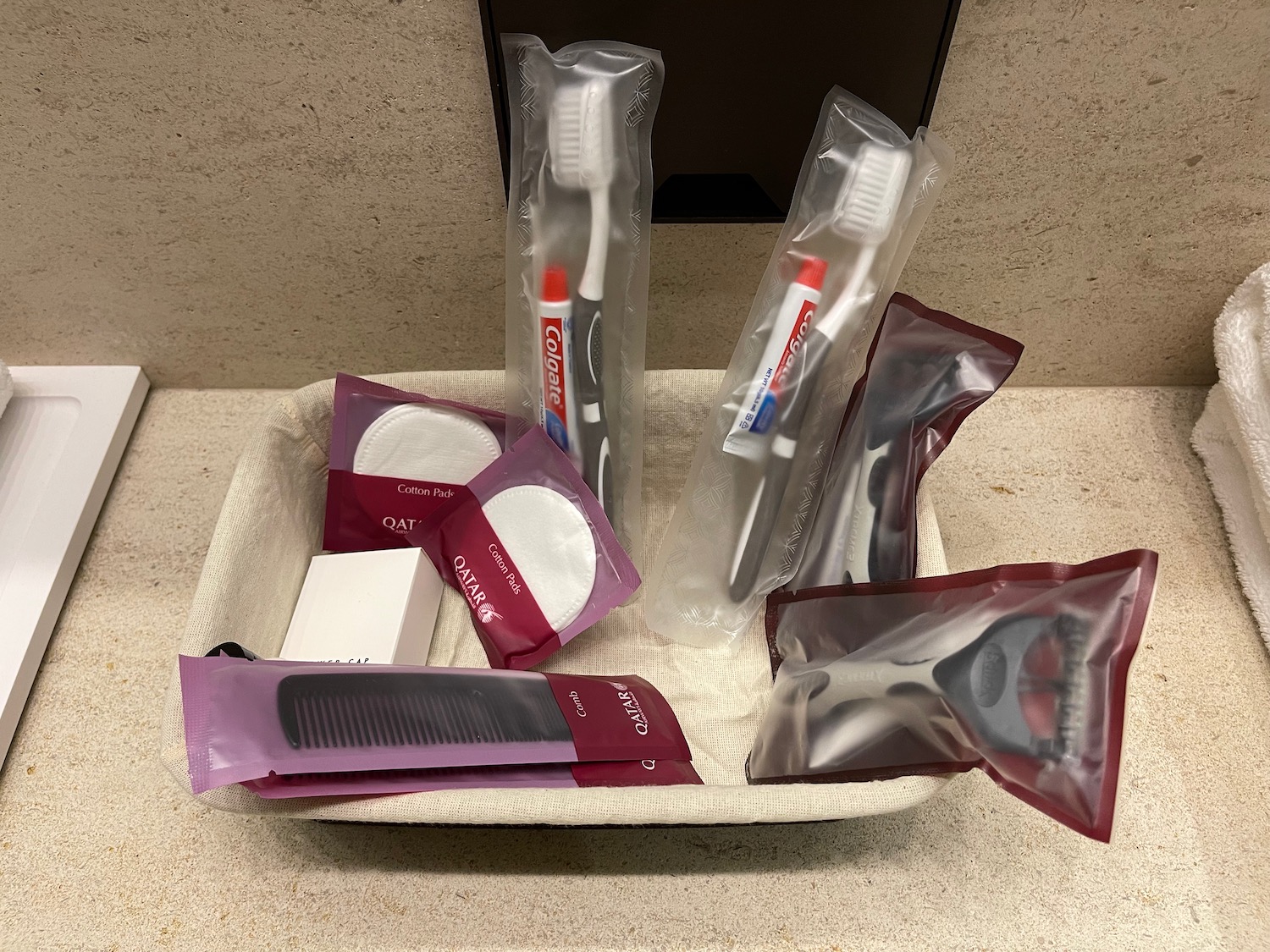 There's also separate restrooms in the lounge located close to the restaurant area.
Dining
The 250-seat dining room offers an a la carte menu of food and drinks 24/7. You can review the current menu here or by scanning the QR code below.
I arrived for breakfast and enjoyed a feast.
Breakfast began with a flat white (the lounge features a superb manual coffee machines, with delicious barista-made coffee) and a glass of water. I love the blue crystal glasses Qatar Airways uses in the Al Safwa Lounge and onboard in first class.
Next came a basket of fresh, hot croissants, a glass of freshly-squeezed orange juice, and a berry smoothie. Yes, enough liquid to satisfy most people for days…
Then came breakfast: Shakshuka and a fruit platter. It was delicious…and I was stuffed (though I made room for one more cup of coffee).
Alcohol is also available, except during Ramadan (unlike other Gulf carriers like Etihad and Emirates, which continue to serve alcohol in their lounge during the Muslim holy month). Check the menu above for the latest selection of Champagne and wine.
Smoking Room
A smoking room is available inside the lounge.
Duty Free
The duty free shop near the lounge entrance, a dedicated shopping experience for Al Safwa guests, has reopened.
Business Center
If you need a quiet place to work, there is a business center near the entrance with desks and ergonomic chairs. Printing facilities and desktop computers are also available.
Sleeping Rooms
Complimentary sleeping rooms are available on a first-come, first-served basis (there are 12 in total). These are quite nice if you have a long layover and do not feel like venturing out into Doha. Each room features a single bed and ensuite facilities.
Not only was my layover brief, but there were no rooms available. Here are a few photos from my prior visit:
CONCLUSION
The Al Safwa first lounge remains one of my favorite first class airport lounges. It offers superior culinary options, a comfortable and tranquil place to wait for your flight, and even a full-service spa and sleeping accommodations for guests who have a longer layover. I look forward to returning to this lounge.
You can compare it to my review of the Al Mourjan Business Lounge for business class passengers.
Have you been to the Al Safwa Lounge? What is your favorite thing about it?
My original review, published on September 18, 2018, is below.
---

Qatar Airways' Al Safwa first class lounge in Doha is an architectural masterpiece with superb amenities and a quiet ambiance.
My flight from Kuwait landed at 7:55 A.M. and my flight to Paris did not depart until the following morning at 7:25 A.M. Figuring that it would at least equal most hotels in Doha, I decided to pamper myself with 23 hours in the lounge.
You should have seen the look on the face of the lady when I checked into the lounge. She must have thought I was crazy…and maybe I am. But I was welcomed into the lounge.
Qatar Airways Al Safwa Lounge Seating
Unless I slept through the busy period, this lounge never got crowded. Seating accommodates about 200 and is divided into an indoor area and terrace (still technically indoors). The soaring ceilings give the lounge an attractive, open look. I don't know about you, but I love this sort of minimalism.
Self-serve drink stations were positioned throughout the lounge, though attendants also roamed, offering passengers drinks or food.
Qatar Airways Al Safwa Lounge Sleeping Rooms
Hotel-like sleeping rooms are available on a first-come, first-serve basis. These rooms include a bed, desk, and private restroom with shower. I asked for a room immediately upon entering the lounge but ended up having to wait a few hours for a room to be ready. Once ready, though, I had access to it for the remainder of my stay.
You're given a key card like a hotel room, which made it easy to go in and out.
Qatar Airways Al Safwa Lounge Spa
Showers and restroom are also available.
Qatar Airways Al Safwa Lounge Dining
Like the Al Mourjan business class lounge, there is a main dining room and a secondary cafe that serves freshly made sandwiches and salads. I had a pastrami sandwich with salad for lunch before retiring to my room and sleeping for the next 10 hours.
Around 1 A.M., I ventured out for a late dinner in the restaurant. Here's a look at the a la carte menu:
I began dinner with a bowl of tomato soup, served with bread. A cold towel was offered prior to dining.
Next, farfalle with arrabbiata sauce.
Finally, I enjoyed pan-grilled sea bass as my main course.
For dessert, I had ice cream and a cappuccino.
The dining room is beautiful and like the rest of the lounge, minimalist:
I did not drink any alcohol during this visit, but a full bar was available around the clock:
Unlike the Emirates and Etihad first class lounges, I am not going to rave about this food. I loved having access to a nice a la carte menu in the middle of the night, but the pasta was unremarkable and the sea bass was tasty, but not extraordinary. Context matters, though. This was an airline lounge after all.
In the morning I had fruit plate with cappuccino and smoothie prior to boarding my flight to Paris: I was still stuffed from my late dinner.
Qatar Airways Al Safwa Lounge Smoking
If you're a smoker, Qatar Airways has designated a large room with separate ventilation for you:
Cigars are available for purchase.
Qatar Airways Al Safwa Lounge Business Center
A business center includes computers and printers. Wireless printing is also available and the wi-fi network works well.
Qatar Airways Al Safwa Lounge Kid's Room + Video Game Room
A kid's play room includes a shelf with classic children's books, games, and a fußall table. In the room next door, video games for kids who are a bit older.
Qatar Airways Al Safwa Lounge Nanny Room
If traveling as a family, nanny suites are available that make caring for the kids a bit more manageable. Just leave them with the help…
Qatar Airways Al Safwa Lounge Duty Free
You don't even have to step outside of the lounge to go shopping: a private duty free shops is waiting for you.
Qatar Airways Al Safwa Lounge Service
Lastly, let me mention that service in this lounge is a bit like Qatar Airways in the air. The product itself is amazing: amazing design, amazing amenities, good food and drink. But the staff is hit or miss. When I arrived, a gentleman quickly approached me to offer me a beverage of choice.
Throughout the morning as I sat and worked, he would constantly ensure I had everything I needed.
But service was slow in the restaurant. I had to ask for a drink: none was proactively offered nor were dishes cleared away.
Flying Qatar Airways is the same way. You'll always have a nice product, but how polished a FA is varies greatly.
CONCLUSION
You don't spend almost an entire day in a lounge unless it is worthwhile. I love this lounge and appreciated using it as my transit hotel in Doha. While this is not the best first class lounge in the world, it is one of the most beautiful. I look forward to returning.
Thanks for reading my Qatar Airways Al Safwa Lounge review!