For my outbound to Guatemala City, I flew United Airlines nonstop from Los Angeles. The carrier has beefed up its service to Central America during the pandemic and offers nonstops to another of cities, including daily service to GUA.
Flying United Airlines To Guatemala City
It's not an elite-heavy route and my upgrade cleared shortly after booking, which was about 36 hours before the flight. In fact, I thought the business class cabin would remain only about half full – when I checked in the cabin was booked 10/16 with no one on the waitlist, but there were either non-revenue or paid upgrades added at the last-minute and it went out full.
Before boarding, documents were carefully verified by a gate agent. To enter Guatemala, either proof of vaccination or a negative COVID-19 test was necessary. I had both (since I tested in advance for my return to the USA…), but showing my electronic vaccination card from Los Angeles County was enough.
Boarding began 45 minutes prior to scheduled departure and as the only 1K in the gate area, I was welcomed first onboard.
United Airlines 1137
Los Angeles (LAX) – Guatemala City (GUA)
Monday, August 9
Depart: 7:00PM
Arrive: 12:50AM+1
Duration: 4hr, 50min
Aircraft: Boeing 737-800
Seat: 4A (Business Class)
A flight attendant welcomed me onboard and escorted me to my seat…that's pretty rare on United. In this case, I would have been preferred to have been ignored so I could take more pictures without being disturbed. I never announce I am a blogger…instead, I state another reason for taking pictures. Here, I said it was my first time in Guatemala.
Seat
The 16-seat seat cabin, branded business class on international flights, is showing its age, though I managed to fall asleep after dinner and sleep for the remainder of the flight.
I chucked as we pulled out – the aircraft gate controller (marshaller) must have been tired because his big yawn made me yawn:
He was then picked up so he didn't have to walk back to the terminal.
It was a beautiful evening in Los Angeles and we took off to the west before circling around Long Beach and heading Southeast.
It was fascinating to see all the boats lined up to the dock in Long Beach harbor. That was last month: the problem has grown much worse this month.
Language Barrier
Here's what I don't understand. Why not put more language-qualified flight attendants on flights to Central America where folks are much less likely to speak English?
The man next to me spoke no English at all. Not a word. The flight attendant stopped by to take drink and dinner orders and he was lost. So was the flight attendant, who did not speak any Spanish.
Rather than pull the language-qualified flight attendant from the back of the plane, she kept trying to describe the two dinner choices – chicken with orzo or cheese enchiladas – using different English words. It wasn't working.
Now mind you, my Spanish is not great. But I leaned over and told him, "pollo con arroz o enchilada con queso." He wanted chicken. Done. And cerveza to drink. I told the flight attendant he wanted beer. She then wanted to know which one and I'm sorry, but my Spanish cannot distinguish types of beer, so I pulled out the Hemispheres in-flight magazine and had the guy point to which beer he wanted.
Bottom line: if a passenger has trouble understanding you, find a language-qualified flight attendant, please.
Dinner
The Old Fashioned cocktails on United are decent and I ordered one along with a a sparkling water after takeoff. Every passenger was also provided a bottle of still water.
The flight attendant got a huge kick out of me transferring my drinks to glasses I had brought from home. Dear United, it's time to bring back real glasses to business class.
I augmented dinner with some treats from the United Club. Since no appetizer is served, I brought my own, including hummus and pita chips, cheese, and vegetable crudités. I also ordered chicken with orzo, which was served with a touch of pesto sauce and peppers and is a very tasty dish. It came with a grain salad with barley and black beans on the side along with a hot pretzel roll and a hot "pie in the sky" chocolate cookie.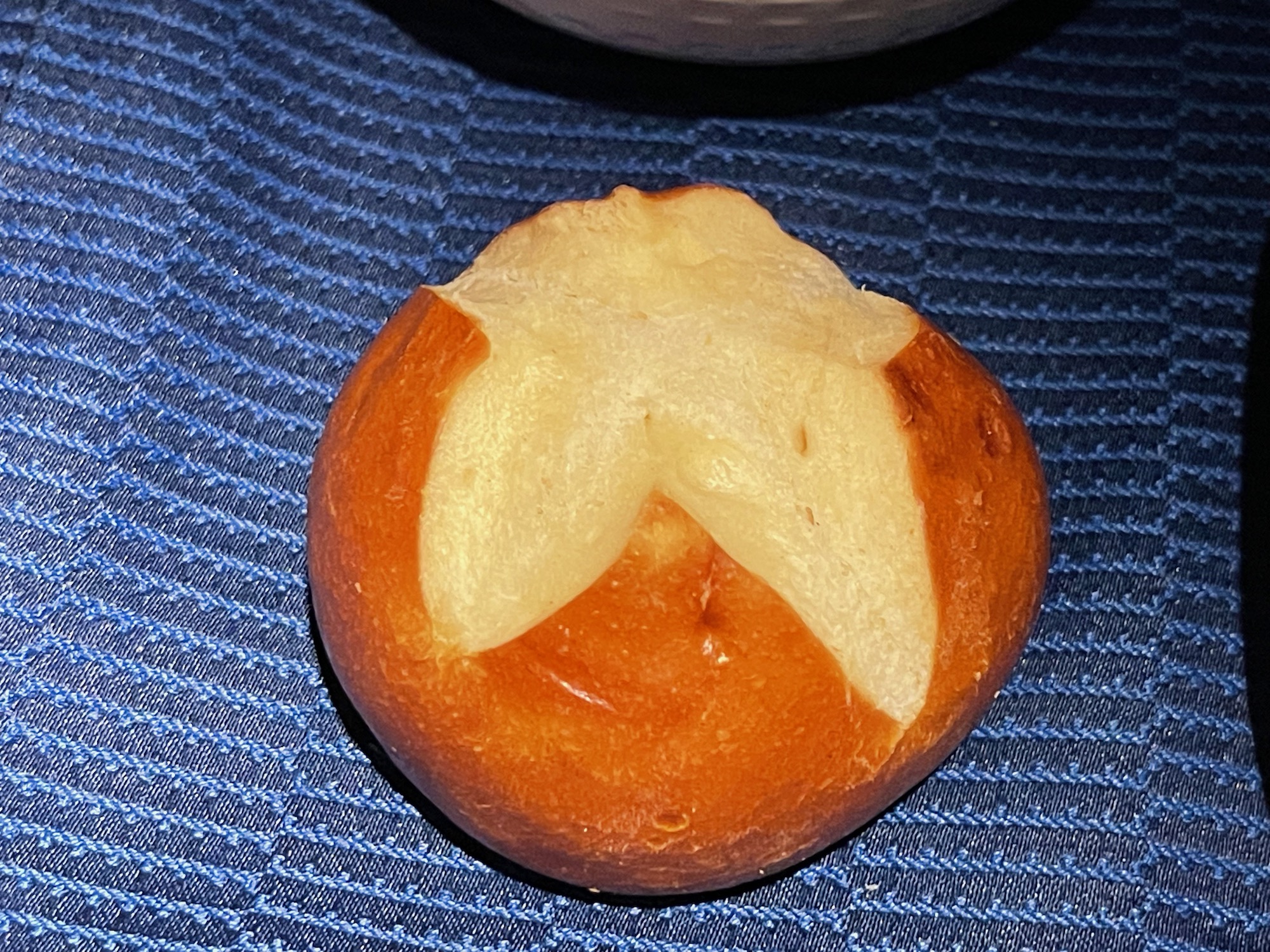 Combined with my snacks, it was a very filling meal.
Arrival
After dinner, I settled back into my chair and fell asleep. I awoke about 20 minutes prior to landing as flight attendants were making final preparations for landing.
A note on IFE – wireless internet on this aircraft cut off once we left the Continental USA, so it was of no use on this flight. DirecTV with live TV and looping movies was offered (the satellite TV also cut off once we flew over the Mexican border), but I was happy to catch up on my sleep.
Immigration was quite easy after landing. An agent inspected my vaccine card, stamped me, and I was soon out in baggage claim.
I ordered an Uber, very cheap in Guatemala, and was soon at the Hyatt Centric, which is relatively close to the airport.
CONCLUSION
The takeaway here is that United's service to Central America is like a domestic flight. Meals are offered in business class that resemble a domestic flight and snacks and meals are for purchase in economy class.
Overall, it was a comfortable flight and arrived six minutes early. Service was attentive and other than the language issue, efficient.
I chose to fly Copa back to Los Angeles, but I appreciate having a number of Latin America destinations available on a nonstop basis.
---
This is part of my Guatemala trip report.