I already teased a few pictures, but now it's time for a detailed look at the largest and most splendid United Club, now open near gate C123 at Newark Liberty International Airport. As far as United Clubs go, this lounge is a game-changer.
United Club Newark (EWR) C123 Review – Beautiful Lounge!
United's long-awaited lounge at Newark Airport was worth the wait. It incorporates new elements including showers, barista-made coffee, and a level of hot and cold food previously unseen in a United lounge, even going back to the Red Carpet Club or President's Club days.
Location + Hours + Access
This EWR United Club  is located in Terminal C, near gate 123. If you are coming from security, turn left after the checkpoint and head toward the pier for pier three, which includes gates 12o-139. The lounge is open daily from 5:00AM to 10:ooPM.
Access is reserved for United Club members, Chase United Club Visa holders, Star Alliance Gold travelers, business class travelers flying to Los Angeles (LAX) or San Francisco (SFO) on United's premium transcontinental service, and international business or first class passengers traveling on any Star Alliance flight. Global Services members also enjoy access.
Furthermore, one-time passes from Chase are accepted or can be purchased for $59. Note that if you hold a Star Alliance Gold card from United Airlines (Premier Gold or higher), you can only access the lounge when traveling in conjunction with an international itinerary. Those who have a Star Gold card from other programs can use the lounge when traveling on any Star Alliance flight in any class of service. Also note that United does not give premium cabin passengers access on domestic flights, with the exception of the premium transcontinental route noted above.
You can take escalators, stairs, or an elevator up to the lounge which is one floor above the departure level.
This is the first United lounge that has an automatic entry system. Simply scan your boarding pass to gain entrance–you will not have to see an agent. However, agents will be available if your boarding pass beeps red instead of green.
Seating
This is a huge lounge, 30,000 square feet to be precise. Let's embark upon a clockwise tour of the lounge.
As you enter, you'll see a colorful bookshelf and large rectangular tables with chairs. Under it are black and white tiles representing the United globe logo.
Past a smaller food area, is a large seating area with a mix of chairs, couches, and end tables. There's also some individual work areas with a table and chair built into the wall.
More seating awaits in the next room.
Past the restrooms and showers is a large seating area geared toward dining, with booths that accommodate up to four people and more tables and chairs. Near the buffet is a large table with seating as well as a couch running the length of the area.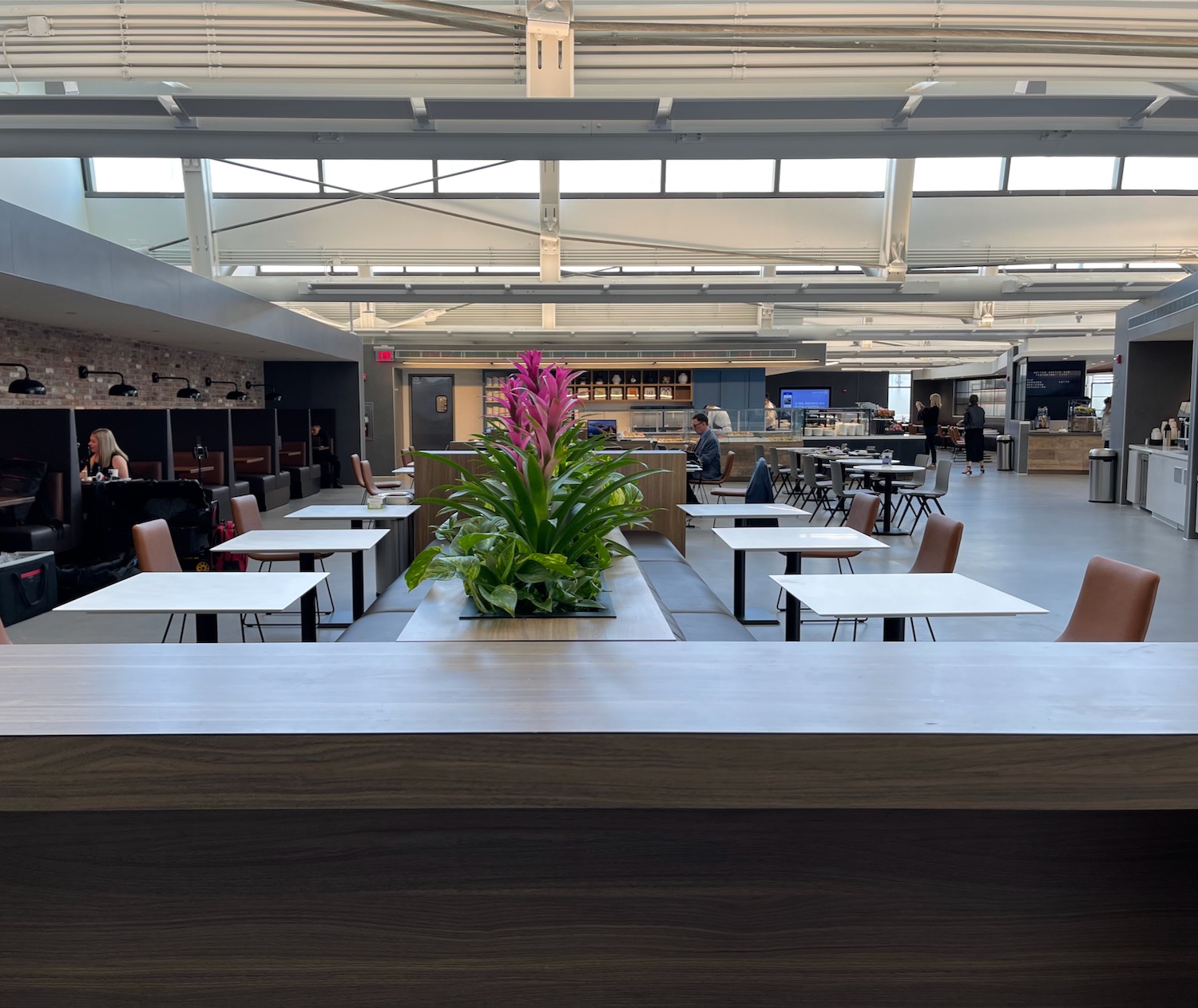 Beyond that is more seating, including some very comfortable leather chairs with ottomans which were locally sourced.
The seating area continues with more chairs, couches, and end tables overlooking the tarmac and beyond it, the Manhattan skyline.
Restrooms + Showers
The lounge includes large restroom, including gender-segregated restrooms and unisex private stalls.
A blast from the past at Newark, the lounge marks the return of showers to United Clubs, including six showers suites stocked with Sunday Riley products.
Wellness Room (Nursing)
Nursing mothers and those traveling with small children can make use of a wellness room to care for infants and toddlers in diapers.
Food + Drink
When many of us think of lounge food, we may think of cheese cubes and crackers, potato chips, and apples wrapped in cellophane. Not so in this lounge, which offers a buffet that rivals that of American Airlines Flagship Lounges.
A variety of sandwiches are on offer and customizable with pickles, lettuce, and even avocados. If you prefer your sandwich warm, you can request that it be heated.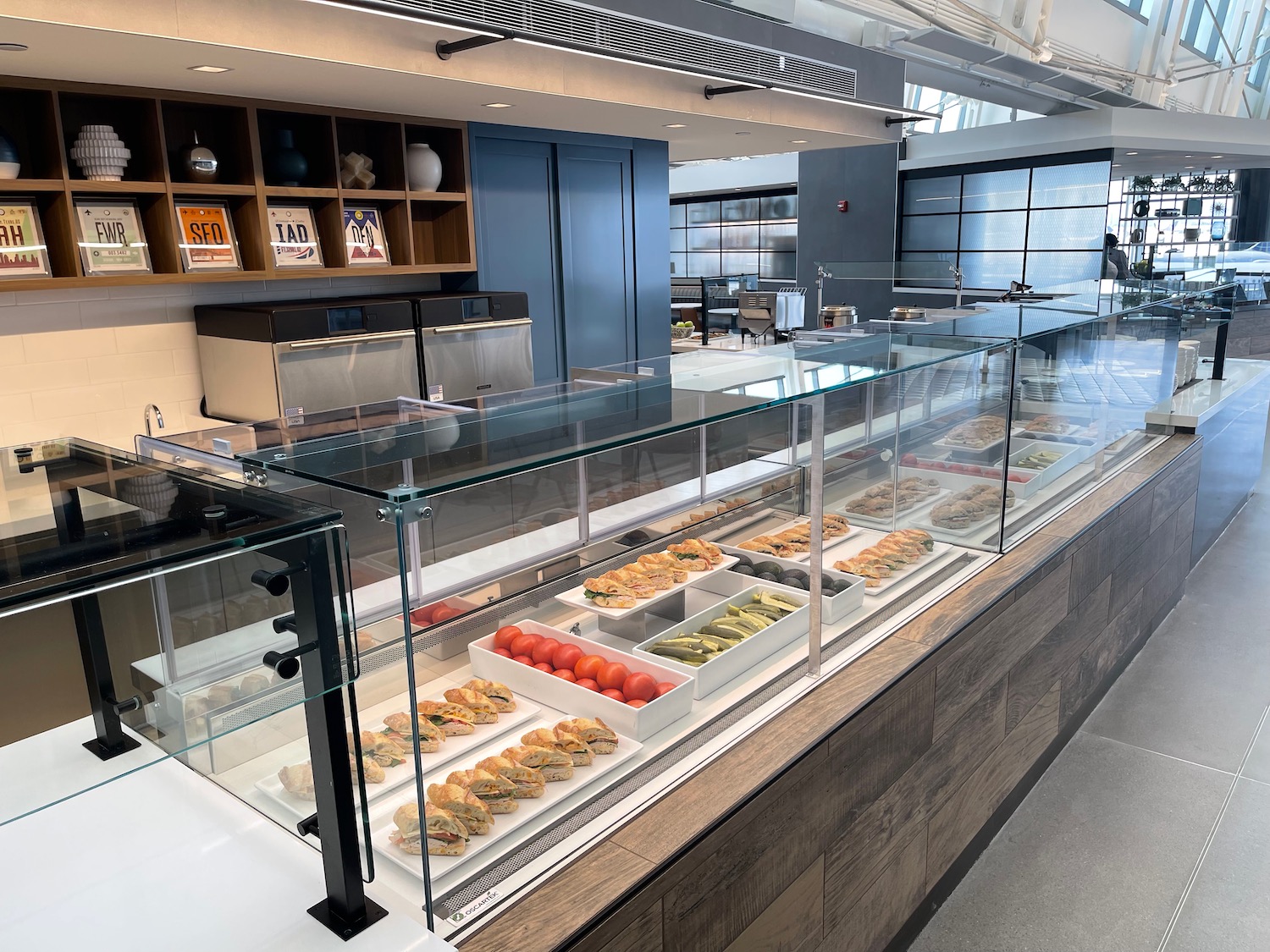 Around the corner is a buffet which includes:
soup
hot pasta
salad bar
taco bar
desserts
The selection of food represents not just something to snack on, but the possibility of enjoying a full meal ahead of your flight.
Beyond the food itself, the L-shaped buffet includes one of the coolest features of the lounge, a mosaic tile meant to resemble a New York City subway stop which says "Newark Liberty International Airport."
Closer to the entrance is a second food area which includes snacks like potato chips, nuts, or trail mix.
A full bar offers a mix of complimentary and for-purchase drinks, though all tap beer is now free. Two Coke Freestyle machines offer soft drinks and there are hydration stations located throughout the lounge.
There are also three self-service espresso machines, but skip those unless you are in a rush because there is also a barista happy to make you the coffee drink of your choice.
Coffee Bar
Coffee is a central part of my day and I'm elated that this lounge has a beautiful coffee machine, delicious illy 100% Arabica coffee, and a team of friendly baristas happy to make the drink of your choice.
Chevaneese and Lilah were working the "United Coffee Bar" and I enjoyed two cappuccinos, an espresso macchiato, and a chai tea during my visit.
Iced coffee and nitro cold brew coffee is also available.
The machine can make three drinks at time, so hopefully lines will not get too long.
Flight Help
Although United offers an agent-on-demand from the comfort of your seat, there will be agents available to help with flight delays and cancellations in the lounge.
Power Ports
Worry not, there are power ports everywhere — you won't have fight for one like in the old lounge. There's even USB-C plugs.
Fußall Table
Fancy a game of table soccer? There's even one of those.
A Model For Other Lounges
United tells me this lounge will be a blueprint for future lounges. Each lounge will have unique features, but the style of this lounge will be the new style going forward.
CONCLUSION
Without exaggerating, this lounge is a game-changer. The showers, coffee bar, and wider selection of food truly elevate the lounge experience and will make me go out of my way to connect in Newark versus other United hubs. I commend United for a job well-done and now we just must hope that the amazing new amenities do not quickly fall victim to cost cutbacks, a familiar theme. Therefore, let me offer this final warning to my fellow travelers: don't overdo it. Don't take food out of the lounge, don't take more food than you can consume, and go easy on the liquor. For better or for worse, ensuring that the lounge stays so nice is partially up to us.