My dear readers, some links on this site pay us referral fees for sending business and sales. We value your time and money and will not waste it. For our complete advertising policy, click
here
. The content on this page is not provided by any companies mentioned, and has not been reviewed, approved or otherwise endorsed by these entities. Opinions expressed here are the author's alone.
My first meaningful return to Sin City in over a decade took me to the Conrad Las Vegas at Resorts World, a Hilton hotel. A nice hotel, but not for Diamonds.
---
If you are considering booking travel or signing up for a new credit card please click here. Both support LiveAndLetsFly.com.
---
If you haven't followed us on Facebook or Instagram, add us today.
Location
Resorts World is the latest major hotel and casino property to open on the Las Vegas Strip, the first in ten years. At the end of the Strip past the Fashion mall but before Circus Circus, Resorts World is a little over a mile from the heart of the action but a brisk 30-minute walk brings it all relatively close. Not to overstate the fact, heading south is a continuation of the Strip and walking it is to pass by, and through all of the hallmark casinos, hotels, and restaurants you'd expect, while the north features a much rougher area. Within two blocks destitute drug users are on the street, openly using narcotics. Don't go north.
Address: 111 Resorts World Ave, Las Vegas, NV 89109
Phone: +1 702-676-7000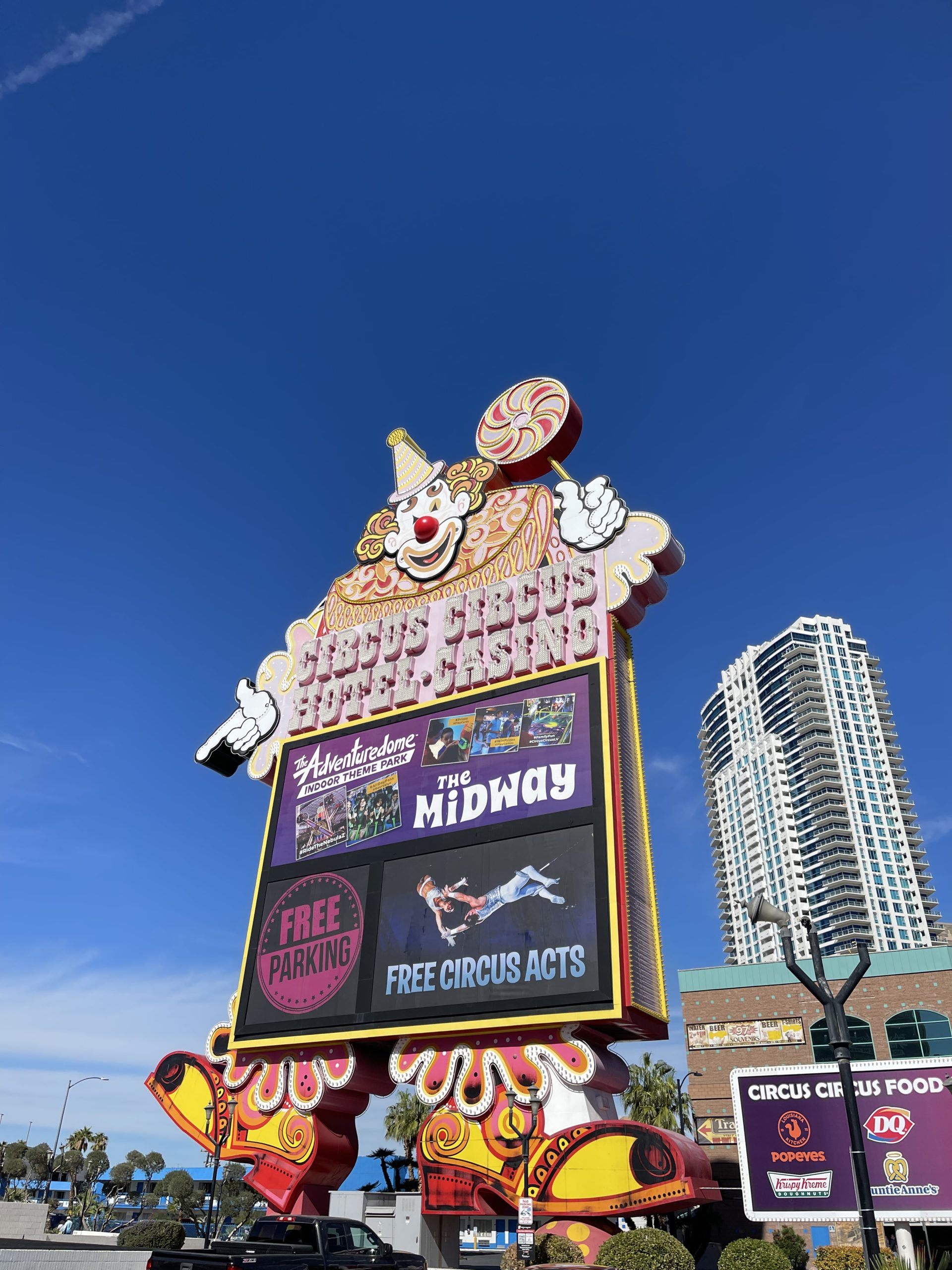 Property
The dual tower Resorts World is home to anything a visitor could want, spa or fitness, retail shopping, 40 restaurants and bars on-site, a casino, a theater, and three hotels along with a large conference facility.
Honors Benefits
Before we dive deep into what Hilton Honors benefits actually are at the Conrad, let's see what they should be:
"Space-available room upgrades – If we have a better room available, it's yours – up to a 1-bedroom suite." and more specifically for Diamonds "DIAMOND: At Waldorf Astoria® Hotels & Resorts, LXR® Hotels & Resorts, Conrad® Hotels & Resorts, Canopy™ by Hilton, Signia by Hilton, Hilton Hotels & Resorts, Curio Collection by Hilton™, DoubleTree by Hilton™ and Tapestry Collection by Hilton™ properties, Diamond Hilton Honors Members may receive upgrades to preferred rooms up to "junior", "standard" or "one-bedroom" suites. Preferred rooms may also include those not on the Executive Floor but conferring Executive Lounge access, the next-best available room types, rooms with desirable views or amenities or other rooms identified as "preferred" by the hotel and may vary within each brand .This excludes executive suites, villas, specialty accommodations/floors/towers, and "Club" accommodation types, such as but not limited to the Sakura Club at Conrad Washington, D.C , Club Signia at Signia by Hilton hotels, Citrus Club at the Arizona Biltmore, and the Enclave at All-Inclusive resorts, unless the initial booking was also an Enclave-level accommodation."

"2 Bottles of Water – Applies at Waldorf Astoria Hotels & Resorts, LXR Hotels & Resorts, Conrad Hotels & Resorts, Hilton Hotels & Resorts, Curio Collection by Hilton, DoubleTree by Hilton, Tapestry Collection by Hilton, Embassy Suites by Hilton and Hilton Garden Inn properties. Bottled Water is not free at properties with a resort charge that includes Bottled Water.

"Food & Beverage credit equal to the value shown in the table below is provided for the Member and up to one additional guest registered to the same room each day of Member's stay. The Food & Beverage credit may only be used in the hotel's designated restaurant(s) or Executive Lounge." "Conrad Hotels & Resorts = $25/day"
In what is perhaps the single most indicative way the hotel could express its lack of respect for elites or even program members, let's discuss your chances of an upgrade. There is no chance of an upgrade at this property. Despite paying around $400/nt for a standard room, plus hundreds in taxes and $45/nt in resort fees – I received none of these benefits.
"We have you in a standard room [facing the pool]" I waited for the front desk staff to indicate what room I'd be staying in. Nothing came. I know all about the Vegas $20 trick but, first, it's no longer $20, and second, that doesn't work with another agent free next to her.

"Do you have a Diamond upgrade available?" I loathe having to ask this question but did it all the same as I would be in residence for five nights.

"We can upgrade you to a suite for $75/nt." She said.

"What does a Diamond [free] upgrade look like?" I asked.

"I'm sorry, but we are oversold so there are no upgrades available." She said.

"But you just offered to upgrade me for $75/nt, so you're not oversold and there are upgrades available which my status allows." I said.

"No sir, your status allows you an upgrade to a Strip view, not a suite."

"So if you're oversold at the lower levels, but have a suite the hotel is not oversold, the category is. So you're going to upgrade a non-Diamond member? I don't understand." I said.

"Sorry, we are sold out." She said possibly correcting herself.
I know a dead-end conversation when I see one. That was the end of it. There were no instructions on where or when to redeem my daily $25/day/guest food & beverage credit nor an offer for two bottles of water daily. The daily food and beverage credit is available solely in the sports book restaurant of the 40 on-site venues that include a street food market with an Asian flair. If you have any hopes at all of your 60 nights/year being rewarded at the Conrad Las Vegas, you're sorely mistaken.
Room
The room was nice but not worth the cost, especially without the benefits. Walking in, I found a spacious room with a closet (and robe) to my left followed by the bathroom. After the bathroom is a triggered minibar with additional snacks and an intimacy kit for purchase because, well, this is sin city.
To the right is a dresser and built-in luggage rack underneath what appeared to be a 60″ screen equipped with smart tv casting. At the wall, floor-to-ceiling windows, a small cafe table with accompanying lipstick-red leather chairs, and a bed with premium sheets.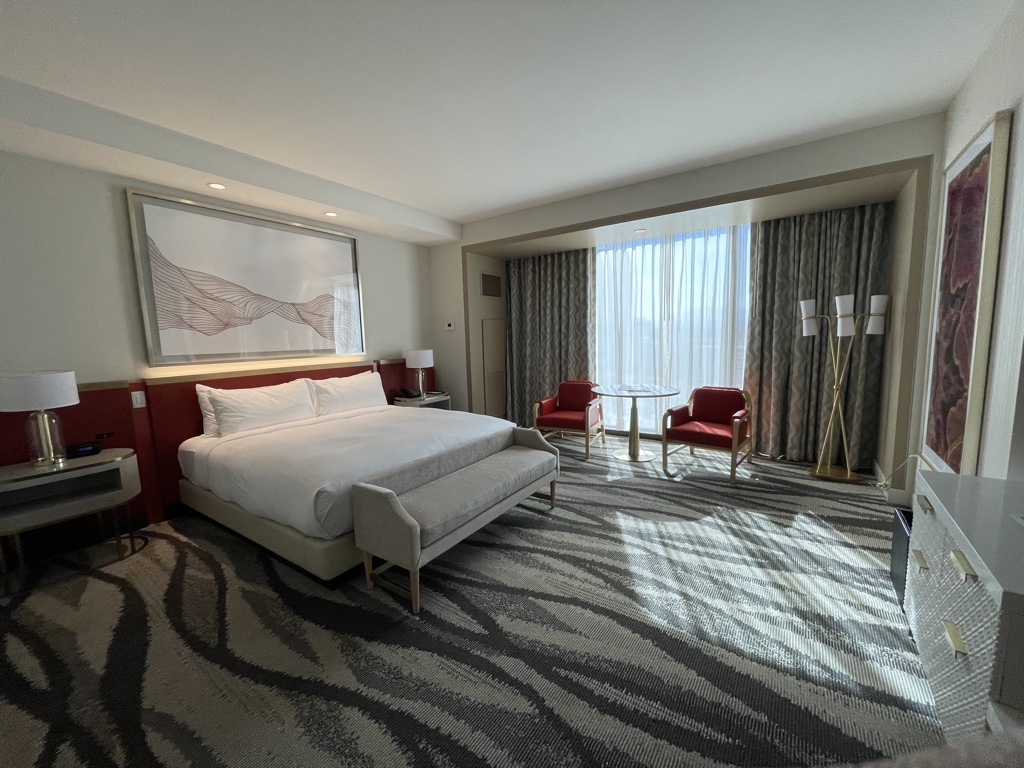 The bed was incredibly comfortable and featured four long pillows and premium sheets. The nightstands had space for electronics, but one side only operated with the lights on which was unhelpful. There was also a buzzing sound that appeared to come from the minibar but I couldn't be sure.
Bathroom
The bathroom was the highlight with a separate water closet door for the toilet, large double vanity, and a huge shower with a built-in bench. The toiletries were nothing less than premium, and I would have loved to take a sampling home, but they were attached to the wall of the shower. Many hotels have switched to this as the small bottles are wasteful, but in a premium hotel such as the Conrad, securing them also to the countertop seemed to downgrade the experience.
Overall
The website boasts a cabana experience with its unique pool (which appeared to be staffed with lifeguards) but I didn't get to experience this as it was a surprisingly cool 60-70 degrees during my stay. I don't know if my room was intended to provide "views of the Las Vegas Strip" but from what I could see, they were actually over a rooftop, and of a vacant lot. The website lists it as "conveniently located" but that is on the periphery of the truth. I was there for a convention and didn't have time for the spa or fitness treatments. The daily resort fee is a bit of a gut punch given that not even the daily bottles of water were adhered to. Toll-free calls from the landline phone are useless for all guests with a cell phone, internet access was serviceable throughout the property.
Value
The room and quality of the hotel warrant the price paid if the hotel adhered to its commitments to the Honors program and its privileges. If hotels are generally full in Las Vegas (as they were during my stay) and the guest doesn't have status with Hilton (no disappointment) then $300-400/night seems fair. But even guests without Hilton status will not get their money's worth on the $45/day resort fee. Those using points to pay for their stay will find a dynamic rate somewhere between 65,000 and 80,000 points per night and this is about the average value one should get for their Hilton Honors points. There are plenty of places to stay in Las Vegas with this level of attention to detail that will charge less and treat guests better. Stay elsewhere.
What do you think? Have you stayed at the Conrad Las Vegas at Resorts World? How was your experience?