The Department of Homeland Security will again delay its "Real ID" requirement to board airline flights, this time until 2023, validating my recent decision to renew my license by mail. This takes the pressure off to replace your drivers license in order to travel without an alternate form of identification. Still, when the time comes here's a guide on how to apply for Real ID in California.
Real ID Requirement Delayed Until 2023 By DHS
The Real ID Act was first passed in 2005 in an effort to ensure that state-issued driver licenses were secure by requiring a several identifying documents before issuing them. Plans to require a Real ID card to board domestic flights or enter other federal facilities have been delayed several times over state-level compliance and backlog concerns.
The requirement was set to (finally) kick in on October 1, 2020 but has been delayed again.
NBC's @PeteWilliamsNBC: DHS will delay the requirement for air travelers to have a "Real ID" (previously scheduled for October 1), per two senior officials with knowledge of the plans.

— Michael Del Moro (@MikeDelMoro) April 27, 2021
The new date for the Real ID requirement will be May 03, 2023, about 19 months from now. A DHS spokesperson confirmed:
"Extending the Real ID full enforcement deadline will give states needed time to reopen their driver's licensing operations and ensure their residents can obtain a Real ID-compliant license or identification card."
COVID-19 is behind the latest delay, but there still remains a lag in people obtaining the card and an information deficit in public knowledge over the consequences of not having one.
Guide: How Do I Obtain A Real ID In California?
In California, an in-person visit to a DMV field office is required to obtain a REAL ID. The following documents are necessary:
1 proof of identity document that shows your date of birth and true full name, such as a valid U.S. passport (or passport card), original or certified copy of U.S. birth certificate, or valid Permanent Resident Card.
1 document showing your name and full social security number (SSN), such as a Social Security card, W-2 form, or pay stub showing full SSN.
2 different documents proving California residency that include the first and last name and mailing address that will be shown on your REAL ID driver license or identification card. Examples include a mortgage bill, cell phone or home utility bill, vehicle registration card, and bank statement.
The documents should all be original or certified copies and will be returned to you.
Documents can also be uploaded in advance here. Then when you show up at field office, you can enter the appointments line and bypass long queues.
If you are eligible for a mail-in renewal of your license and do not yet have Real ID, you will not be able to obtain Real ID via mail.
Your Read ID is designated by a golden bear in the upper right hand corner of your license or ID card. If you do not have Real ID, you will see a "federal limits apply" disclaimer in the upper right hand limit.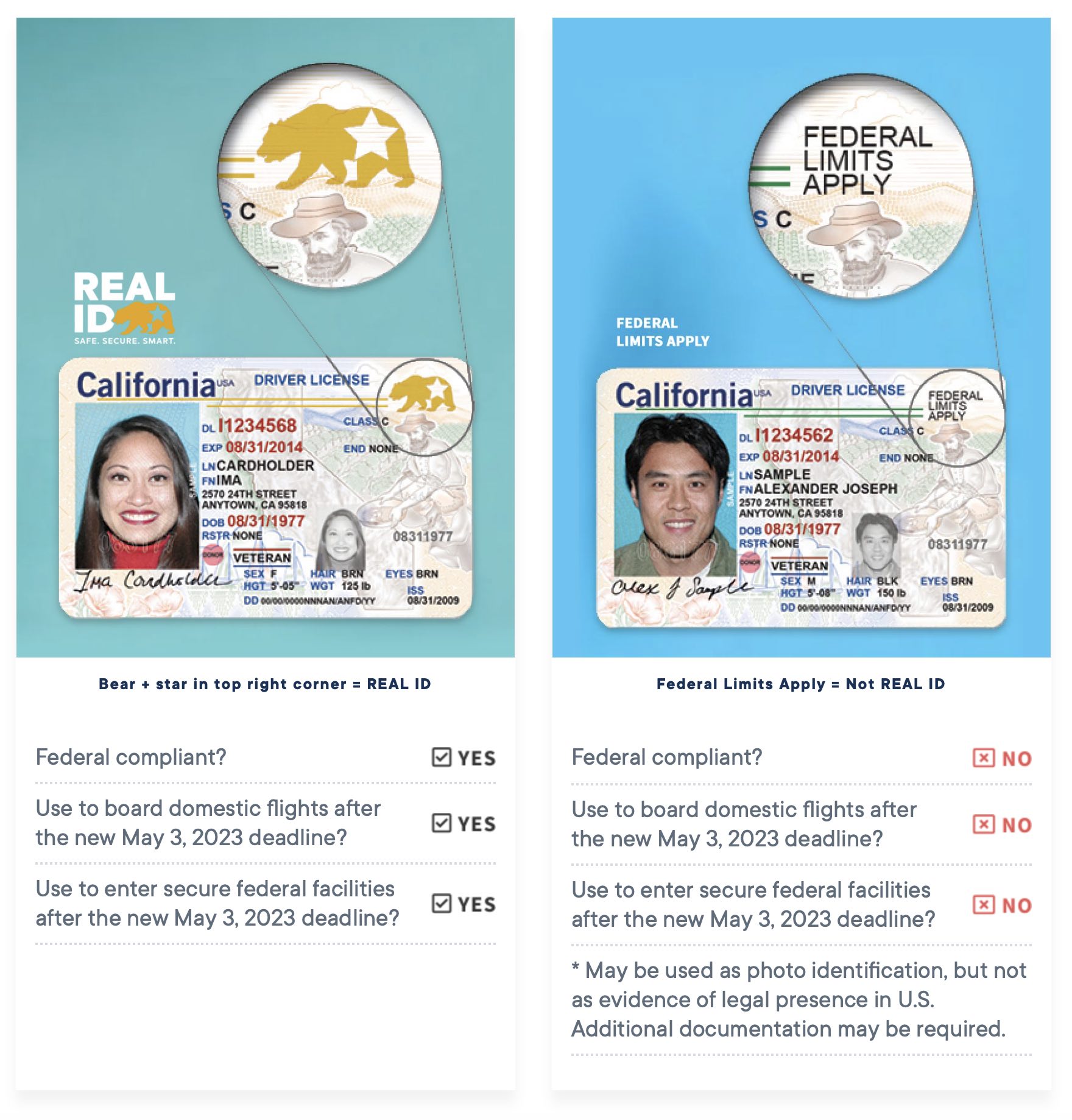 Why I Don't Have Real ID…Yet
My California drivers license is up for renewal this year and I could have scheduled an appointment to go into a local DMV office to get a Real ID card but I didn't, for several reasons:
During COVID-19, online renewals are permitted even in cases where an in-person visit is ordinarily required
When I travel, once the Real ID requirement goes into effect, I will simply present my passport or my Global Entry ID card, both of which will be accepted as secure federal ID cards
I haven't updated my picture in 15 years and I rather like my old and youthful mugshot…especially after the frankly freakish pictures I have on my Global Entry card (taken after a 12-hour flight when I was half asleep) and new passport (bad hair day and a turtleneck…)
Yeah, I'm not going to lie. That last reason is the main one.
Tip: do not wear your mask when you have your picture taken!
CONCLUSION
The deadline to present Real ID in order to travel on domestic flights or enter federal buildings has been extended to May 3, 2023. But while that gives you plenty of time, I'd rather carry an alternate form of ID than deal with the hassle of a California DMV office. However, if you do decide to get Real ID now, arrive prepared to avoid wasted time and frustration.
top image: TSA