After arriving into Washington Dulles after 11:00 pm, we spent our first night at the Hyatt Regency Dulles, just five minutes from IAD. The hotel features modern rooms and is quite convenient.
Hyatt Regency Dulles Review
I booked a room with two queen beds for $135 plus tax. Two beds usually reduce the chance of an upgrade, but the rooms are "suite style" anyway, almost in the style of a Hyatt Place.
Shuttle
The hotel offers 24/7 shuttle service from Washington Dulles International Airport. Shuttles depart the hotel on the hour and on the half (on request overnight), arriving into the Dulles lower levels arrivals area outside curbs 2B and 2G about 10 minutes later. Call the hotel at 703-713-1234 for current shuttle information.
My dad and I only had to wait about eight minutes for our ride. We tipped the driver $1 per bag even though we only had carry-on bags.
Check-In
I was able to use the Word of Hyatt app to check-in and obtain an electronic key, which allowed us to bypass the check-in counter altogether and proceed directly up to our room.
However, I stopped by the next morning to pick up our breakfast voucher. If you are a Globalist member, breakfast is included but you need to pick up a card at the front desk to present in the restaurant.
Room
I haven't stayed at this hotel in years and was pleased to find a clean and modern room with two comfortable beds, a nice sitting area, a desk, and a large couch.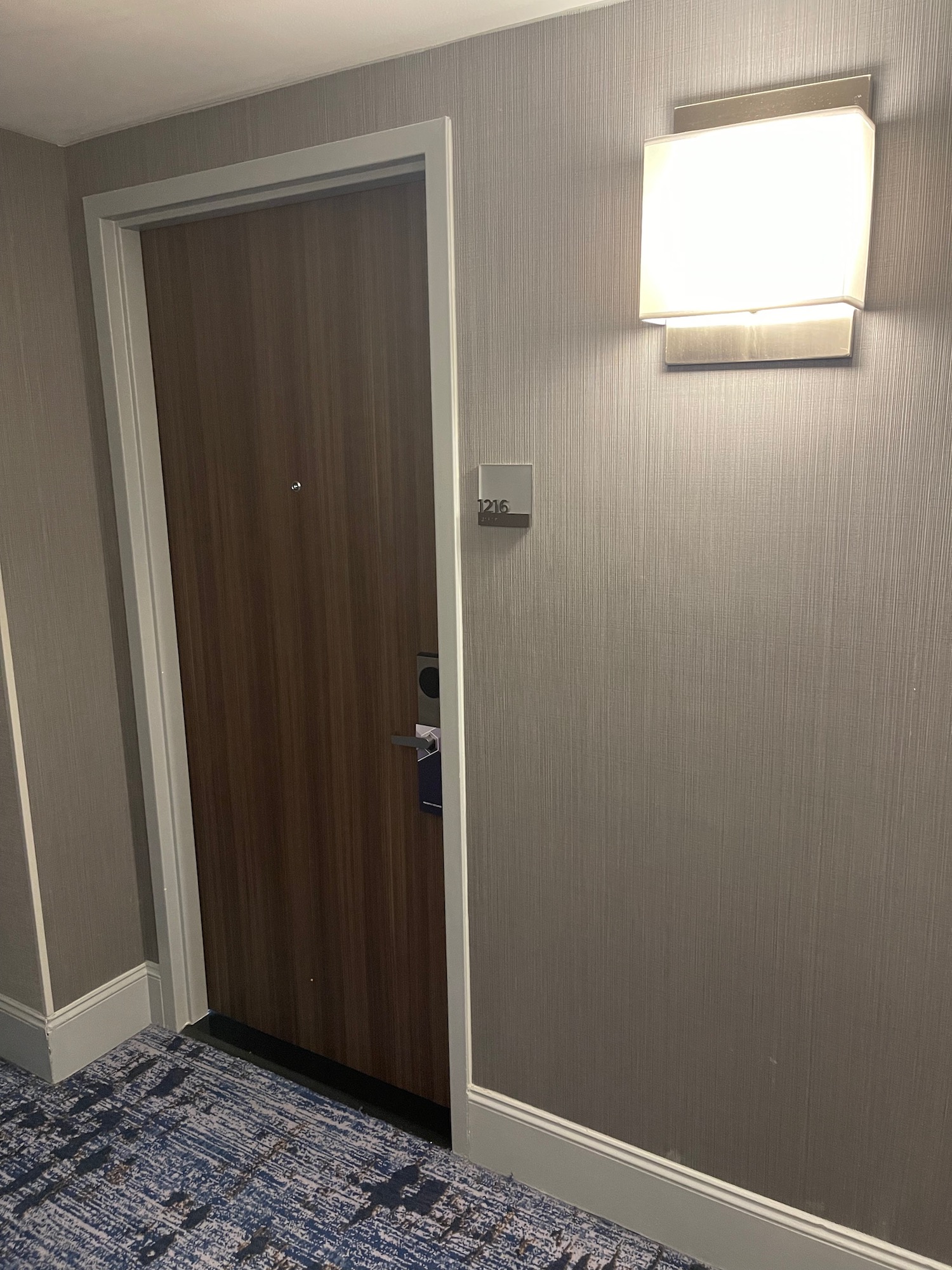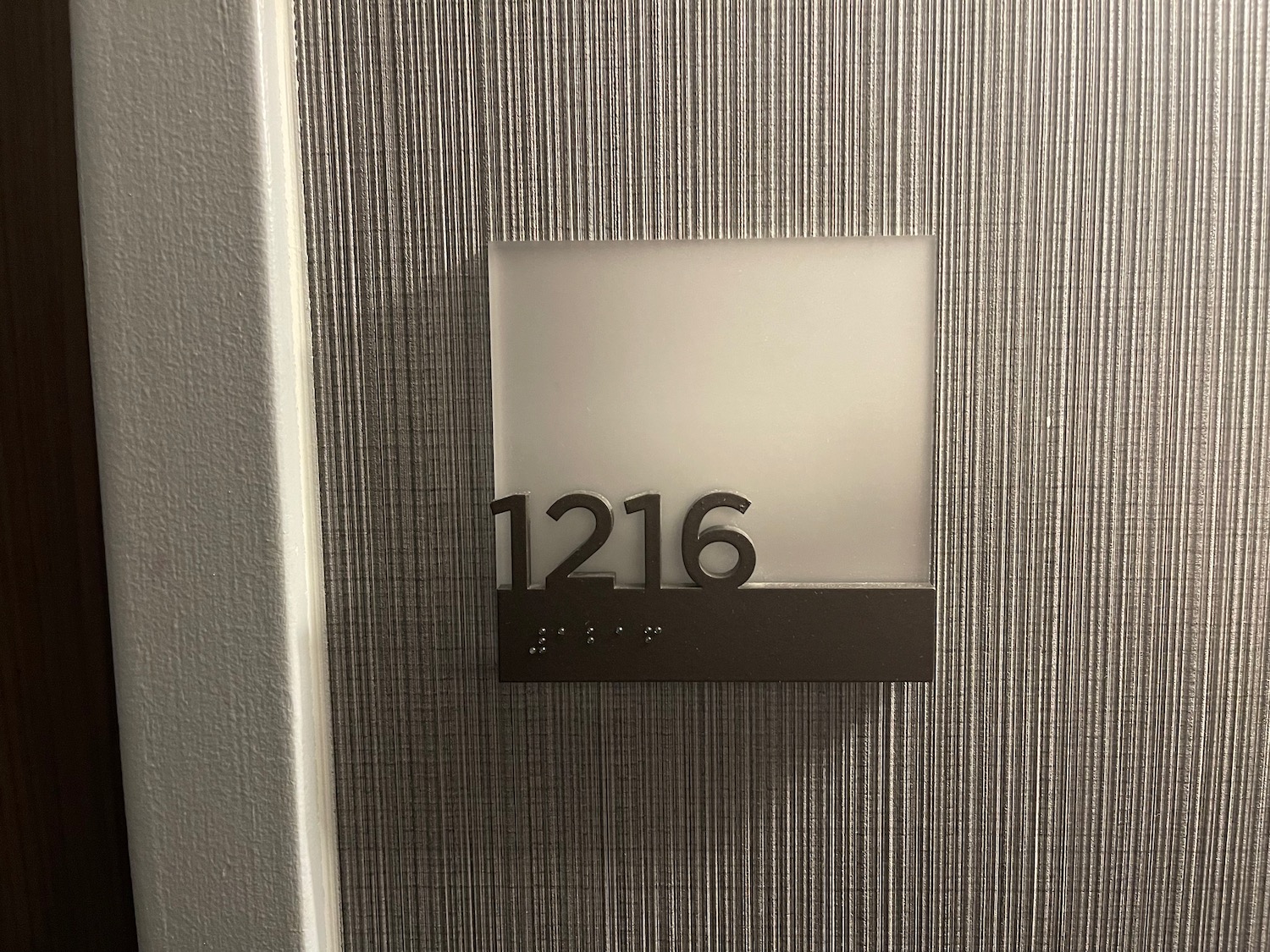 Importantly, there were power outlets all over the room and separate USB-A charging stations on either nightstand (on one side there were two ports inside the alarm clock, which also had Bluetooth connectivity).
The bathroom was also renovated and instead of tub/shower combo there is a walk-in shower. As is the case in most Hyatt Regencies, the shower amenities were from Pharmacopeia and here were in large containers attached to the shower wall.
No robes in the closet, but there was a safe.
We could look out to Washington Dulles from our room.
Lobby + Terrace
In the morning, I found the lobby streaming with light and quite comfortable with plush couches and chairs.
Outside, a terrace included both bench seating round tables with four chairs. This hotel hosts a lot of parties and conferences and the outdoor space space.
Flights Bistro + Bar
Breakfast was offered from 6:30 am to 11:00 am daily (nice window) at Flights Bistro.
In addition to an a la carte menu, a buffet was offered, which included a selection of fresh fruit, yogurt, cereal, bagels, Danish, toast, sliced deli meats and cheese, smoked salmon, scrambled eggs, bacon, and sausage.
There appeared to be an omelet station as well, but it was closed.
I skipped the buffet and ordered a bowl of berries and an egg white omelet with a side of avocado. My dad had some fruit an omelet as well. The coffee was weak.
I added gratuity to the bill and the entire bill was deducted before check-out. Daniela was wonderful in the restaurant.
Outside the restaurant is a bar and grab-and-go area. Specialty coffee (from Starbucks) is also available, though I skipped it. We were heading over to my friend's house upon check-in and he is quite the excellent barista.
Pool
An indoor pool and jacuzzi offer protection from the elements and are open daily from 6:00 am to 10:00 pm.
Fitness Center
I did a heavy workout before breakfast and found the gym quite comprehensive, with cardio equipment on one side and resistance machines on the other. There were also some free weights and a Peloton bike. The fitness center is open 24/7.
Parking
Parking is unregulated, but charged at $15/night on what appears to be the honor system (walking through the lot I did not see many passes on windshields). You can also park for $50/week if you are traveling from IAD, which seems quite reasonable.
CONCLUSION
We only spent about 13 hours here, but that was more than enough to recognize that the Hyatt Regency Dulles is a convenient IAD airport hotel with comfortable rooms, great beds, a nice breakfast menu, and a very adequate fitness center and pool.
Generally, I stay with friends in Washington, DC so I won't be returning here often, but it was nice to spend our first night here after arriving late.