The IGA Lounge in Istanbul remains an excellent Priority Pass lounge, with a wide selection of food and drinks as well as plenty of space to spread out.
IGA Lounge Istanbul Review
My comprehensive review from 2019 (below) is still relevant. However, I wanted to update the review to include pictures of my more recent visit to the IGA Lounge.
Barista-made coffee is still available. This is recommended (though I find the Turkish Airlines lounges has slightly better coffee).
Avoid the coffee machines.
Food choices included both individually-portioned "tapas style" food choices and the more traditional communal buffet style (large containers of food with tongs). I'd imagine as we move further from the pandemic, we will see less individually-portioned dishes.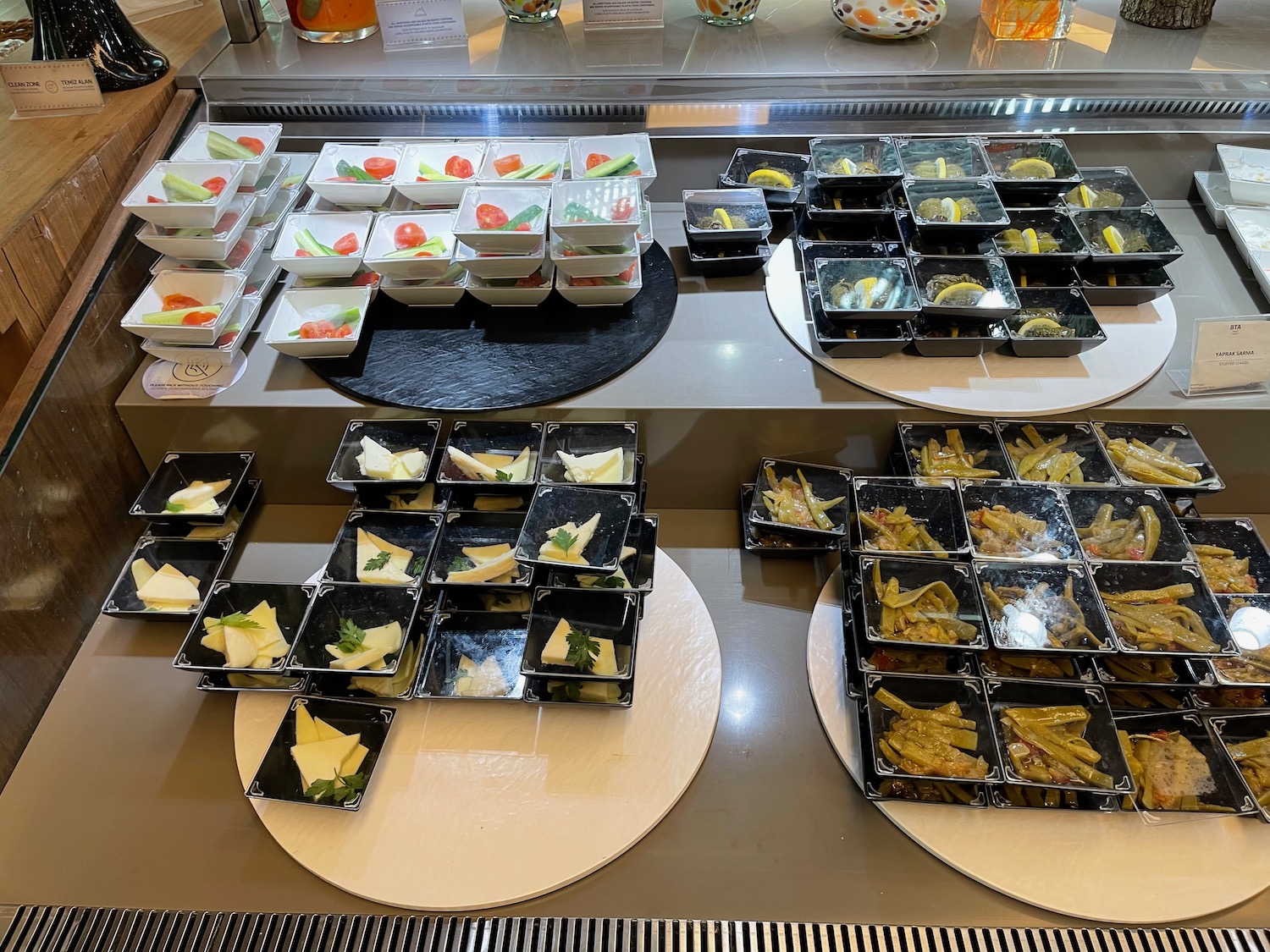 This lounge now has a pide station, which is a literal copycat move of what Turkish Airlines offers (but a welcomed one).
Overall, this lounge has weathered the pandemic and held up well.
My original review of the IGA Lounge Istanbul, published on November 13, 2019, appears below.
---
The new IGA Lounge in Istanbul is a worthy competitor to the Turkish Airlines lounge and a wonderful addition to the Priority Pass portfolio.
IGA Lounge Istanbul Entrance Requirements
I had the chance to visit this lounge for a couple hours before my British Airways flight to London. It serves as the lounge for many carriers in IST, even some Star Alliance members that would ostensibly use the Turkish Airlines lounge. To reach the lounge, just follow the signs (bear left) after passport control and security.
Once inside, just scan your business class boarding pass to gain access. Priority Pass members need to check-in at the front desk.
What Time Does The IGA Lounge Open?
The lounge is open 24/7.
IGA Lounge Istanbul Seating
Spread out over a huge space with soaring ceilings, the lounge has seating for hundreds of passengers. Couches, chairs, and tables offer a mix of seating. While there is no sleeping room, I noticed several people dozing on couches in the early morning hours. Power plugs are located throughout the lounge, though U.S. passengers will want to bring their adaptor along.
Conference rooms are located in the rear of the lounge:
IGA Lounge Istanbul Dining
In the center of the lounge is a buffet are offering self-serve food and drinks. I was disappointed with the selection when comparing it to the Turkish Airlines lounge, but there were still many choices available of hot and cold food items.
Since I was there during the breakfast window, I tried a few items. Only the eggs were actually served at a hot temperature.
IGA Lounge Istanbul Beverages
I was excited to see a "proper" manual coffee machine at the bar. There, the barista made a nice cappuccino, which always makes me smile.
The bar also offers beer, wine, and hard liquor.
There is a self-serve beverage station with water, juice, and soft drinks near the buffet:
and a couple other self-serve drink stations in the lounge.
IGA Lounge Istanbul Restrooms
Restrooms are located in the middle of the lounge. Looks for the gold doors. With attendants on duty, the restrooms are kept clean.
IGA Lounge Istanbul Showers
Inside the gender-designated restrooms, shower suites (without toilets) are available.
IGA Lounge Istanbul Massage
Toward the end of my stay, I noticed a massage chair had been set up. It appears free neck and shoulder treatments are offered on a first-come, first-served basis starting at 9:00AM.
IGA Lounge Istanbul Children's Room
A children's play room features a large space for children to run around or watch a movie.
IGA Lounge Istanbul Smoking
Smoking is not allowed indoors, but a large screened-in patio offers ample space to vape or smoke a cigarette.
IGA Lounge Istanbul Duty Free
Near the entrance, the lounge has its own duty free shop.
IGA Lounge Istanbul Luggage Storage
Also near the entrance is a luggage storage area in case you don't want to deal with your bags while in the lounge (or even if you go into the city during a very long layover). Lockers are password protected.
IGA Lounge Now A Priority Pass Lounge
Priority Pass recently announced that IGA is now a part of its lounge network. This marks the first Priority Pass lounge in Istanbul's new airport and as far as Priority Pass lounges go, a great one.
CONCLUSION
This is a solid lounge and helpful addition to IST. While not as nice as the Turkish Lounge, it's worth a visit before your flight.
Have you visited the IGA Lounge? Did you like it?