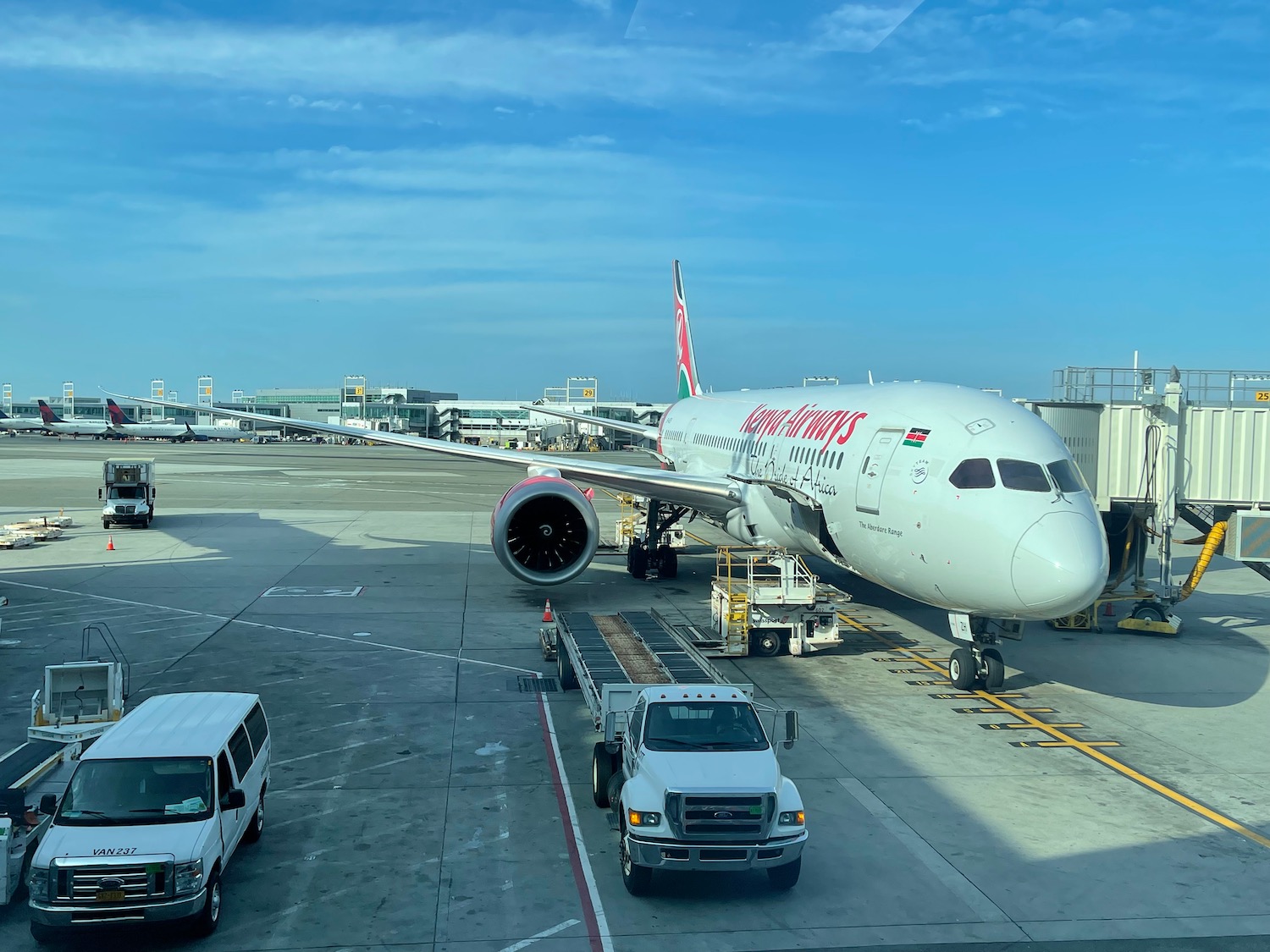 I had a lovely journey on Kenya Airways from Nairobi to New York in "Premier World" business class on the 787-8 and enjoyed gracious hospitality onboard that instantly made Kenya Airways my favorite African carrier.
Kenya Airways 787-8 Business Class Review
I booked this ticket using Air France Flying Blue miles from Johannesburg to New York via Jomo Kenyatta International Airport in Nairobi for 55,000 miles in business class, plus $458 in taxes/fees. Typically, the price is much higher, but this price popped up about three weeks prior to departure.
My journey began in Johannesburg, with a flight delay almost leading to a missed connection. Thankfully my flight was held for connecting passengers from Johannesburg and I soon settled into my seat for the 15 hour flight to New York JFK.
Kenya Airways (KQ) 002
Nairobi (NBO) – New York (JFK)
Saturday, July 23
Depart: 11:35 PM
Arrive: 07:35 AM+1
Duration: 15 hr, 00 min
Distance: 7,336 miles
Aircraft: Boeing 787-8
Seat: 3F (Business Class)
A flight attendant greeted me at the door, checked my boarding pass, and directed me through the galley and left to my seat in the front cabin.
Seating
Most other business class passengers had already boarded, though I was able to snap a few pictures prior to departure:
Kenya Airways 787-8 uses off-the-shelf Zodiac Aura Lite product for its business class seats. The front business class cabin has three rows of business class flat bed seats in a 2-2-2 configuration while the rear mini cabin has two rows, for a total of 30 seats.
People either love or hate these seats. I find there's more to love than hate, considering your feet have unlimited legroom rather than being constrained by a box or cutout. On the other hand, they are not very private.
Each seat has 74 inches of seat pitch and is 31 inches wide.
In lie-flat mode, the bed is over six feet long and I slept well, despite the lack of air vents above each seat.
I like the personal storage in this seat, including a generous cutout for personal items (easily large enough for your larger electronic devices or small bags) as well as a literature pocket. Tray tables are in the center console and therefore do not restrict your knee room. While I greatly prefer a window seat, especially on a long haul flight (booking late, I again took the last seat in the cabin), I appreciated being able to get up and down without disturbing my seatmate.
Seat recline was electronically-controlled by push-button. The seat controls have a memory feature so you can set your favorite position and revert to it on demand.
Reading light:
Universal power outlet plus USB-A charger:
Bedding included a pillow and duvet with a soft velvety material on one side.
After we landed, I stayed behind a few moments to take additional pictures of the cabin: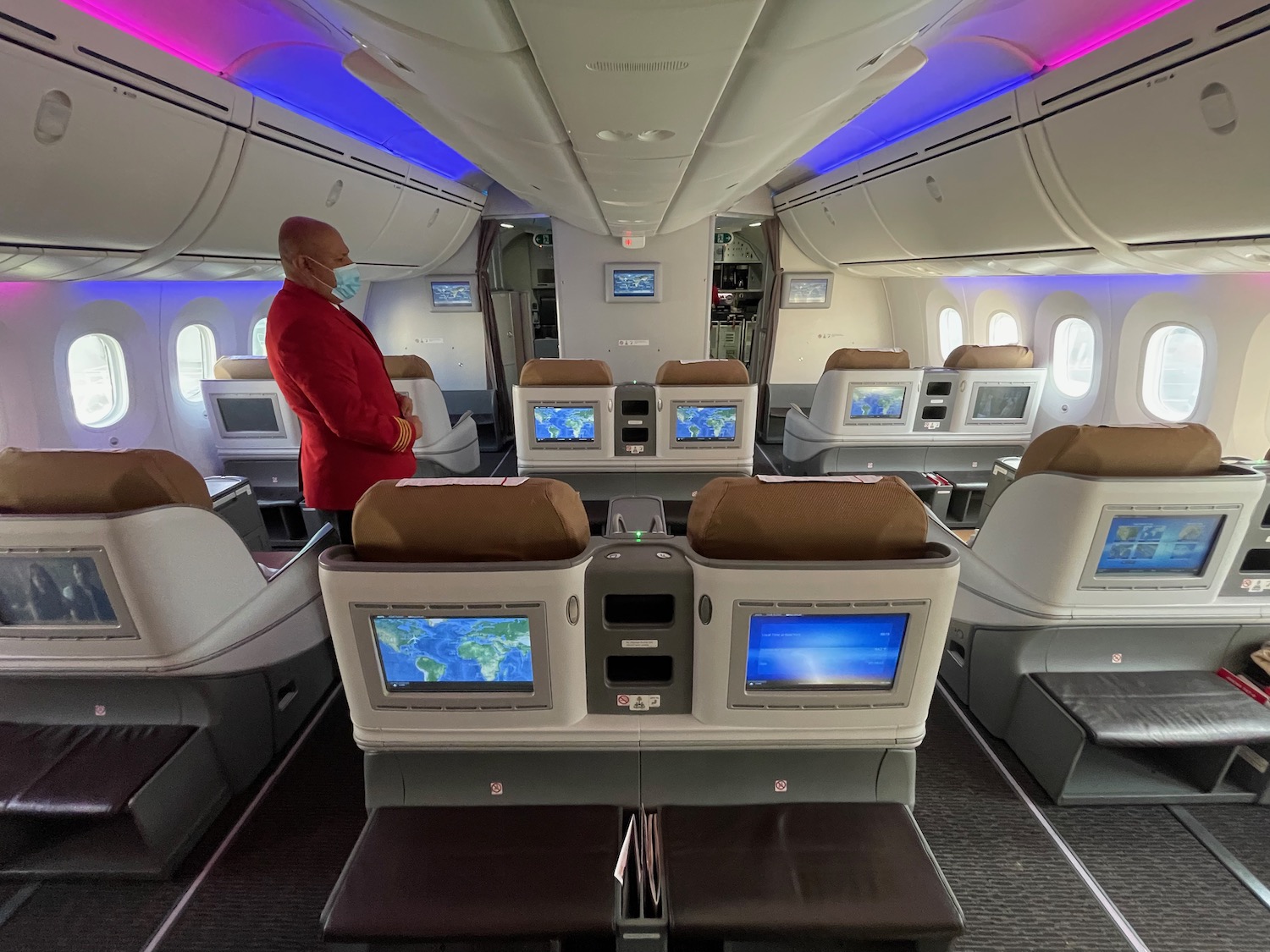 Amenity Kit
A basic black, Kenya Airways-branded amenity kit was waiting on each seat. Contents included:
toothbrush
toothpaste
earplugs
comb
eyeshade
socks
pen
Lavatory
With such a long flight time, I changed into my United Airlines pajamas (from the outbound flight) prior to pushback. I generally will not change into pajamas unless a flight is longer than 10 hours.
The lavatory was clean again still clean when I changed out of my pajamas prior to landing.
IFE + Wi-Fi
Kenya Airways does not offer wi-fi on its Dreamliner jets. If internet onboard is a concern, you will need to avoid Kenya Airways.
An IFE library included movies, TV shows, a moving map, and music. The selection was limited, with about 55 movies to choose from (far less than the 100 movies advertised), none which really caught my eye (I ended up watching Christopher Nolan's Tenet for the fourth time – still one of my favorite movies that requires deep thought in order to figure out).
Some music and games were blocked: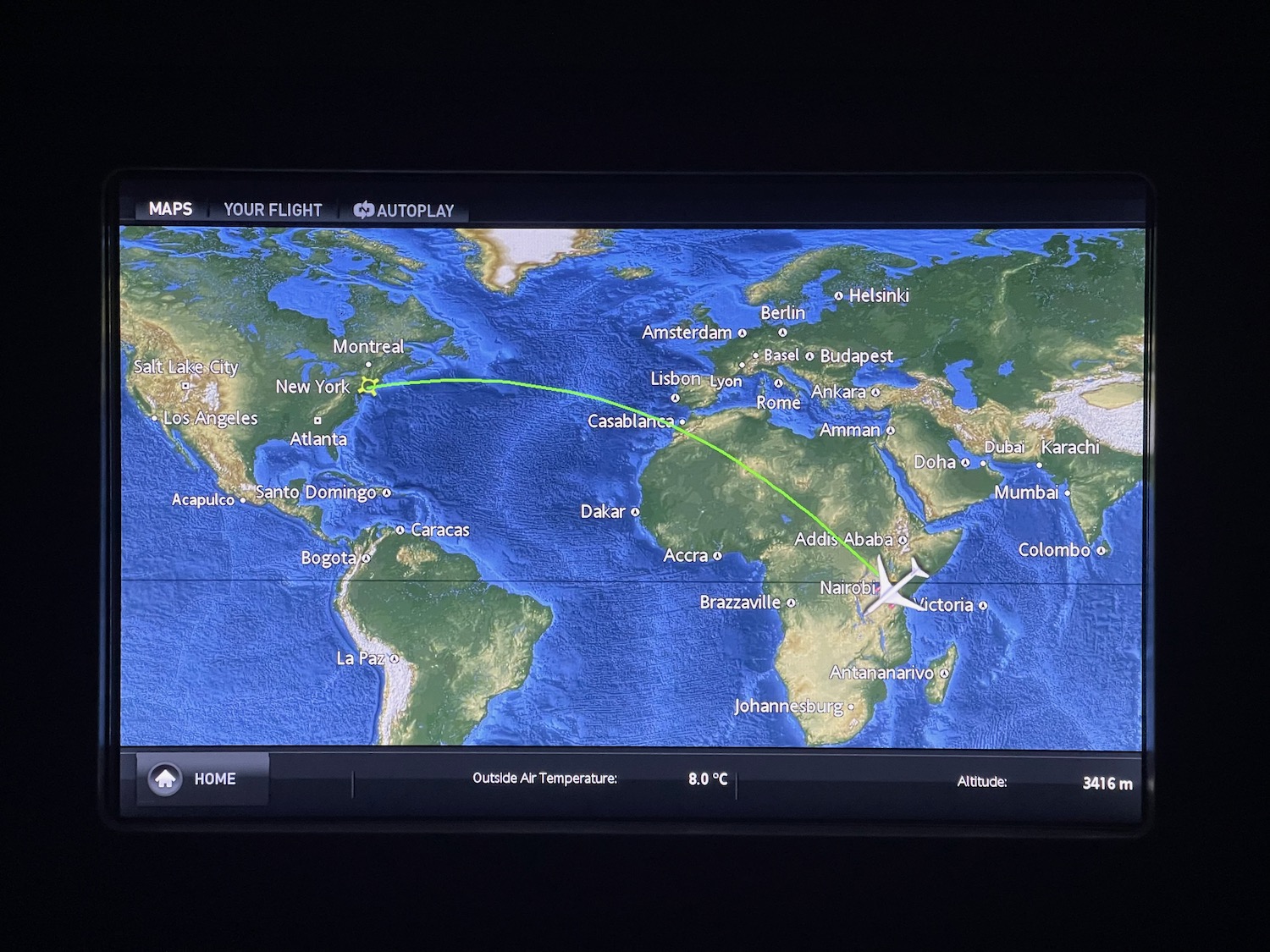 Noise-cancelling headphones were a bit cumbersome over the ear, but functioned effectively.
With a great distance between the seat and the screen, the use of a remote was necessary to control the screen.
Food + Drink
A pre-departure beverage was offered, with a choice of water, orange juice, or sparkling wine.
Dinner was served after takeoff, followed by snacks on-demand, and breakfast before landing.
Dinner
Kenya Airways still had not brought back printed menus on my flight, forcing a flight attendant to walk through the cabin and read out options to each passenger. Main course choices included beef, chicken, or a vegetarian dish.
Service began with a hot towel.
I chose the "pan-seared chicken supreme served with spring onion rice, sautéed Kenyan beans, carrots, red pepper, and honey soya reduction."
The entire meal was served on a single tray, with the main course and side dishes covered. For a 15-hour flight, the first meal was relatively skimpy. I had just eaten dinner on my connecting flight and was not all that hungry, but even United Airlines does better than bread, main course, and dessert. That said, the quality of the food was good, as was the presentation.
I stuck to water to drink, hoping to soon fall asleep.
With 13.5 hours left in the flight, I slept for the next nine hours…I am thankful to be able to sleep so well on flights.
Midnight Snack
I woke up with about four hours left in the flight. While I was not very hungry, I ordered a hamburger for purposes of this review from the "midnight snack" menu. It was served immediately in a red box.
Unwrapping it, I found a cheeseburger with BBQ sauce. I am fairly easy to please when it comes to hamburgers, but I thought it was pretty good.
For dessert, I had a small cup of cookies & cream ice cream.
Breakfast
Somehow I fell asleep again and woke up about two hours prior to landing, just as breakfast service was beginning. First came a hot towel.
Breakfast choices included chicken sausage, a mushroom omelet, or sautéed mushrooms.
I chose the mushroom omelet, which was served (again covered) with a fruit salad, yogurt, and "croissant." Coffee was strong and appreciated after my extended slumber.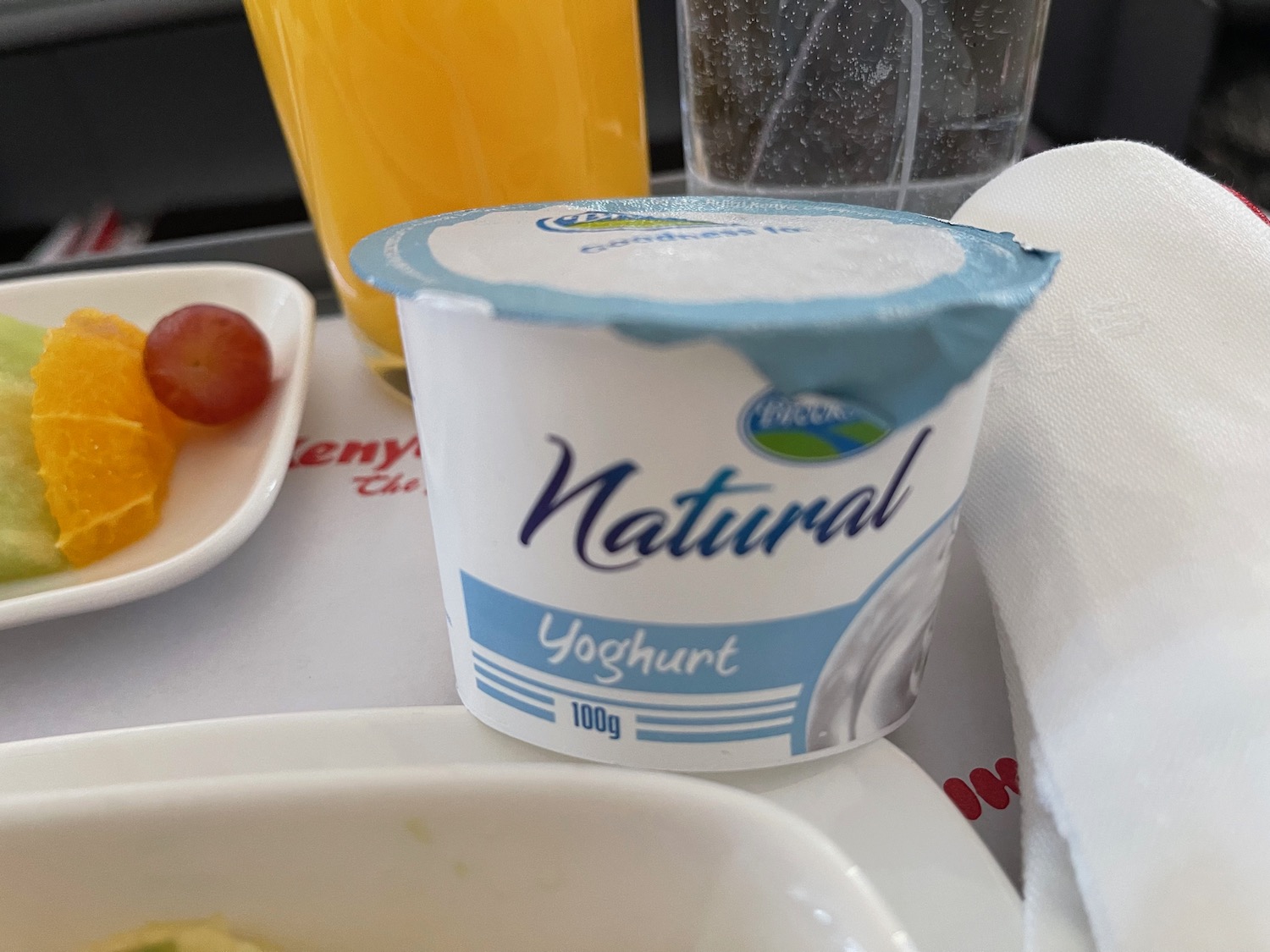 Kenya Airways will not win any awards for catering, but there was enough food on the flight with snacks available between meals.
Service
Where Kenya Airways should win an award was for the excellent service on my flight. I am going to dedicate a special post to the crew, but I want to commend Mohamed Khan, the purser onboard. From the very start, he set a professional yet fun tone. Instead of wishing us a great flight, he said, "We wish you a very pleasant safari."
Ultimately, we were delayed 90 minutes due to late-arriving connecting passengers (myself included), but Khan, kept updated.
During the flight he was actively engaged in doing exactly what a purser should be doing, namely chatting wtih passngers to ensure they were comfortable. I greatly appreciated the small talk and his love for his job.
I also want to thank Sang, the flight attendant who worked my side of the aisle, for her great service onboard.
After the plane landed, I asked if I could take a picture with the crewmembers and they happily agreed.
Service is the most important hallmark of a great flight and the service was attentive, courteous, warm and overall outstanding on this longhaul flagship service to New York.
CONCLUSION
After over 14 hours onboard, it was nice to step off the plane…and shortly onto my six hour connecting flight to LAX on United. I would (and will) fly Kenya Airways business class again and found it to be a nice product overall, despite the lack of wi-fi internet and relatively small meals. Is Kenya Airways really "The Pride Of Africa?" After this flight and in light of the fall of South African Airways, I'd say the answer is yes.