Taking advantage of a fare sale from Houston to Amsterdam to Dubai in business class, I got to try KLM's premium product across the Atlantic. Here is my first impression of the service. 
---
If you are considering booking travel or signing up for a new credit card please click here. Both support LiveAndLetsFly.com.
---
If you haven't followed us on Facebook or Instagram, add us today.
The Deal
Matthew published a fare deal from Houston to Dubai on Star Alliance partners in business class for about $1500-$1800 roundtrip. Pricing out my trip to Yerevan, Armenia, my costs in coach were nearly the same so I searched for this deal, using points to fly from Dubai to Yerevan. For my dates, I couldn't the fare on Star Alliance partners but I was able to snag a deal on SkyTeam partners for $1,699 and it seemed too good to pass up.
My American Express Platinum Card also ran a promotion with Delta around the same time of booking to match and then upgrade your status one level from a competing carrier. I matched my United Premier Platinum status to Delta Diamond as a result.
An owner for a restaurant chain engrained in me one of the greatest business lessons I have known. I've said it before, and I will say it again: "Never let your customer try the competition." United did that in its selective status extensions last year, and this year I decided to be a free agent, Delta won this round.
Business Class Cabin
While KLM has announced that they will update its business class in the near future, this particular 777-300ER featured a dated layout of 2-2-2 in business class. The seats were lie flat and comfortable but lacked a level of privacy. I snagged a seat in what's often called the "mini cabin" of just one row just after the boarding door and before premium economy.
Note: I had a good look at Premium Economy from my seat and the layout was still 3-4-3 but with better recline and footrest features. It would not be worth a premium to me.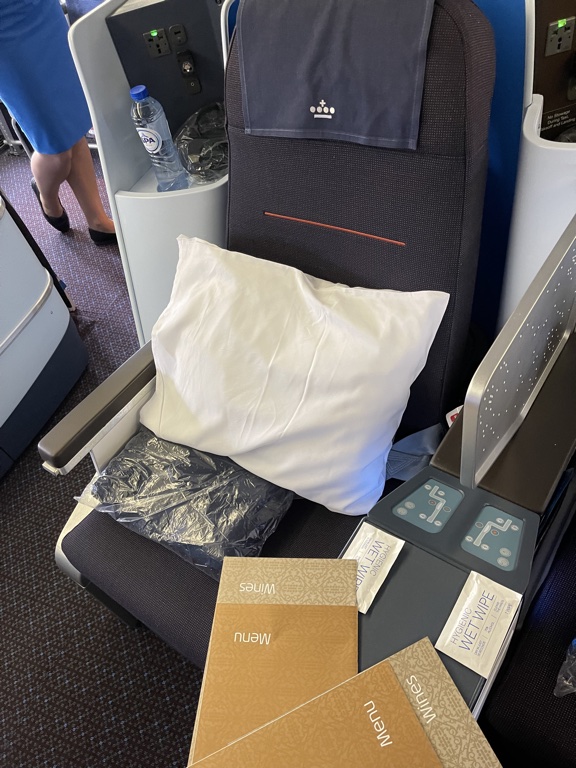 Food
Meal service began shortly after take-off. Pre-departure beverages were served with a choice of orange juice, water, or sparkling wine.  A selection of wines and spirits on the menu as well as signature drinks are paired with the food menus. A lunch/dinner meal was served first with breakfast available prior to landing in Amsterdam.
For some reason, my Delta Diamond status (SkyTeam Elite Plus) had not registered in the KLM system and as such, I was not offered first choice on entrees. I wanted to try the lobster appetizer as I loathe mushrooms but all of those had been selected by others first. The same was true of the Chicken entree. That said, the morel mushroom soup was not only my favorite thing I ate during the journey, it quickly became a favorite for me generally.
For my entree, the Korean beef was good, the purple potatoes, not so much. I was suprised and delighted that the beef was not overcooked.
At the conclusion of the meal, a dessert plate was offered.
Prior to landing, breakfast was served. The foil was initially left on, a small touch that removes some of the magic of eating 30,000 feet above the earth but it obviously didn't materially affect my meal. Fruit filled crepes, and salmon and cream cheese on a roll made for a nice start to the day. The crepes weren't life-changing, but satisfying following a restful nine-hour flight and in this case, I was granted first selection.
Experience
The ground experience is where your journey begins. Check-in was easy and I held access to either of the two SkyTeam lounges in the D Terminal. The KLM lounge was better than the Air France lounge (more on those later) but to be clear – do not visit either.
SkyTeam has unified lounges in markets where multiple carriers can benefit like in Dubai, Sydney and elsewhere. In the case of Houston, the city welcomes flights from partners Air France, KLM, LATAM, and AeroMexico in addition to serving a number of Delta customers who may be starting their in the city. However, these lounges (also Priority Pass) are an embarassment and do not reflect the quality of the rest of the experience.
Once boarded, water and noise cancelling headphones were at the seat as well as an amenity kit that was on par with other carriers in business class. The IFE system was modern, and the remote could be used to showcase flight data independently of controlling screen.
Despite Covid-19 mask protocols remaining in place for US flights, masks were optional once onboard the aircraft as it was going to Amsterdam, however, staff informed me that masks were required going to America even though they weren't required on KLM flights.
I received one of the "little houses" that KLM offers business class passengers. Matthew wrote a great post about these that I couldn't do greater justice to so I will refer you to his content on the matter. I will note that I thought the touch, while small, was a clever touch that reflects on both Dutch culture and gives passengers a tiny incentive to choose KLM again when other choices are equal.
Conclusion