I was impressed by both great service and tasty meals on my very first Lufthansa A350 flight. This business class review covers my journey from Los Angeles to Frankfurt with my wife and two children.
Lufthansa A350 Business Class Review
Booking
We booked two tickets with Avianca LifeMiles (63,500 miles each via American Express Membership Rewards) and one with Air Canada Aeroplan (70,000 miles). Why separate tickets?
As I outlined here, infant tickets cost only 25CAD with Aeroplan and I required one for my little daughter Claire Marie. That was certainly worth the extra 6,500 miles. Taxes were $5.60 per ticket. LifeMiles adds a 25USD close-in booking fee while Aeroplan adds a 40CAD booking fee.
There was no discount for Augustine, my four-year-old son.
Check-In
My wife and children were traveling with a German passport while I was traveling with a U.S. passport. During check-in, I was asked to produce authorization to travel to Germany. Since I do not currently possess an Aufenthaltstitel (residence permit), the agent asked me for my marriage certificate. 
I did not have it…
But thankfully I had my daughter's birth certificate with me and that was sufficient to clear me for check-in. We checked a few bags plus the stroller and everything was tagged with an orange "Priority" label to Frankfurt.
We were advised that the Star Alliance Lounge was closed, which I already knew and has been closed since the pandemic started. If we had more time, we could have ventured down to Terminal 7 and visited the United Club, but it was not worthwhile and we arrived shortly before boarding began. The Tom Bradley International Terminal was surprisingly busy, though it was the afternoon rush.
Lufthansa 457
Los Angeles (LAX) – Frankfurt (FRA)
Tuesday, December 29
Depart: 03:20PM
Arrive: 11:15AM+1
Duration: 10hr, 55min
Aircraft: Airbus A350-900
Seat: 1K (Business Class)
We were among the first onboard (ah, the advantages of having two young children) and I used the opportunity to snap some pictures on the A350 business class cabin. A trio of flight attendants traveling non-rev were already relaxing in their seats.
Seats
Let's start with the weak point. A 2-2-2 configuration on a beautiful brand new widebody aircraft is uncompetitive in 2021. I've never loved the Lufthansa business class seat and forcing window seat passengers to climb over their seatmates is so last decade.
But while you are not guaranteed direct aisle access on Lufthansa, the seats were admittedly ideal for my family of four. We sat in 1H/K along with 2K. 2H stayed empty, giving my baby daughter her own seat.
The cabin has 48 business class seats and is divided into a front cabin (36 seats) and a smaller rear cabin of two rows (12 seats) with lavatories and a galley in between.
Seat pitch is 64 inches (20 inches wide) and the bed is 78 inches in length in lie-flat mode. Even during the pandemic, Lufthansa continues to provide a mattress pad along with a pillow and duvet. There are no individual air nozzles and the cabin became quite warm overnight. 
Each seat as a console to adjust seat position, a flip-out container for valuables (not big enough for shoes, though), and a shelf above that accommodates can also accommodate paperwork and small valuables.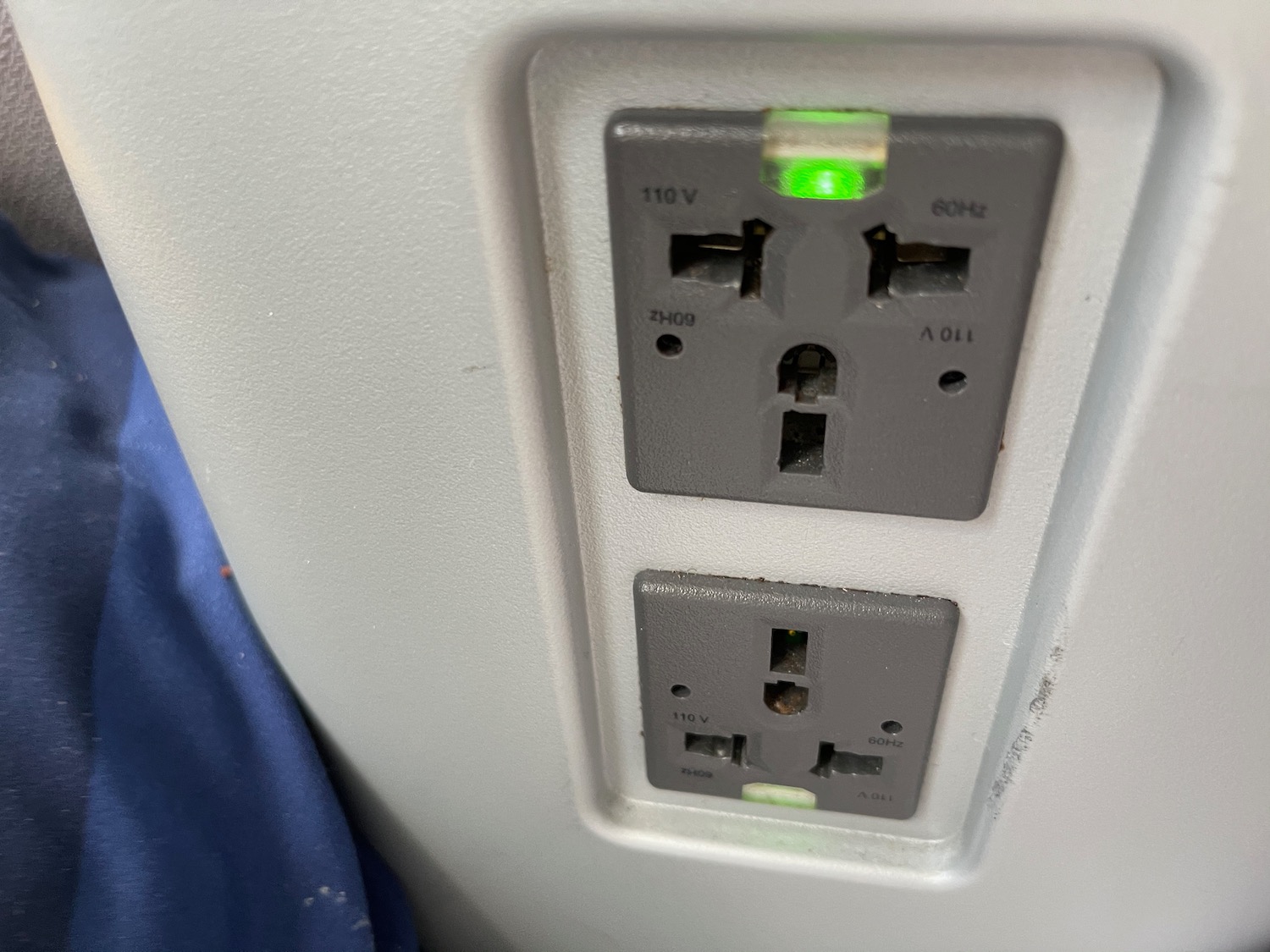 Infant Bassinet
Since we were traveling with my daughter Claire Marie, seven months old at the time, we secured a bassinet in the first row. Unlike my son Augustine who slept very well on airplanes as an infant, Claire Marie would not stay in her bassinet. It's not that she cried (she was actually quiet throughout the flight), but she is in the pre-walking stage in which she pulls herself up. The bassinet could not contain her…
She ended up sleeping in seat 2K, which allowed her to sleep well for several hours. This was her first flight by the way. More on that in a separate post.
Business class went out about 60% full, as did premium economy and economy class. That gave just about everyone their own row of business class, which makes the seat much more bearable.
Kid's Amenities
This was also my son's first flight on Lufthansa. He's flown a number of carriers, but this was his first time on any Lufthansa flight and first time on an A350.
In addition to the usual stuffed airplane, Augustine was offered an activity packet featuring a sticker book and coloring book with colored pencils. It kept him occupied.
The bigger joy for Augustine was just looking out the window.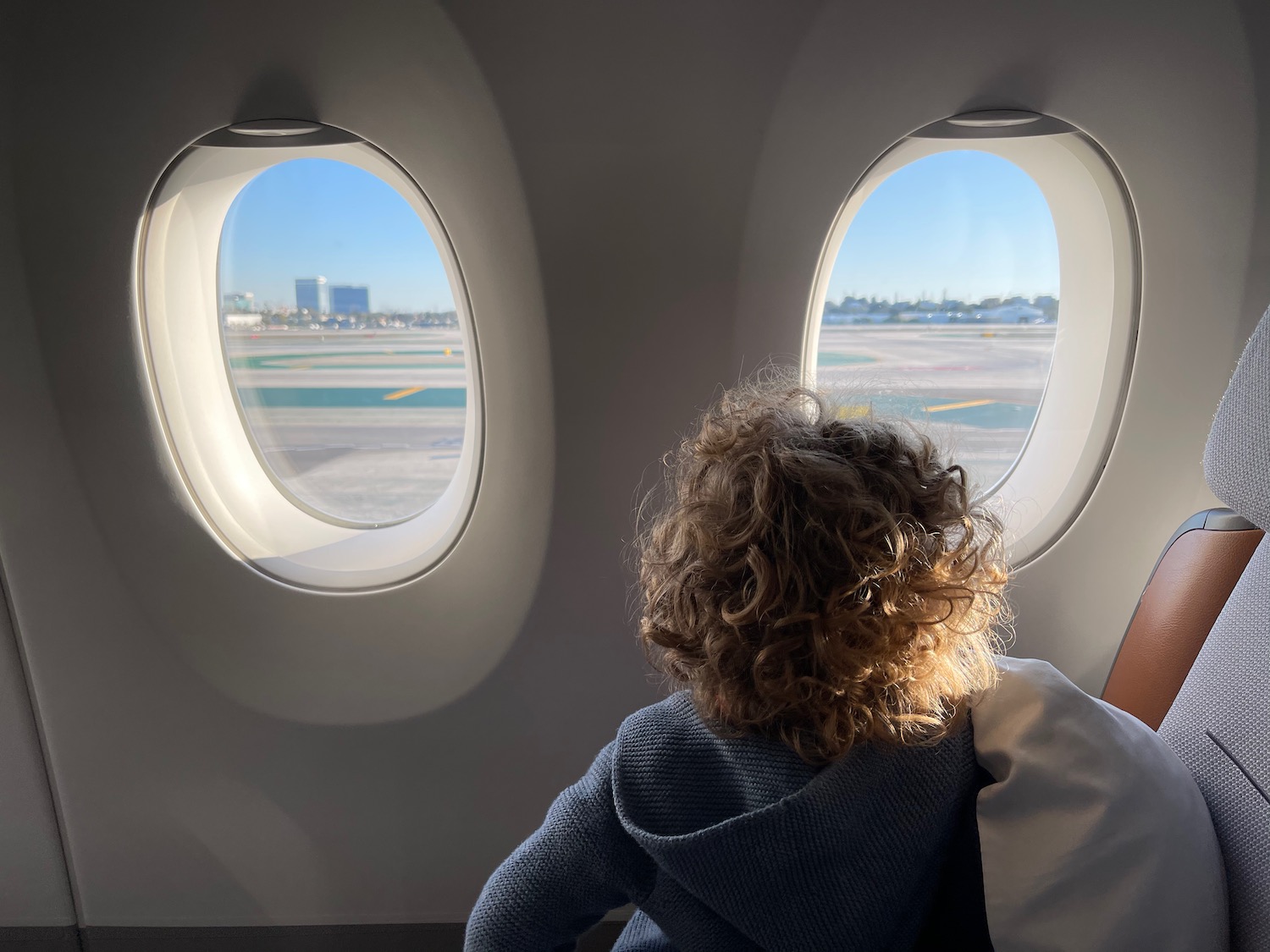 He eventually went to sleep and slept for six hours.
IFE
My time was spent interacting with Augustine, so I was unable to watch any in-flight-entertainment, but I found the system onboard Lufthansa's Airbus A350s far more responsive than on the 748-8s or A380s we usually see out of Los Angeles.
Wi-Fi internet was available onboard and with so few passengers, it functioned quickly. Lufthansa now charges based upon data used, which is incredibly annoying, but I had a leftover pass from my November flight in first class.
AKG noise cancelling headphones, which resemble the Bose QC-3, are used in business class and worked quite well.
My only IFE annoyance was that the tailcam was turned off, one of my favorite things about flying on an A350. I had to settle for the nose camera…
Food + Drink
No pre-departure beverages during the pandemic, although there were bottles of water waiting in each seat. No hot towels either (sealed wipes instead), but other aspects of the service were identical to what you would expect pre-pandemic.
After takeoff, service began quickly, which was appreciated. Even though the flight was 10.5 hours, a slow meal service compromises sleep.
Dinner
Unlike U.S. airlines, Lufthansa has not used the pandemic as an excuse to masquerade cost-cutting of the premium cabin soft product. Dinner was served using real cups, glasses, plates, and utensils. Even the presentation makes such a difference.
Service commenced with a beverage service and ramekin of mixed nuts. I had a glass of sparkling water and red wine while Augustine had apple juice. Refills of nuts were offered (new ramekins).
Looking over the menu, I chose the seafood appetizer which included a single shrimp and single scallop with a papaya and cucumber salad and lime ginger soy sauce.
My wife Heidi had the black-pepper crusted duck, which she said was tasty. It was served with potato salad drizzled in white truffle oil and a boiled quail egg.
I had ordered a children's menu for Augustine (big mistake) and his appetizer was a Mickey-Mouse shaped potato pancake with fruit and apple strudel (which he did not save for dessert…).
When it comes to appetizers and main courses, the Lufthansa First Class and Business Class menu is identical. Sure, first class receives caviar and all three appetizers instead of just one. The main courses are also plated on a nicer plate. But, the food itself is the same.
Thus, although I have been ordering almost exclusively fish lately, I went with the beef filet on this flight to compare it to my first class filet. It was, as expected, identical (and cooked well-done).
Meanwhile, Augustine's special meal arrived and made me roll my eyes: breaded chicken nuggets and macaroni & cheese. Seriously? The Lufthansa website promises a "healthy and balanced" meal. This was anything but.
For dessert I had both a cheese plate and fruit plate.
The galley features a self-service station and I noticed they had Roka cheese biscuits, one of my favorite treats from the Netherlands. It was so nice to snack on these.
Breakfast
Breakfast service began 90 minutes prior to landing. It began with orange juice (not fresh squeezed so I skipped it) and espresso, which was greatly appreciated.
I later switched to filter coffee and also found it good. No cappuccinos in business class.
For breakfast I enjoyed a quiche Lorraine with a white bread roll (annoyingly, no croissants) and small bowl of fruit. It was small, but more than adequate.
Augustine was presented with another carb-bomb: pancakes with bread and a muffin. Never again will I order a kid's meal (I took the muffin and bread away…).
Claire Marie was also presented with a meal: a vegetable lasagna puree. I was shocked.
During the breakfast the sun rose, a highlight of eastbound transatlantic flights particularly during the winter months. There was something so special about sipping an espresso and watching the sunrise with my son.
Lavatory
I was on diaper duty during the flight and so my daughter and I had made a few visits to the lavatory…
I appreciated the L'Occitane soap to carefully wash my hands after performing my fatherly service.
The front lavatories were reserved for the crew, one other change due to the pandemic.
Amenity Kit
While the contents of the kit were not interesting (toothbrush, toothpaste, ear plugs, mint, eyeshade, socks, L'Occitane skin products), I loved the brown leather case it came in.
Service
The highlight of the flight was the wonderful service provided by the ladies working in business class. Confession: in my (fairly substantial) experience, the Frankfurt-based crews are much better than Munich-based crews. As the A350 is based in Munich, this was a Munich-based crew. But the crew was simply tremendous on this flight.
They were friendly, engaging, attentive, and so courteous. All conversation was conducted in German and we were addressed by name (including little Augustine as "Master Klint") during the flight. It felt almost like first class, with the flight attendants showing up exactly at the right time (when I woke up) and always with a smile.
I really appreciated the service on this flight and was very pleasantly surprised.
Flight Deck Visit
After landing, we briefly visited the flight deck, where the very congenial flight crew was happy to show Augustine the controls and let him sit in the captain's seat.
CONCLUSION
We landed in Frankfurt on-time and taxied to the last gate in the Z Concourse. There, we had to wait about 20 minutes in the jet bridge for Claire Marie's stroller then make the 20-minute walk to immigration. Still, it wasn't bad after a long flight. The airport was eerily quiet.
Of all my business class experiences on Lufthansa, this was the best one. While the seat itself is not cutting edge (I greatly prefer the United Polaris business class seat), the service was outstanding on this flight and I was so thankful to use my hard-earned miles to treat my family to business class. Although Lufthansa Business Class is not my favorite product, this was a very nice flight and the added benefit of flying direct was immensely helpful.
Have you flown the Lufthansa A350-900 business class? How was your experience?