Turkish Airlines is so predicable…and that's such a good thing. I flew Turkish Airlines from Alexandria, Egypt to Istanbul and enjoyed great service, delicious food and drink, and a comfortable business class seat onboard the 737 MAX 8, all on a flight that took only two hours in the air.
Turkish Airlines 737 MAX 8 Business Class Review (HBE-IST)
From Alexandria, I flew to Istanbul, thus starting a very long journey home for me (via Abu Dhabi, Bahrain, London, Bogota, and Houston). The flight gave me an opportunity to try the 737 MAX 8 for the first time with Turkish Airlines. I built the itinerary over the phone using Aeroplan points.
But the 2:40 am departure time was just miserable. Thankfully, the Four Seasons Alexandria graciously allowed us to stay until after midnight then drove us to the airport. We arrived just before 1:00 am.
Check-in took just two minutes. Business class upgrades were being offered for 165USD (we had already booked directly into business class, but this is not a bad price for an overnight flight, just for the seat alone).
Passport control took about 15 minutes, then we spent some time in the Pearl Lounge before boarding began at 2:30 am (the plane was a bit late in arriving from Istanbul).
Turkish 696
Alexandria (HBE) – Istanbul (IST)
Thursday, April 7
Depart: 02:40 AM
Arrive: 06:00 AM
Duration: 02hr, 20min
Distance: 716 miles
Aircraft: Boeing 737 Max 8
Seat: 2E (Business Class)
As the flight had just arrived, flight attendants were busy in the galley and did not offer a greeting, though it looked like the aircraft had been cleaned on the ground.
Seat
The business class cabin includes 16 seats arranged in a 2-2 configuration. These are better than "domestic first class seats" in the USA and more akin to premium economy seats on longhaul flights. In addition to a very generous recline, a footrest could be extended, making this a comfortable seat for lounging.
A small, almost useless, privacy divider could be extended between seats, though since I was traveling with my friend that was not necessary. The seat featured a literature pocket, mesh pocket, and coat hook on the seatback.
Under the armrest there was a fast-charging USB-A port, universal outlet, and a jack to plug in headphones.
Pillows and blankets were offered on demand (both were small and more akin to the type of bedding you would receive in economy class on a longhaul flight).
There are individual air vents above each seat.
This is the same seat Turkish Airlines uses in business class on its A321neo. We pushed back at 2:55 am, about 15 minutes late.
Food + Drink
Prior to takeoff, the purser offered a choice between fresh raspberry juice, fresh mint lemonade, and water. Turkish always offers delicious freshly-squeezed juices.
Menus were offered prior to takeoff with orders taken after takeoff. Even on this short journey in the middle of the night, Turkish provided a huge breakfast onboard.
Breakfast began with a hot towel and an appetizer of sliced turkey, Turkish cheese, sun-dried tomatoes and yogurt, and marinated Turkish olives, served with warm bread from the oven (I had a delicious croissant and pain au chocolat). There was also a side of fresh fruit and "homemade" Turkish mandarin jam from Bodrum and butter from Trabzon.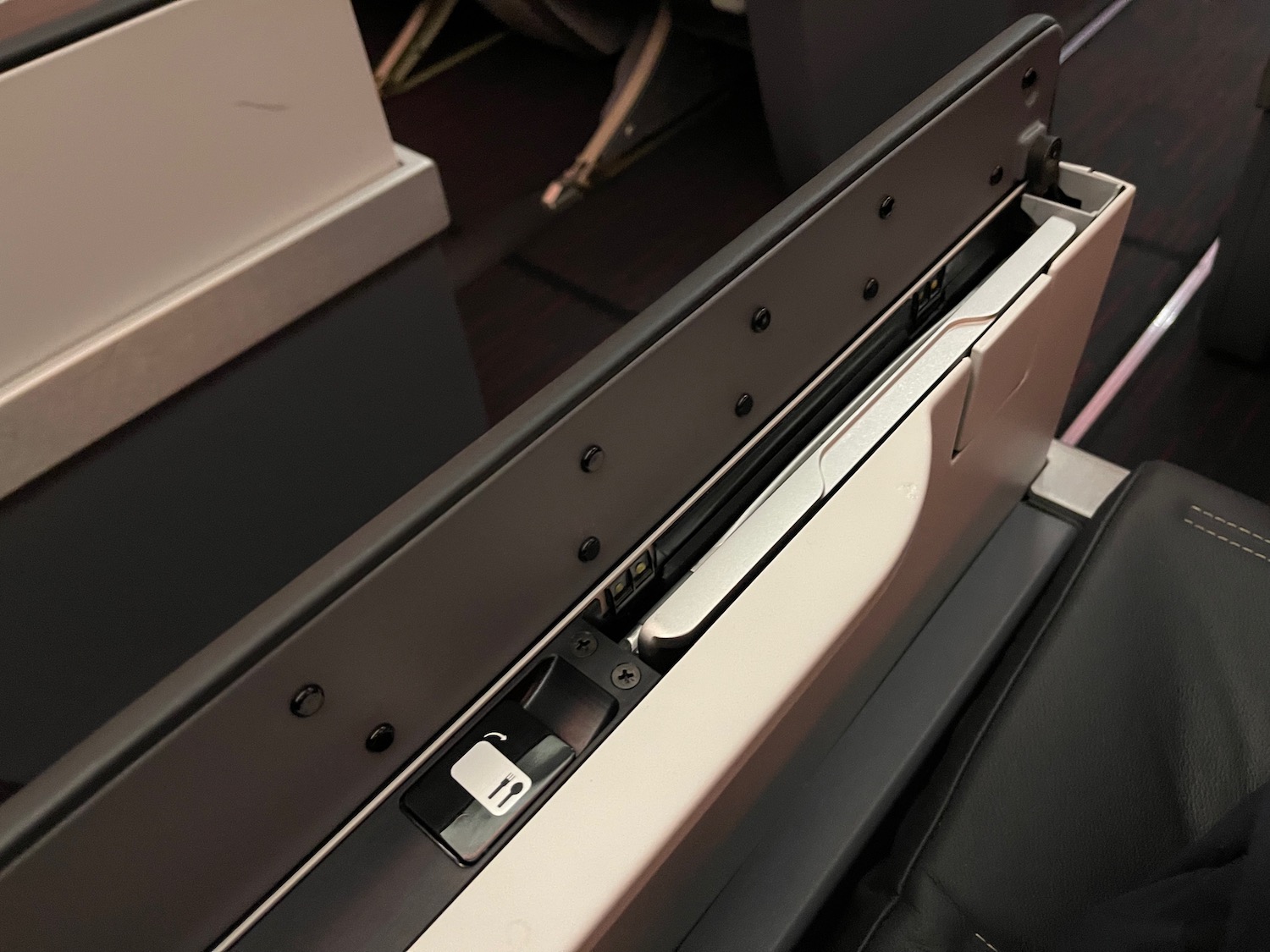 For my main course, I had a "veggie omelet" with chard, leek, potatoes, and sautéed mushroom.
I find the food on Turkish Airlines to be spectacular on every flight.
IFE + Wi-Fi
Each seat in both business class and economy class has a seatback screen. This is controlled only via touchscreen – I could not find a passenger service unit.
The content included:
movies
television programing
games
music
ebooks (including a dedicated section of Islamic literature)
Headphones were provided in a sealed bag.
Wi-Fi did not work on this flight.
Service
Service was gracious and well-intentioned, with meals promptly served and glasses kept full. Even after the meal service, flight attendants took turns wandering the cabin (less than half full) ensuring that the passengers were comfortable.
Lavatory
I despise the tiny sink on the 737 MAX 8 that always seems to splash.
Soap and hand lotion from Molton Brown was available.
CONCLUSION
We landed just as daylight was breaking at Istanbul Airport and unfortunately parked at a remote stand. With the light loads on the flight, all passengers were herded into a single bus and we were soon our way to the terminal.
Turkish is so predictable…and that is exactly the way I love it. You can always count on a good meal onboard a Turkish Airlines flight and I greatly appreciated the chance to recline a bit on my overnight flight to Istanbul.