While the thought of a middle seat in a business class cabin seems dated, Turkish Airlines offers a spacious and comfortable product onboard its Boeing 777-300ER. This review covers my Turkish Airlines 777-300 flight from Istanbul to London in business class.
Turkish Airlines 777-300 Business Class Review
Booking
This flight was part of my one-way journey from Cotonou (COO) to London (LHR) via Istanbul (IST). I paid 42,500 Turkish miles for a one-way business class ticket, plus about $400 in taxes/fees.
Lounge
During my layover in Istanbul, I visited the Turkish Airlines Business Class Lounge, a lounge I have reviewed before. Addressing the pandemic, the lounge had retooled its buffet to offer individual portions in disposable packing.
I had slept through breakfast on my flight from Cotonou and enjoyed a hearty breakfast including several barista-made cappuccinos, delicious Gözleme, and a cheese sandwich.
---
> Read More: Turkish Airlines Business Lounge Istanbul (IST)
---
Boarding
The gate area for my flight to London was quiet. As this was the week the world finally woke up to COVID-19, most cancelled their travel plans and few passengers took the flight, a sign of what was to come in the months ahead.
Turkish Airlines 1985
Istanbul (IST) – London (LHR)
Sunday, March 15
Depart: 01:30 PM
Arrive: 02:35 PM
Duration: 04hr, 05min
Distance: 1,550 miles
Aircraft: Boeing 777-300ER
Seat: 4A (Business Class)
Onboard, I found an empty business class cabin and had it to myself for several minutes. It was only toward the end of the boarding process that a few additional business class passengers boarded.
Seat
Turkish Airlines offers 49 lie flat seats in business class onboard its 777-300ERs. Spanning seven rows, each row has seven seats in a 2-3-2 configuration. Although the thought of a middle seat in business class seems so outmoded in 2021, one thing I love about the Turkish Airlines business class seat is that your feet are not constrained. That actually makes sleeping easier. Sure, aisle access becomes an issue on a full flight, but the cabin is configured to be booked to 42/49 (86%) without utilizing the middle seats. Window and aisle seats are the same (unlike on some carriers, where the size of the cutout varies).
I chose a window seat, 4A, which turned out to be missing a window. Avoid that seat. I could have easily moved, but just decided to stay put.
Notice all the room in lie-flat mode, even with the lack of privacy: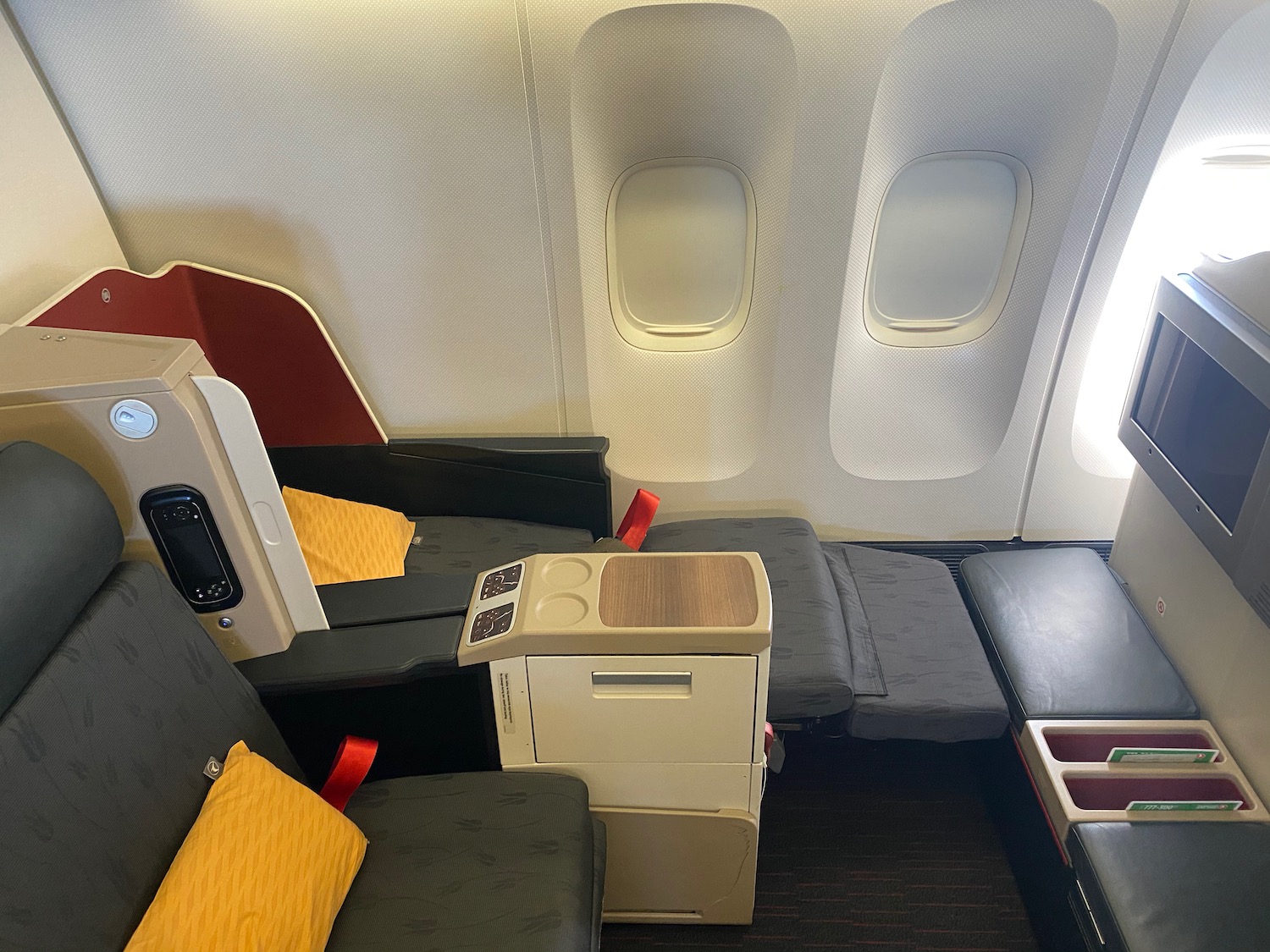 Seat controls are located in the center console along with a USB outlet, universal plug, and limited personal storage under the armrest (the space was big enough for a tablet or small laptop). There's also a large storage cabinet inside the ottoman.
Privacy dividers are available between each seat, but provide only limited privacy.
The front cabin includes four rows while the rear cabin includes three. The rear cabin had four passengers, making a total of eight in business class.
Service
Although the cabin was empty, it was fully-staffed. That essentially gave each passenger their own flight attendant. A smiling flight attendant offered a pre-departure beverage of water, lemon mint juice, raspberry juice, or orange juice. The orange juice was freshly pressed and included an orange slice.
While I would not call the flight attendants chatty, they were extremely attentive and did not pull a disappearing act after the meal service. I asked for another orange juice 30 minutes prior to landing and was obliged (in a plastic cup):
Food + Drink
Menus were distributed along with hazelnuts prior to takeoff. Today's lunch selections included grilled lamb chops, grilled chicken, or artichoke ravioli. All delicious, but the choice was instantly clear for me: lamb. meal service began shortly after takeoff with a hot towel.
The appetizer was seafood-based, including salmon, shrimp, and trout. The tray also included a small green salad, a selection of cheeses, and a profiterole (cream puff) for desert.
Although the portion was small (I suppose I could have asked for another), the lamb was delicious. In fact, this would turn out to be my best airline meal of 2020. The dish included buttery mashed potatoes and grilled vegetables. Had the meat been cooked a medium rare instead of well-done, it would have been even better. I would have also preferred fresh fruit over the cream puff, but an excellent meal overall.
Coffee and tea followed, but I was already over-caffeinated from the lounge.
IFE + Wi-Fi
After lunch, I checked out the in-flight entertainment. Prominent warnings about COVID-19 filled the screen in its default mode. Turkish offers a wide selection of movies, TV shows, games, and music. Today, however, I tuned into live TV (CNN). The topic of the day would be the topic of the year: coronavirus.
Turkish Airlines provides noise-cancelling headphones from Philips in business class.
1GB of free wi-fi internet was included for business class passengers, though internet speeds were terrible.
Amenity Kit
No amenity kits was provided on this flight. Turkish Airlines does provide amenity kits on longhaul flights in business class.
Lavatories
The 777 has spacious business class lavatories with black stone countertops and Molton Brown soap and hand lotion. I liked the "faux" window on the wall.
CONCLUSION
Turkish Airlines treats its business class passengers well and remains one of my favorite carriers. The pandemic has ushered in a cutback in onboard service, but hopefully the full service, as I experienced on this flight, returns later in 2021.
---
This story is part of my An African Adventure As The World Shut Down trip report.