During my recent international connection in Washington, DC I had time between flights to go lounge hopping. This review focuses on the D8 United Club at Washington Dulles.
United Club Washington Dulles Review (D8)
United has four United Clubs at Washington Dulles, but this is the only lounge in in the D Gate area. It's quite a trek from the other gates, though you can take a "mobile lounge" directly to D once you clear security and follow the signs for D Gates.
If you're coming from the main terminal and looking for some exercise, take the train to the C Gates, walk the immense distance from the train station to the "temporary" terminal, head up the escalator, then turn left and run another marathon walk till you get to D8.
Location + Hours + Access
Located next to Gate D8, this lounge is currently open from 9:00am to 6:00pm.
Access is reserved for United Club members, Chase United Club Visa holders, Star Alliance Gold travelers, and international business or first class passengers traveling on any Star Alliance flight.
Furthermore, one-time passes from Chase are accepted or can be purchased for $59. Note that if you hold a Star Alliance Gold card from United Airlines (Premier Gold or higher), you can only access the lounge when traveling in conjunction with an international itinerary.
Those who have a Star Gold card from other programs can use the lounge when traveling on any Star Alliance flight in any class of service. Also note that from IAD, United does not give premium cabin passengers access on domestic flights without status.
Global Services passengers are also allowed complimentary entrance.
Seating
As you enter the lounge, you'll check in at a desk upstairs. If you need any flight help, there is another desk downstairs with additional agents.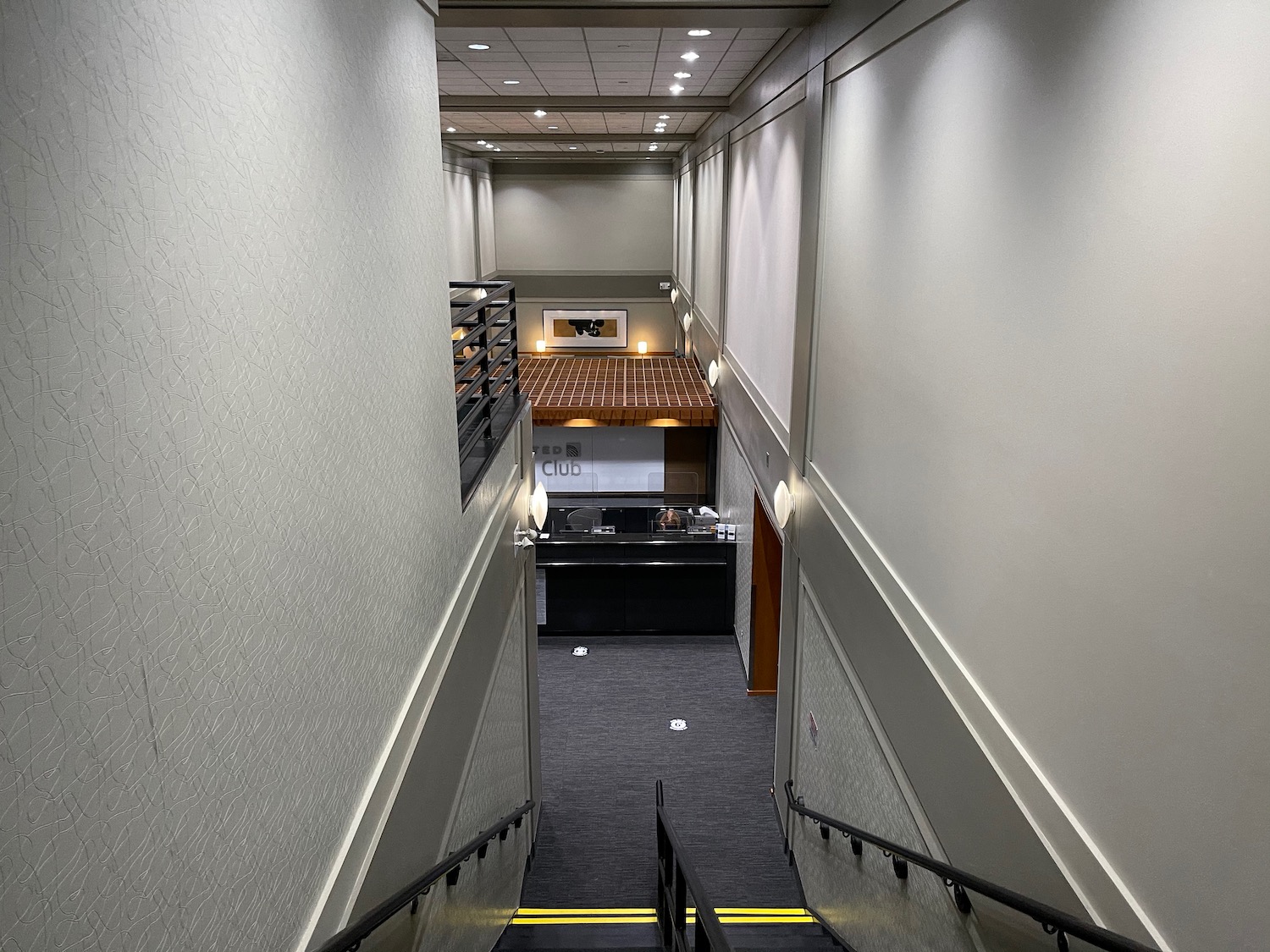 There's Chinese vase with a green plant and framed blanket that has been there for ages…a reminder of United's roots to Asia.
Head into the lounge, which includes a large seating area to the left and right of the downstairs reception desk, then a trio of huge rooms with plenty of seating. The lounge was dead when I was there.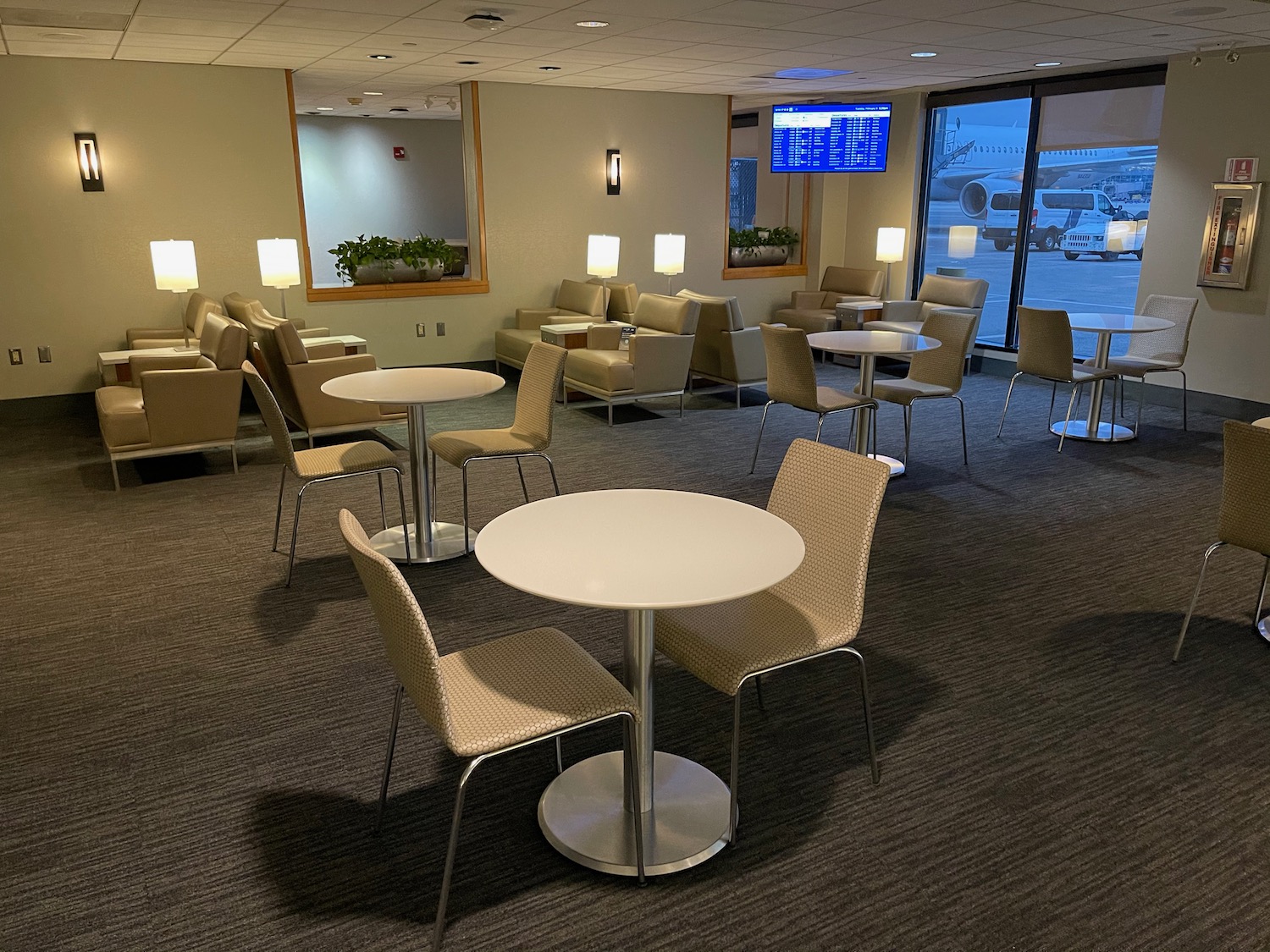 This lounge is somewhat special in that when I was in law school and would come home on weekends, I often took a 6:00am flight from Philadelphia to Washington Dulles and made a beeline for this lounge while I waited for my connection to Los Angeles. I always sat in the same seat, every time. Even walking though this lounge, which really hasn't changed much, brings back such happy memories.
Food + Drink
Currently, United is only offering pre-packaged food in the lounge. Nevertheless, I thought the selection was decent and included:
instant noodle soup
pita chips
hummus
pretzels
popcorn
carrots
cheese-wrapped prosciutto
apples
Rice Krispie treats
trail mix
chocolate-covered pretzels
More breakfast-oriented options are available until 11am. Coffee, soft drinks, juice, and water are self-serve. Alcoholic beverages are available at the bar, located in the large back room.
Restrooms
Restrooms are available and were clean, with instructions to social distance. No showers are available.
CONCLUSION
This United Club bring back many  memories. While amenities are limited, it offers clean restrooms, flight help, a decent selection of packaged snacks, and fast internet.