Virgin Atlantic offers a very respectable long haul economy class product with great service, edible meals, and a wide library of in-flight-entertainment.
Virgin Atlantic 787-9 Economy Class Review
I flew from Los Angeles to London on Virgin Atlantic because it was the only flight that worked in my schedule. I redeemed miles for the booking, at a cost of 15,000 points and $150.30 in taxes and fees. Considering one-way and round-trip fares were both over $2,000, I found this to be one of my best mileage redemptions ever.
My meeting in the San Fernando Valley went until 8:00 pm, meaning I had to rush over to LAX Airport to make my flight. I had checked in online, parked in the short-term lot in the Tom Bradley International Terminal, then dashed into the terminal and through security just in time to board the flight.
Virgin Atlantic 24
Los Angeles (LAX) – London (LHR)
Thursday, September 15
Depart: 9:55 PM
Arrive: 4:10 PM+1
Duration: 10hr, 15 min
Distance: 5,546 miles
Aircraft: Boeing 787-9
Seat: 65K (Economy Class)
I entered via door 1L and was directed by the cabin crew to the back of the aircraft.
Seat
In economy class, Virgin Atlantic utilizes the Recaro 3620 slimline seat. These are arranged nine abreast in a 3-3-3 configuration. Economy seat pitch is 31 inches (though the front economy class cabin has legroom of up to 34 inches…these so-called "Economy Delight" seats were all reserved when I booked or else I likely would have paid for the extra legroom). I loved the mood lighting.
Seat width is 17.1 inches and the seat has five inches of recline with an articulating seat pan that moves forward to give the illusion of a greater recline. Each economy class seat on the Virgin Atlantic 787-9 features a nine-inch seatback touchscreen and all seats have a universal power port under the seat as well as a USB charging port under the monitor.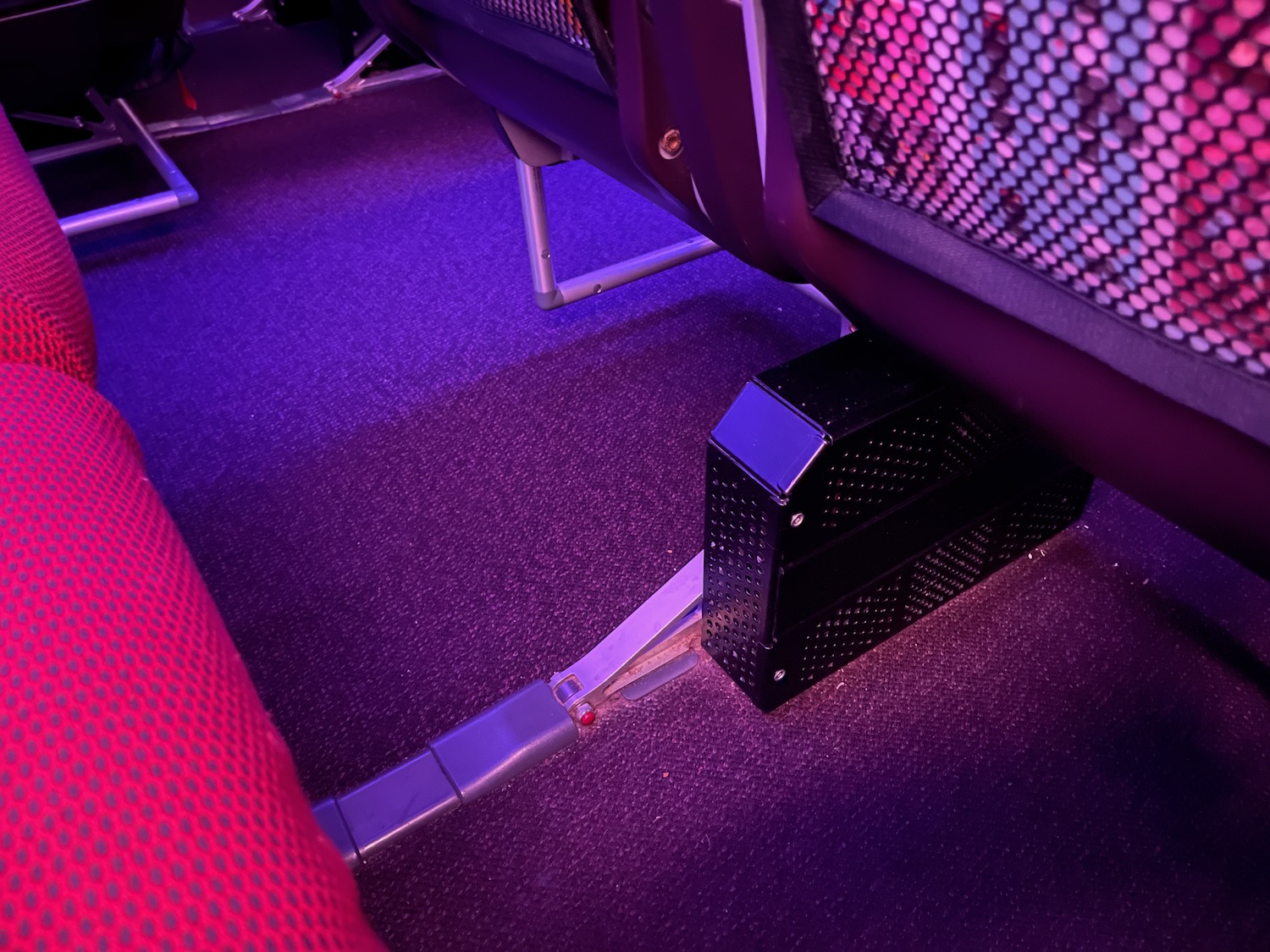 I also liked the hammock-like neck rest.
A coat hook was also available on each seat.
Every seat was taken onboard and thankfully my seatmate was quite petite, but I would never argue that any economy class seat is comfortable on a long flight…I was frequently awakened in an uncomfortable position.
A small red blanket and white pillow were provided, though I bought my own larger fleece blanket and neck pillow along.
IFE + Wi-Fi
Virgin's "Vera" in-flight entertainment system offers hundreds of movies, TV shows, games, and audio files on demand…it is an impressive library.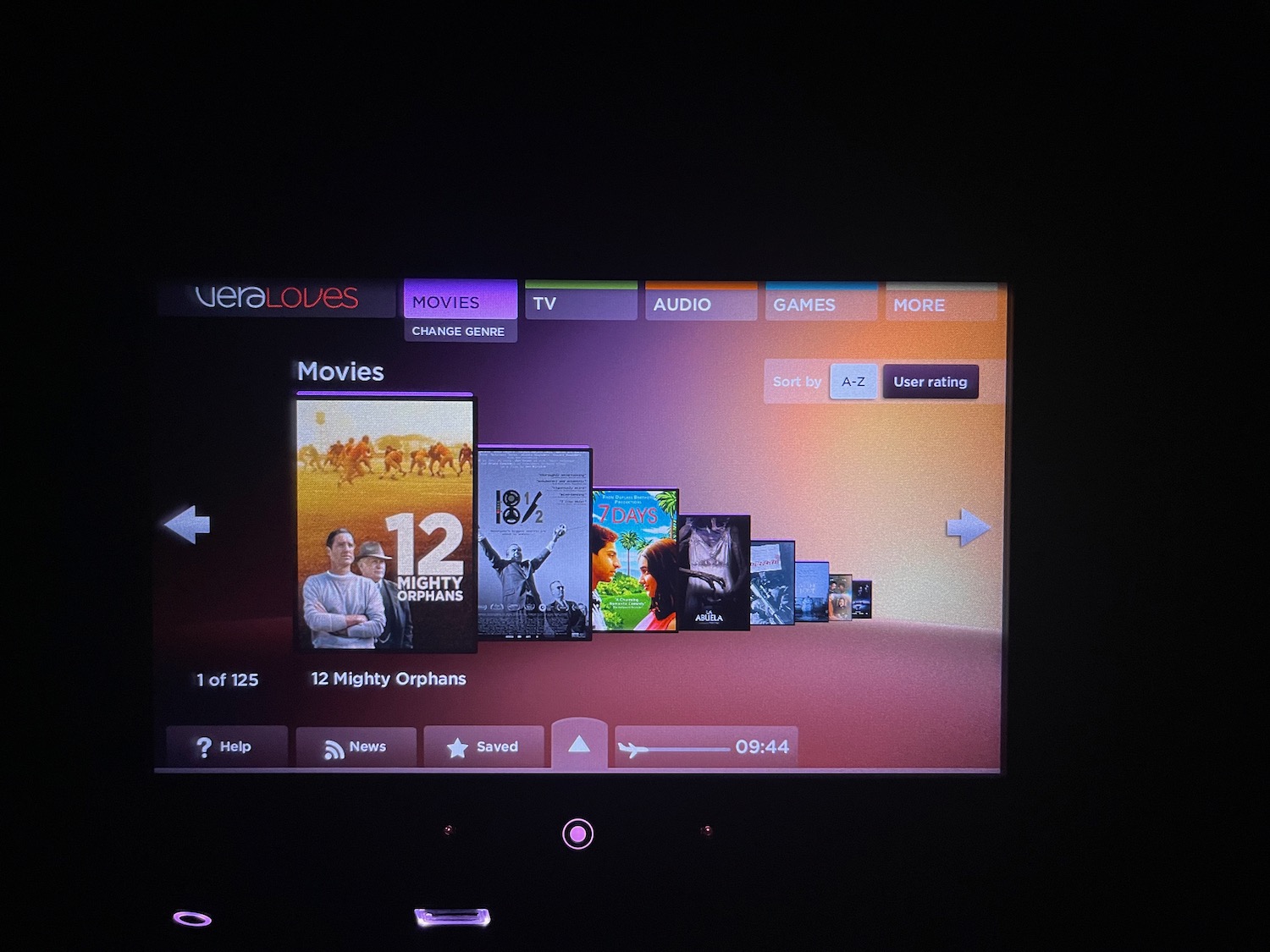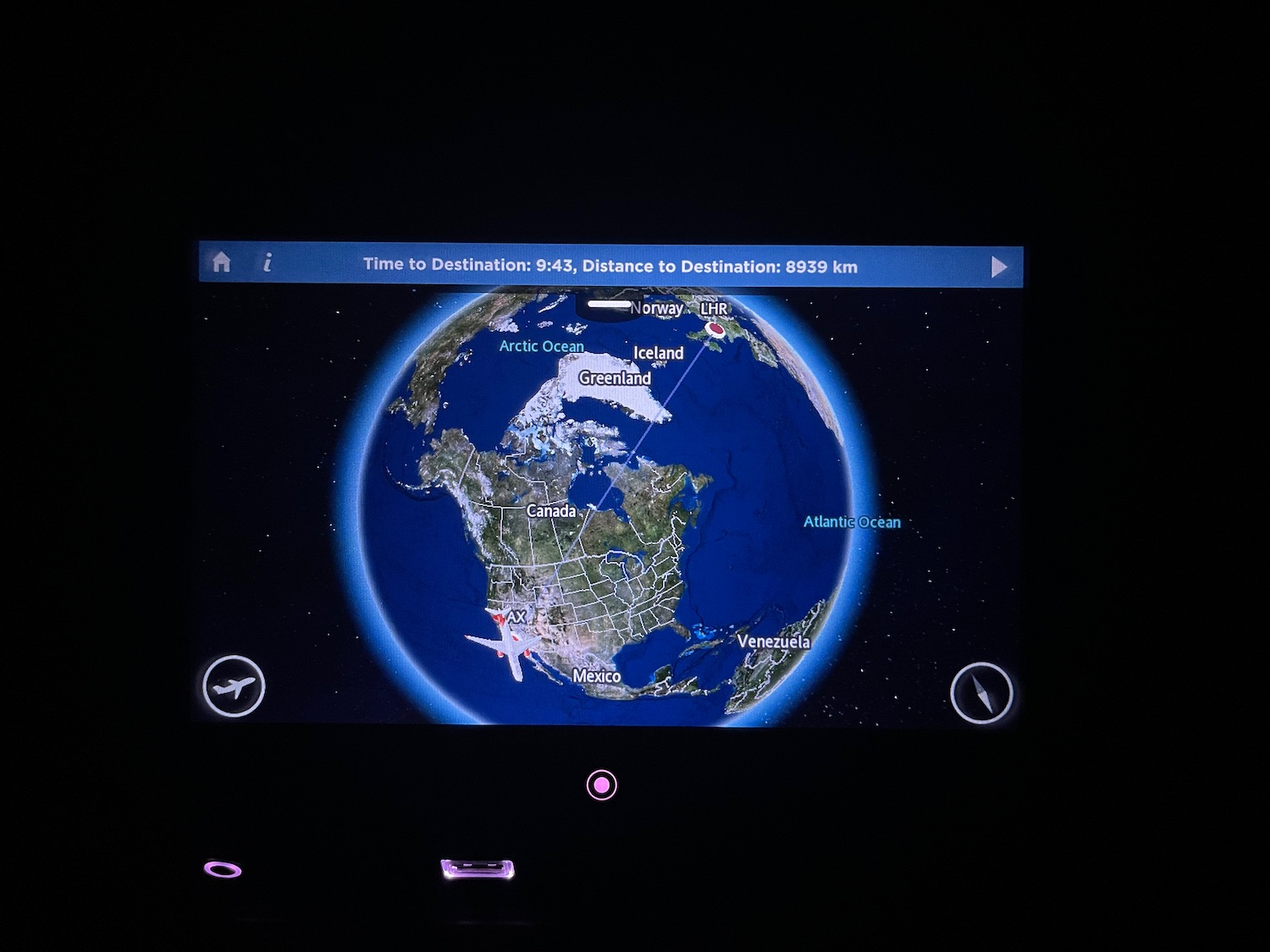 I took the opportunity to watch Top Gun: Maverick, which I quite enjoyed, though it is absolute pro-military propaganda…and like, who was the enemy? Are we so politically correct that we cannot even name the enemy any longer? But I digress…I enjoyed the movie.
The headphones were cheap…but when turned up all the way I could hear the movie.
My one complaint concerns the wi-fi pricing. I prepare for every flight assuming the wi-fi will not work and this flight was no exception. The wi-fi did work, but the prices are absurd. Take a look:
Dear Virgin Atlantic, it is 2022. Time to recognize that minuscule data caps at exorbitant prices are a relic of the last decade.
On flights to London Heathrow, I always choose a window seat on the starboard side, if available, as it typically affords beautiful views of central London before landing. This flight was no exception.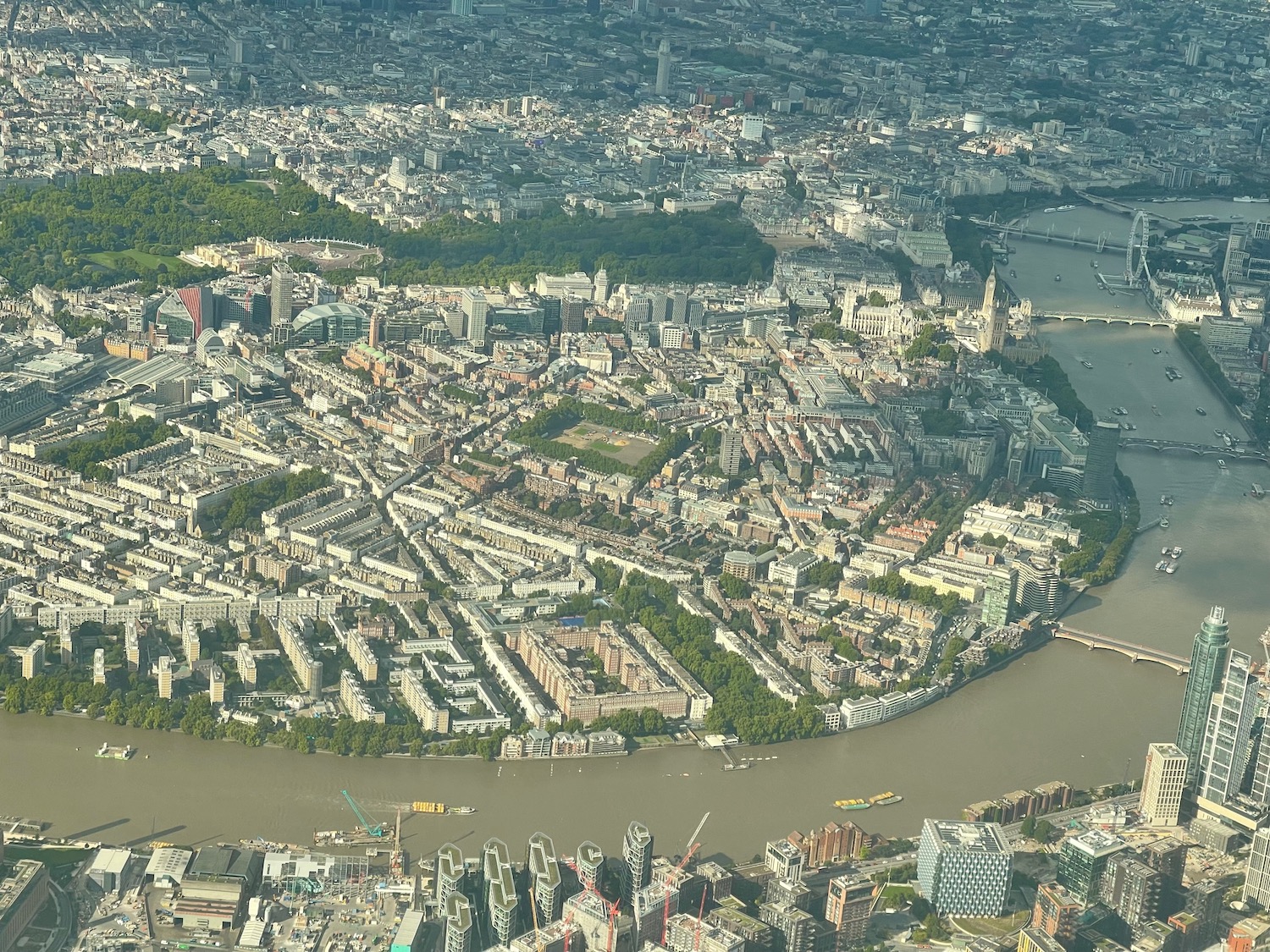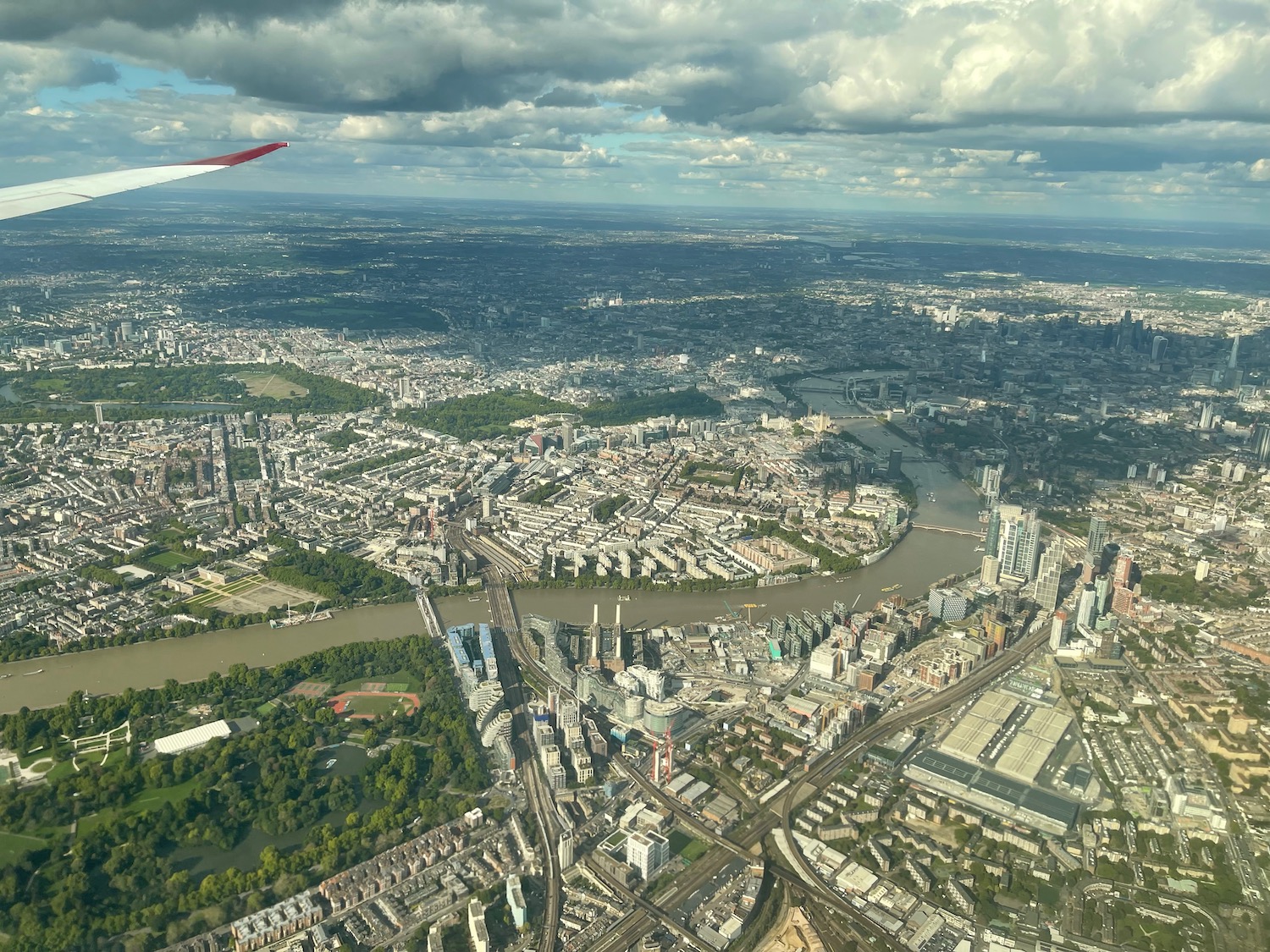 Lavatory
I boarded the flight in my suit, wishing to pay my respects to the Queen in a proper suit and tie, but immediately changed into pajamas, something I rarely do in economy class. That made the flight more comfortable for sure and the lavatory was small, though clean.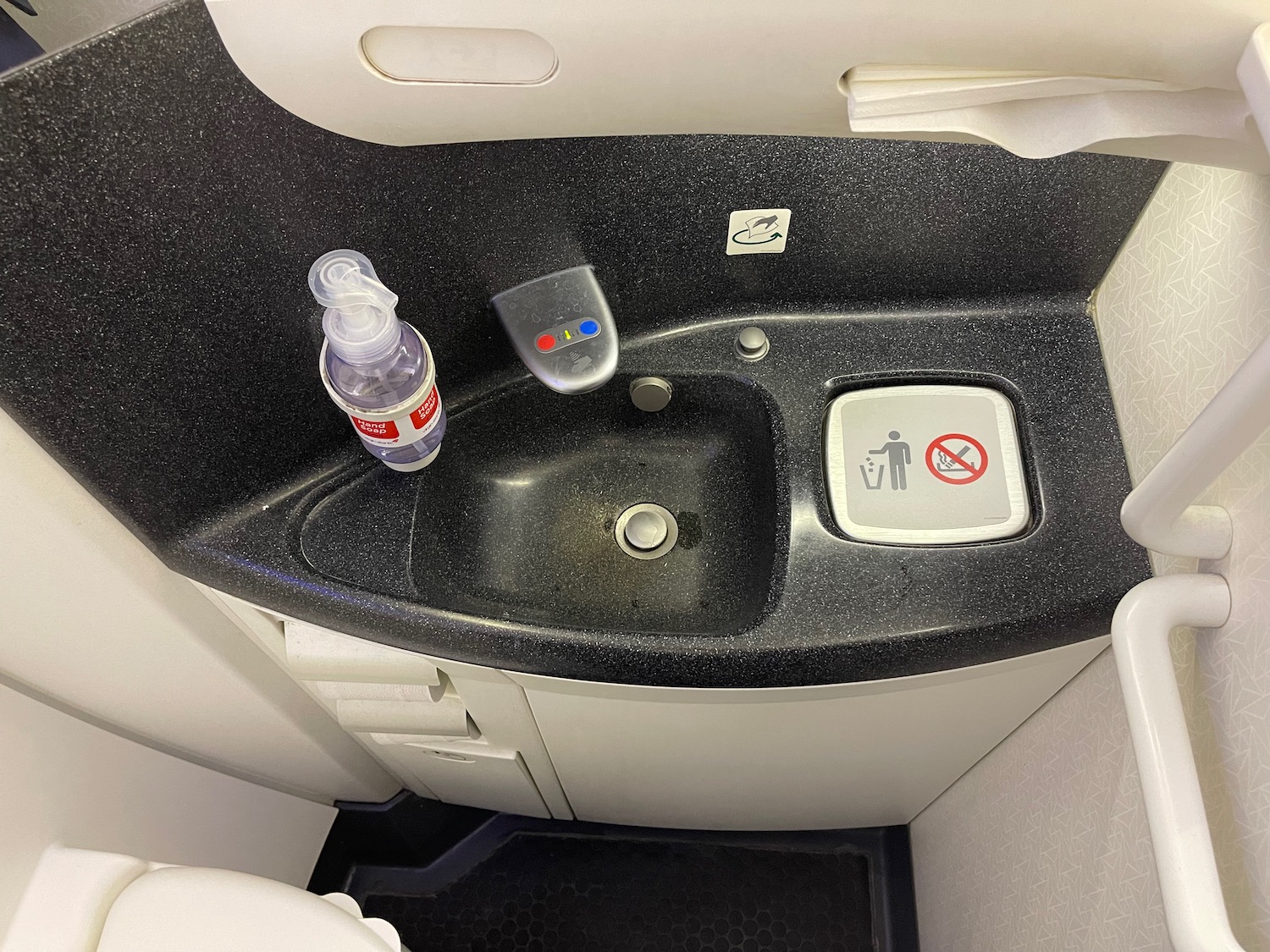 Oddly, there are no rear lavatories on the 787-9 (and being in row 65, this would have been quite convenient). Instead, there are four lavatories in the middle of the economy class cabin, while the rear of the aircraft is just the galley.
Food + Drink
Virgin Atlantic managed to impress and disappoint me at the same time with its meal service.
Service began promptly after takeoff with a choice of beverages and pretzels. Alcohol, including hard liquor, is complimentary onboard. I almost ordered a can of wine (that's right, the wine is served in an aluminum can) for the novelty of it, but just wanted to stay hydrated and therefore stuck to water.
The plastic cups on Virgin are tiny compared to their U.S. counterparts and I struggled to stay hydrated, at one point asking the flight attendants for three glasses of water. I wish bottles of water were provided.
Dinner was served next and Virgin is still serving its pandemic-style meals, which include a bread roll, packaged dessert, and main course in a box. Before the pandemic, meals were served on a tray and included a leafy salad, which I missed.
The main course, however, described as chicken fajitas, was excellent for airline food and frankly far better than many business class meals I've had this year. Of course, it helped that Mexican food is my favorite comfort food, but I thought it was delicious. A meager meal overall.
90 minutes before landing, a light breakfast was served. As much as I would have loved a full English breakfast, I appreciated the quality of the Virgin meal, which included a warm pain au chocolat and a box containing a blueberry breakfast bar and some vanilla Icelandic skyr.
How nice it was to have yogurt that had more protein than sugar and was not overly sweet. I asked for a second one and was happily obliged, as many slept through the breakfast service.
Service
The flight attendants serving my side of the cabin were lovely–chatty and gracious. When I told them I was flying to London simply to pay my respects to Queen Elizabeth II, an instant kinship was formed, though all passengers were treated kindly.
I also appreciated that they were efficient. Both meal services went quickly and one advantage to being in the second-to-last row was that meal service began in both the front and the back and worked its way toward the center, meaning I did not have to wait long to eat or miss out on my first choice.
One other annoyance, though probably for the best on this flight, was that the dimmable windows were locked in dark mode. That was fine during the flight, but it would have been nice to watch the sunrise as we approached London. Finally, about 30 minutes before landing at Heathrow Airport the windows were unlocked and I was able to stream in some natural light.
Note that Virgin no longers offers amenity kits to economy class passengers.
CONCLUSION
Unlike many of my esteemed blogging colleagues, I am perfectly happy to travel in economy class if necessary. While I think it is time for Virgin Atlantic to bring back a heartier first meal with salad and find its wi-fi pricing ridiculous, I thought the flight was good overall and appreciated the friendly service and most of all the fact that I was able to leave LA so late and not miss my appointment.
Would I fly Virgin Atlantic again in economy class on the 787-9? Absolutely…if I had to. Certainly, my goal is to maximize miles and points to secure premium cabins, but there was nothing on this flight that would keep me from flying Virgin again behind the curtain.