I found the Virgin Atlantic A350-1000 in "Upper Class" (business class) to be a tremendous revolution in comfort with the same tasty food and warm service I've come to expect for years on Virgin. This review covers my journey from London to Los Angeles.
Virgin Atlantic A350-1000 Upper Class Review
Ticketing
I redeemed 37,500 Virgin Atlantic miles for the ticket during a half-price redemption promotion in 2020. Taxes and fees were not reduced in half and ran  $674.50. While I understand that defeats the purpose of "free" award travel for many folks, I was able to swallow the higher out-of-pocket expenses on the basis of the reduced mileage required and the chance to try a new product. Furthermore, have you checked out revenue fares between London and the USA lately? They are much higher than prior to the pandemic.
My flight was cancelled twice before I finally was able to take it over a year later.
Lounge
My trip, in late May 2021, occurred just weeks before Virgin Atlantic returned to Heathrow Terminal 3 and re-opened its Clubhouse Lounge, which I have reviewed in the past here.
Virgin was operating out of Terminal 2 for my trip and offered business class passengers the use of the Plaza Premium Lounge, which I also have also previously reviewed. 
I'm not a fan of the lounge but spent several hours in it working prior to the flight. If you are flying Virgin Atlantic now, you will have access to its Clubhouse.
Boarding
Boarding began nearly an hour before takeoff. Documents were briefly checked at the gate, though I had to laugh at how an agent simply looked for the word "negative" on my COVID-19 test and then waived me on without checking anything else (like my name or the date).
The flight ended up going out with 72 passengers and 11 crew members onboard.
Virgin Atlantic 23
London (LHR) – Los Angeles (LAX)
Tuesday, May 25
Depart: 2:30 PM
Arrive: 5:45 PM
Duration: 11hr, 15min
Aircraft: Airbus A350-1000
Seat: 10K (Upper Class)
I was first onboard and walked through the onboard lounge and turned left to find my seat on the starboard side of the plane.
Suite
Upper Class contains 44 open suites in a 1-2-1 configuration. Each suite has 82 inches of legroom in full recline, 44 inches when upright, and is 20 inches wide.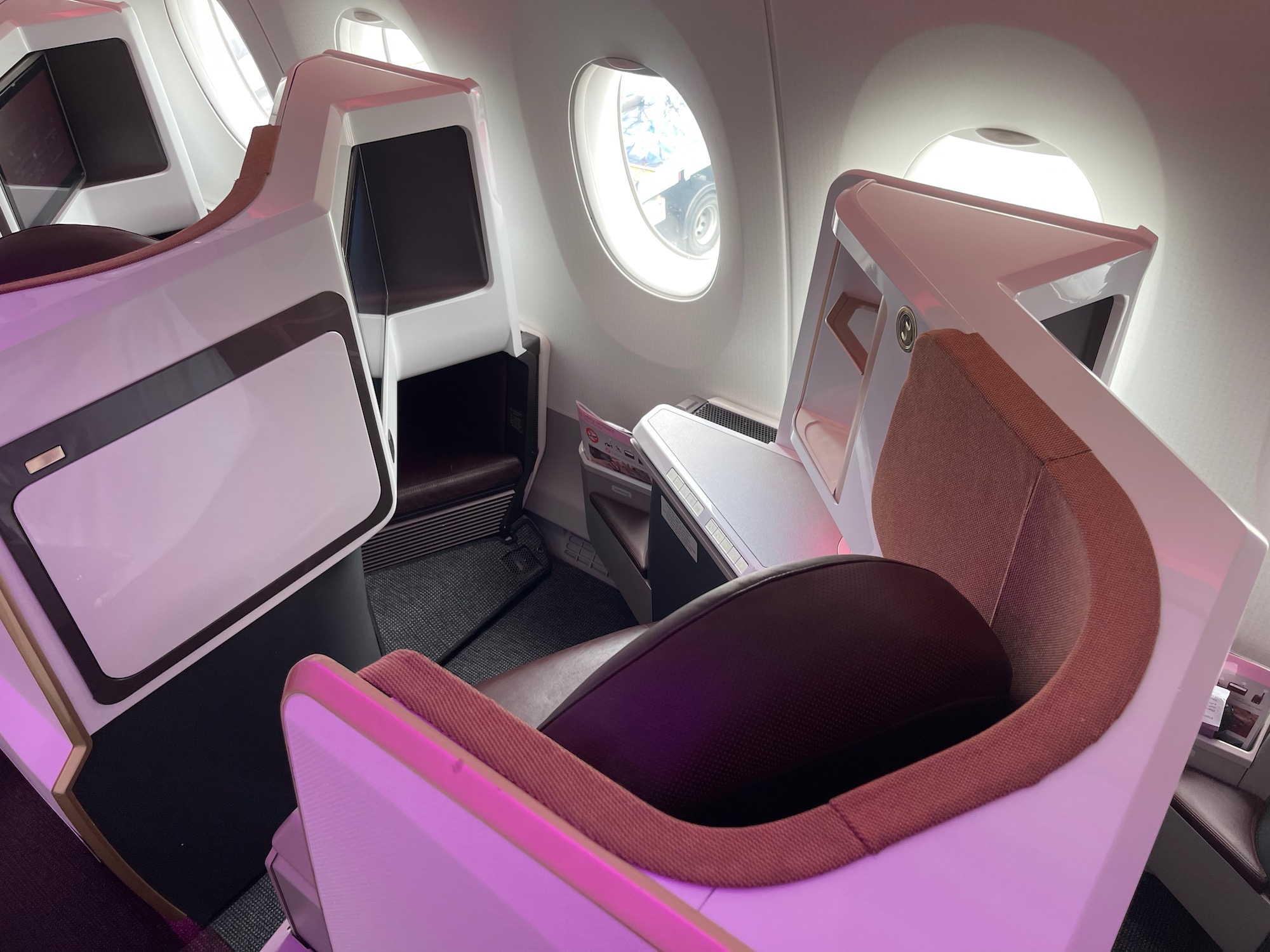 Seat controls are located in a strip along the side of the seat and easily accessible. The armrest on the adjacent side can be lowered for more room when sleeping. There's also a reading light, a universal electrical outlet under the side arm rest with a USB rapid charger, and a second USB charger under the shelf.
Plush bedding (a soft comforter, mattress pad, and pillow) are provided and make Virgin Atlantic's offerings one of the best in the skies.
I find the reverse herringbone seats to be a huge improvement over the herringbone pods Virgin Atlantic has offered across the rest of its fleet for more than a decade. Finally, I can look out the window again when seated and the seat is also much roomier. There's also more personal storage in the form of a compartment with shelf on the side of the seat. I did find it odd that one of the windows in each suite is blocked, though I'd rather have one window than none at all.
Legroom is still constrained in lie-flat mode, though my knees were not in pain (I'm a side-sleeeper).
I love the color scheme as well, with the white, brown, and orange juxtaposed with the mood lighting creating fresh accents that should age well over time.
The privacy door is controlled by a latch, which is related by a button on top. Note that unlike BA's new A350, this is not a full door, but only a partial door. In that sense, perhaps "door" is not the best word choice and privacy divider is more appropriate.
The tray table folds down from the suite in front of you and then slides over — it's a very sturdy table and does not have to be unfolded.
Good news: each seat does include a pair of individual air nozzles.
Amenity Kit
Waiting at each seat was an amenity kit in a reusable kraft paper bag, a heavy-duty paper that still included a Virgin Atlantic tag and a zipper on it.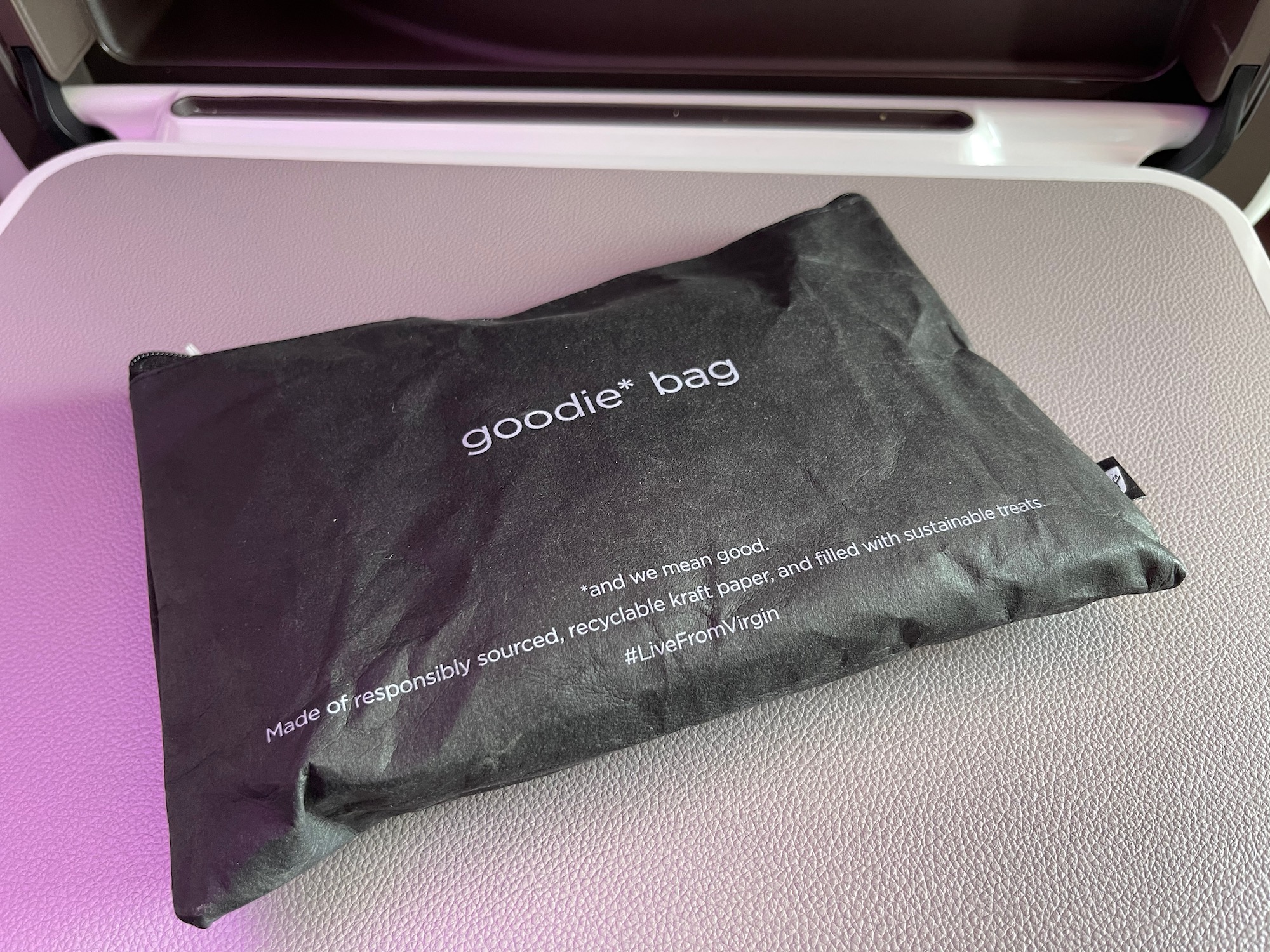 Contents of the amenity kit included:
Pen
Eyeshade
Socks (a nice pair of socks with a peppermint design on them)
Earplugs
Toothpaste
Toothbrush
Rea Skincare products
Day cream
Lip balm
Hand cream
In addition the amenity kit, a personal protective equipment (PPE) kit was offered which included:
Meals + Drinks
Menus were distributed before takeoff. Today's service would include a hot lunch after takeoff and an afternoon tea service prior to landing. Compared to pre-COVID days, meal quantities and presentations have been scaled back.
A pre-departure was offered, with a choice of sparkling wine, orange juice, or water.
Examining the menu, I chose the roasted salmon fillet, served with lemon, spring onions, couscous, and grilled courgettes (zucchini). Meal orders were taken prior to takeoff.
Prior to lunch service, a packet of pretzels and choice of beverages was offered. I chose lemonade, forgetting that lemonade in England means something totally different than lemonade in the United States.
I promptly pivoted to white wine, where a flight attendant went into detail about the two selections, a 2019 Weather Station Sauvignon Blanc from Southwest Africa or an Oremus Mandolas 2017 from Spain. I sampled both and opted for the Wether Station. Both wines, the flight attendant pointed out, were from sustainable growers. I appreciated that she took the time to explain the selection (it was not printed on the menu) and actually knew what she was talking about and was proud of it.
The meal arrived with the salmon main course uncovered, but the bread roll, salad, and cheese plate covered in plastic.
No appetizer choice was offered and soup is no longer served. Instead, each passenger received a bread roll and mozzarella and tomato salad with basil as an appetizer.
Dessert choices included a cheese plate (cheddar and brie) or a coconut lemon tablet. That was an easy choice for me since I do not care for coconut.
The silver airplane-shaped salt and pepper shakers remain.
I found the meal very satisfying, with the salmon nicely cooked and the chervil sauce not overbearing. The salad was also refreshing, with a tasty pesto dressing.
For those who got hungry during the flight (myself included), a snack basket was placed in the front of the cabin which included:
Chocolate
Cookies
Candy
Chips
Pretzels
90 minutes prior to landing, afternoon tea was served, which included:
West Country cheddar and carrot chutney on a malted roll
Mediterranean falafel wrap
Scone with clotted cream and jam
Raspberry-glazed éclair
Salted vanilla tart
Cherry macaron
Other choices included a deli plate or Asian-style glass noodle salad.
I really loved the tea service (well, I drank black coffee instead of tea) and found the sandwiches, hot scone, and desserts all delectable.
No complaints about the meal service onboard – I found everything delicious, though I will note British Airways offers a more substantial hot pre-arrival meal in its Club World business class.
IFE
Having worked the entire morning, I was able to unplug on this flight and not open my laptop or use my mobile phone beyond taking pictures. That gave me a chance to enjoy's Virgin's voluminous IFE library, including many movies you simply don't see on other planes (you ever notice how most airlines offer the same movies onboard?)
I enjoyed two movies, including:
Mr. Jones
Escape From Pretoria
Both are highly-recommended.
Virgin Atlantic offers over-ear noise-cancelling headphones that performed well.
Hundreds of movies, TV shows, games, and musical selections were available.
Although I love the movie selections, perhaps most of all I enjoyed the high-definition tailcam, which offered thrilling pictures of our progress along with the view outside the window.
The IFE is provisioned to order food and drinks from your seat, though that option was not turned on for this flight (or perhaps not yet configured for any flight).
Wi-Fi
Wireless internet was available onboard, at the following rates:
Messaging – $3.95
One-Hour Web Browsing – $8.95
Web Browsing For Entire Flight – $26.95
I cannot comment on speeds because I deliberately chose to disconnect for this flight.
Onboard Lounge
Virgin replaced its onboard bar with a lounge aboard the A350. I did spent part of the flight hanging out there and while I found it to be novel, I'm not sure it is a great use of space (same with the bar). Still, the novelty factor was appreciated and I bet I would have enjoyed it more if I was not traveling alone.
Indeed, this is a great place for children to stretch their legs if they become restless.
In case you want to work in the lounge, there are electrical outlets with separate USB charging ports under the couch.
Service
Bravo to the crew for amazing service onboard. The purser introduced himself prior to the flight and again thanked each passenger prior to landing. That little touch makes a huge difference and is something other carriers could easily do in business class to both start and end the flight on the right footing.
The flight attendants working my side of the aisle were the perfect blend of chatty and professional and were thrilled that I was thrilled with the new A350.
Throughout the flight, the cabin was monitored and beverages and snacks were routinely offered. 
I could not have asked for better service on this flight.
Lavatory
While the lavatories only offered limited amenities, they did have windows! (at least on my side of the cabin)
Actually, I very much enjoyed the products from REN available, including an "Atlantic kelp and magnesium energizing hand and body wash" (liquid soap) and a hand and body lotion with a similar description.
CONCLUSION
We landed in Los Angeles on-time at the Tom Bradley International Terminal and I was shortly on my way home. Virgin Atlantic has always impressed me with its service, but no so much with its seats. This changes thanks to the new business class suites on the A350-1000. I found the seats incredibly comfortable for sleeping and lounging and would certainly recommend you go out of your way to choose this aircraft if traveling with Virgin Atlantic Upper Class.