Air France has really scaled back its in-flight product on shorter intra-Europe flights, making it far less attractive to splurge for business class. My A319 flight from Amsterdam to Paris demonstrated Air France is still in the COVID-19 mindset.
Air France A319 Business Class Review
I booked this flight because it was scheduled to be operated by an Airbus A318, a member of the A320 family I have never flown before. Sadly, Air France swapped out the A318 for an A319 at the last minute, so I still have yet to fly that aircraft.
The gate area for my flight at Amsterdam Schiphol left a lot to be desired, with few seats and no power outlets. I ended up standing and waiting to board.
Air France 1641
Amsterdam (AMS) – Paris (CDG)
Wednesday, February 2
Depart: 1:55PM
Arrive: 3:15PM
Duration: 01hr, 20min
Distance: 248 miles
Aircraft: Airbus A319
Seat: 1F (Business Class)
A flight attendant welcomed me and handed me a surgical mask, gently noting that my cloth mask was not permitted onboard. I've reverted back to the far less effective cloth mask when I travel because I find it immensely more comfortable.
Seat
Don't expect a comfortable seat in business class if you are traveling within Europe on most European carriers. Instead, you'll receive an economy class seat with extra legroom if you are fortunate (33 inches instead of 32 inches for me) and a blocked middle seat.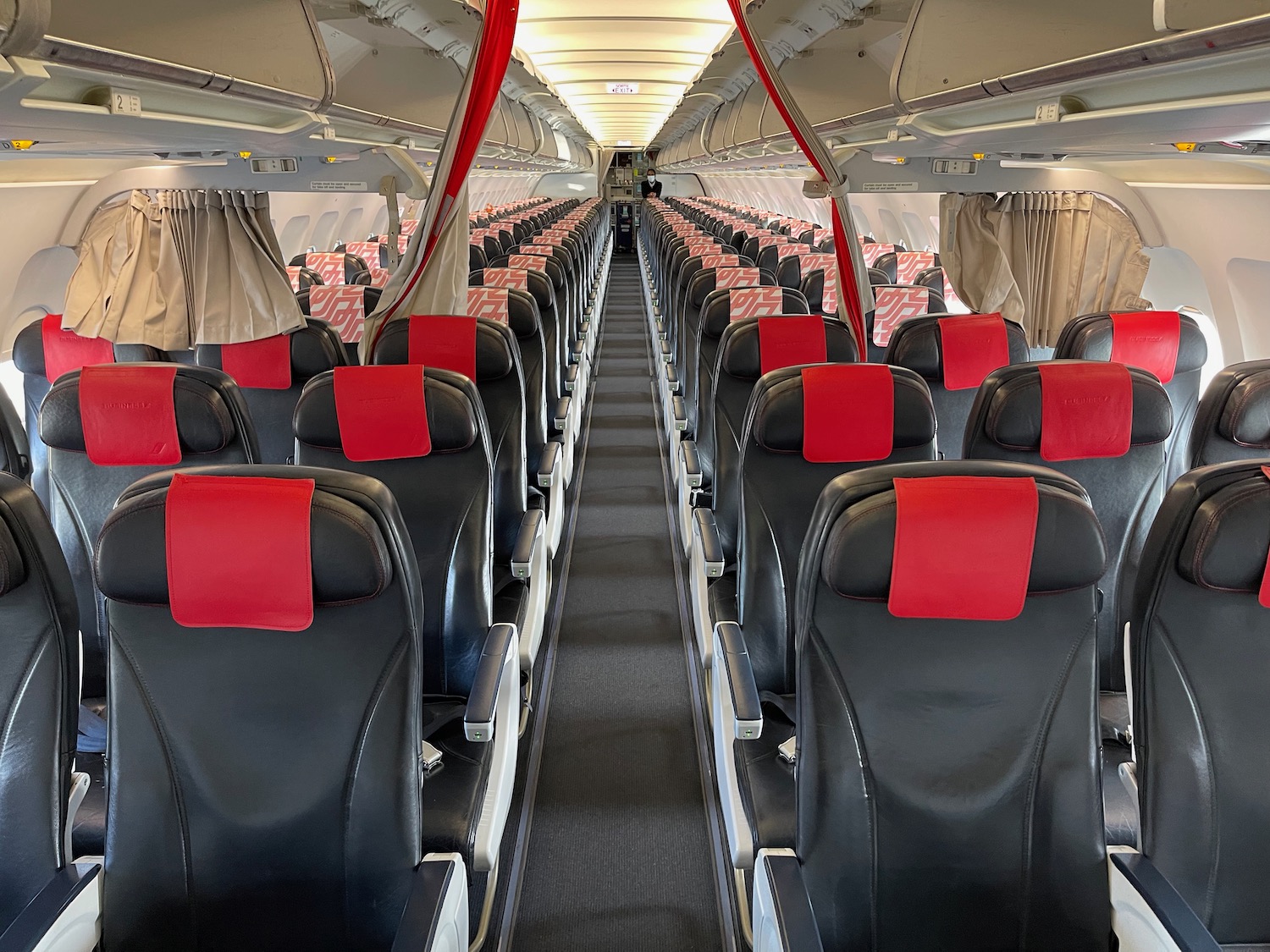 That's simply the nature of "business class" but traditionally it has been "compensated" with lounge access and a nice meal onboard, even for flights under an hour.
There are not power plugs in these seats, but Air France has installed USB-A connectivity for charging.
With the same seat in economy class and business class, airlines can offer variable-sized cabins, expanding or decreasing business class according to demand. Today, business class was three rows and all 12 seats were full.
We pushed back late, but the captain announced an on-time arrival into Paris CDG.
IFE + Wi-Fi
Air France has added wireless internet to most of its fleet and internet was available on this flight. Messaging was complimentary while a surf pass was 5EUR and a stream pass was 15EUR.
With flight time of less than an hour, I just chose the free messaging option.
The wi-fi does not include an in-flight entertainment component with streaming movies.
Food + Drink
My flight reservation indicated a "meal" would be served on this flight:
Since Air France has historically been one of the best airlines in terms of in-flight catering, I skipped lunch in the KLM Crown Lounge. That was a mistake.
Just moments after takeoff the flight attendant offered each business class passenger a choice of beverage as well as a sweet and savory snack; tasty gavottes (crepe crackers filled with cheese) and dark chocolate orange.
I honestly thought the meal tray would come after, but it never arrived. I was ticked…this route did have full meal service prior to the pandemic and the catering cost-cutting is really a bit much when the seat is so poor in business class.
But I survived…of course.
Refills on drinks were offered.
Lavatory
The lavatory was located in the front of the cabin adjacent to the flight deck door.
CONCLUSION
We landed in iconic Terminal 2F at CDG to a gray day with storms threatening.
Air France really disappointed me with a swap from an A318 to A319 and no lunch onboard my flight to Paris in business class. While I still very much like Air France, there is no way I will be splurging for business class on shorthaul routes any longer if Air France considers two tiny snacks a "meal."