My dear readers, some links on this site pay us referral fees for sending business and sales. We value your time and money and will not waste it. For our complete advertising policy, click
here
. The content on this page is not provided by any companies mentioned, and has not been reviewed, approved or otherwise endorsed by these entities. Opinions expressed here are the author's alone.
US airlines are showing signs of slowing down again but this time there shouldn't be a taxpayer bailout. 
---
If you are considering booking travel or signing up for a new credit card please click here. Both support LiveAndLetsFly.com.
---
If you haven't followed us on Facebook or Instagram, add us today.
Airlines Slowing Down Again
Some carriers have outright said that fall bookings are down, others have not been as verbose. There's no question that things are slowing down, it's more a question as to why. There are a pair of obvious indications as to why.
Delta Variant
Delta (the "Air Line") has already foreshadowed that the rest of the year is a lost cause of status holders and business travelers and renewed status through January of 2023, elevating those who already earned status in 2021 to the head of the pack in the upgrade line. United and American are insistent there is more cash to glean from their clients but also recognize that virtually no one will re-qualify and have once again lowered the requirements but not to zero.
The Delta variant is spreading and businesses (who travel on shorter notice, pay higher fares, and book more premium options) are putting off business as usual a little while longer. There is a potential for a major shut down again, though a full shut down seems unlikely at this time. All the same, the Delta variant of COVID-19 appears to be hampering air traffic again, at least into the future.
Normal Leisure Cycles
Summer is far and away the busiest travel season for airlines. The weather is generally nice, kids are out of school, and there are lots of events worth traveling to. Labor Day (September 6th, 2021) is that last grasp of summer before travel begins to taper off and usually business flights would pick up the slack. This is the end of a normal leisure cycle which makes the drop in traffic normal. At the same time, the airlines are likely less sure when the music will stop this year than in years past and do not have business travel to carry them through to the holidays.
Clear Signals
When I'm looking for a canary in the coal mine, I turn to my inbox. The offers have been flying in fast and furious lately. Specifically, from carriers that are prone to offer a deal because right now they have them.
Forward bookings are not looking good and the discounters are a good way to see that materialized. Allegiant, Spirit, and Avianca (both LifeMiles and the airline itself) have been flooding my inbox. The following are a very limited sampling of the barrage from airlines lately.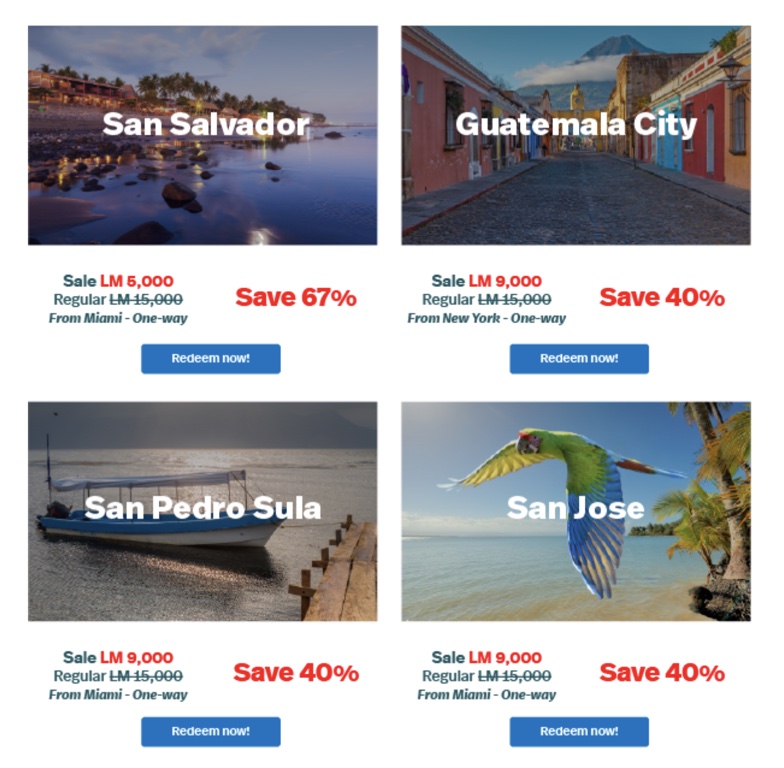 It's not just cash tickets either. LifeMiles are not just on sale to buy, transfer, or gift lately but also to redeem. Miami to El Salvador is just 10,000 points roundtrip or even less if you were gifting them to someone else, buying on a bonus, or transferring from a credit card partner.
Spirit is offering flights from Pittsburgh to Fort Lauderdale (over 1,000 miles) as low as $18.64 each way. That price is BEFORE the airport trick which could drop it even lower, though at these prices – why bother?
No More Government Bailouts
Say it again, louder, for the CEOs in the back. No. More. Bailouts. No more loans, no more credit facilities, airlines get nothing if traffic comes to a standstill again. Enough is enough.
Southwest Airlines is apologizing to their flight attendants who are at their wits' end. The airlines took every available opportunity to recapture lost revenue over the busy summer months and for that we saw flight cancellations and meltdowns.
Southwest decided against taking government money, JetBlue has already paid its loan back. They were model citizens. United, instead, took your money and decided to purchase 270 new airplanes – because apparently all of the ones that were good enough to fly in 2019 but were parked in March of 2020 are no longer good enough. American Airlines just filed 31 mistake fares and they aren't honoring any of them. (Is this $10 fare a mistake or just a cheap ticket?)
Nonstop Flights: Los Angeles to San Francisco or Salt Lake City $20 r/t [August-December] – American Airlines

$10 each-way. You may want to pick these up before this post gets copied by other "deal" bloggers.https://t.co/UaOBxPEpzL#Airfare #Flights #Travel

— Escape Flights – LAX (@EscFlightsLAX) August 17, 2021
The carriers had a chance to keep slimmer operations, pay back debts before investing in new equipment, and to build cash reserves so this wouldn't happen again. Some, airlines had a chance to treat customers better – but decided against it.
Conclusion
Whether it's a resurgence of COVID-19, business reluctance, and/or the normal leisure cycle airline traffic is slowing again. But this time, no matter how loud the CEOs whine – no bailouts.
What do you think? Have you seen signs of the airlines slowing down? Do you think we will re-enter a full shut down? Is there a case for bailouts if we do?