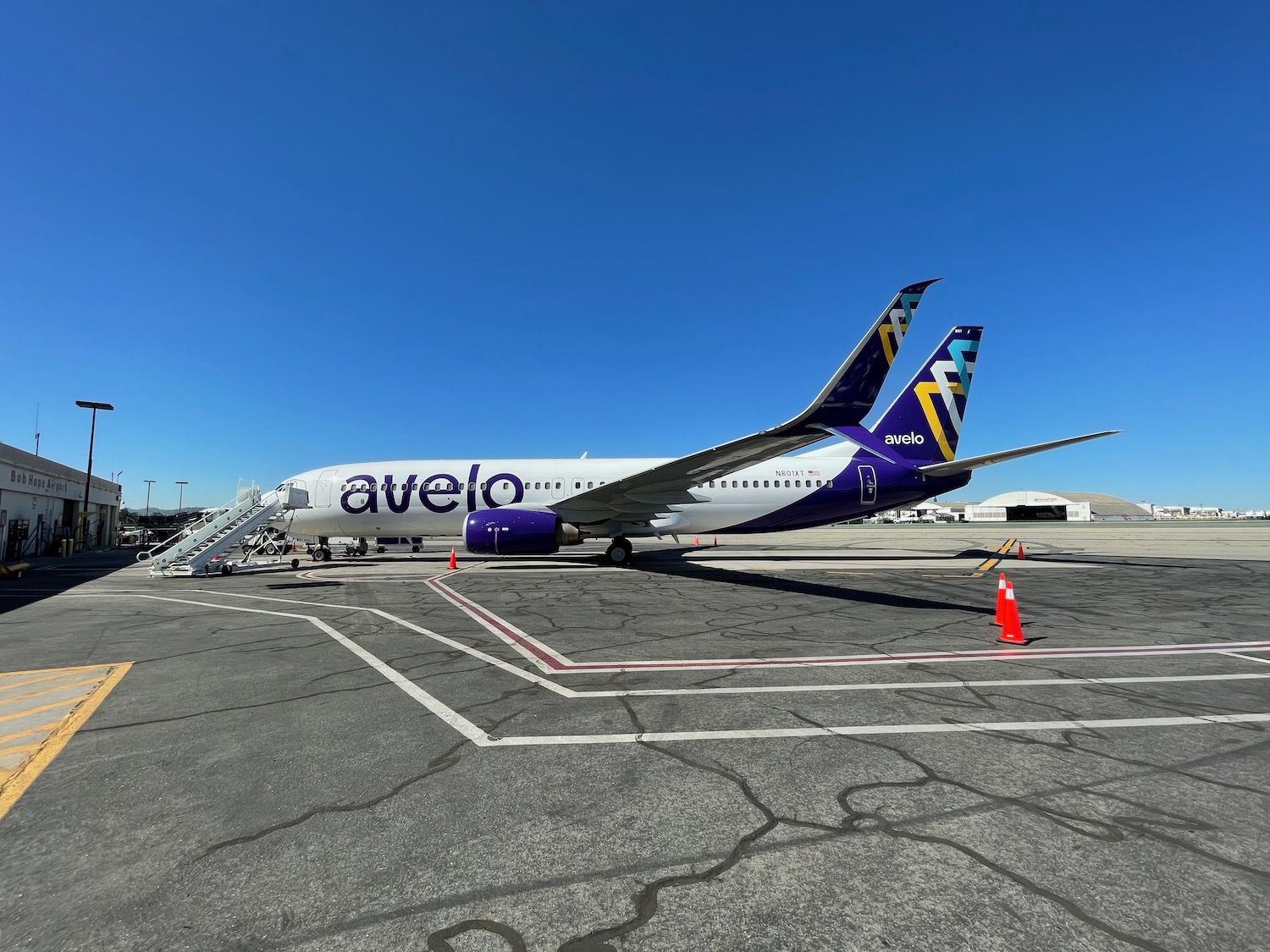 I already shared of the inaugural festivities on Avelo Airlines. Today, I want to provide a more conventional review of the seat, service, and baggage policies of Avelo. This will be a review of a my recent round-trip journey from Burbank to Santa Rosa.
Avelo Airlines 737-800 Review
Avelo Schedule
Avelo operates from Hollywood – Burbank Airport (BUR), located in Burbank, California. This used to be LA's main airport way back in the day and was also the home of Lockheed-Martin, but now is simply a small, convenient airport for much of Los Angeles County.
Avelo plans the following destinations from its BUR hub:
Arcata

/

Eureka, CA

(ACV) — 4x weekly as of May 19, 2021

Bend/

Redmond, OR

(RDM) — 3x weekly as of May 13, 2021

Bozeman, MT

(BZN) — 4x weekly as of April 30, 2021

Eugene, OR

(EUG) — 4x weekly as of May 12, 2021

Grand Junction, CO

(GJT) — 4x weekly as of May 9, 2021

Medford, OR

(MFR) — 4x weekly as of May 9, 2021

Pasco, WA

(PSC) — 3x weekly as of April 29, 2021

Phoenix

/

Mesa, AZ

(AZA) — daily as of May 3, 2021
Odgen, UT (OGD) — 6x weekly as of May 4, 2021

Redding, CA

(RDD) — 3x weekly as of May 20, 2021

Santa Rosa, CA

(STS) — daily as of April 28, 2021
I parked my car in short-term parking, Lot G ($23/day) and walked to the terminal, an easy five-minute walk. Avelo check-in is located in Terminal A, directly in the center of the terminal.
Avelo Check-In
Friendly agents welcomed me and directed me to the line to check-in. Avelo falls into the ultra-low-cost carrier category, but currently does not charge to check-in and obtain a paper boarding pass at the airport.
Avelo Baggage Polices
Avelo charges for both checked bags and carry-on items. You are permitted a personal item free of charge, as long as it fits underneath your seat. The maximum dimensions are 14″L x 9″W x 9.5″H.
Carry-on Bag – 22"L x 14″W x 9"H (56 cm x 35 cm x 22 cm) – $35
First Checked Bag – $10
Second Checked Bag – $20
Additional Checked Bags – $100 each
Checked bags are limited to 50 pounds (22 kilograms) and may measure up to 62 inches (157 cm) in overall exterior dimensions (length + width + height).
Pre-reserve your bags online or you will pay an extra $10/bag at the airport.
If your bag is overweight (between 51 and 70 pounds) you will pay an extra $50. If it is oversized (63 to 80 inches), you will pay an extra $50. If it is both oversized and overweight, you will pay an extra $100/bag. Musical equipment, sports equipment, and firearms may be checked and will be charged per the fee schedule above.
Members of the military are exempt from standard baggage fees.
Avelo Optional Service Fees
In addition to its baggage fees, Avelo offers:
Seat assignments – starting at $4
Priority boarding – $10
I'll outline seat choices below.
Although check-in was in Terminal A, Avelo flights departs from Terminal B, specifically gate B4. The two terminals are connected by an interior walkway. Depending upon departure time, allow at least 15 minutes prior to scheduled boarding to go through security. Although Terminal B is small, when Alaska, Delta, and Untied flights all depart at the same time, it can get quite busy.
There's a Jones Coffee Roasters, newsstand, café, and bar in the terminal.
Avelo Airlines (XP) 101
Burbank (BUR) – Santa Rosa (STS)
Wednesday, April 28
Depart: 10:30AM
Arrive: 11:55AM
Duration: 01hr, 25min
Aircraft: Boeing 737-800
Seat: 10F (Economy Class)
Burbank uses ramps or stairs to board aircraft; the airport has no jet bridges.
Onboard, I was welcomed by flight attendants dressed in chic gray uniforms.
Avelo Seating
The Avelo Boeing 737-800 aircraft features 189 seats in a single cabin configuration spread over 32 rows. Legroom varies based upon row, with most rows featuring 29 inches of seat pitch. Seat width is 17 inches.
Seats are made by Acro Series 6 and similar to what you can experience on retrofitted Spirit Airlines planes. These seats make the 29 inch seat pitch a bit illusory due to the built-in curve at knee level, providing additional room. Upper literature pockets provide limited storage for papers, but are not large enough for a laptop or tablet.
---
Tip: Avelo Airlines does not publish a seat map, but rows 1-8 and exit rows 20-21 feature 32-35 inches of legroom.
---
Seat currently recline (though I could not figure out how to recline mine), but Avelo plans to restrict seat recline (into a pre-reclined position) which I believe is a good thing considering the tight fit and limited duration of most flights.
With a powerful roll, we took off from Burbank headed north to California's wine country.
Our flight path took over San Francisco Bay and through the beautiful landscape of Sonoma County.
Avelo In-Seat Power + IFE
Seats do not have power ports or seatback screens. Avelo also does not offer streaming in-flight-entertainment or Wi-Fi. However, Avelo does plan to introduce Wi-Fi at a later time.
With no screens, the safety demonstration was manually performed.
Avelo Food + Drink
Currently, Avelo provides a complimentary light snack onboard. That includes:
Bottle of Niagra water (8 oz)
Lorna Doone shortbread cookies (four count)
Purell Wipe
The snack pack is served in a sealed container and flight attendants deliver this in wicker baskets rather than carts.
Eventually, Avelo plans to introduce in-flight snack and beverage sales, similar to other low-cost-carriers like Frontier and Spirit. Avelo has yet to obtain a liquor license.
Avelo Service
Flight attendants were kind, friendly, and frankly downright charming. Certainly special flight attendants were chosen to operate the inaugural flight, but these are not inexperienced kids who have no prior flight attendant experience.
Audrey, the lead flight attendant, was particularly lovely and I suspect she once flew for American Airlines because she initially welcomed us onboard "Amer…" before catching herself and welcoming us onboard Avelo.
Flight attendants came through the cabin three times to collect trash after the initial beverage service.
Gate agents and check-in staff were also friendly and all smiles (behind their masks).
Finally, I had a chance to speak to the pilots, Captain Tony Taype (left) and Captain Shady Hegab (right), before the flight and knew I was in good hands.
Avelo Lavatory
The aircraft features three lavatories onboard, including two in the rear and one in the front. These are small, but do not feature the sort of tiny sinks we see on 737-800s with mid-cabin lavatories that are prone to splashing.
The Return Flight
The fight from Santa Rosa back to Burbank was nearly identical to the outbound flight.
Santa Rosa – Sonoma County Airport, by the way, is a charming little airport much smaller than even Burbank.
After checking in, you head outside to a courtyard separating the check-in area and restaurant from the security checkpoint and waiting area. Both the security checkpoint, operated by a private company rather than the TSA, and the waiting area are in massive tents.
With a full flight plus another Alaska Airlines flight departing, the security line was quite long. Avelo does not yet participate in TSA PreCheck, so I had to remove my shoes and electronics and also go through an imaging device rather than a metal detract.
The cavernous waiting room features a seating area and restrooms, but no concessions.
Avelo Airlines (XP) 102
Santa Rosa (STS) – Burbank (BUR)
Wednesday, April 28
Depart: 03:55PM
Arrive: 05:35PM
Duration: 01hr, 40min
Aircraft: Boeing 737-800
Seat: 10D (Economy Class)
Onboard, the same crew welcomed us onboard and we took off slightly late due to inaugural festivities prior to the flight.
For this flight, I had an aisle seat in the same row and thus I missed looking out at the ocean as we traced our way down the California coast.
The same snack was served and flight attendants once again passed through the cabin multiple time to collect trash.
We landed in Burbank ahead of schedule and my day of travel had come to an end. For those who check bags, the baggage claim area is located a short walk from the gate area and bags had already been unloaded and delivered by the time I reached the area.
CONCLUSION
Avelo Airlines is a great new low-cost airline for leisure travelers and the convenience of Burbank makes this a particularly attractive airline to me. Already, Avelo is causing a wave: Alaska Airlines has announced it will launch service between Burbank and Santa Rosa in June as well. With one-way fares starting at $19, expect a sustained period of cheap flights.
Have you flown Avelo Airlines? How was your flight?