For our return from our summer in Europe, my family flew British Airways business class, including a 777-300 from London to Los Angeles. Although our equipment was swapped from the new Club World Suites to the older generation business class seat, we had a very pleasant journey home.
British Airways 777-300 Business Class
In all my years of flying and many transatlantic crossings on British Airways, I have yet to have a bad flight. Once again, I was impressed by warm, caring, attentive service onboard from a mixed fleet crew (there were very young and more mature flight attendants working my flight). This makes all the difference and can make a subpar seat and mediocre food far less of an issue.
But the food is no longer subpar on British Airways. Indeed, British Airways offers a lovely menu in business class with catering from DO & CO and a full meal prior to arrival. One of the dinner options was British BBQ (marinated Berkshire pork belly, dry-rub chicken skewer, baked potatoes, charred Pardrón pepper) which was amazing (my son ordered it), but not even as amazing as the braised Welsh lamb shank with sweet potato mousseline.
(there was a vegetarian option too)
Then before landing another full meal. I chose a herb roasted chicken breast with gnocchi…wow, another very tasty meal.
Delicious, delicious food on British Airways. It easily blows away its American competition and Virgin Atlantic. You will not go hungry. There were mid-flight snacks too.
Now about the seat. British Airways had been running the 77W with Club Suites on the LAX routes (after all, American and Virgin run their best products on this route), but ended up reverting to the older eight-across Club World with window seats facing backwards and the feel of a fairly dense cabin.
---
> Review: British Airways Club Suites
---
We ended up moving from a Sunday to a Friday after our flight from Las Palmas (LPA) to London (LHR) was cancelled and I needed to get back to LA a couple days earlier to attend a funeral. But it didn't matter…the old config was embedded into the schedule for the entire week. In fact, it was a 777-200. When we were "upgraded" to a 777-300 the day of travel, I had hoped it would feature a new configuration, but alas not…BA still has only retrofitted about 1/3 of its 777 fleet.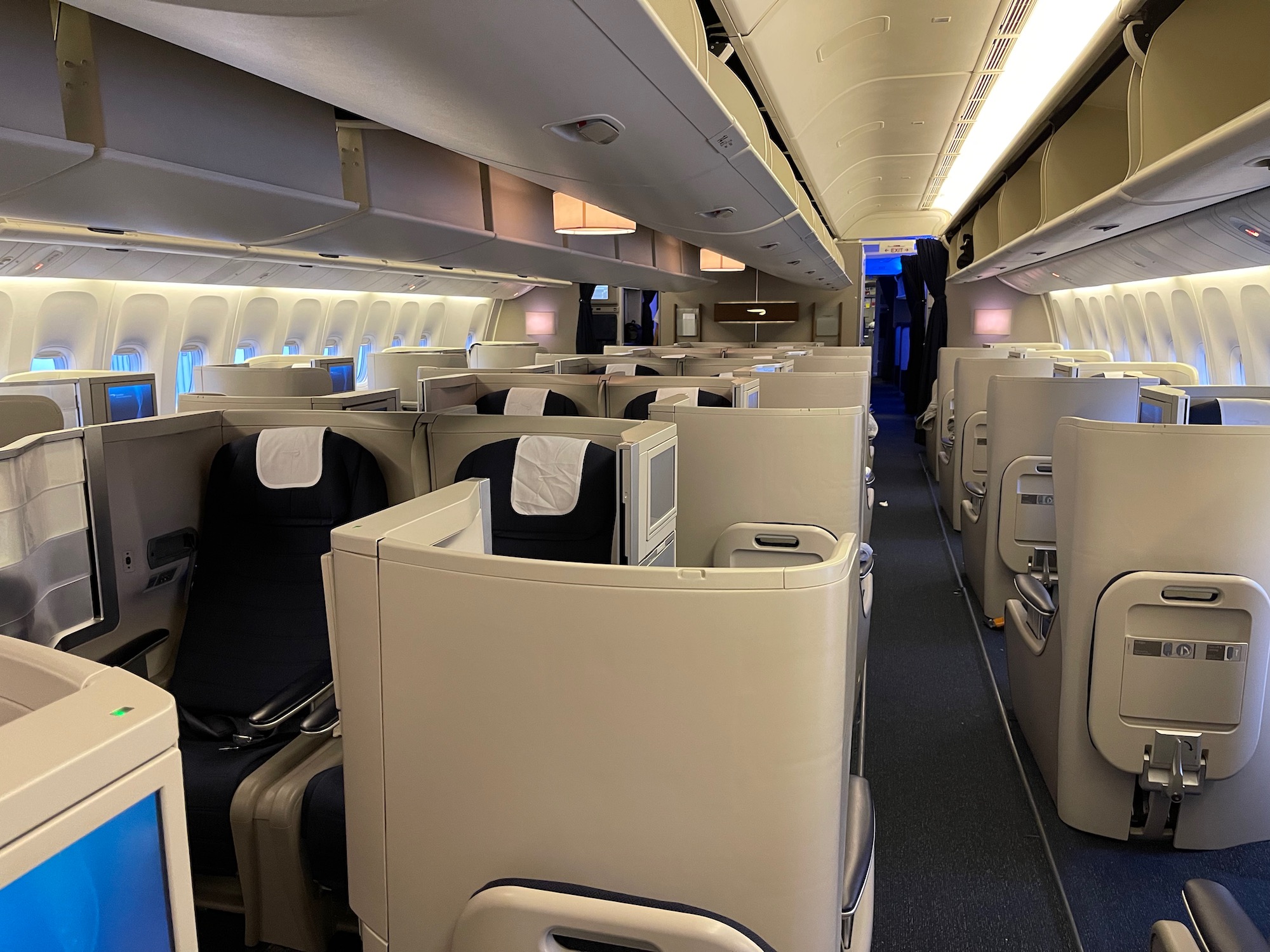 The good news is that this isn't a bad seat at all. It has been a long time since I flew backwards and my seat (row 15) was missing a window, but your feet are not constrained in a footwell and I ended up sleeping for over eight hours between meals…
The problem with redeeming miles for British Airways' premium cabins are the fuel surcharges. In my case, they were under $400/ticket because I originated in Spain, but if you start in London they are over $550 each thanks to the UK Passenger Duty. Certainly, that makes redemptions on BA less lucrative, even though the award space is usually there.
CONCLUSION
I had a lovely flight on British Airways, despite the old cabin, with great food and service.
Stay tuned for my full report, in which I'll discuss the bedding, IFE, amenity kit, and other services and amenities onboard.
---
> Review: British Airways A350-1000 Business Class