For the final leg of our trip home, we flew on British Airways from London to Los Angeles aboard the 777-300ER in Club World business class. Despite the dated seat, we had a marvelous flight.
British Airways 777-300ER Business Class Review
While a rather horrific value when redeeming points and traveling from the United States, out-of-pocket fees are much lower when traveling from Europe to the USA via London.
Booking
In 2020 I redeemed Avios to fly from Basel to London to Los Angeles in British Airways business class. Due to the pandemic, BA cancelled my flights. With BA's flexible rebooking option, we rebooked to Las Palmas to London to Los Angeles. BA also cancelled its Las Palmas service, forcing us to make an extra stop in Madrid.
The upside to all the schedule changes and cancellations was that we were rebooked in J class and all earned miles (credited to American Airlines AAdvantage) for our journey.
Boarding
After spending an hour in the Galleries South Lounge in Heathrow T5, we took the train over to T5C to board our flight to Los Angeles. I was surprised at the rather cavalier attitude British Airways staff took concerning COVID-19 tests. Rather than examine the tests themselves, we were asked to sign an attestation that we had tested.
Our boarding was delayed a bit, but presently we were invited to board. Sadly, I was pulled aside for "random" secondary screenings which meant I was not able to get many unspoiled pictures of the cabin (a few of the pictures below were taken after we landed in LA).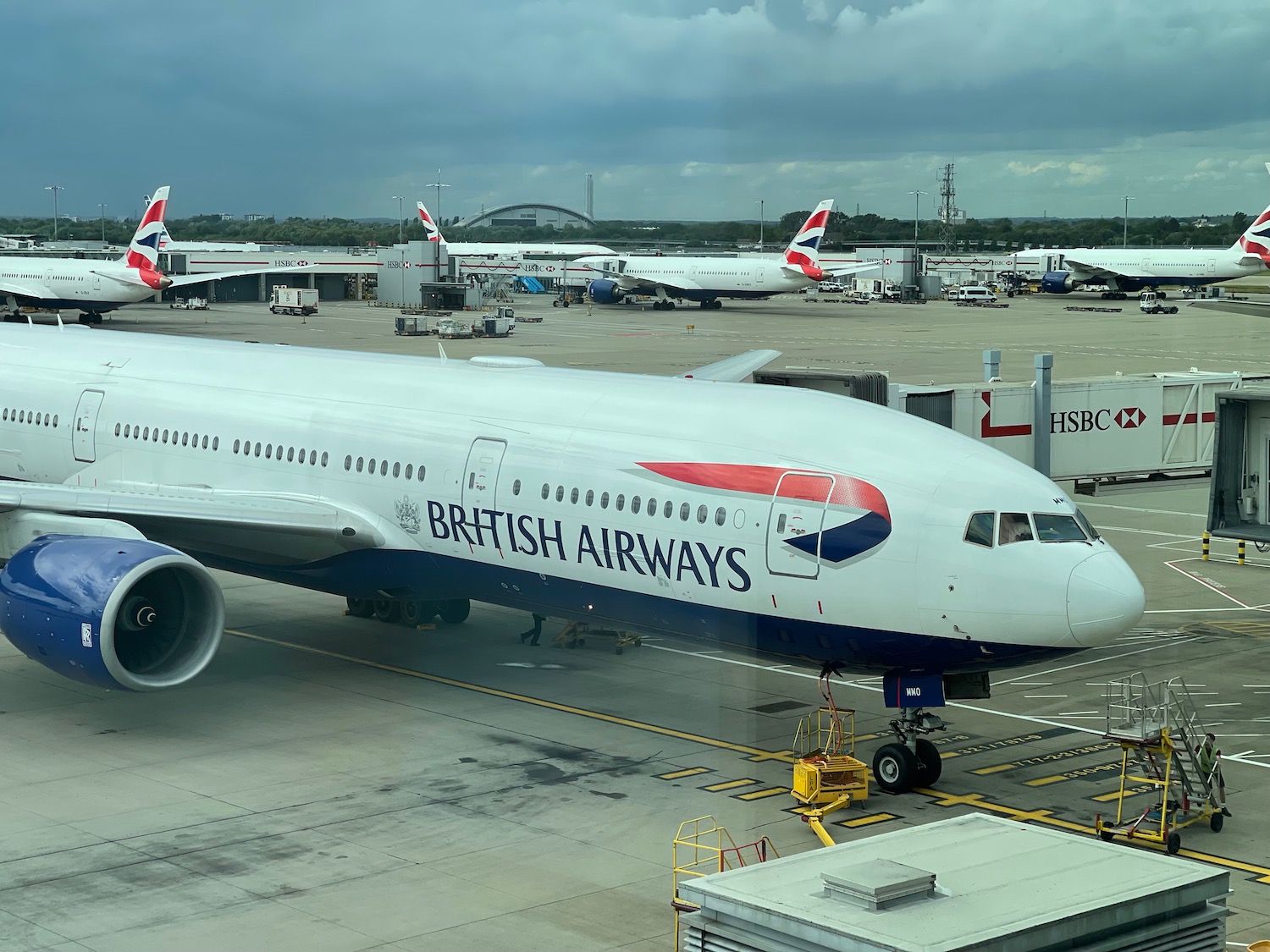 British Airways 269
London (LHR) – Los Angeles (LAX)
Friday, August 6
Depart: 4:10PM
Arrive: 7:10PM
Duration: 11hr, 0min
Aircraft: Boeing 777-300ER
Distance: 5,456 miles
Seat: 15K ("Club World" Business Class)
A very cheerful flight attendant welcomed us onboard – with a couple exceptions, the crew was overall quite senior and I could immediately feel this was going to be a great flight.
Seats
British Airways is in the process of retrofitting its 777-300 fleet to install new Club World Suites, but there remain several aircraft that have yet to be retrofitted. Unfortunately, I chose our flight because it was scheduled to have the new suites, but those seats were swapped about three days before.
The old configuration is eight-across, which sounds horrible but really isn't that bad. True, seats do stretch eight across in a staggered manner (some facing forward, some facing backwards). True, privacy is fairy limited and the aisle seats (especially B and J seats) are particularly exposed.
But I must concede that this is a comfortable seat and one benefit is that your feet are not constrained. Instead, a foot rest drops downs from the seat in front or behind you (depending upon which direction your seat is facing) and in lie-flat mode, creates a bed that is six feet long.
Personal storage is limited (there is a small drawer for valuables), plugs (universal A/C and USB-A) are within easy reach, and the screen flips over for relatively easy viewing.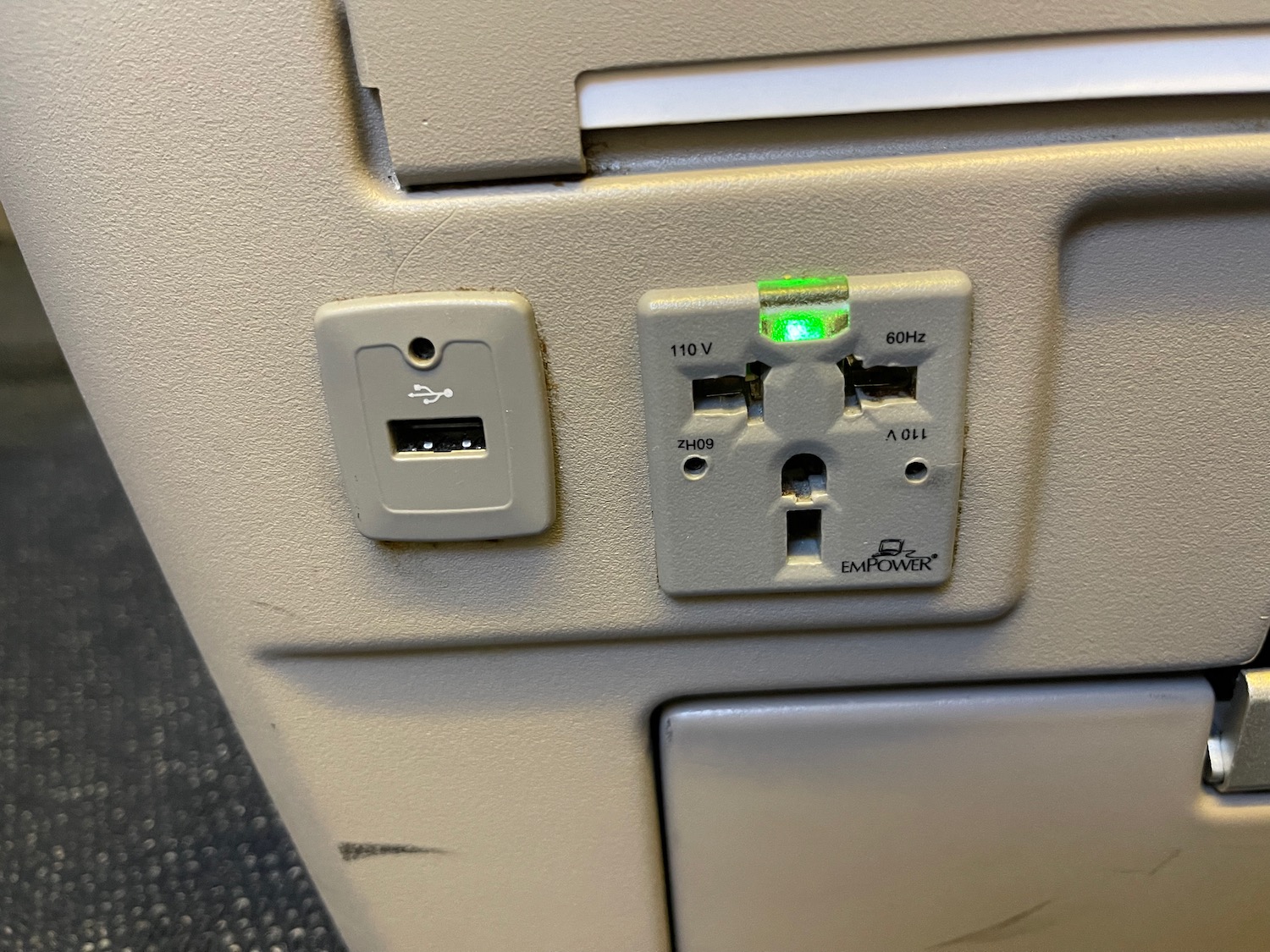 The screen can be controlled by hand or by a passenger service unit (remote) located in the seat console.
Seat controls are also on the armrest.
Bedding is excellent on British Airways. Provisioned by The White Company, I found the duvet soft and warm and the large pillow perfect.
Augustine slept on top of the blanket and did not bother to recline his seat, again making me question why I splurged for a premium cabin ticket…
While the cabin did not get too warm, do note there are no individual air vents.
The cabin was darkened for most of the flight.
Service
I mentioned the service and just want to point out what a pleasure it was to fly with a crew who seemed to love their jobs and were not only attentive, but cheerful and charming.
Our children, who were thankfully well-behaved, were doted over. Rather than address me for all of Augustine's need, flight attendants knelt down and spoke to him directly, which I appreciated.
Heidi and I took turns holding Claire Marie, who spent the first couple hours of the flight with me, then fell asleep for the bulk of the flight with Heidi. She recently turned two and now requires her own seat.
IFE + Wi-Fi
We took off to beautiful views of Heathrow.
Early in the flight, I checked out the IFE. The system is a bit dated by now, but I found a large selection of movies, TV shows, games, and audio, as well as a moving flight map.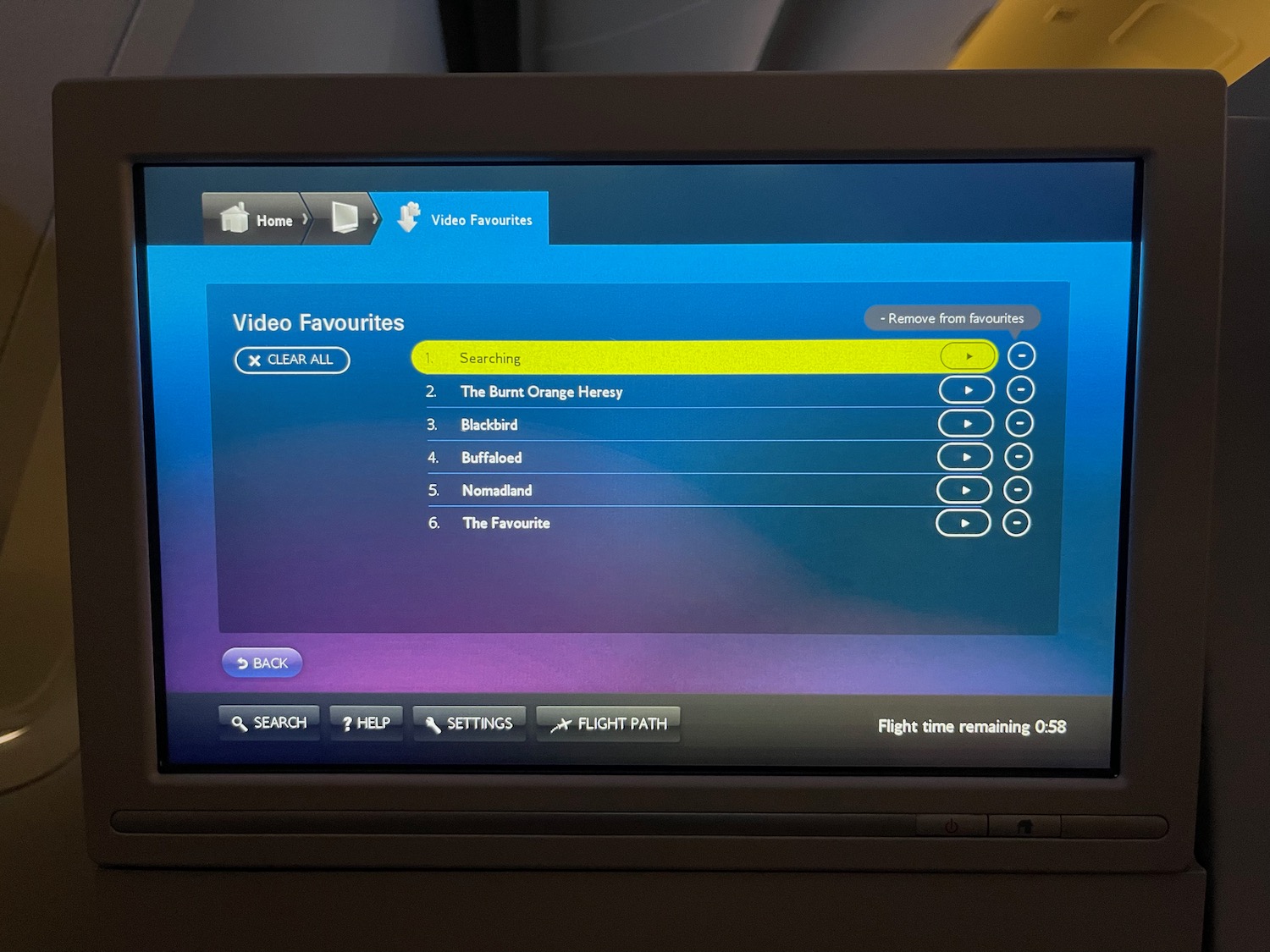 Noise-canceling headphones are better than standard headphones, but not all that comfortable over the ear.
Twice, the IFE went out, suggesting BA is long overdue for an updated system.
High-speed wi-fi was available onboard at the following rates:
1 hour – £4.99
4 hours – £11.99
Flight pass – £19.99
I connected to the messaging option, which was only £2.99 for a flight pass and allowed me to send and receive messages on iMessage and WhatsApp (text only, no photos).
Meanwhile, Augustine pretended the IFE remote was a telephone…
…and enjoyed his cartoons, which he is only allowed to watch when on airplanes.
Amenity Kit
I find The White Company amenity kits quite handy on British Airways. The black leather bags are versatile and we use them to store households items at home. The contents included:
socks
eye shade
pen
ear plugs
toothbursh
toothpaste
SPA products (from The White Company)

lip balm
moisturizer
pulse point (oil)
Lavatory
The lavatory was clean and featured more products from The White Company, including soap and hand lotion. There were also wipes in a communal bottle and an air freshener spray.
Food + Drink
I was very pleasantly surprised by the meals onboard, which was frankly just delicious comfort food. Some carriers try too hard to offer "gourmet" dishes when they should just stick to the basics. BA does the basics well.
Here's the menu for the flight:
I began with a cranberry blush cocktail, which was served with rosemary-encrusted mixed nuts (and roasted corn).
For my main course, I chose braised Welsh lamb shank, served with broccolini, sweet potatoes, and mousseline (sauce). Meals were a one-tray affair, including a coleslaw salad, cheese board, and a dessert called Eton mess (a traditional English dessert consisting of a mixture of strawberries or other berries, meringue, and whipped cream).
I paired my dinner with a glass of Bordeaux wine, which was splendid. I love the hot bread basket, with three bread rolls fused into one. I also loved the sourdough crispbread crackers served with the cheese.
Along with my dessert, I enjoyed a strong cup of decaf coffee (preparing to sleep after).
Augustine ordered the British Barbecue, which included marinated Berkshire pork belly, a dry-rub chicken skewer, baked baby potatoes, and a charred pepper. This was a really delicious dish (he let me have a few bites) which I would love to order again (though I loved the lamb too).
After a lovely rest, I woke up for a pre-arrival meal of roasted cauliflower in a red pepper dip and herb roasted chicken breast with gnocchi and tomato sauce. Another winner. The appetizer and dessert (passion-fruit panda cotta) were served covered.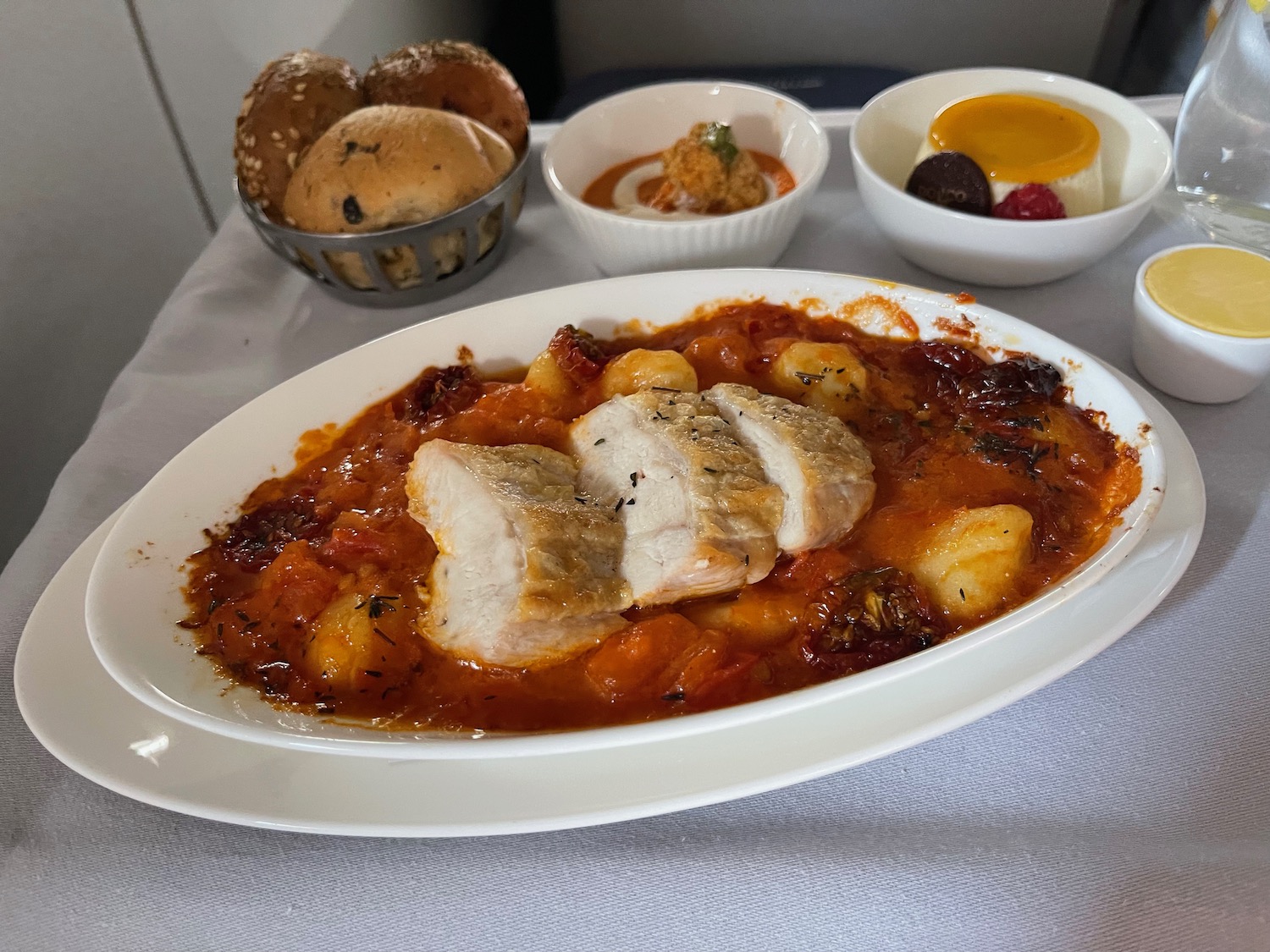 The Do & Co catering on British Airways is excellent. I greatly look forward to my meals when traveling on BA.
CONCLUSION
The sun was setting as we approached Los Angeles and the fog had begun to roll in. We arrived in the Tom Bradly International Terminal and parked next to a SWISS and ANA 777-300ER. After gathering our things, we proceeded through passport control and were soon reunited with my parents, who graciously picked us up.
British Airways is good with the old seat and great with the new Club World Suite. I would choose BA again in a heartbeat, even with the old seat, noting the availability of great bedding, wi-fi, friendly service, and delicious food.