As I mentioned in my first impressions of this property, all things considered, I found the value quite solid for this budget property. In fact, I would not hesitate to stay again at the Excalibur Hotel & Casino in Las Vegas if additional nights were needed for a mattress run.
Excalibur Hotel & Casino Las Vegas Review
I'm not a regular visitor to Las Vegas, but I've stayed in some fancy suites at the Wynn and Delano hotels. If you're looking for luxury, this is not your hotel. But if you are looking for a clean room to lay your head at night, this does just fine.
I traveled from LA to Vegas in search of Hyatt nights…the purpose of the trip was not even to enjoy the hotel. At $23/night plus tax ($25 total with tax), I really thought I may have been better off sleeping in my car. But it wasn't nearly so bad. Being an MGM Gold helped in that 1.) parking was free (saved $15/night) and 2.) the resort fee was waived (saved $35/night). Add all of that and there is no way I'd ever stay at this property. But at $25/night, I am a buyer.
The hotel is styled after a medieval castle.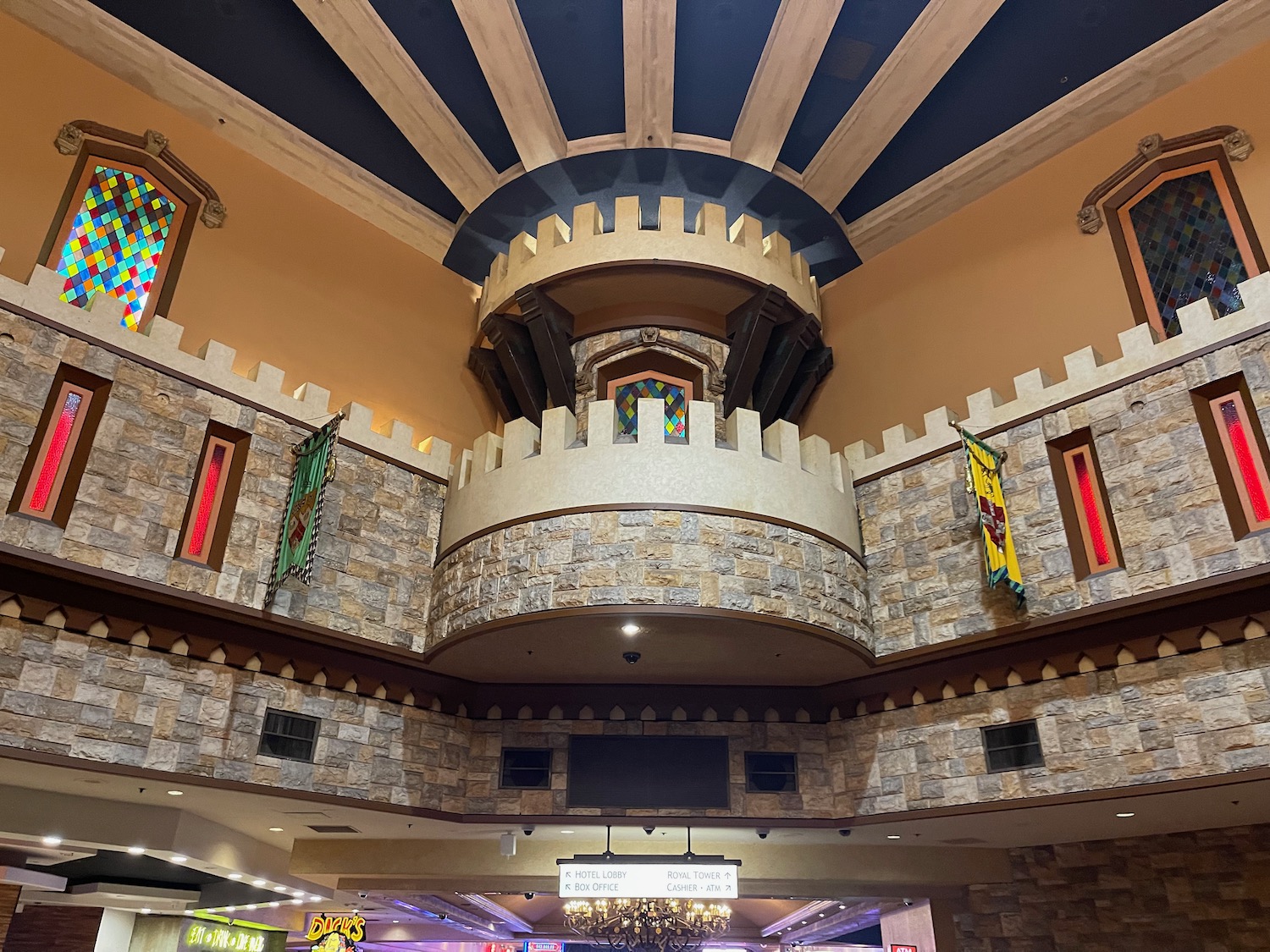 Check-In
I did not leave Los Angeles until 10:00 pm, so it was pushing 3:00 am when we arrived (due to my charging stop enroute). I called the hotel before I let so that they would not mark me as a no-show, but the hotel did anyway. The front desk clerk grunted that I would have to wait 10 minutes for her system to reboot before she could check me in, but it actually only took three minutes.
After checking me in and handing me the key, suddenly my electronic card worked in the MGM app. The app also showed I was a "no show" for the first night and she had just checked me in early for the second night.
I went downstairs and (foolishly) spent about 30 minutes at the front desk trying to resolve this the next morning, but it was no use: several people told me that what had been done could not be undone. All assured me I woudl still get my night credit since I was charged the no-show fee equivalent to one night, but I knew I would not…
And of course, I did not. The other nights posted, but not the first night. I've requested a missing night credit and will insist upon it, but I have a feeling I'll be wasting a lot more time on this.
Guest Room
We were assigned room 28251 on the 28th floor. Our room had no view of the strip, which is one nice thing this hotel has, but according to the app I was upgraded to a suite…that looked just like a normal room with two queen beds.
Everything in Las Vegas is by request only: refrigerators are for rent. Water bottles are for purchase. There certainly was no coffee machine or even a hot water kettle. But we came prepared and at least the room was cool and the bed was comfortable and clean. Internet was included and worked well…I did not run a speed test, but it was fast enough to get my work done.
I quite liked the bathroom, with dual sinks and a shower with a steam bath feature that worked very well. I also liked that the large dispensers of soap, shampoo, and conditioner were not in use and instead, we received individual bottles of Kūer-branded product, which seems to be the official MGM brand.
Not a great view, despite being high up:
Swimming Pools
The hotel offers four outdoor pools in a single area outside the resort tower (one of the pools was closed). The mornings were somewhat cloudy, which was a relief for me, since we used that time to go swimming and the sun was not intense (it would warm up to 110ºF during the heat of the afternoon).
One pool was specially intended for children who could not swim (1.5 feet deep) but Augustine used one of the regular pools.
Towels and water (both still and sparkling) are free and drinks and food can be ordered. Basic beach chairs are free to sit on while padded chairs or cabanas are available for rent. There's very little shade in the pool area.
Fitness Center
I stopped by the fitness center several times and it was always crowded. Considering the number of rooms in the hotel and the relatively small size of the gym, that was not a surprise. There are more than enough strength resistance and cardiovascular machines here for a great workout and most are fairly new.
---
Tip: Free bottles of water are available in the gym.
---
Spa
I peeked in the spa just to see if there was a sauna and steam room…there was not. That made me all the more thankful for the steam bath in my own room. A variety of massages are available…and not cheap like the room.
Buffet
The hotel offers a breakfast/brunch buffet open daily from 7:00 am to 2:00 pm, but does not have an evening buffet. The buffet is $28.99 for adults and $16.99 for kids during the week and $31.99/$17.99 (respectively) on Friday, Saturday, and Sunday.
We found the section to be decent (there's a pretty good seafood and sushi spread as well as an omelet bar and craving station) but the quality was not great. If you do try it, do enjoy a freshly-made crepe for dessert.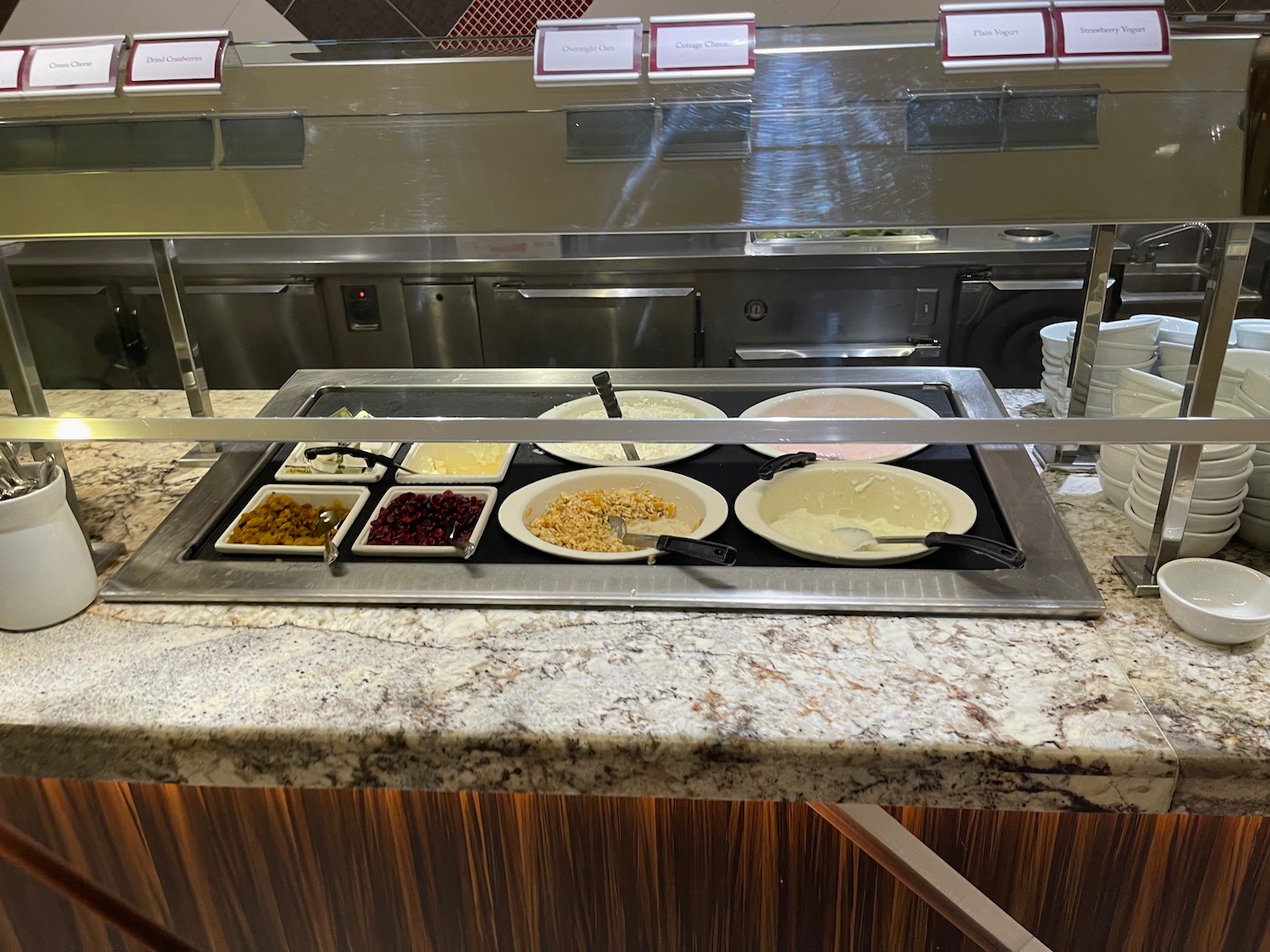 Dining
There are other bars and restaurants in hotel including:
Baja Fresh
Buca di Beppo
Dick's Last Resort
Drenched Bar & Grill
Food Court

Auntie Anne's Pretzels
Big Chill
Cinnabon
Einstein Bros. Bagels
Fatburger
Hot Dog on a Stick
Krispy Kreme
Pick Up Stix
Pizza Hut Express
Popeyes Chicken
Schlotzsky's

Johnny Rockets (24/7)
Orange Julius / Dairy Queen
Starbucks
The Roasted Bean (coffee) – in both towers outside elevator banks
All are priced for Las Vegas (i.e., higher than in your own city or town). Augustine and I ate down the street.
Casino
I'm not a gambler, but we walked back and forth through the casino often. I find it sad to see people slouched over smoking a cigarette and wasting money in these sorts of places where the odds are stacked so heavily in favor of the house, but there appeared to be the usual mix of video slot machines, blackjack, and a roped off "high-limit" area that was posher than the rest of the casino.
Shows
There were signs everywhere for the Tournament of Kings dinner and show as well the Thunder From Downunder…show? (I once had a colleague who worked with me in the White House who went to this show and described it pretty graphically…). Sorry, no reviews.
Parking
As I mentioned, parking was included due to my MGM Club membership but otherwise $15/night. Both covered and uncovered parking are available. Be aware, the hotel smells like marijuana outside and I saw many guys smoking weed in the parking lot and outside the hotel entrance.
---
> Read More: The Excalibur Weed House In Las Vegas
---
CONCLUSION
When you add everything up, I think there is no denying this hotel is a pretty good value for the money. I'd never stay here if not for the relationship to Hyatt (meaning I will likely never stay again after the end of September 2023), but there is nothing that would make me discourage you from trying out this property if you needed the elite nights or wanted to save some money. Do be warned that the resort fee is often more than the room rate itself (that's a whole different issue…) but this is a problem you will face at many Las Vegas hotels.