My entire flight routing back to the United States was built around the chance to review the recently-reconfigured Finnair A330-300 in business class. My impression of the new seat was favorable, though I will need to try it on a flight longer than Helsinki to London to fully understand if it is comfortable or merely beautiful.
Finnair A330-300 New Business Class Review
This flight was booked with American Airlines miles as part of a one-way award from Doha to Chicago (details here).
With a 7:50 am departure time, I left Hotel St. George at 5:30 am. Oil prices spiked after the Russian invasion of Ukraine and I was surprised to see fuel at €2.25/liter and thus perhaps a little less surprised to be picked up by a Tesla Model 3 as my Uber X vehicle.
I arrived at dawn at the beautiful new Helsinki Airport passenger terminal and made my way to the gate. It was a very cold, but beautiful day.
Security lines were horrible at this early hour and there would be no time for the beautiful Finnair Platinum Wing or Business Lounge this morning.
Boarding began about 45 minutes prior to scheduled departure. I was giddy about the chance to try Finnair's innovative new business class seat.
Finnair 1331
Helsinki (HEL) – London (LHR)
Thursday, March 10
Depart: 7:50 AM
Arrive: 9:10 AM
Duration: 3hr, 20 min
Distance: 1,151 miles
Aircraft: Airbus A330-300
Seat: 3A (Business Class)
The jet bridge felt like it was a kilometer long, but I used that to my advantage to sprint down it and have a few extra seconds (minutes as it turned out) to take pictures of the new business class cabin.
Seat
As I stepped into the cabin, my first impression was that seat was as beautiful as the pictures. I loved the dark blue fabric over the chairs and the new AirLounge seat appeared wide and comfortable. The wood finishes in the cabin, including the main galley between business class and premium economy class, were also very attractive.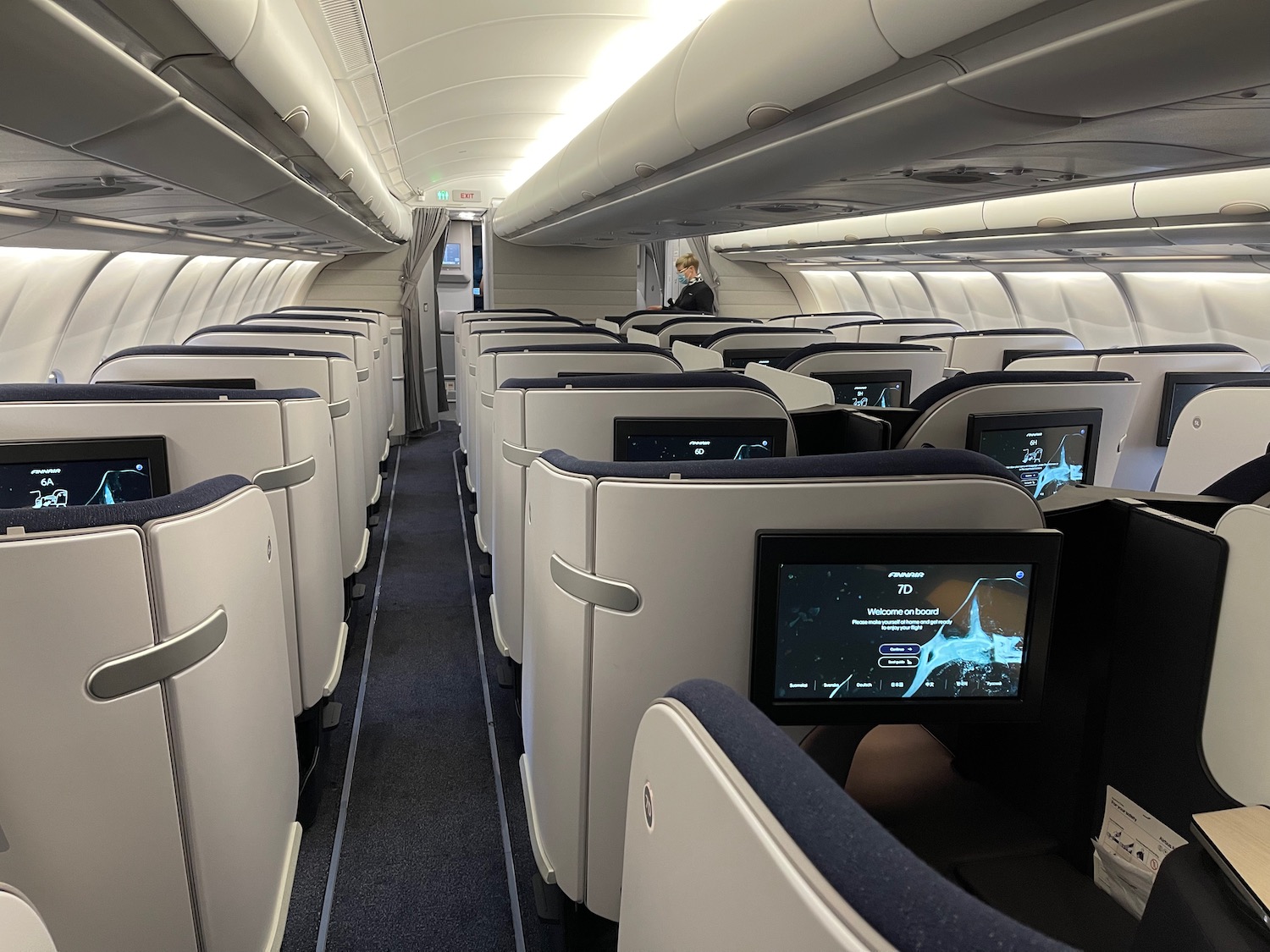 The cabin includes 28 AirLounge seats based on a Collins Aerospace platform, configured 1-2-1. These seats do not recline. Instead, they are designed like a couch or chair in which you can lean back (thus, the two Marimekko-branded pillows placed on each seat), but not recline the way most business class seats do.
Settling into my seat itself, 3A, I was impressed at the personal storage space, which included a large compartment on the side, a shoulder-level compartment for valuables (large enough for a laptop), and even space for items under the portion of the seat that flipped up to form the bed. Seats 1A and 1L have an additional storage cubby located to the side of the video screen. The potential downside is that 1A and 1L have a narrower footwell (though it is longer than other seats).
So how about that bed? I think many of us were concerned that it simply would not be large enough, especially because the cutout for your feet is angled. Keep in mind that unlike the Singapore Airlines business class seat, which flips down to create a bed, this seat truly does not recline at all. Instead, two leg rests flip up to create the fully lie-flat bed. You then slide forward to sleep, with the back of the seat never reclining.
I was concerned a reinforcement bar might also impede knee or ankle space as well, but it did not.
The seat is actually immensely large. I'm 6′ 1″ and had no trouble fully stretching out on my back or on my side. Even while stretching my toes there was plenty of room left over. I think this seat will receive high marks from taller people.
Here's a video I took:
I expected the seat to be very comfortable while sitting and here is where it surprisingly fell a bit short. You simply lean back like you are sitting in a couch, but really need both pillows in order to be comfortable. Even then, I felt (like sitting on a couch for an extended period) that my neck and upper back were not properly supported.
By the end of the flight, I sat with my legs crossed (almost yoga style) in the seat. Now that's pretty cool that the seat is large enough to make that possible. I'm not certain, though, that the seat is more comfortable overall than the current reverse herringbone seat on most of Finnair's A350-900 fleet.
A thin blanket was provided. Expect a better blanket on longhaul flights.
Other features of the seat I quite liked included the very sturdy tray table (it flips out of the side) and the cell phone charging pad which made it so easy to charge my phone during the flight.
I also appreciated the spotlight reading light, easy-to-reach USB plug (both A and C ports), and a power port near the base of the seat, which was well-placed because it kept cords from your personal space.
Actual seat controls were limited: there was a button to extend the tray table, one to increase the brightness to the reading light, one to turn it off and on, and one to raise or lower the leg rest to create the bed.
Individual air vents are pleasant, which is always a positive thing, though the cabin was quite chilly on this flight and no further air was needed.
My only other complaint about the new business class seat was that the IFE remote control (technically called a passenger service unit) was located inside the side compartment and when in use, the door could not be closed (at least in my experience).
Lavatory
The reconfigured lavatory near door 2L includes a window overlooking the wing and plenty of room to move around. Hand soap and lotion were from L:A Bruket.
IFE + Wi-Fi
The IFE system was touch-screen and could also be controlled by a remote located in the side compartment. A library of selections including movies, TV shows, games, and audio, as well as information about Finnair, duty-free shopping, and a moving flight map.
Cheap disposable headphones were offered. On longhaul flights you can expect noise-canceling headphones.
Wi-Fi was available onboard, with business class passengers enjoying one hour of free service (which was more than enough for me during the short hop to London). I liked that the system indicated how many other passengers were online, which may provide a helpful indication of how fast your connection will be.
It was a beautiful day for flying so there was also great IFE right out the windows.
Food + Drink
Breakfast was served after takeoff, with no choice offered, just a scrambled egg dish served with fruit and a hot croissant or bread roll. The eggs had tomatoes and basil inside and were served with a fried potato and cooked spinach on the side. A hot towel was offered prior to breakfast.
As always on Finnair, I enjoyed a glass of blueberry juice and had a couple cups of coffee, which was strong, as well as a bottle of water.
Note that while you can expect the same type of meal if you take this route today, Finnair recently refreshed its tableware and (sadly) removed both the Iittala Ultima Thule glassware and the Marimekko crockery. I have no idea why, but that's a topic for another time…
Service
I think many people just do not understand Nordic people because I consistently find the service to be excellent on Finnair while I often hear complaints from others. It was the first time this particular crew had flown with the new business class seat and so they were also acquainting themselves with the new product.
Drink refills were frequently offered and as the crew saw me take pictures of the cabin, several flight attendants offered to take my picture as well (I never let on that I am a travel blogger).
CONCLUSION
We landed to a fleet of British Airways planes at London Heathrow.
For a shorthaul flight, you cannot ask for a better seat. But on a longhaul flight I really question how comfortable this seat when sitting up for several hours. I liked the space of being able to sit cross-legged and stretch out when sleeping, but I tend to think the reverse-herringbone product Finnair is ripping out (on the A350, not A330) is slightly superior.