While not as spacious as its flagship Qsuite product, I found the Qatar Airways 787-9 business class suite quite user-friendly and very comfortable for my overnight journey from Doha to Copenhagen.
Qatar Airways 787-9 Business Class Review
When there was no nonstop or one-stop award space available from Doha to Los Angeles, I decided to get creative and stitch together a custom route.
Booking
I had one objective in mind: get home while sampling as many new business class products as possible. In the end, I booked:
Qatar Airways 787-9 > Doha – Copenhagen
Finnair A321 > Copenhagen – Helsinki
Finnair A330 > Helsinki – London
British Airways 787-10 > London – Chicago
All four flights were in business class and cost only 70,000 AA miles total. I would have added Chicago to Los Angeles on American Airlines (there was space), but there is a four-segment limit on one-way awards (unlike back in the day…). For 70K miles and about $306 in taxes/fees, I don't think I could have found a better deal.
Check-In
After checking out of the Park Hyatt, I took an Uber to Doha's Hamad International Airport, a short 15-minute journey. Thankfully I showed up early because American Airlines had not properly issued my ticket and it took a 30-minute call to sort it out. But what a comfortable check-in area. There was a seating area with chairs and coffee tables and I was even offered a bottle of water while on the phone.
Boarding pass in hand, I proceeded to immigration (where the immigration officer thought my passport was fake).
---
> Read More: I Was Detained In Qatar – Officials Thought My Passport Was Forged…
---
Lounge
I've reviewed the Al Mourjan lounge here and spent the next few hours enjoying a delicious dinner, which was important considering only a light supper would be served onboard.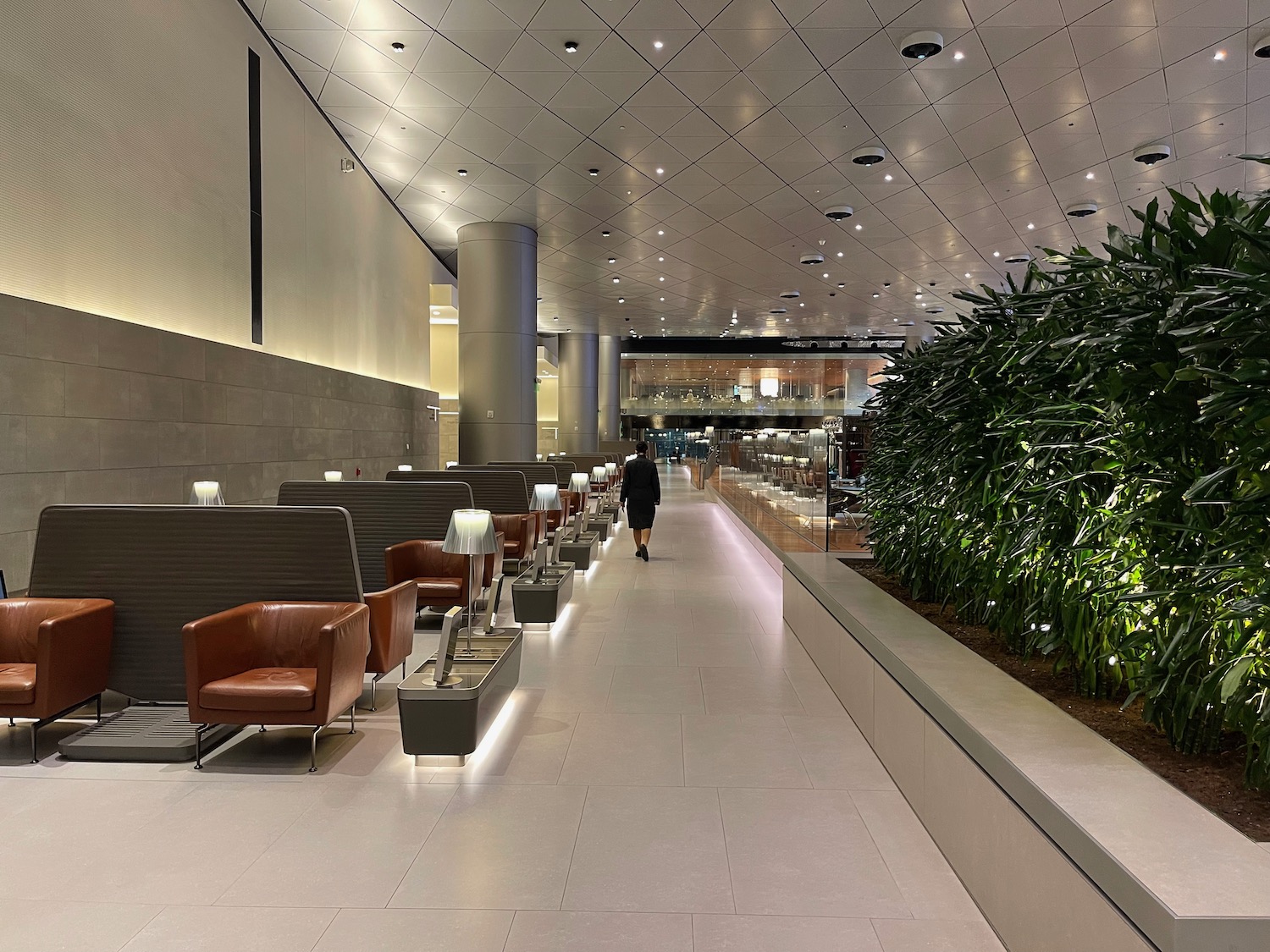 ---
> Read More: Qatar Airways Al Mourjan Business Lounge Doha (DOH) Review
---
Boarding
An hour before scheduled departure, I proceeded to my boarding gate and found we were departing from a remote stand. The bus took us by a number of widebody aircraft before we finally wound up at the Boeing 787-9 Dreamliner that would take me to Copenhagen. Business class passengers were offered a private bus, but I jumped on the economy class one because the business class bus would not depart until late in the boarding process.
Qatar Airways 161
Doha (DOH) – Copenhagen (CPH)
Wednesday, March 9
Depart: 1:35 AM
Arrive: 6:20 AM
Duration: 6 hr, 45 min
Distance: 2,886 miles
Aircraft: Boeing 787-9
Seat: 1K (Business Class)
I bounded up the jet bridge to get grab some pictures of the cabin before others boarded.
Seat
Qatar Airways has debuted the new Adient Ascent seat on its 787-9 in business class. These are reverse herringbone seats for windows and herringbone seats in the middle section (centre seats), arranged in a 1-2-1 configuration. All suites have doors that close. Qatar Airways has also added extra touches like lamps and (faux) marble counters which bring so much character to the seats.
I chose seat 1K, a window seat.
Beyond the look of the seat, I found the seat quite practical, with a wireless phone charger within easy reach on the side of the seat (wireless charging, unlike JetBlue, that actually worked), the position of the plug perfect for easy access, and a wide two-tiered table ideal for multiple beverages and elbow space.
I also liked that the window shade could be controlled on the screen, though it did not matter much for our flight, which was totally in darkness until the very final moments before landing. Another plus: individual air vents.
After supper, I slept for about five hours. The bedding (pillow, mattress pad, soft purple blanket) was the same as other Qatar Airways longhaul flights.
Closing the door did provide a decent amount of privacy, though anyone could easily look into the suite when walking by.
The suite itself is great, but so is the entire cabin. The mood lighting and attention to detail is so indicative of the high-quality product Qatar Airways provides to its guests.
Food + Drink
I was offered a beverage upon boarding and chose the always-delicious mint-lemon juice.
The menu was not quite what I was expecting. Rather than a heavy meal service after takeoff or a heavy meal before landing, there was a light snack after takeoff and another light breakfast prior to landing.
I began with a glass of Bollinger 2006 rosé Champagne and a ramekin of warmed mixed nuts.
The "stress-free" dinner included a bite-size tasting menu of six dishes, beautifully presented in a bento-box like display, with contents including:
Hummus with Arabic bread
Lamb rogan josh pie
Seafood bisque
Beef nori with sesame
Cheese selection with dried fruit and walnuts
Fruit tart
The seafood bisque and lamb pie were particularly pleasing.
About an hour outside of Copenhagen, I was gently awakened (by request) for breakfast. Breakfast included some fresh fruit, a croissant, yogurt, smoothie, coffee, and juice. Again, relatively small compared to the elaborate breakfasts often available on Qatar Airways, but more than sufficient for this short overnight journey. In fact, I ordinarily would have skipped it, ordering it just for purposes of this review.
Amenity Kit + Pajamas
Despite a flight time of under seven hours, this was treated like a longhaul flight in terms of amenities onboard. Pajamas were presented during boarding as well as an amenity kit.
The amenity kit was Brics branded and included:
Monte Vibiano Vecchio

Anti-aging moisturizer
Hydrating facial mist
Lip balm

Eye mask
Ear plugs
Socks
Dental and shaving kits were also available in the lavatories.
A sanitary kit was also offed with gloves, a face mask, and hand sanitizing gel.
Lavatory
The 787 lavatory, located behind door 2, included a window and in addition to hte dental and shaving kits featured hand lotion and facial spray from diptyque.
It also had a round magnifying mirror with a light around it a nice feature I wish more lavatories would include.
IFE + Wi-Fi
Qatar's Oryx library of movies, TV shows, games, and music offers hundred of choices onboard. I enjoyed some Christmas music and also watched a German movie called Nebenan.
Noise-canceling headphones are average at best…
The 787-9 also had an exterior camera emended into the IFE, which you do not see on U.S. airlines.
Wi-Fi did not work on my flight – I could not connect to the internet.
Service
Sinthuja took care of me in the cabin and was simply wonderful: attentive, kind, and proud to wear the Qatar Airways uniform. All flight attendants taht I interacted with were excellent.
After the snack, Sinthuja prepared my bed and was the one who gently woke me for breakfast.
I am grateful for her kind and attentive service.
CONCLUSION
We landed on a beautiful morning in Copenhagen and I walked off very impressed. The 787-9 offers a better business class seat than the 787-8 and certainly feels more private when the door is closed (even though I found it a bit flimsy). While the "award winning" Qsuite (available on select 777 and A350 aircraft) is superior, this is not a bad product at all. On the contrary, it is above average and quite comfortable.