During my last trip to the District of Columbia, I spent the night at the Grand Hyatt Washington, DC. While not luxurious, it is extremely convenient and remains a hotel I will return to.
Grand Hyatt Washington, DC Review
Booking
When I traveled to DC for the Dole funeral, my friends in Vienna, VA were out of town, so I decided to stay in downtown Washington. I had originally looked at the Thompson, now part of Hyatt, but the Grand Hyatt Washington, DC, at $120/night plus tax, was less than half the price. As I just needed a place to lay my head, I chose the Grand Hyatt.
Check-In (+ Late Check-Out)
I took arrived at the hotel at about 12:30pm and found the lobby deserted. The lobby is a massive atrium with rooms on all four sides.
A very kind agent checked me in, thanking me for my Globalist status and apologizing that there were not suites available. Despite having a whopping 897 rooms, the hotel offers only 26 suites and all were apparently booked. I asked if a late checkout (beyond 4:00pm) might be possible, noting my flight back to Los Angeles the following evening did not depart until 10:00pm.
Without hesitation, he asked if 8:00pm was late enough and coded my card for that long. Despite the low occupancy, however, my room was not ready and I was invited to wait in the Grand Club on the top floor. I proceeded upstairs and worked for the next 90 minutes, then took a coffee break (I walked to Bluestone Lane…the lounge coffee is not great). By the time I returned, my room was ready.
Guest Room
The rooms are utterly lacking in character. With fluorescent lights, dull colors and a tired print of the U.S. Capitol on the wall, I found the room to be rather depressing. Plus, every time I've stayed here (four time now) I always receive a room with a courtyard view (and a window that doesn't even open).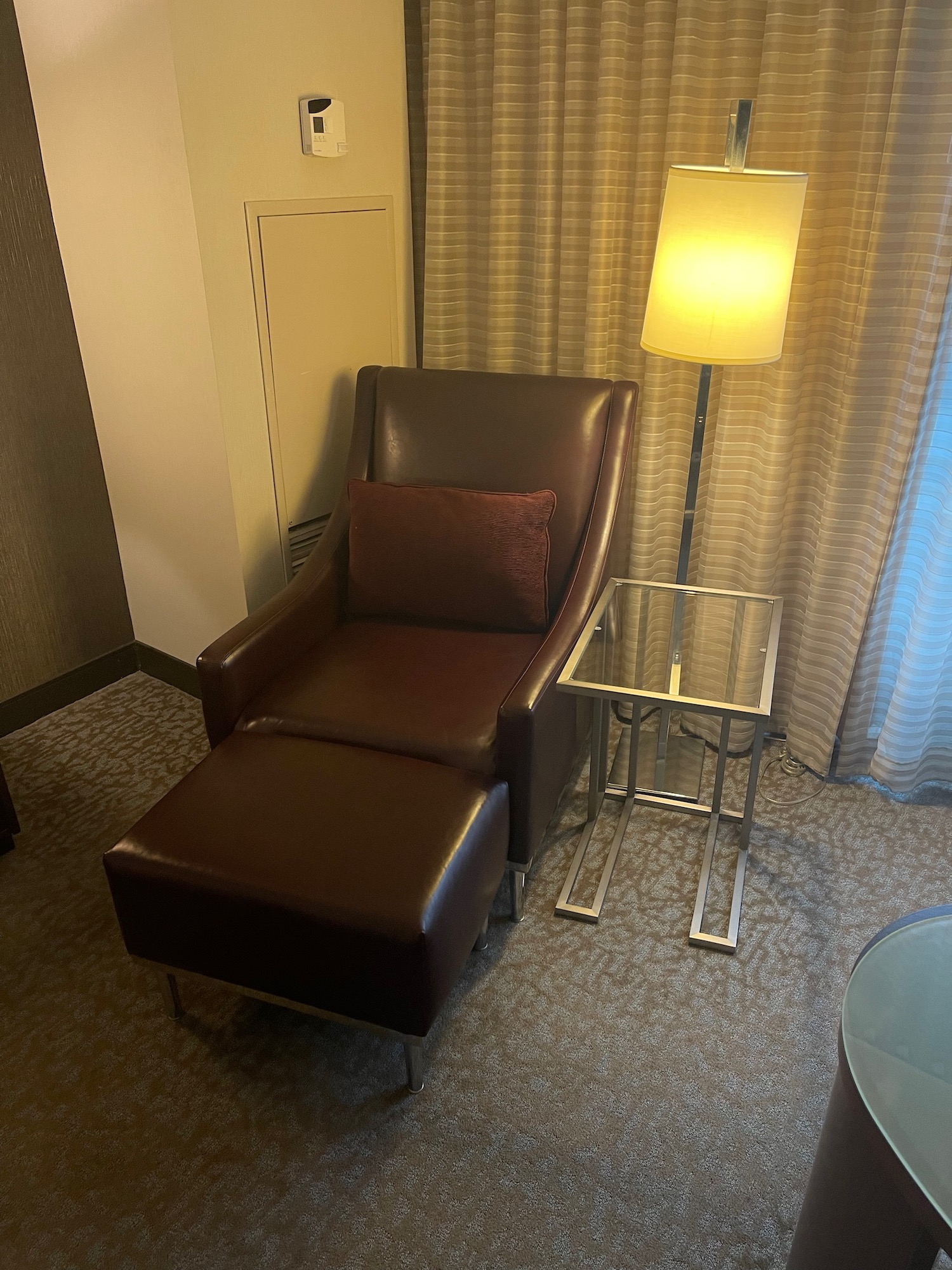 Plugs were nearby the bed and desk, however, and the alarm clock had a pair of USB-A plugs.
A hotel guide and room service menu have been replaced by QR codes.
The bathroom was even more industrial—I cannot believe the toilet had the sort of toilet flushers you see in a gas station bathroom. The granite countertop and dark wood finish, though probably vogue 20 years ago, is past its prime. But in reality, it was fine. It was clean. It served its purpose.
Toiletries were from Balmain and I do prefer the Pharmacopia brand at Hyatt Regency hotels better.
A refrigerator (empty) and small coffee maker were also in the room. The coffee machine used Keurig pods, which were provided.
Fitness Center
For years, the Grand Hyatt owned (or at least used) the Washington Center Health Club for its guests, which is right outside the south entrance to the hotel in an office lobby.
Without even thinking about it, I went there to workout. The door was unlocked and I enjoyed a very nice workout then 20 minutes in the sauna after.
But when I re-entered the hotel, I saw a sign for the fitness center indicating it was on the lower level. Indeed, I found that Hyatt no longer operates the adjacent Washington Center Health Club and now has its own (smaller) fitness area…with no showers or sauna…on the lower level (it was actually quite a maze to find it).
Oops.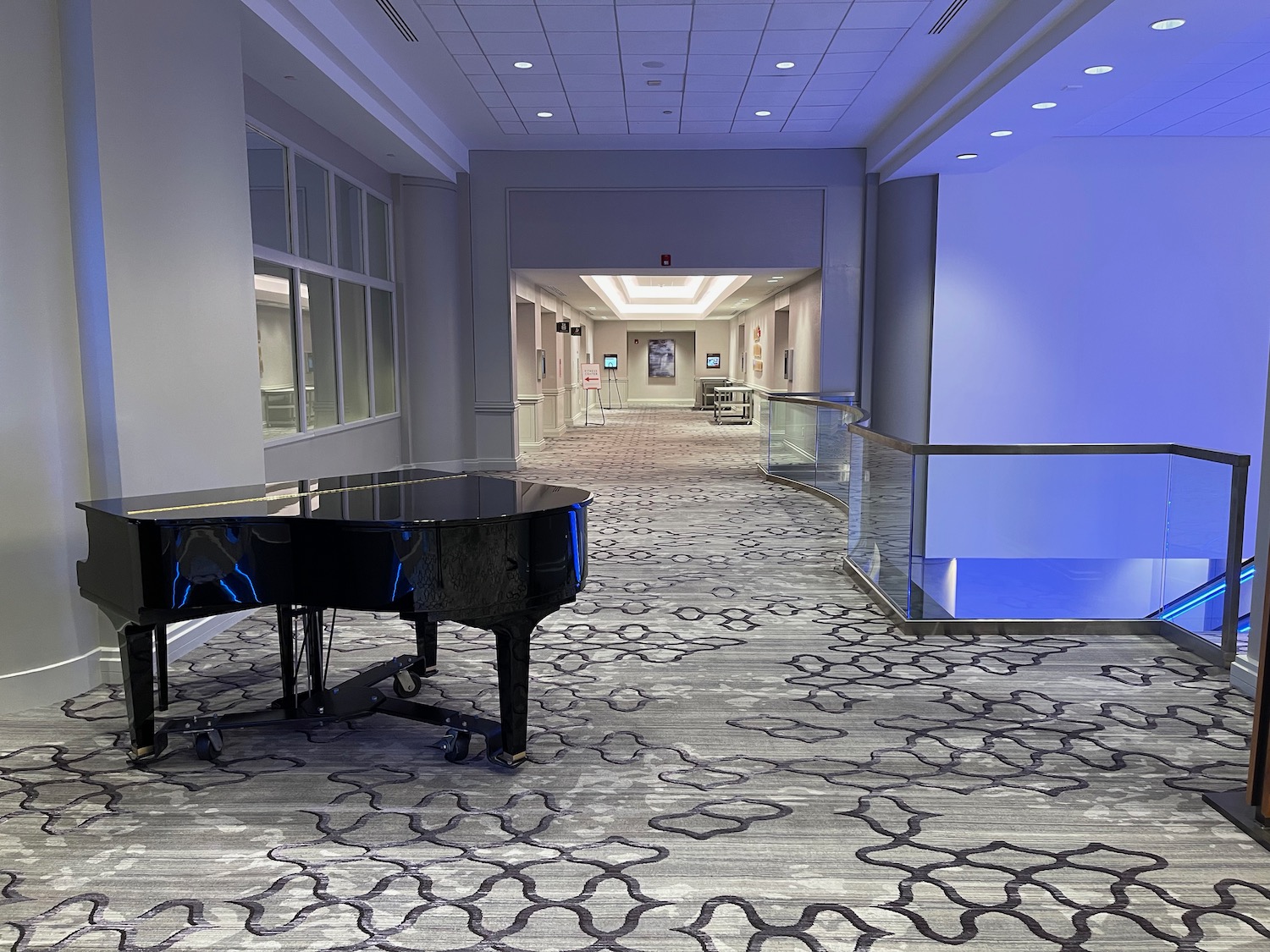 Meeting Space + Common Areas
Below the lobby are several ballrooms for banquets, weddings, or meetings. 
On the lobby level is a Starbucks and one level down is a Fed Ex Office.
Grand Club Lounge
As a Globalist World of Hyatt member, I was granted access to the Grand Club, which includes breakfast in the morning, snacks throughout the day, and appetizers plus liquor (for purchase) in the evening.
During the afternoon while I waited for my room, trail mix, whole fruit, cereal, yogurt, hardboiled eggs, and freshly cut fruit was available along with coffee, soft drinks, juice, or milk. I wasn't hungry, but appreciate that breakfast seems to extend all afternoon if you sleep in.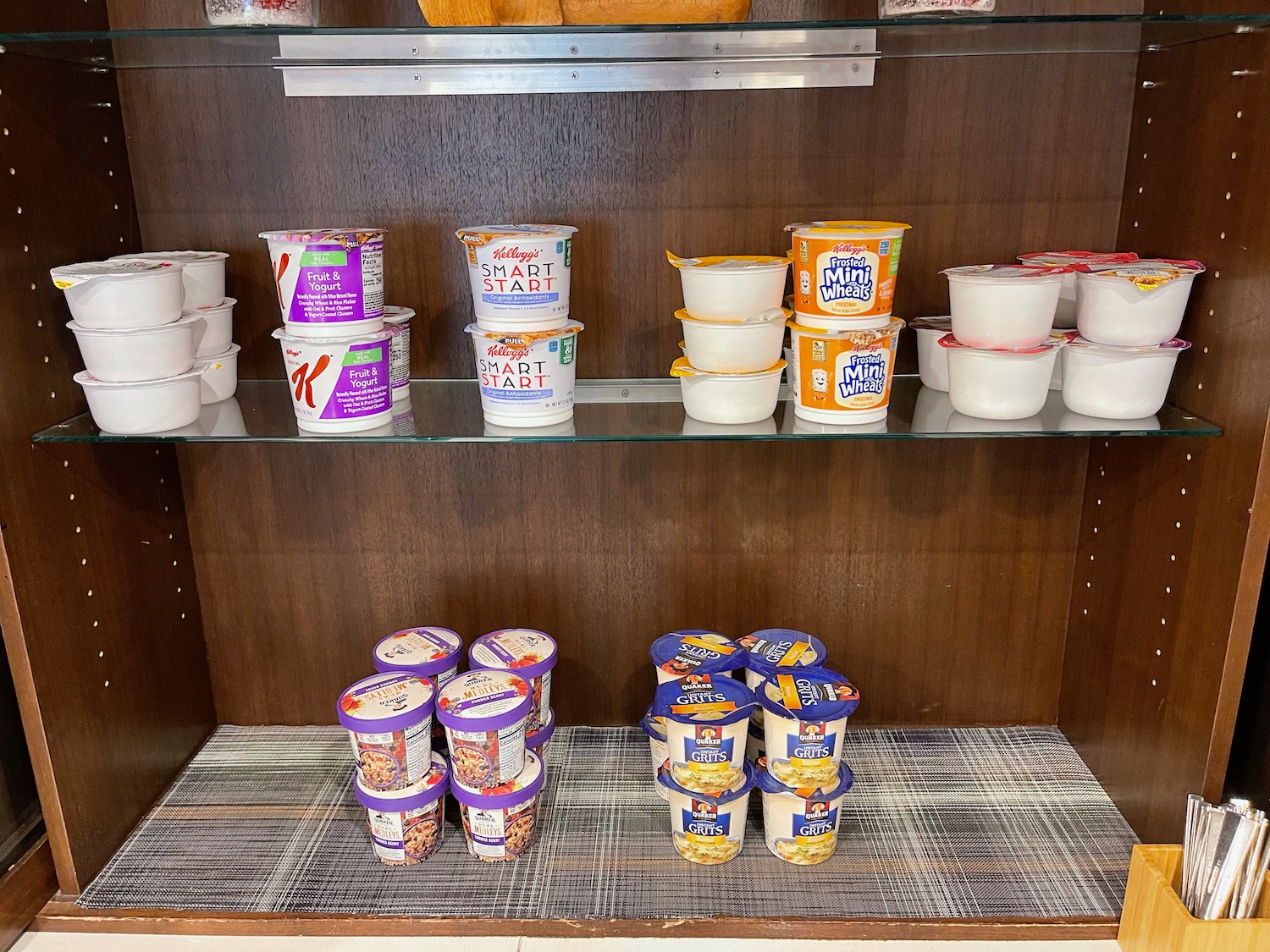 I was not present for the evening spread, but when I returned in the morning I found exactly the same selection as the previous afternoon, along with croissants, muffins, and warm breakfast sandwiches.
This is a far cry from what breakfast looked like prior to the pandemic, which include smoked meats and salmon, scrambled eggs, French Toast, and yogurt parfaits.
Dining
Breakfast is served each morning in the Cabinet restaurant, one level below the lobby, which offers a buffet and a la carte items from 7:00am to 10:00am. Cure Bar & Bistro is open from 5:00pm to 8:00pm each day and styles itself as a "farm to table" restaurant.
Location
I mentioned location earlier and must emphasize this is the main reason I chose this hotel. After landing in National Airpot, I took the Metro Blue Line to Metro Center, which is just a couple blocks from the hotel. From the hotel, I easily walked to dinner and the following morning walked to the Watergate building for a meeting. For tourist and business travelers, the location is difficult to beat.
CONCLUSION
I appreciated the kind service and late checkout at this hotel. The location is also very convenient. Other than that, there's nothing about the hotel that is particularly noteworthy in a good or bad way. I'd absolutely return, but this is not a hotel I get excited about.