We (unexpectedly) spent the night at the Hyatt Regency Crystal City in Arlington, Virginia. While our stay was short, the hotel was very convenient and worked out perfectly considering the late night and early morning.
Hyatt Regency Crystal City Review
Ronald Reagan Washington National Airport does not have an in-terminal airport hotel, but has a number of hotels close by, including the Hyatt Regency. After our Delta flight delay was extended overnight, I booked the room on my phone as we headed out to the curb.
Shuttle
Shuttle service is available around the clock and departs the hotel on the hour and on the half (on-demand overnight). Thankfully, we did not have to wait longer than five minutes for a shuttle to arrive. There was a very rude Southeast crew who loudly complained that my father was boarding the shuttle too slowly (for goodness sakes, he is over 80 years old…what jerks).
We reached the hotel four minutes later and I edged past the crew and into the lobby. There was only one agent on duty and she was quite talkative – I was happy to engage her as the Southwest crew stood tapping their feet behind us.
We were upgraded to an Ambassador Suite, which sounds massive but was really the hotel's smallest category of suite. At 522 square feet, it was not huge, but certainly better than a standard room. The hotel also has 722-square foot Regency Suites, with a spacious living room and dining room.
The hotel lobby is atrium-style, with a high ceiling that looks up to the restaurant and meeting space above.
Ambassador Suite
Our room, 1032, was a corner room with a living room, bedroom, bathroom, and small terrace.
The bathroom was near the room entrance before entering the living room and not connected to the bedroom. I did not care for that layout and the bathroom was very small with a shower, sink, and toilet. There would have been no room for a tub.
The room would have been quite functional if I had to get up to work or make phone calls while my father slept.
By now it was pushing 10:00 pm and we just went right to bed ahead of our early departure (though when I awakened in the morning, I found our Delta flight was delayed further).
Our terrace included a small round table and two chairs, but was very dirty.
One thing that perplexed me…why the Maltese cross on the sliding balcony door?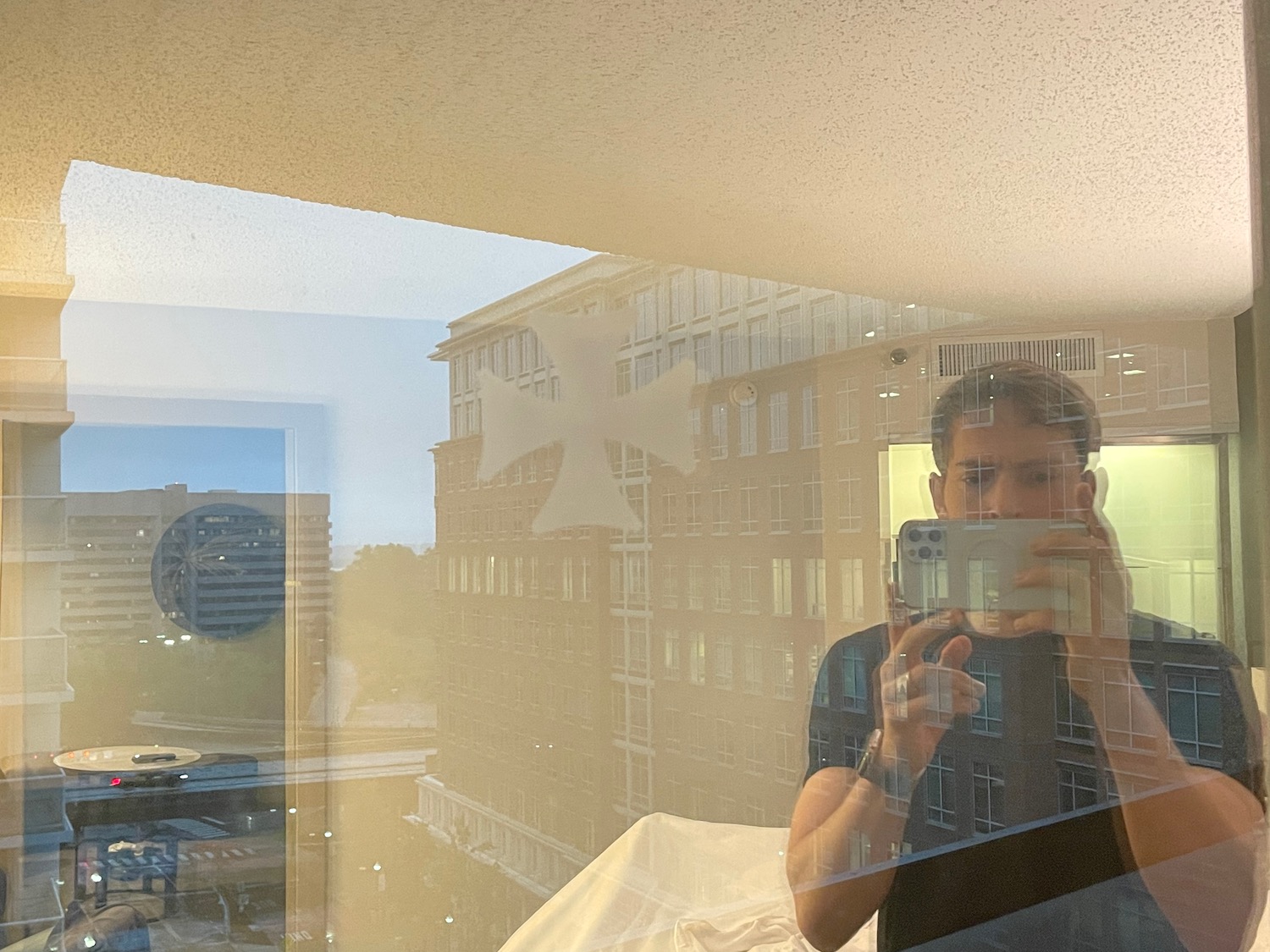 While I would never stay at this hotel if I was visiting Washington, DC, this hotel was perfect for our needs considering the overnight delay at DCA.
Fitness Center
I dragged myself out of bed to workout before my flight, determining my body would thank me and I could rest during the flight. Despite a lack of wellness facility (it was just a airport Hyatt Regency after all), I thought the Hyatt "Stay Fit" facility was just fine for my needs. I am doing more core work lately that does not even require any machines, but I did some elliptical and cycled through the resistance machines a couple times. There were also three Peloton bikes.
Pool
An outdoor pool is located across the hall from the fitness center, but was closed. In good weather, it is open during daylight hours, but is only open seasonally from Memorial Day to Labor Day.
Breakfast At Cinnabar
I figured Delta would cater lunch onboard since our departure was delayed to nearly 11:00 am (I was wrong on that…) and even if it was breakfast, I figured the hotel breakfast would be better, so we trudged down at 7:30 am, still somewhat full from our Five Guys burgers the previous evening.
As the name implies, Cinnabar specializes in cinnamon rolls…which were both on the a la carte menu and part of the buffet.
Here's the menu:
My dad ordered the "signature cinnamon roll French Toast" only to be told they were all out of it…so we both took the buffet and I ordered a cappuccino.
The buffet was quite respectable, with a nice selection of hot and cold breakfast items including an omelette bar and fresh berries. You give me those two things for breakfast (some nonfat Greek yogurt too) and I am very happy.
Overall, the breakfast was fine and even the coffee was acceptable.
CONCLUSION
We braved the pouring rain to take a shuttle back to DCA, where we eventually caught our flight home. The Hyatt Regency Crystal City came in quite handy in a pinch and I was thankful to avail ourselves to a full-service Hyatt hotel just a few minutes from the airport.
You pay a premium for such a convenient option, but it certainly beats a long drive to the suburbs or back into the District when you encounter irregular operations on your flight.