I spent the night at the Hyatt Regency John Wayne Airport with my family in Newport Beach, California ahead of the most recent Frequent Flyer University and we enjoyed a very nice stay.
Hyatt Regency John Wayne Airport Review (Newport Beach, CA)
Although Newport Beach is only about an hour away from my home, I thought it would be nice to take the family down to Orange County…and I also needed the night as I work to maintain my World of Hyatt Globalist status. The room was about $200 with taxes.
Parking
Parking is a bit strange in this hotel. There are no controls to enter the parking lot, but you are asked for your make and model when checking in and given a placard to place on your windshield (overnight parking is $25/night and not waived unless you are a Globalist on an award stay). The front desk clerk warned me that the placard must be on the car before midnight or else the car would be towed away.
Both of my children were delighted at the airplanes flying overhead as we stepped out of the car.
Check-In
During check-in, I was warmly greeted and thanked for my Hyatt loyalty. Breakfast benefits were explained (I could order off the menu or take the buffet) and as I mentioned above, the parking policy was explained.
The lobby was quite modern, with a faux fireplace and plenty of seating. Although there were plugs all over, most did not work (I got up early the next morning to work down here while my family slept in).
Guest Room
Our room, 640, was a standard room with two double beds.
A welcome amenity (rarer these days) was sitting adjacent to the (Keurig) coffee machine that included an apple, bottle of Fiji water, Kind bar, and M&Ms.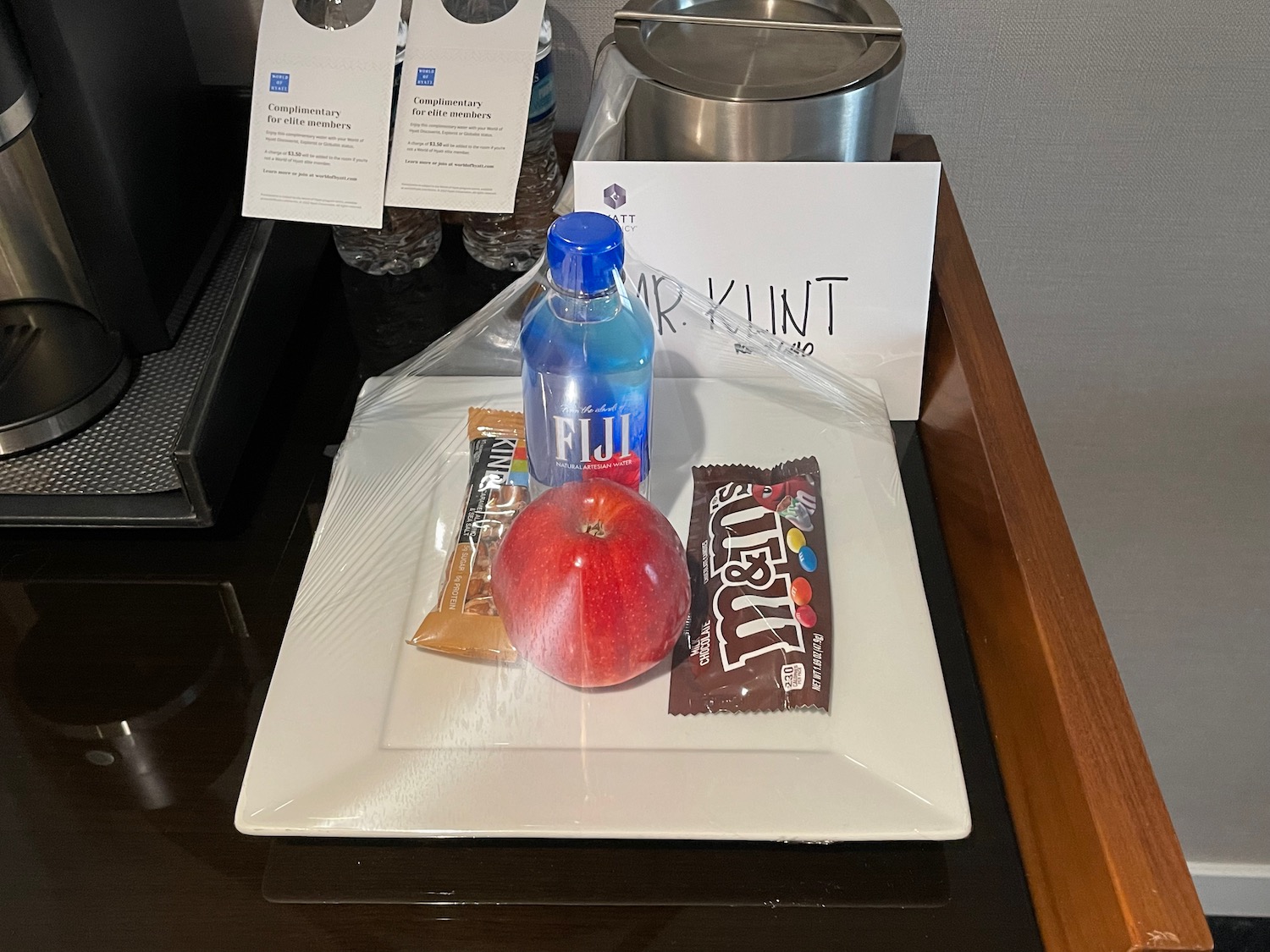 The bathroom included a toilet, single sink, and walk-in shower.
Shower products were the standard Pharmacopia, present at almost every Hyatt Regency around the world.
For my kids, the highlight of the room was the balcony, which provided a great view of runway at SNA Airport.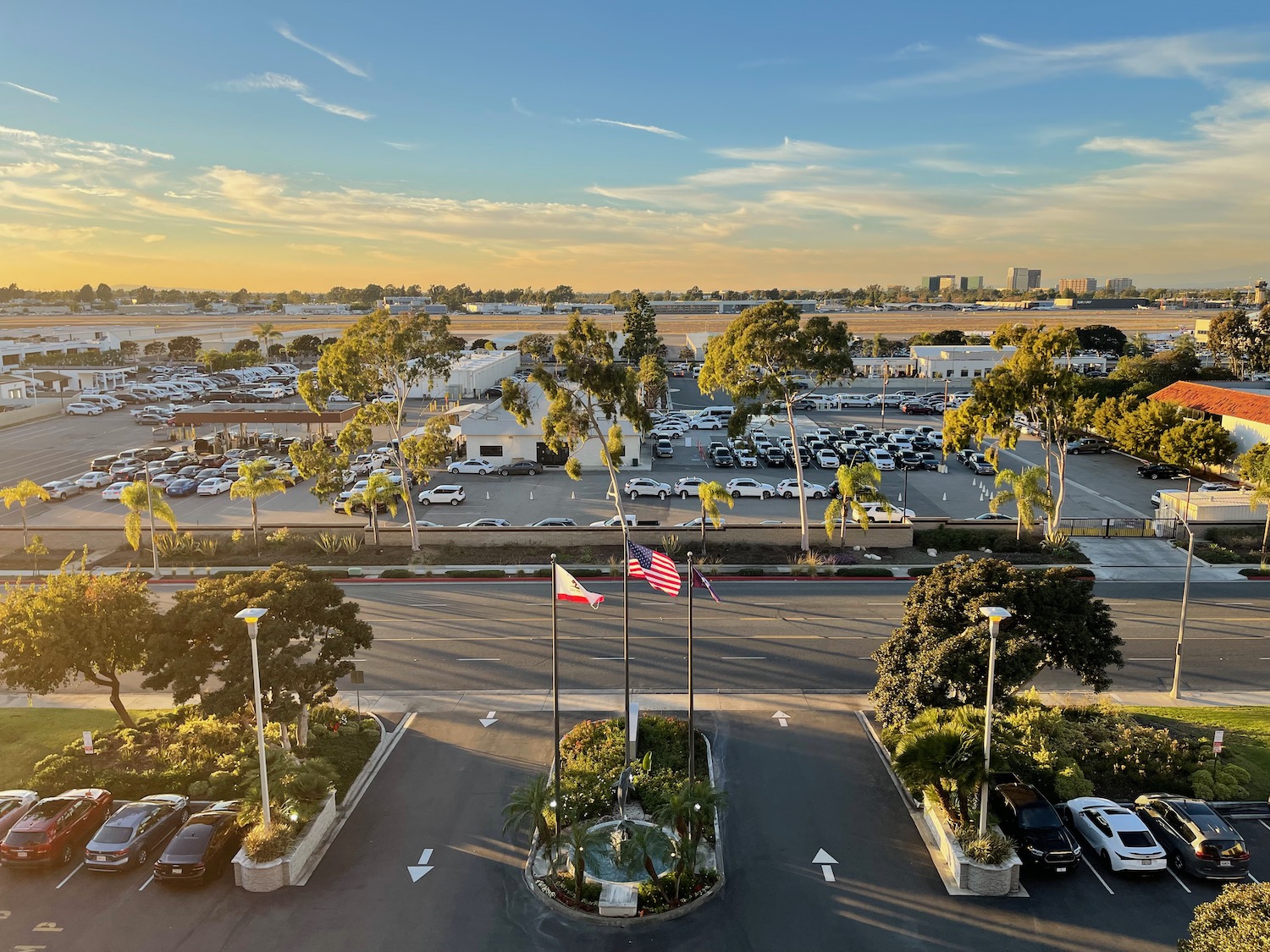 Breakfast At WAVE Newport Beach
What made me really like this hotel was the superb breakfast at WAVE. A small-ish buffet included breads and pastries, fruit, eggs, potatoes, sausage, bacon, pancakes, and oatmeal…that worked well for my kids, but my wife and I ordered off the menu: she had smoked salmon and I ordered chilaquiles, which was served in a very unique way. The super greens juice was nice and the cappuccino was not my favorite, but acceptable (Starbucks coffee).
BLVD Bar + Market
Across from WAVE is BLVD, both a bar and market. The bar is open from 4:00 pm to "late" while the market is open from 6:00 am to 2:00 pm and again from 4:00 pm to 10:00 pm. The market includes a barista making Starbucks coffee (though using a nice La Marzocco machine). Soft drinks, sandwiches, salads, flatbread pizzas, fruit, and pastries are also available.
Swimming Pool
One reason I took my kids along was because of the pool…which both now enjoy. Small problem: the pool was not heated! It was too cold of an autumn evening to jump in the pool, so we just sat in the hot tub.
Fitness Center
The fitness center, open 24/7, included kettle balls, cardio equipment (treadmills, bikes, ellipticals), free weights, a leg press, and an all-in-one resistance machine.
CONCLUSION
This was a very convenient hotel for my conference and is just a block away from SNA Airport so could be quite handy ahead of an early-morning flight or after a late-night arrival. I would not return here unless I had a flight from SNA or business in the area, but I was quite pleased with the service and breakfast at this hotel.