We spent an hour in the Iberia Premium Lounge Velázquez before our flight to London and found the lounge to be comfortable and spacious with a generous spread of food and drinks.
Iberia Premium Lounge Velázquez Madrid Review
Location + Access + Hours
This lounge is located Terminal 4S (beyond security and passport control) and open daily from 6:00AM to 1:00AM.
Travelers with the following status or credentials have access to this lounge:
Iberia Plus elites including Infinita Prime, Infinita, Platino, and Oro
oneworld sapphire and emerald members
Business class or Business Plus passengers on oneworld or Vueling
You'll use this satellite terminal lounge for non-Schengen flights.
Seating
This lounge is over 2,500 square meters and offers room for 500 guests. Thankfully, the lounge was not crowded at all during our visit and we had no trouble spreading out in one of the clusters of eats located throughout out the lounge.
You'll find couches and chairs in the vast center of the lounge, with eating areas in either corner, which have tables and chairs for dining. There's also a coffee nook with more seating in the middle of the lounge.
You'll have to search a bit harder for power plug (Euro style only) or USB ports.
Food + Drink
We arrived just minutes before the transition from breakfast to lunch took place.
Breakfast
The breakfast spread included cold cuts, cheese, sandwiches, yogurt, whole fruit, scrambled eggs, and Salmorejo soup.
Food was not self-serve during our visit, though I'd imagine it is self-serve once again.
Lunch/Dinner
The afternoon spread included bread rolls, a vegetable stew witch chickpeas, carrots, potatoes, and broccoli, rice, roasted potatoes, grilled vegetables, tuna salad, green salad, wraps, and yogurt.
A La Carte Restaurant
While a sit-down restaurant with an a la carte menu was a traditional feature of this lounge, this was not available during my visit because of the pandemic.
Wine Bar
In the restaurant area is a wine bar, which was available and self-serve. I did not drink anything, but there was a wide selection of Spanish wine.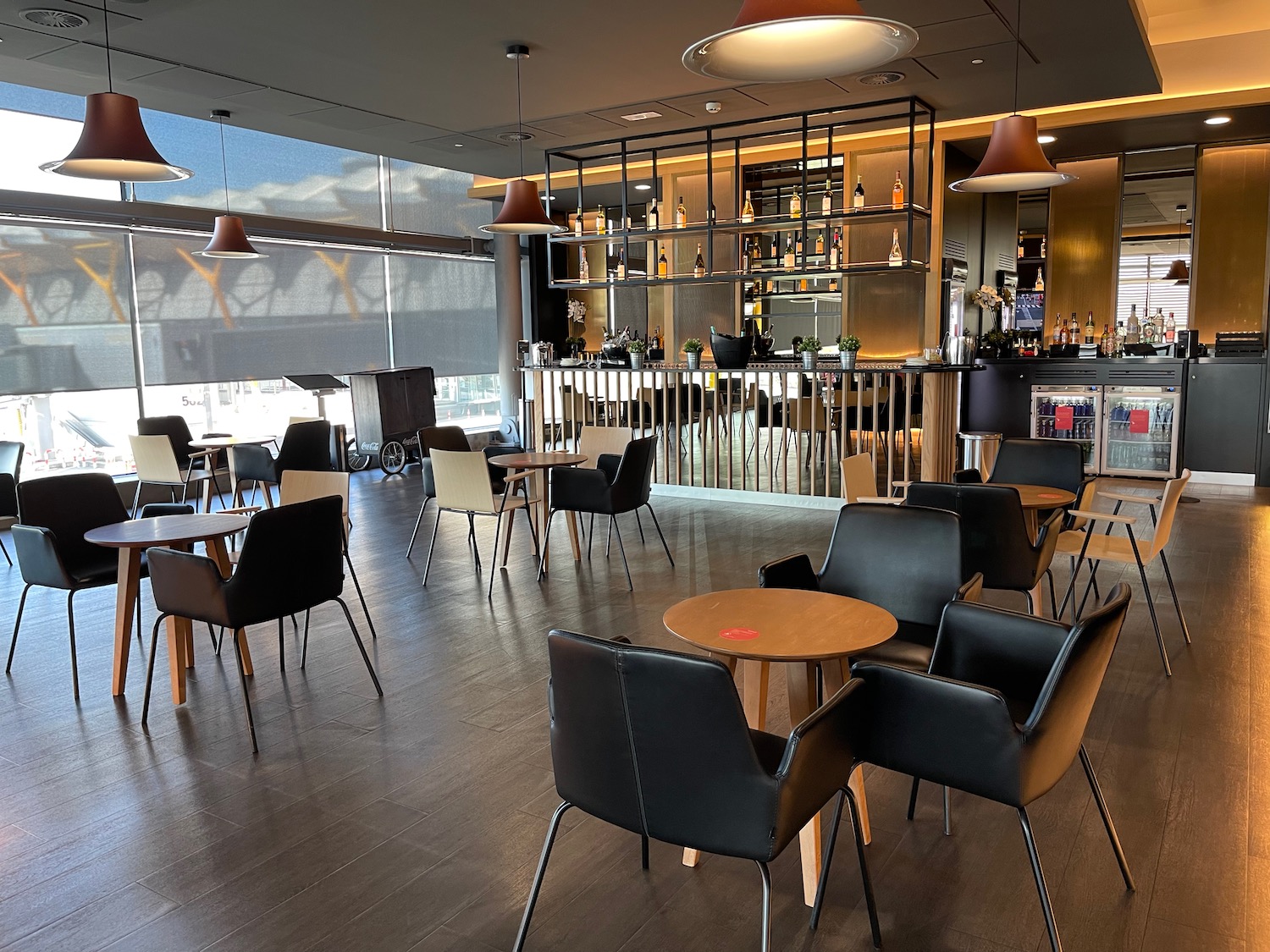 Soft drinks, water, beer, and spirits were also available and self-serve.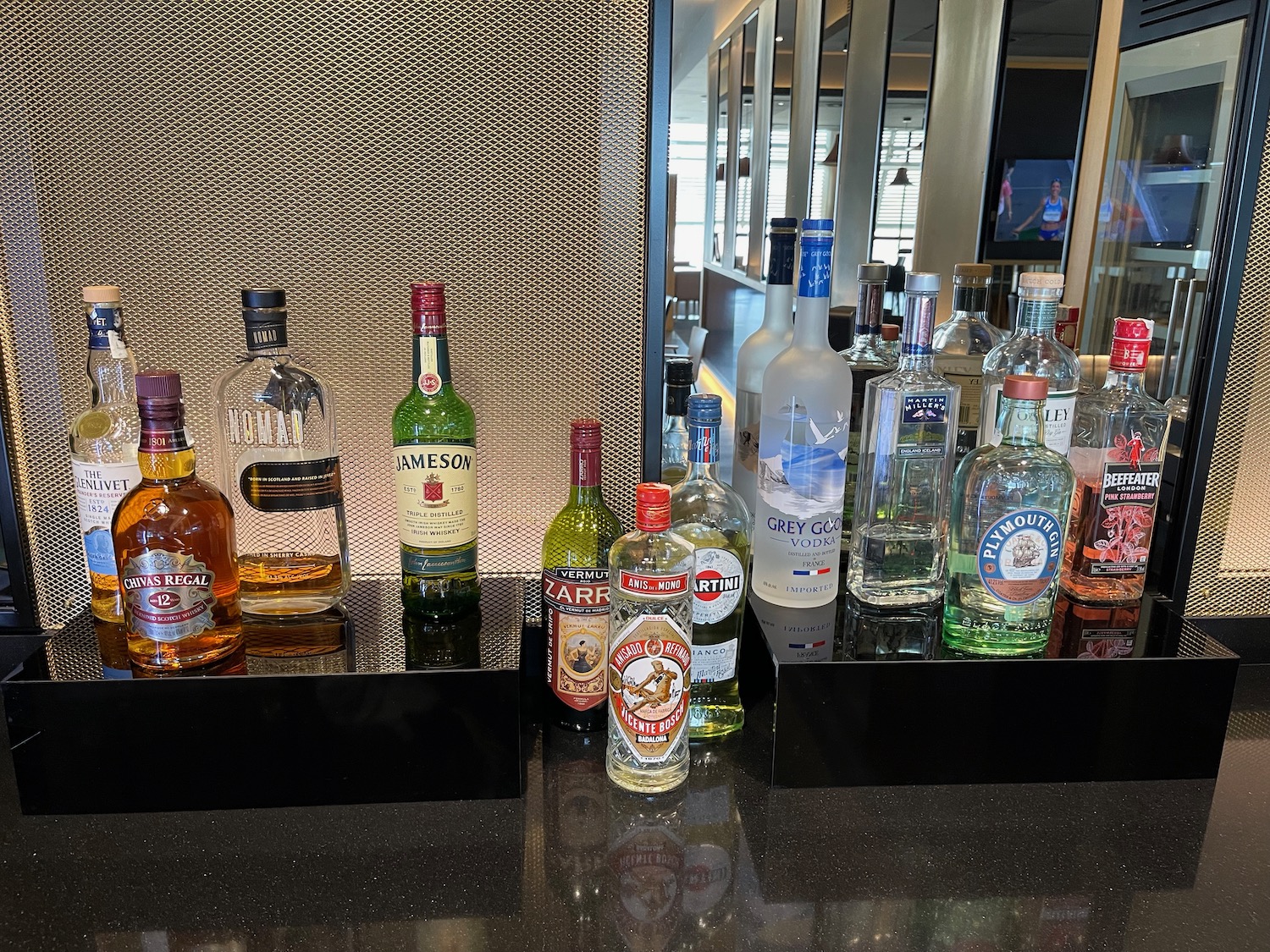 Coffee Station
Illy coffee is available at two stations in the lounge. The machines are terrible, so just stick to espresso or an Americano.
Restrooms + Showers
Showers are available (request at reception) and bathrooms were spacious.
There was also a separate wellness area ("Baby centre") for changing diapers or nursing babies.
Sleeping Room
The sleeping room was closed, but includes six chaise lounges in one large room. Blankets and pillows are available upon request. If you're using this room, please keep your voices down.
Lockers
If you are staying for awhile, lockers are available near the entrance.
CONCLUSION
I was impressed by this lounge, including the design, comfort, and respectable selection of food and drinks. I'd like to return and try the a la carte menu, but this lounge makes connecting through Madrid a positive and I find it far better than the British Airways Galleries lounges in London Heathrow.
---
This is part of my summer in Germany trip report.