Sometimes the urge to travel hits us like a ton of bricks. Sometimes, opportunities open that cannot be turned down. And sometimes that all comes together in the form a remarkable last-minute trip that could not have turned out better. Welcome to my next trip report, covering my recent journey to Istanbul and Belgrade to hang out with a dear friend and fly Turkish Airlines and Air Serbia.
A Return To Beautiful Istanbul + Belgrade
Istanbul is one of my favorite cities in the world. While I am usually a Hyatt guy, a friend invited me to hang out at the Four Seasons Bosphorus for a couple days, an invitation I could not turn down. This was a very dear person in my life (still is!).
With the entire trip centered on three days and two nights in Istanbul, I went to work planning flights. I noted that chefs had returned to Turkish Airlines Business Class, but I've reviewed the Turkish Airlines' Boeing 777-300ER too many times…I had to be more creative.
KLM struck me as a great choice and only 53.5K miles for Los Angeles to Istanbul via Amsterdam. But (and I realize I may be waiting a long time…), I want to try Blue, the new KLM restaurant inside its lounge at AMS. It is currently closed during the pandemic and I'll save my KLM trip for when that re-open.
Delta would have been a great option – perhaps take the Airbus A330neo from Seattle to Amsterdam or the the Airbus A350 from Detroit to Amsterdam, but no award space on Virgin Atlantic (50K miles one-way) despite low loads.
Then I got to thinking about the Turkish Airlines A350. It's the only wide body in the Turkish fleet I have now flown and it is currently operating to a handful of destinations including:
Amsterdam
Paris
Manila
Montreal
Montreal – Istanbul would have been ideal, but there was no award space. Manila was out and Paris looked sporadic — I noticed a lot of last-minute swaps. Amsterdam, on the other hand, seemed to be consistently operating with an A350. 
So my next piece of the puzzle was booked: Amsterdam to Istanbul on the Turkish A350 in business class using Aeroplan miles (25K). I almost bought the ticket ($450), but I'm generally opting to burn miles instead of cash these days.
Ultimately, I booked a return ticket on United to Amsterdam and back from Frankfurt (which I will use later this year). While intercontinental flights remain empty these days, transcontinental flights are full. No dice on an upgrade, even to Premium Plus (premium economy). But that's the dice you roll for booking literally 12 hours before departure. The Newark – Amsterdam flight ended up going out almost empty.
That still left the return. The original plan was to fly Turkish Airlines nonstop to New York, where my friend lives. But with lockdown measures in place (despite or because of, I cannot say), we could not find a Turkish flight to New York or Boston or Washington or Chicago with two seat together. Flying on opposite sides of the cabin somewhat defeated the purpose of the trip, so we looked elsewhere.
I always think in terms of what product I can review and found that Air Serbia had business class award space (70K Aeroplan miles) from Istanbul – Belgrade – New York. Air Serbia just took delivery of a new Airbus A330, so I would get a chance to review that. Furthermore, I'd get an overnight in Belgrade! 
Last time I was at the Hyatt Regency Belgrade I was sick as a dog, so at least this time I'd get to actually provide a review of the Hyatt, one of the best Category 1 Hyatt hotels in the entire world.
We could have explored Belgrade, but we did not leave the property. Ah yes, one of those trips.
The following morning we checked out the Air Serbia Lounge, then flew to New York on Air Serbia. While the flight was fine, I must say the true Air Serbia treat was the Airbus A319 flight from Istanbul to Belgrade the day before.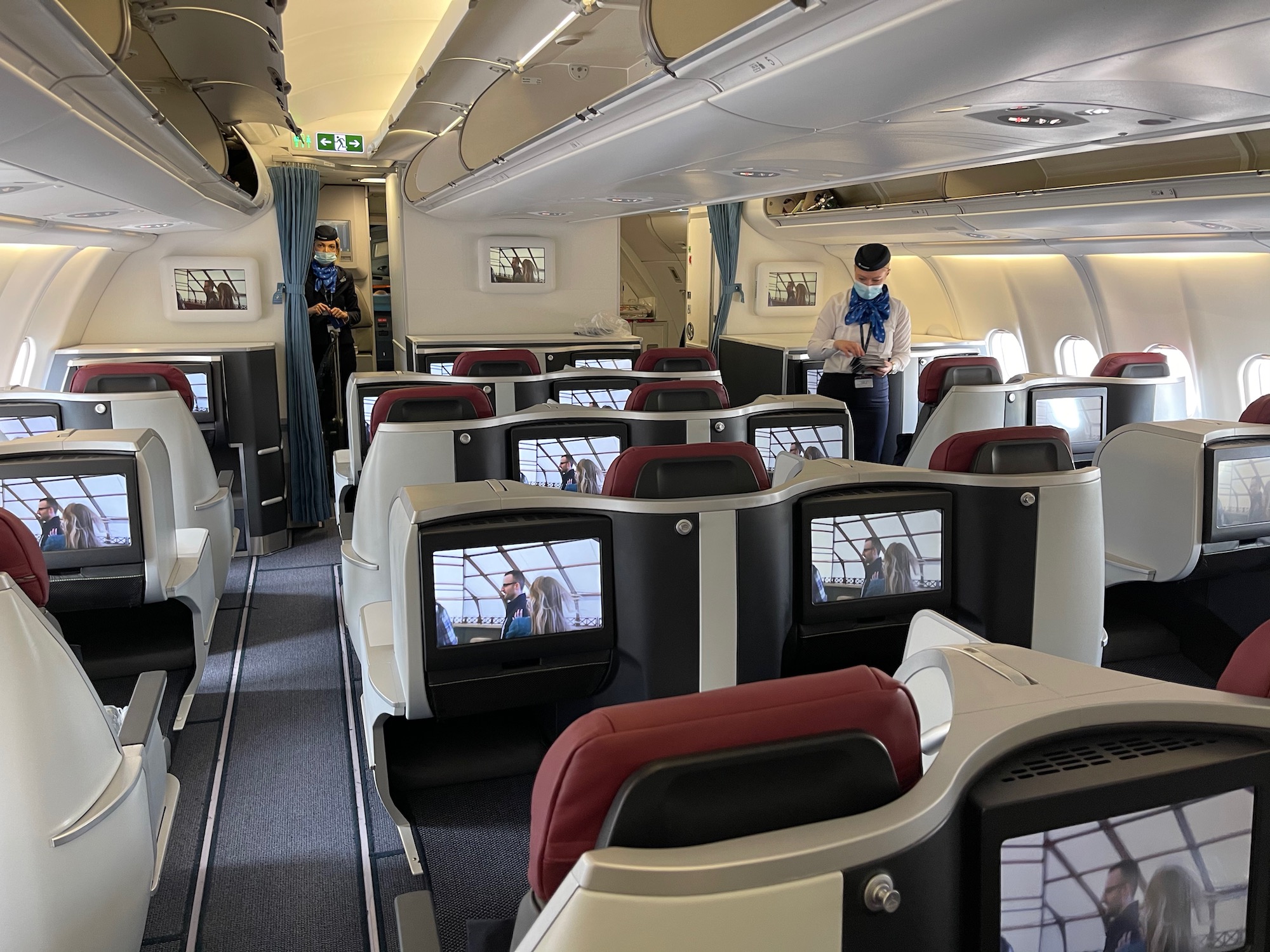 After landing in New York, I caught a JetBlue flight home to LA, arriving home just in time to read a bedtime story to my son.
All of this over four days, the sort of compact, midweek trips that I thrive on.
The report will include the following chapters:
United Airlines Polaris Taste Test [2021]
Aspire Lounge Amsterdam
Turkish Airlines A350 Business Class Amsterdam – Istanbul
Visa On Arrival In Istanbul Beats Pricier eVisa
Four Seasons Istanbul Bosphorus
Air Serbia's Deplorable Ground Game In Istanbul
Air Serbia A319 Business Class Istanbul – Belgrade
Hyatt Regency Belgrade
Air Serbia Premium Lounge Belgrade (BEG)
Air Serbia A330 Business Class Belgrade – New York
Stay tuned! I am looking forward to sharing the details of this trip with you.