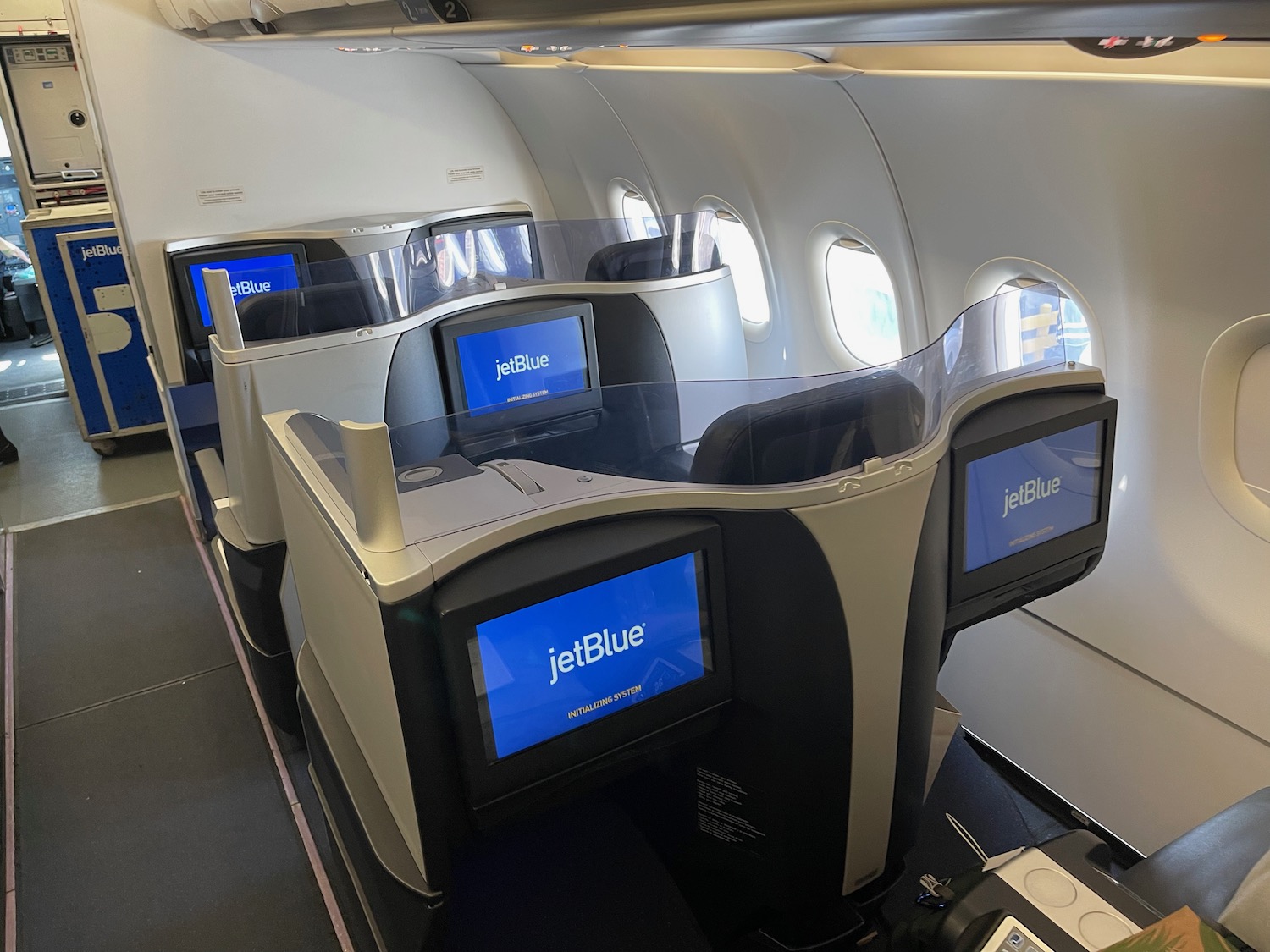 To begin my journey to London, I flew from Los Angeles to London on a JetBlue Airbus A321 in Mint business class. JetBlue remains a remarkably consistent product that really sets the standard for a transcontinental product.
JetBlue A321 Mint Business Class Review [2022]
Booking
As I outlined here, I booked my ticket using Emirates Skywards miles. Los Angeles – New York was 52,000 miles, which is high, but considering paid tickets were in the $1,800 one-way range, this resulted in over three cents per mile in value versus the retail price.
Check-In
I checked in online and totally bypassed the check-in desk at LAX since I was only traveling with hand baggage.
I find Terminal 5 rather depressing at LAX and JetBlue does not offer lounge access to its premium cabin or TrueBlue Mosaic elite passengers. LAX no longer has Priority Pass lounges (just a spa in Terminal 1, which is not connected). Consequently, I arrived shortly before boarding began.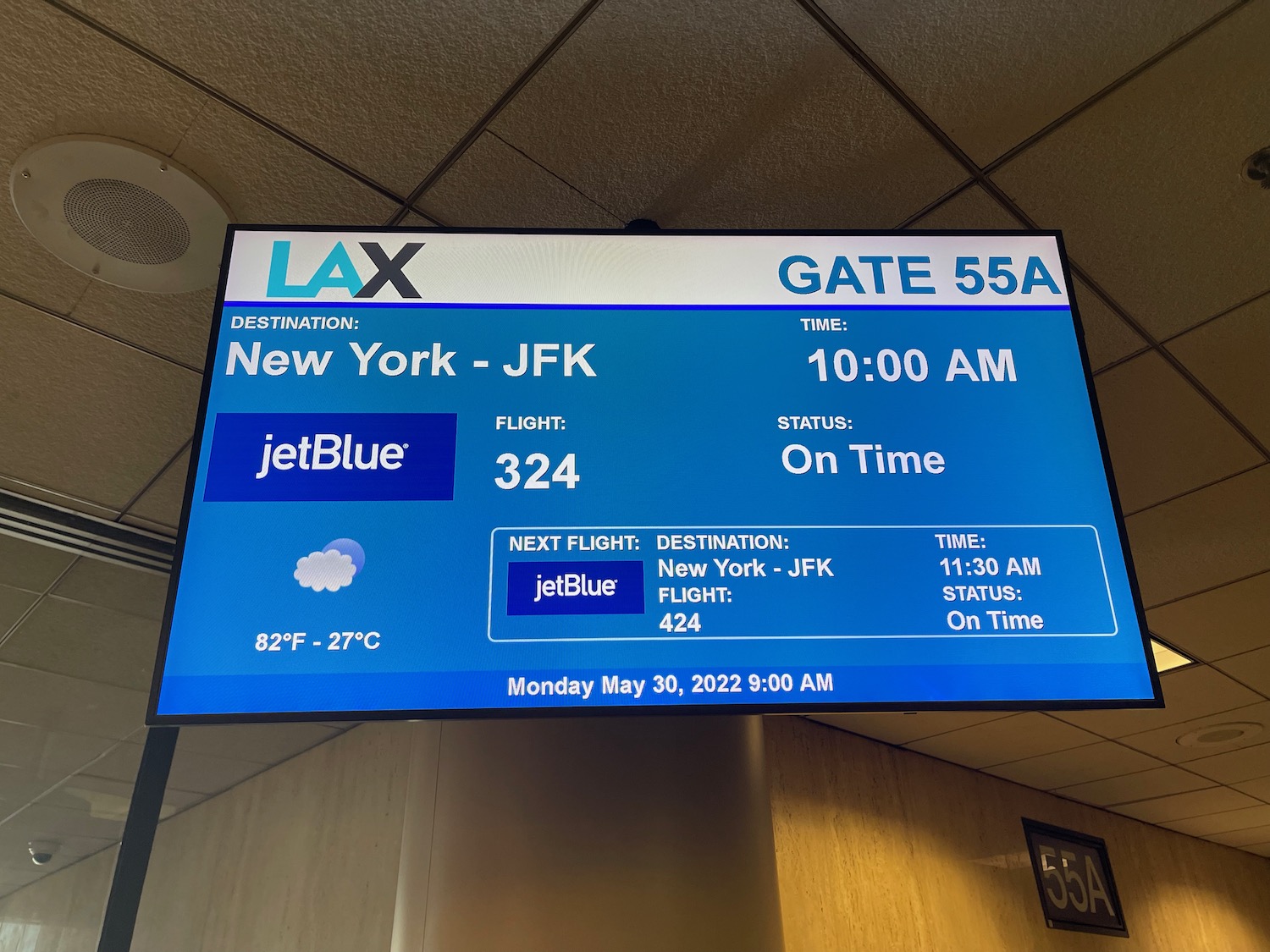 JetBlue 324
Los Angeles (LAX) – New York (JFK)
Monday, May 30
Depart: 10:00AM
Arrive: 6:42PM
Duration: 5hr, 42min
Aircraft: Airbus A321
Distance: 2,475 miles
Seat: 1F (Mint Business Class)
A flight attendant greeted me as I entered while another in the cabin asked if I needed any assistance storing my bag. Imagine that…asking if you need help versus saying, "Our work rules prohibit us from lifting bags."
Seat
By the time I booked my space the four closed-door "suites" (rows 2 and 4) were reserved. I assigned myself in row one, noting the bulkhead would provide more legroom for my feet. This marked the first time I had flown JetBlue and not been in a business suite, so it was good to try one of the "standard" seats in JetBlue Mint.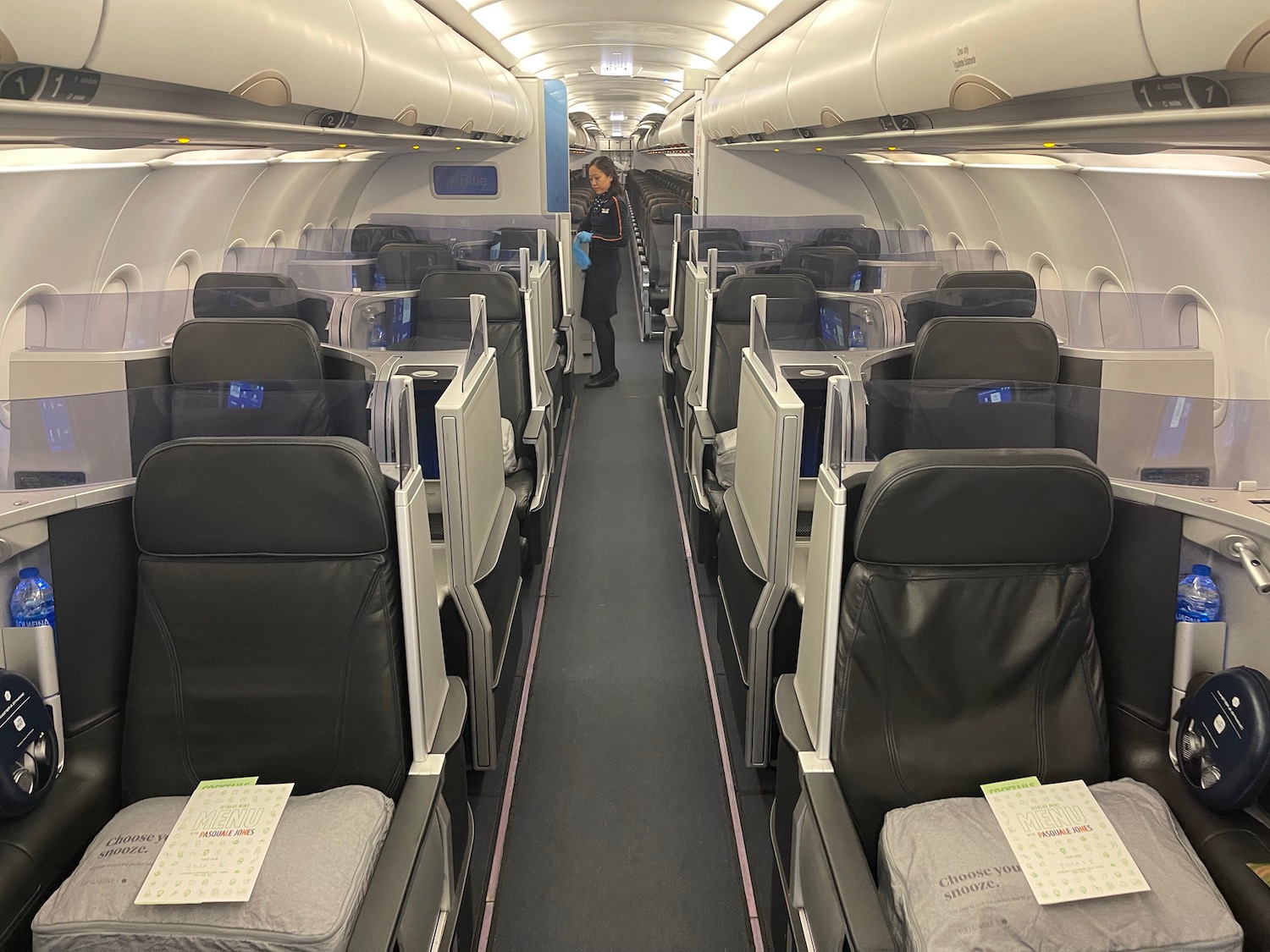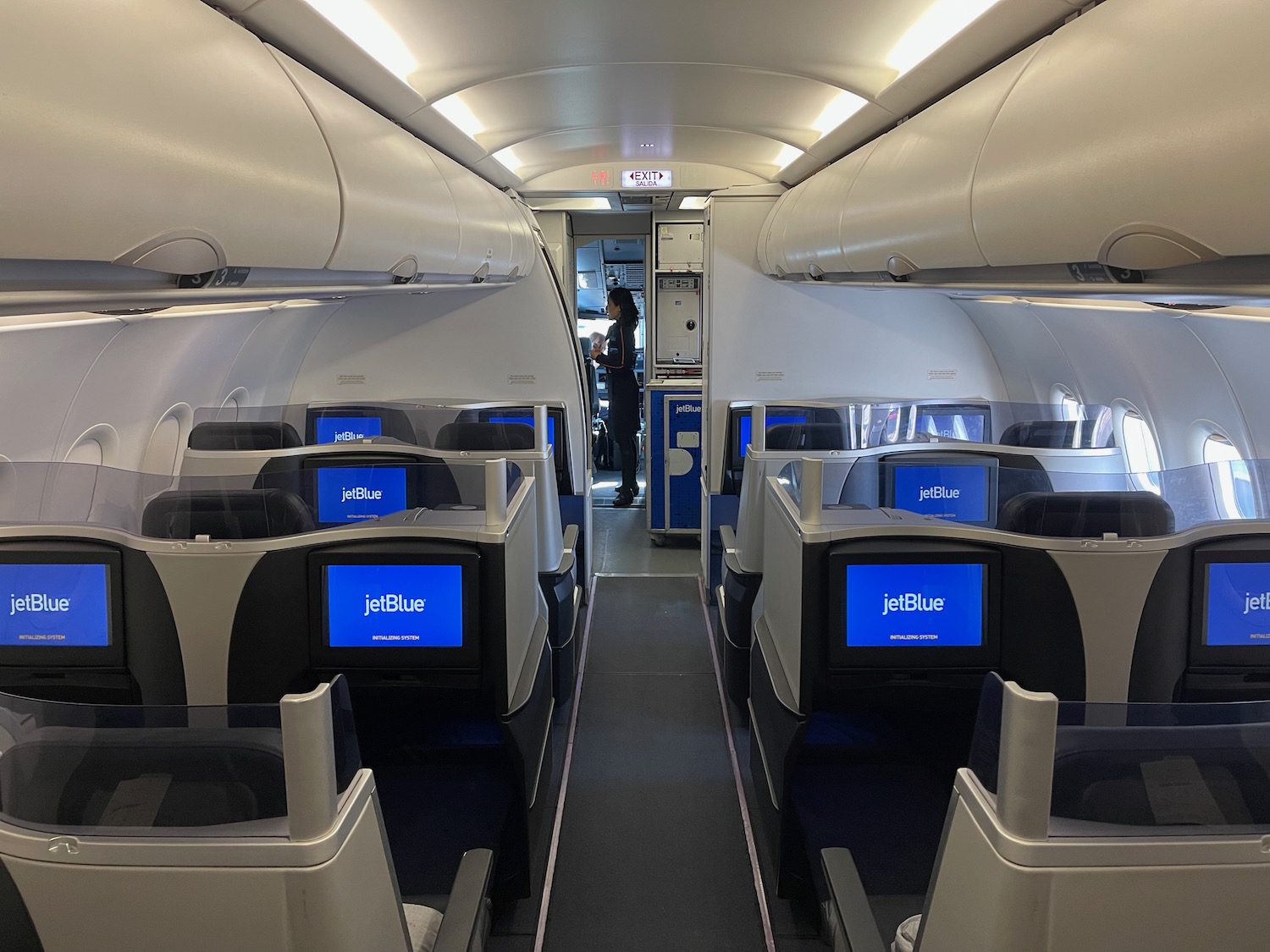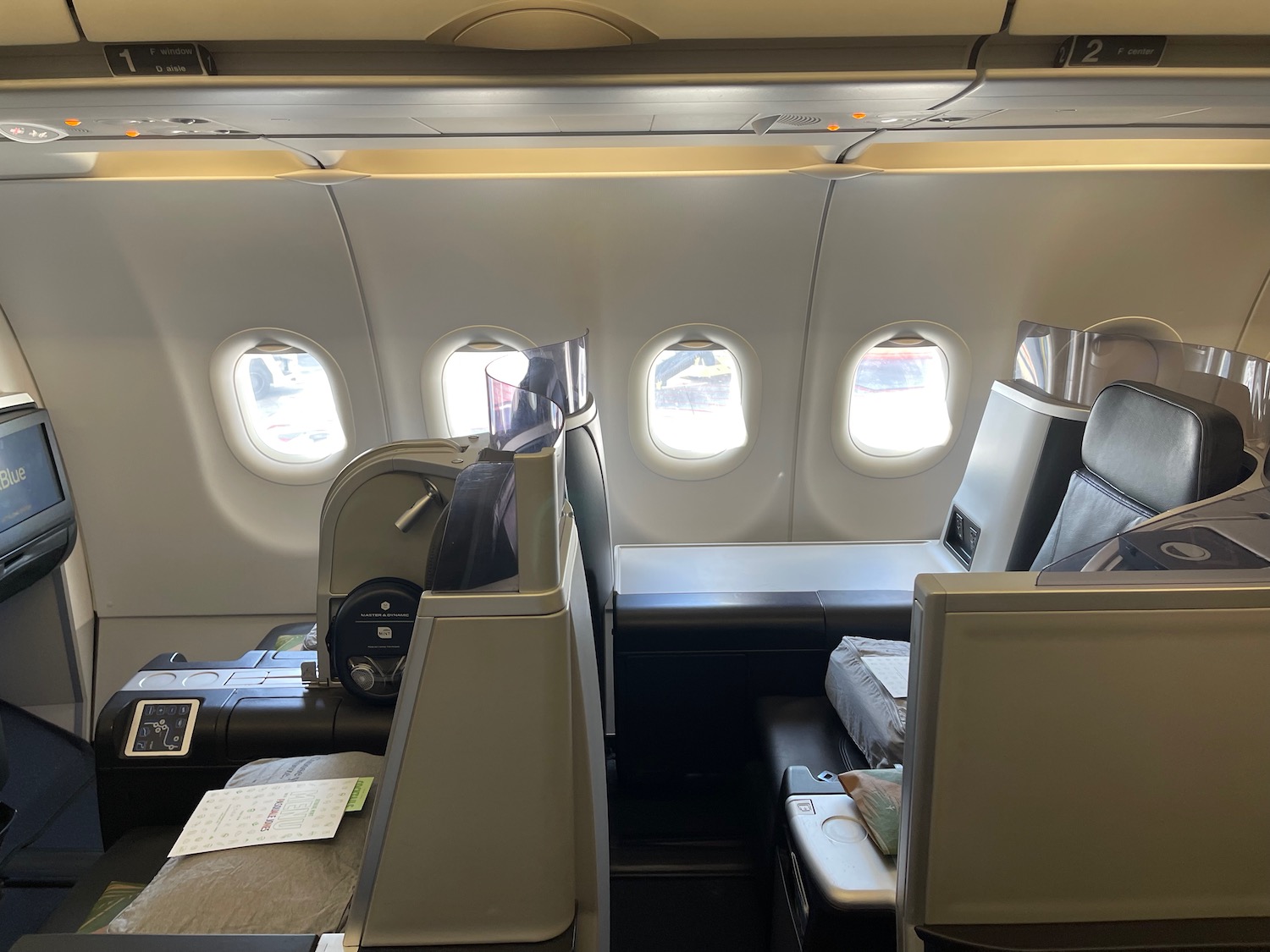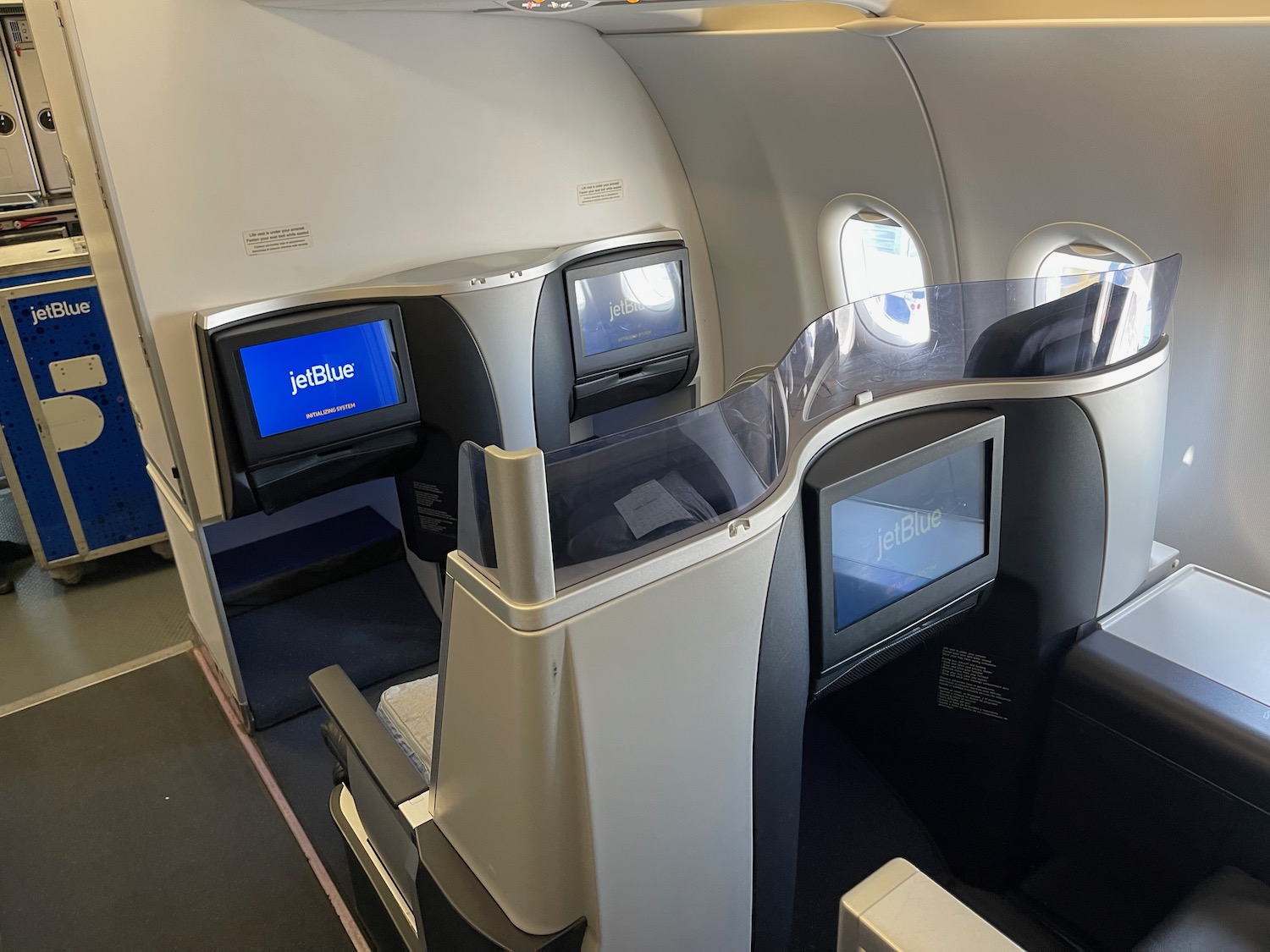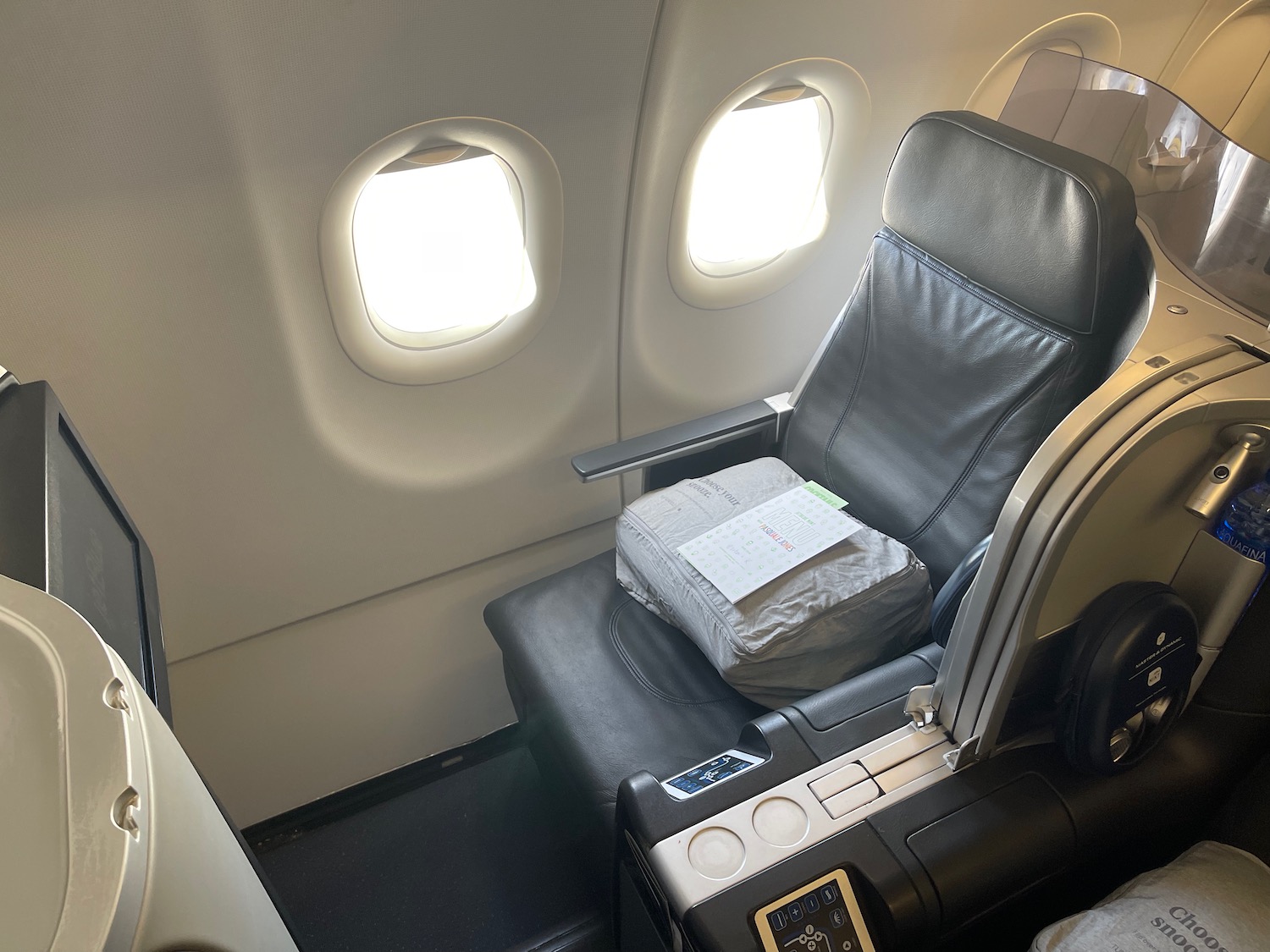 These are modified Thompson Aero Vantage seats, which you'll find on Delta Air Lines, Austrian, and SWISS as well (among many others). I'm frankly surprised that JetBlue does not charge a premium for the throne suites because they do provide a lot more privacy.
My neighbor was a non-revenue employee (elite upgrades are still not a thing on JetBlue, so cabins often go out with open seats) and while he was perfectly polite, the shared armrest and floor space do make rows 1, 3, and 5 inferior to 2 and 4.
Standard business seats are 20.5 inches wide with 58 inches of legroom and a lie-flat bed that stretches 80 inches when flat. Choosing row 1 does make a difference in terms of foot space.
JetBlue provides two power ports per seat and seats are controlled on the center console. There's also a handy mesh pouch for your mobile phone.
Between seats is a small compartment that can store your shoes.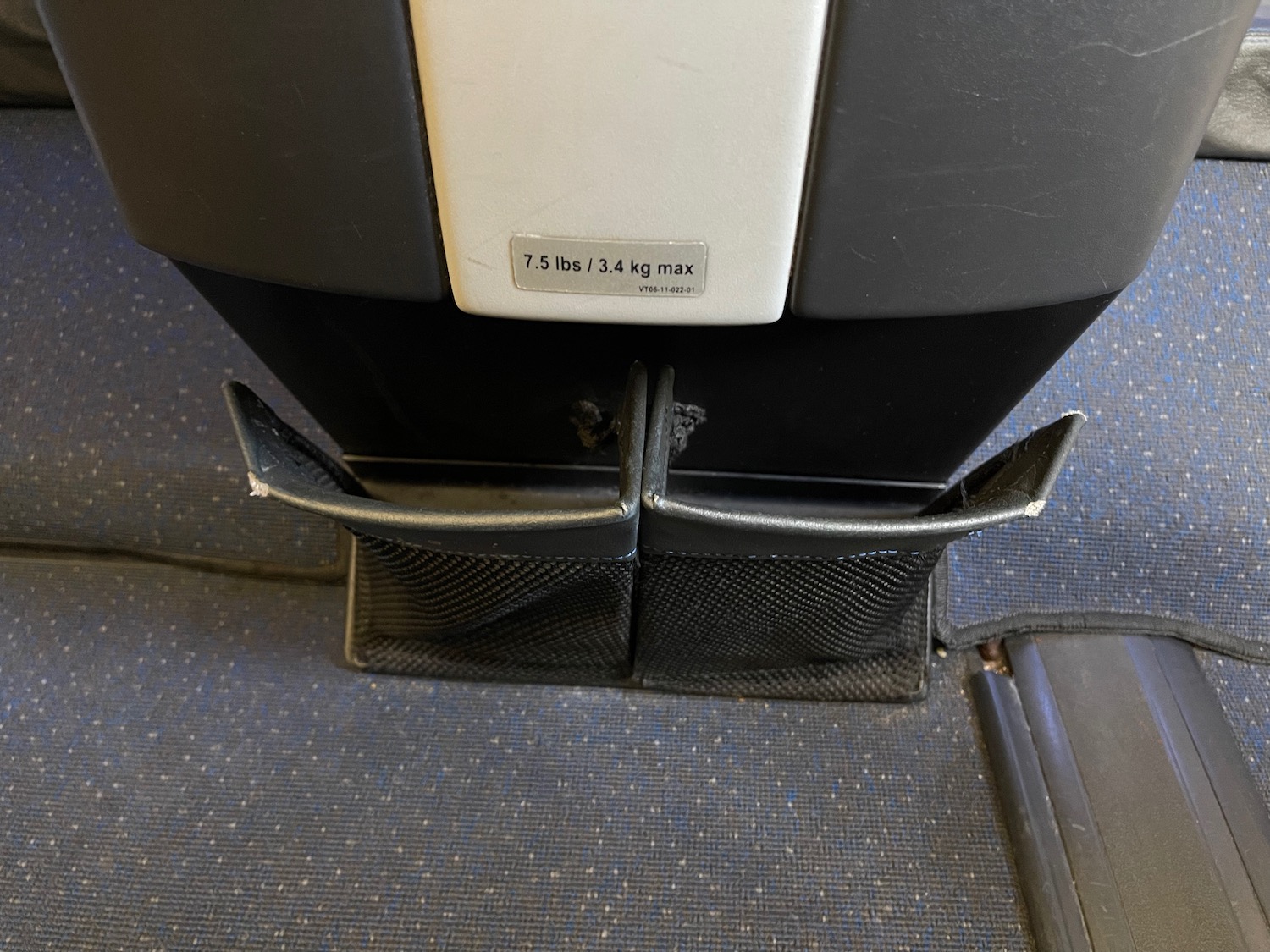 Tuft & Needle bedding includes a blanket duvet with a "built-in foot pocket" as well as a memory foam lined pillow. The flight was too short to take an extended nap, but I did set up the bed and snuggled in the bedding for a few moments. The bedding was plush and warm, which should not be an issue because individual air nozzles are available above the seat.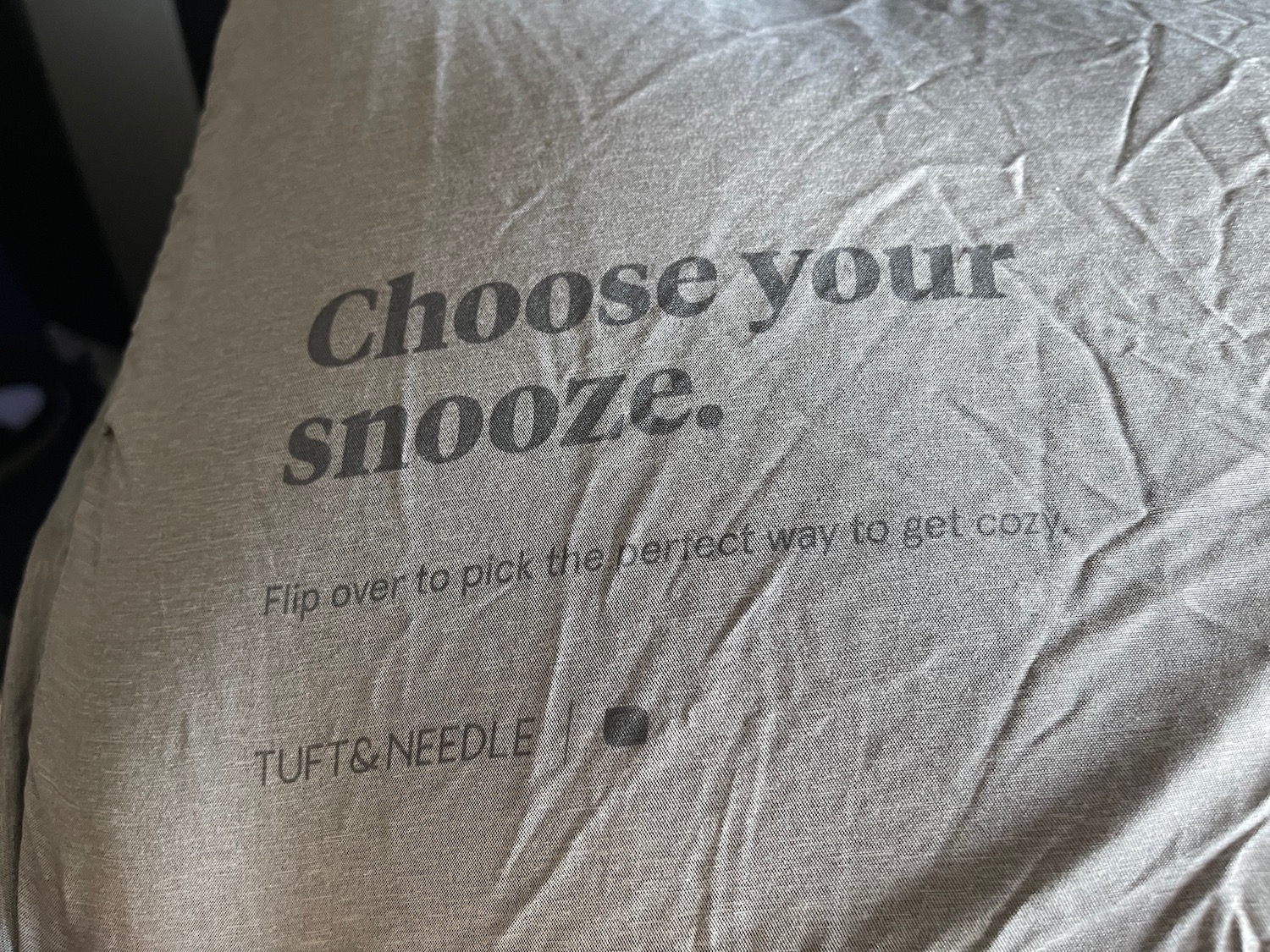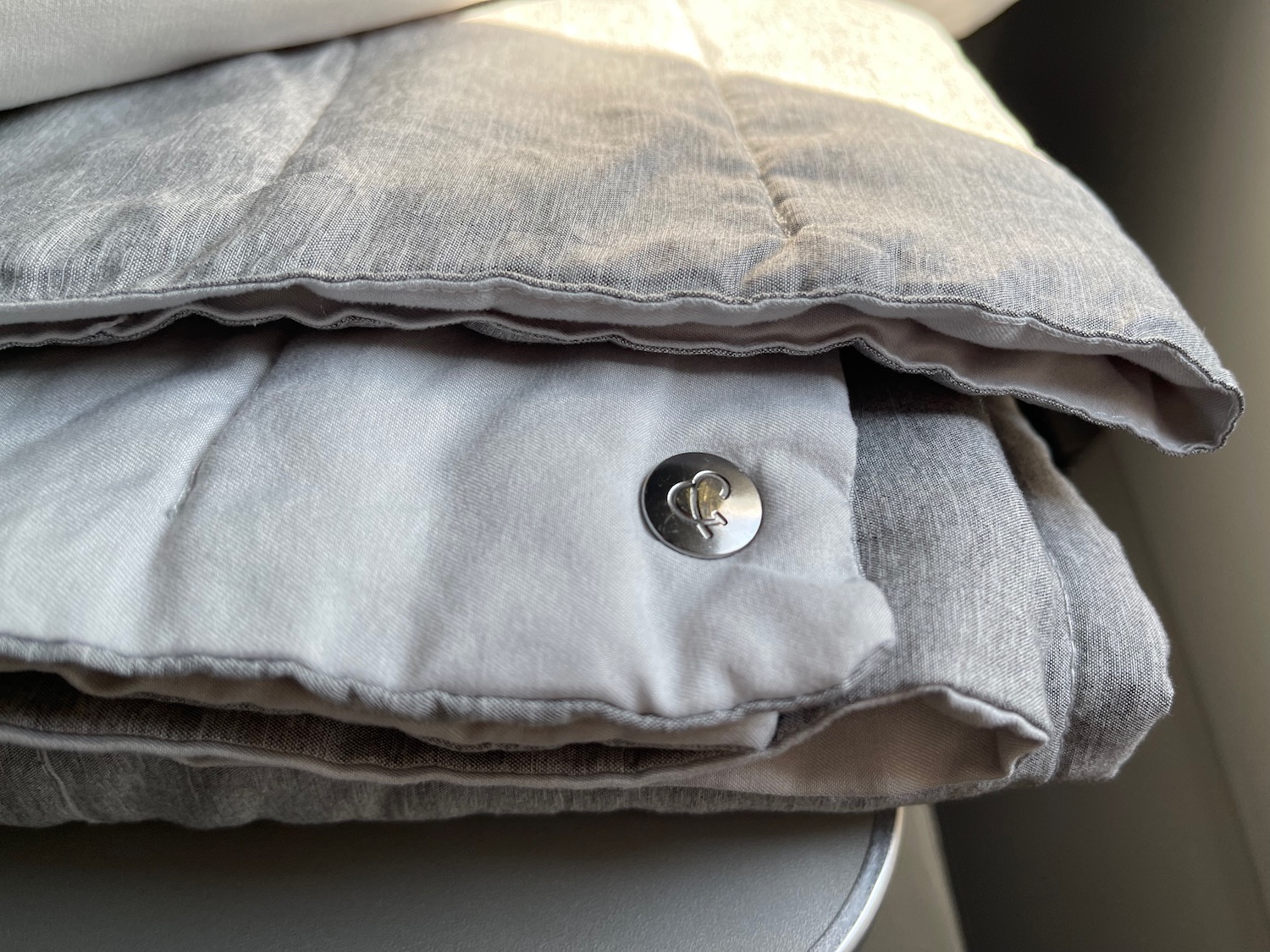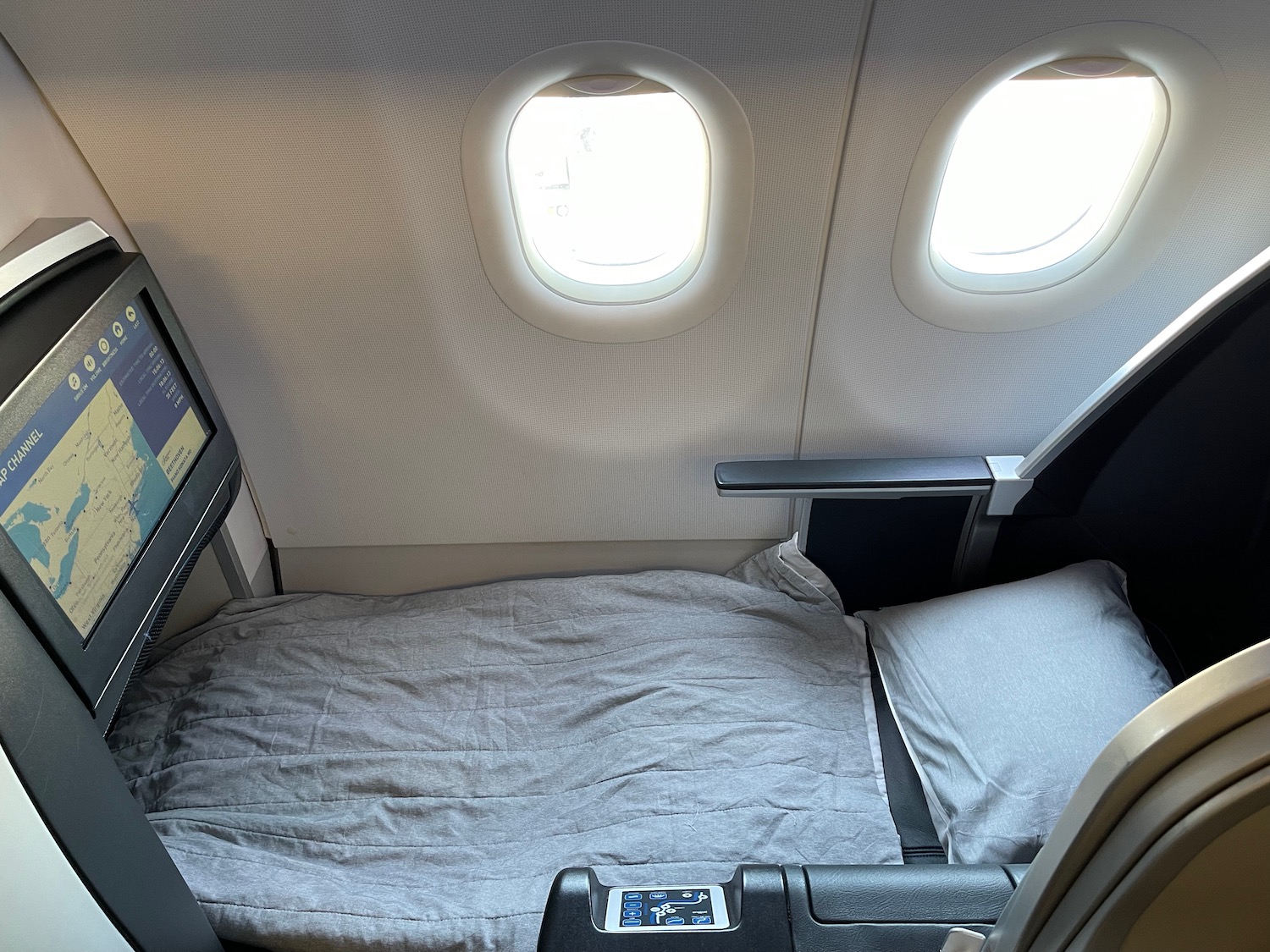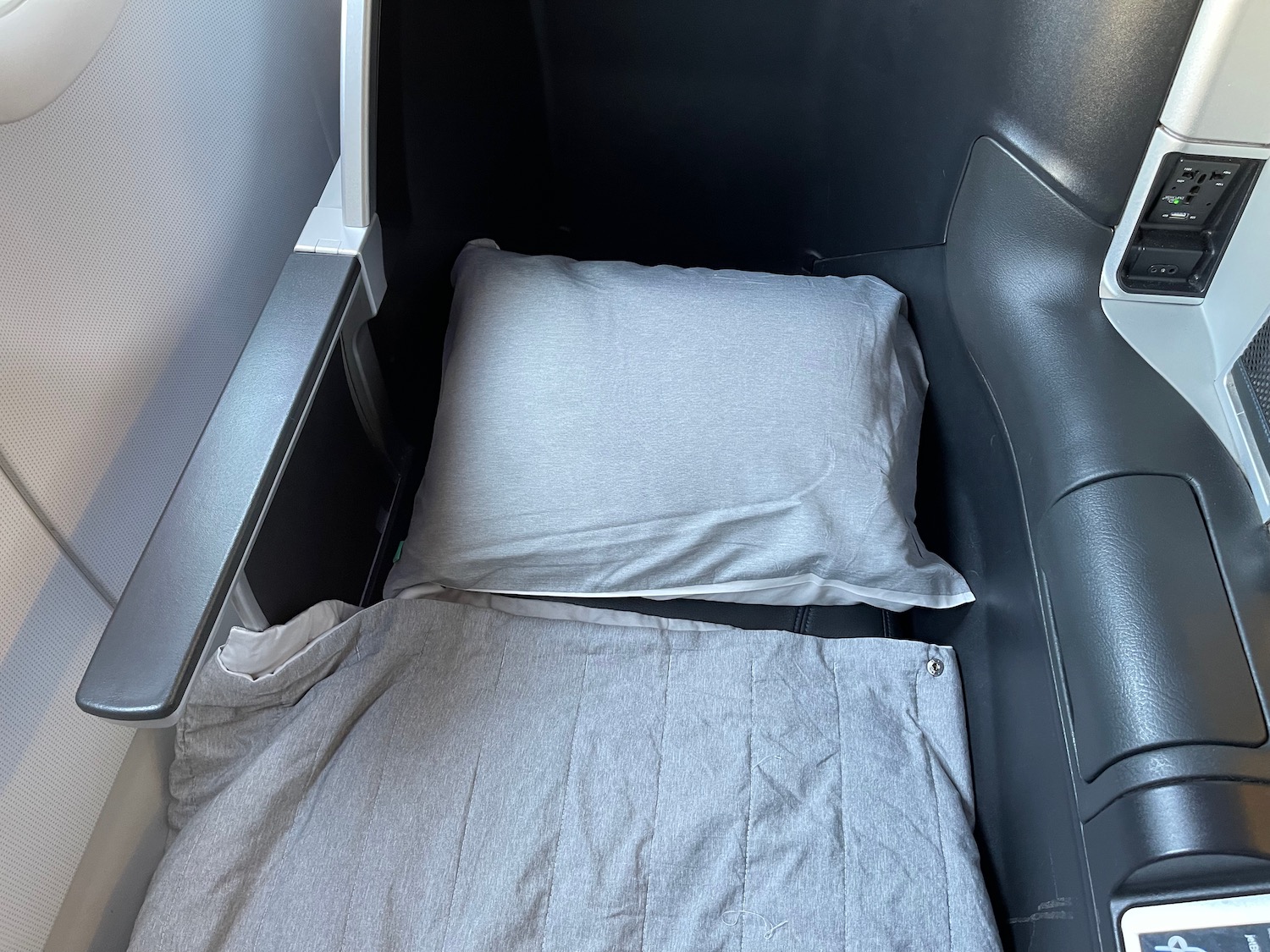 Food + Drink
A menu was waiting on my seat, though I had already reviewed it online. I love that JetBlue posts it menus online, so I already had a good idea of what I wanted to order.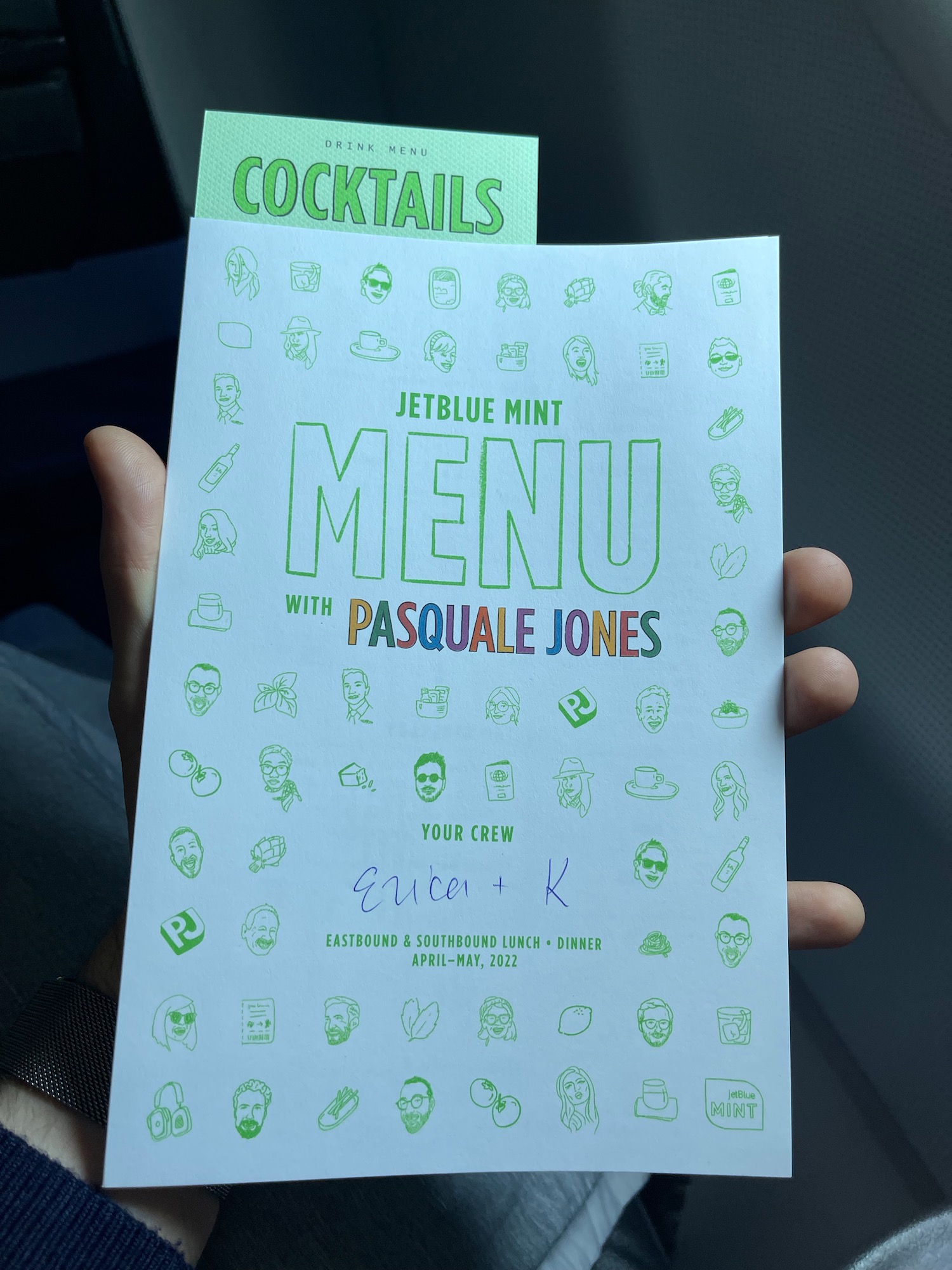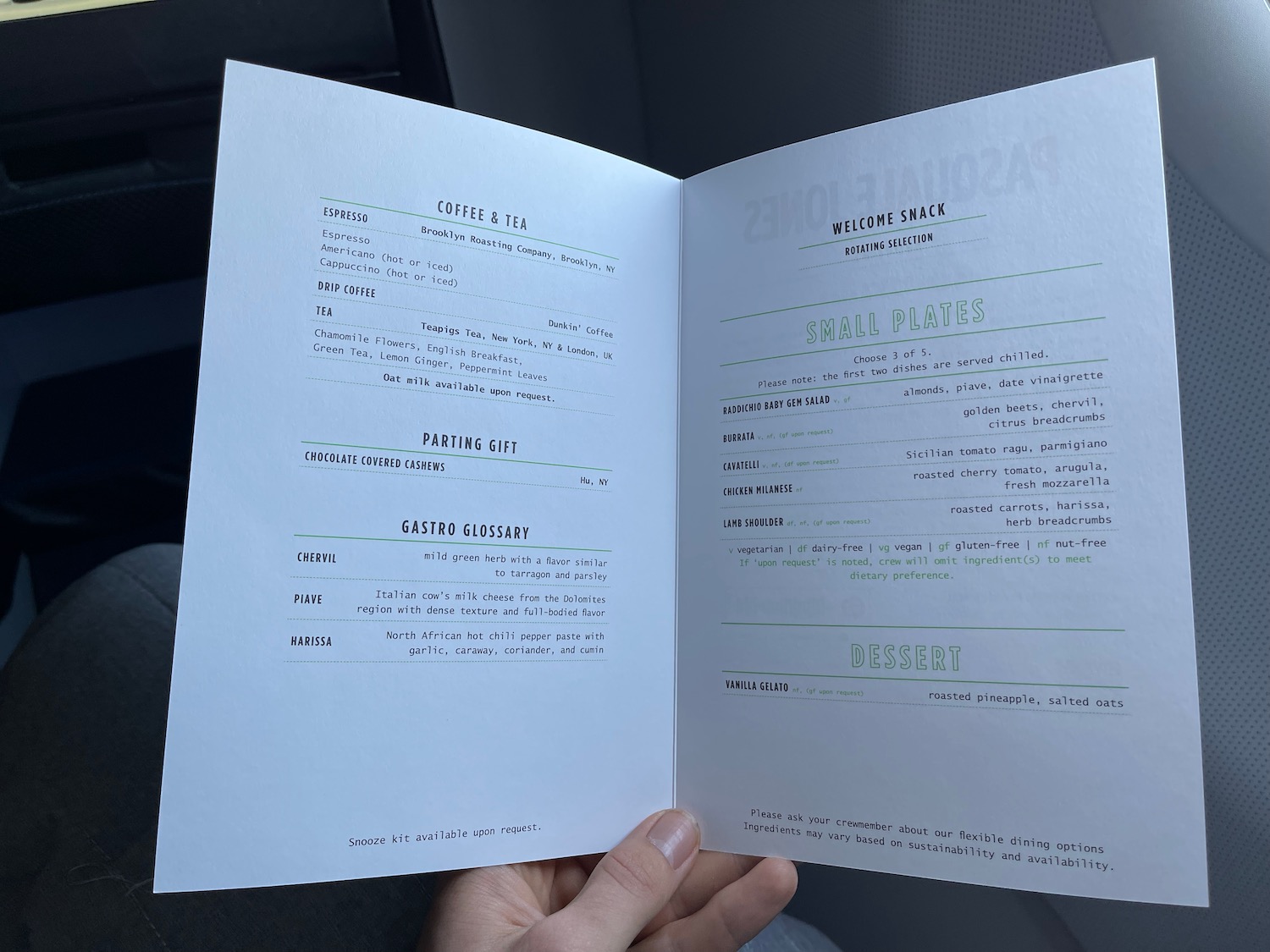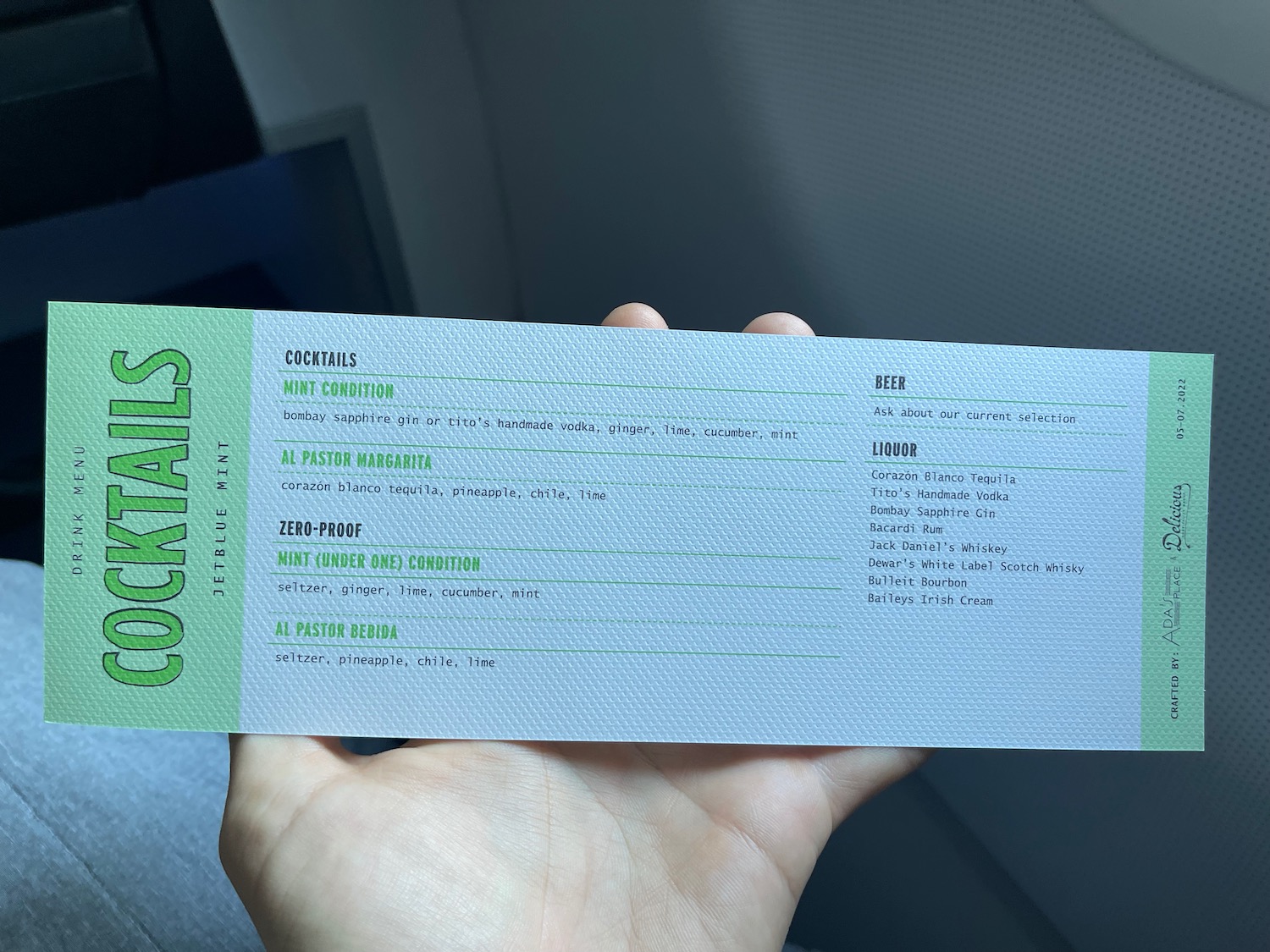 Very shortly after takeoff, flight attendant sprang up and went to work.
First, I was offered a welcome snack (cheese straws) and welcome drink. I love the "Mint Condition" cocktail, which includes Bombay Sapphire gin, ginger, lime, and cucumber, and mint.
Next, the table set was for lunch with a paper liner.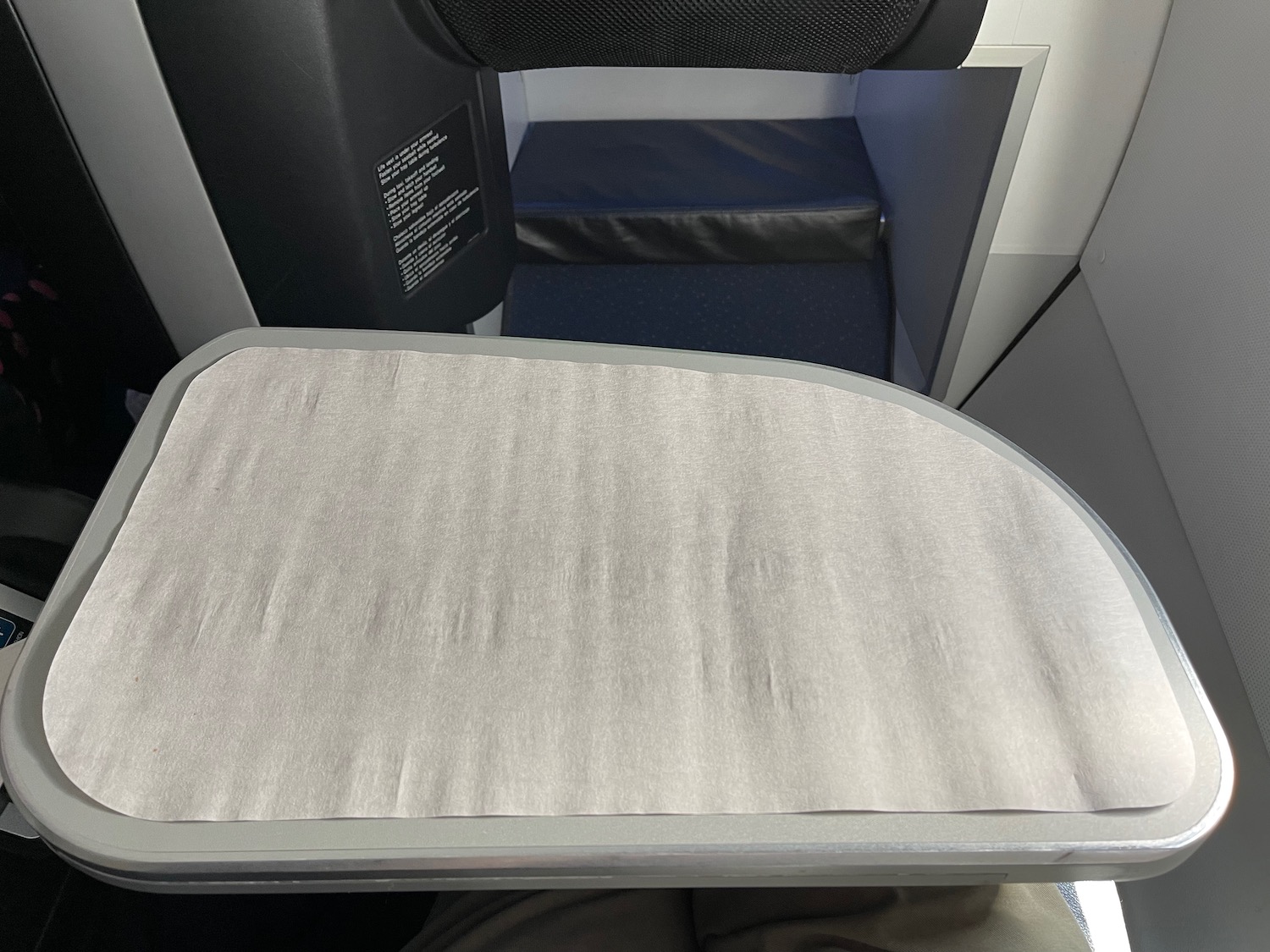 I chose a radicchio baby gem salad, cavatelli, and lamb shoulder for my lunch. Portions were huge (especially the pasta) and the food tasted great. Everyone received a bread roll with lunch along with olive oil and chili flakes.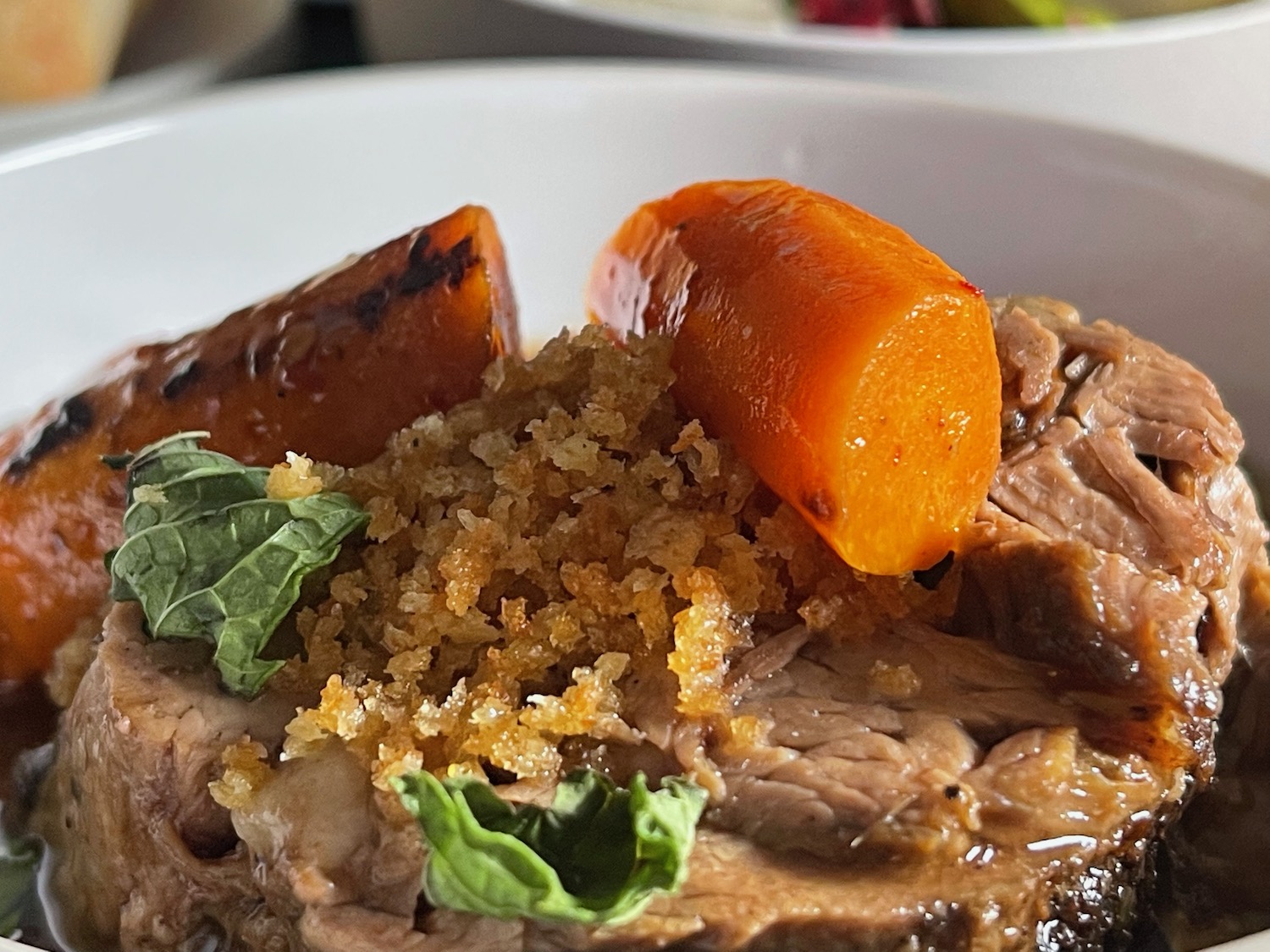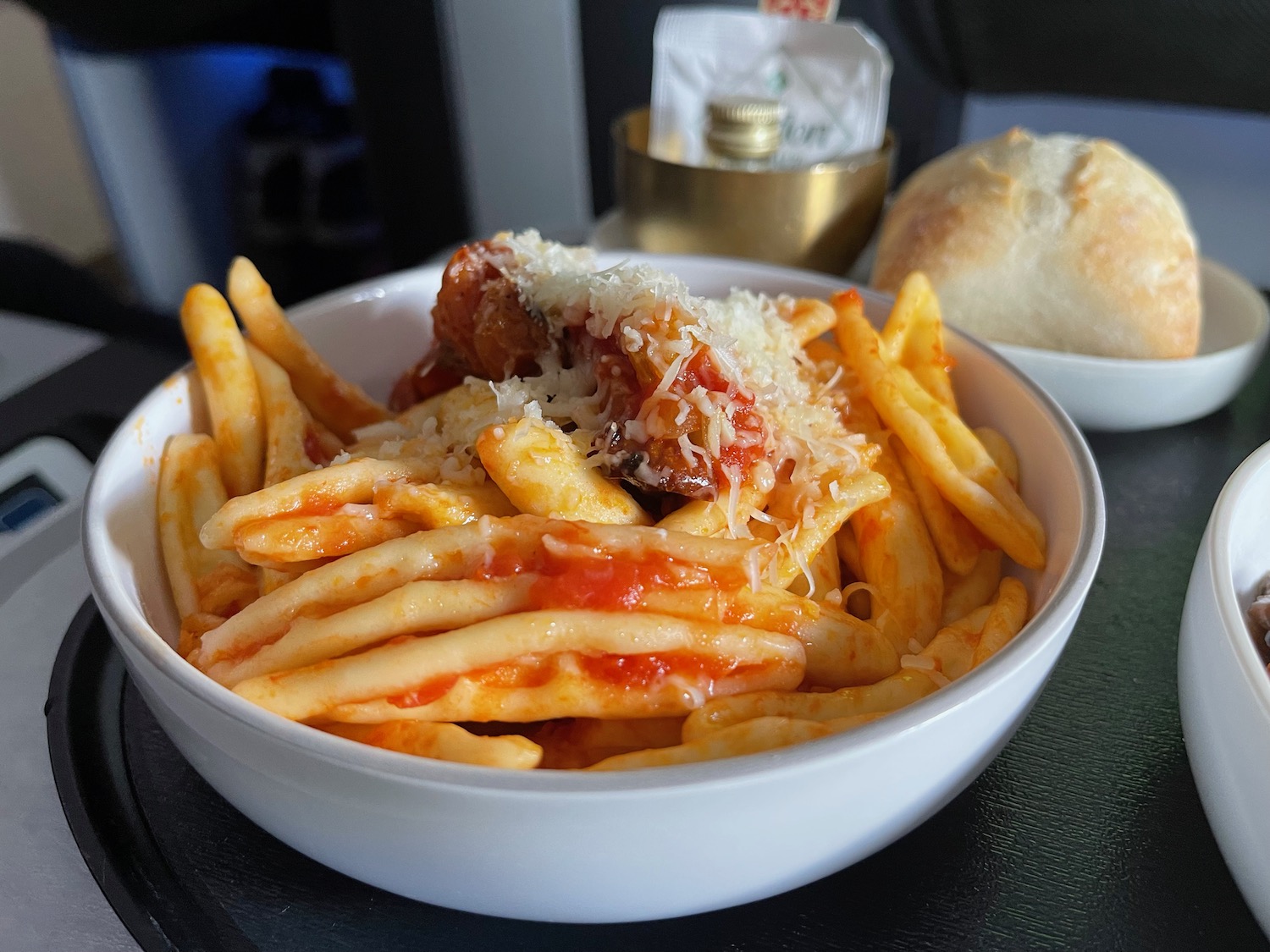 Everything was so delicious I asked if I could have a chicken Milanese (my seatmate and the folks across the aisle from me did not eat) and was happily obliged.
This was also excellent, with a crisp crust and flavorful chicken.
To finish off lunch, I enjoyed a cappuccino and some vanilla gelato with roasted pineapple and salted oats.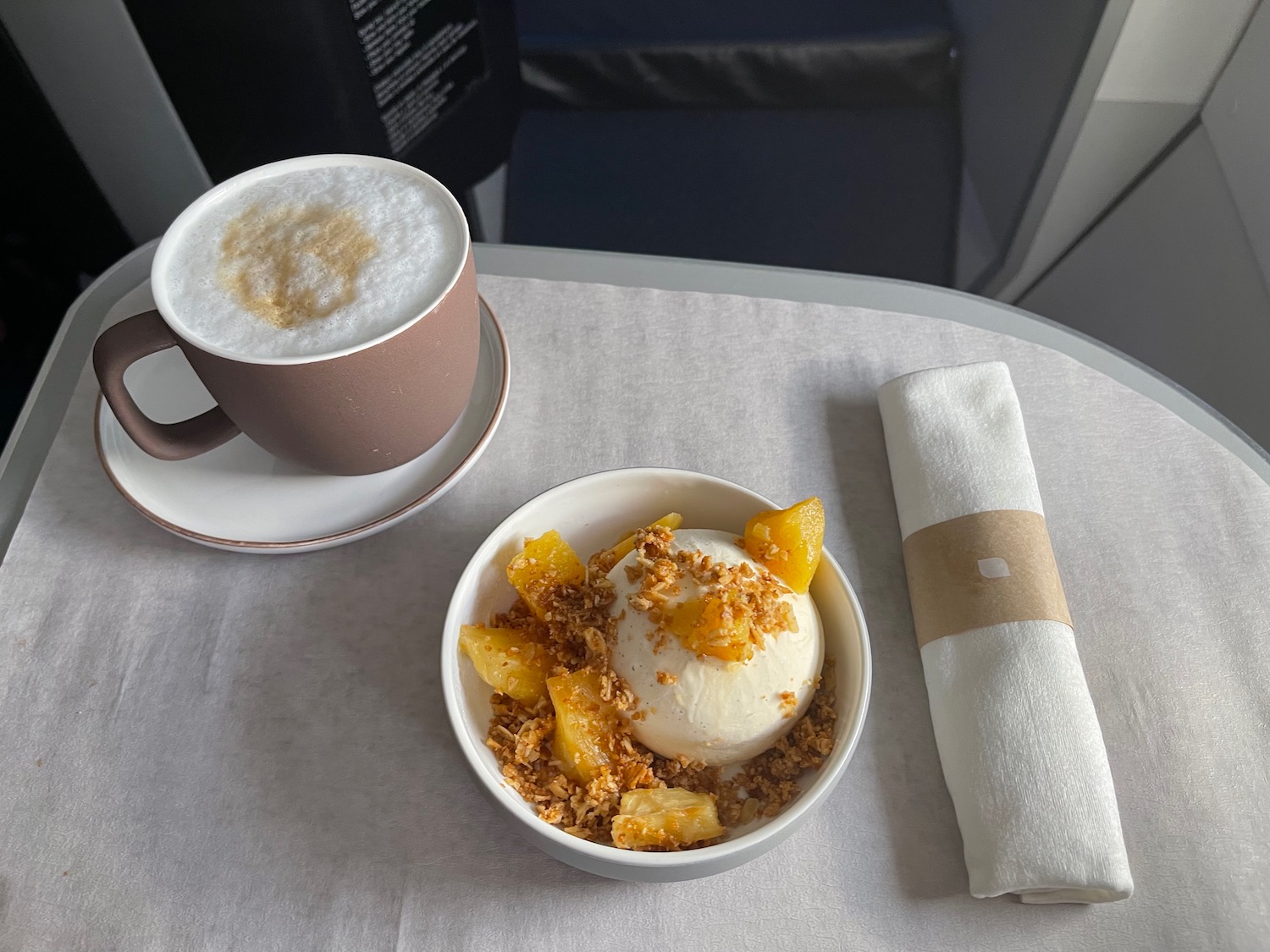 I've said it before and I'll say it again: you really cannot beat the catering on JetBlue for a U.S. domestic flight.
Prior to landing, I enjoyed some chocolate-covered walnuts and drank an espresso.
IFE + Wi-Fi
In terms of value, you cannot beat the complimentary high-speed wi-fi on JetBlue, which worked like a charm throughout the flight and allowed me to stay very productive ahead of my hop across the Pond.
JetBlue makes it so easy – just enter your TrueBlue number and connect (or sign up for an account if you don't have one). No spam, ads, or time limits.
On the other hand, I find the interface of JetBlue's in-flight-entertainment system quite dated by now, not in terms of content (there is a great selection of movies, TV shows, games, live TV and satellite radio, and a moving flight map) but in terms of the display…the resolution is not sharp and there is a lag at times.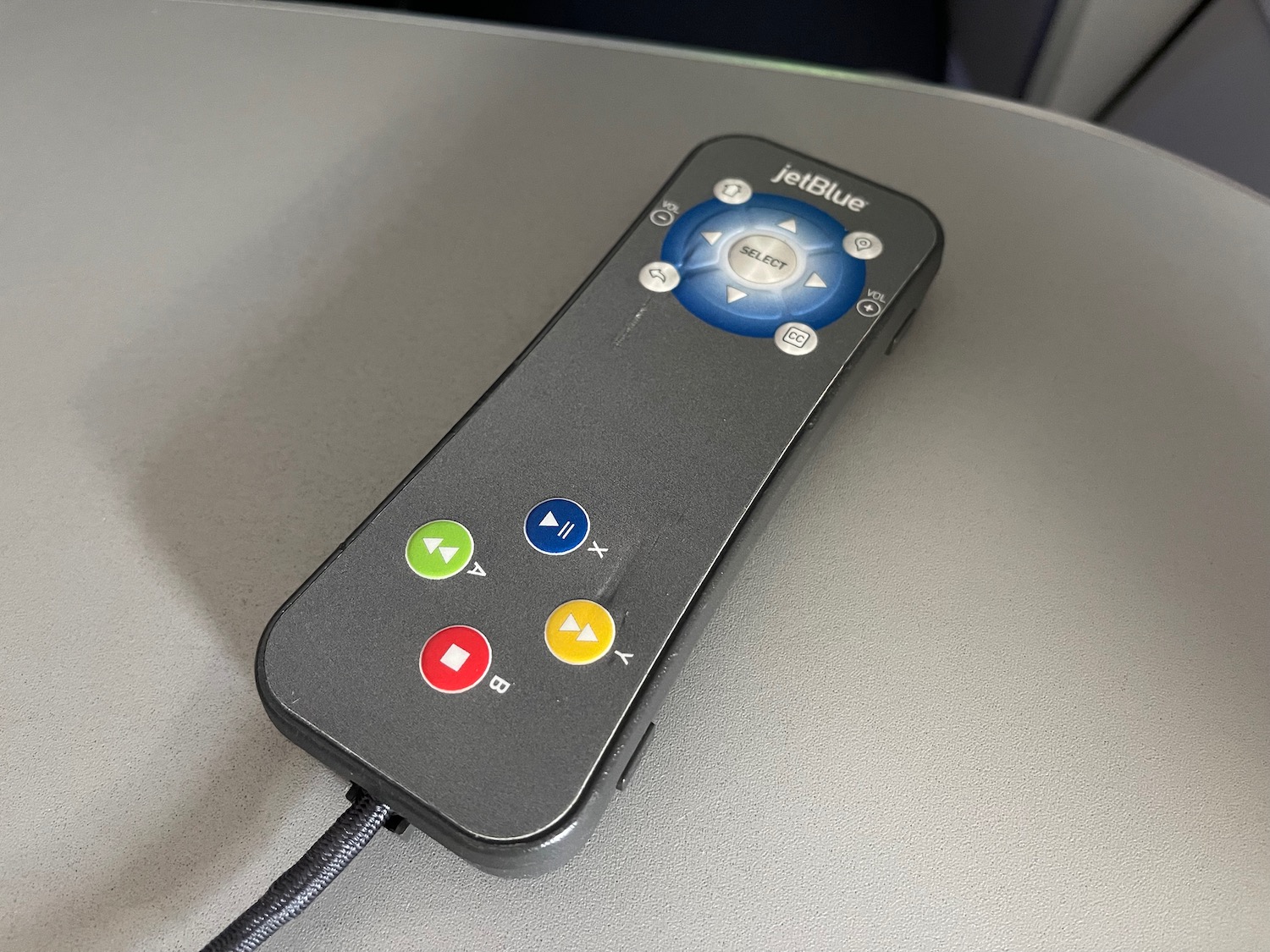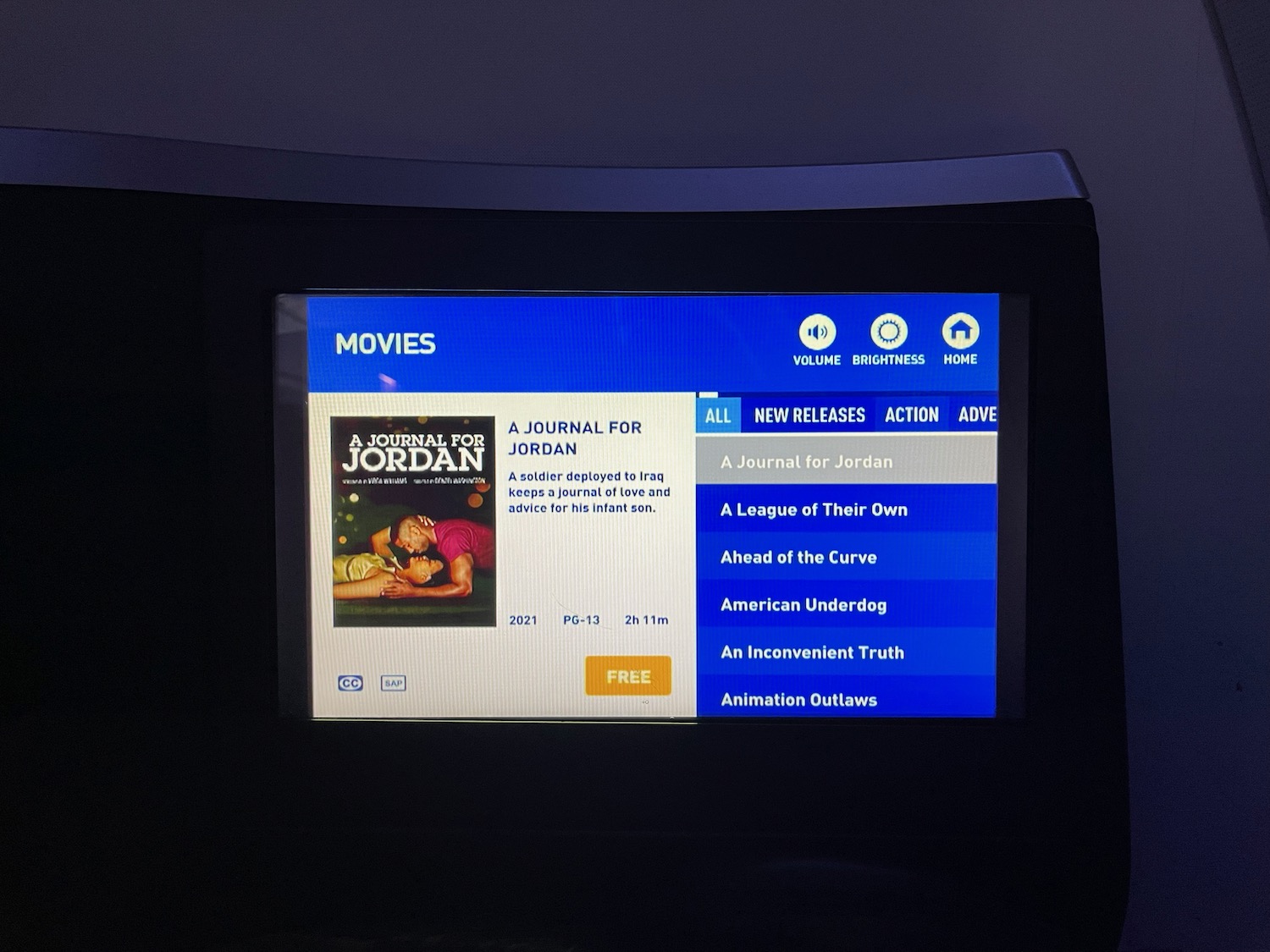 JetBlue offers high-quality noise cancelling headphones (MH40) by Master & Dynamic. The trouble is that flight attendants collect these about an hour before landing, which is quite annoying if you are watching a movie, listening to music, or particularly sleeping.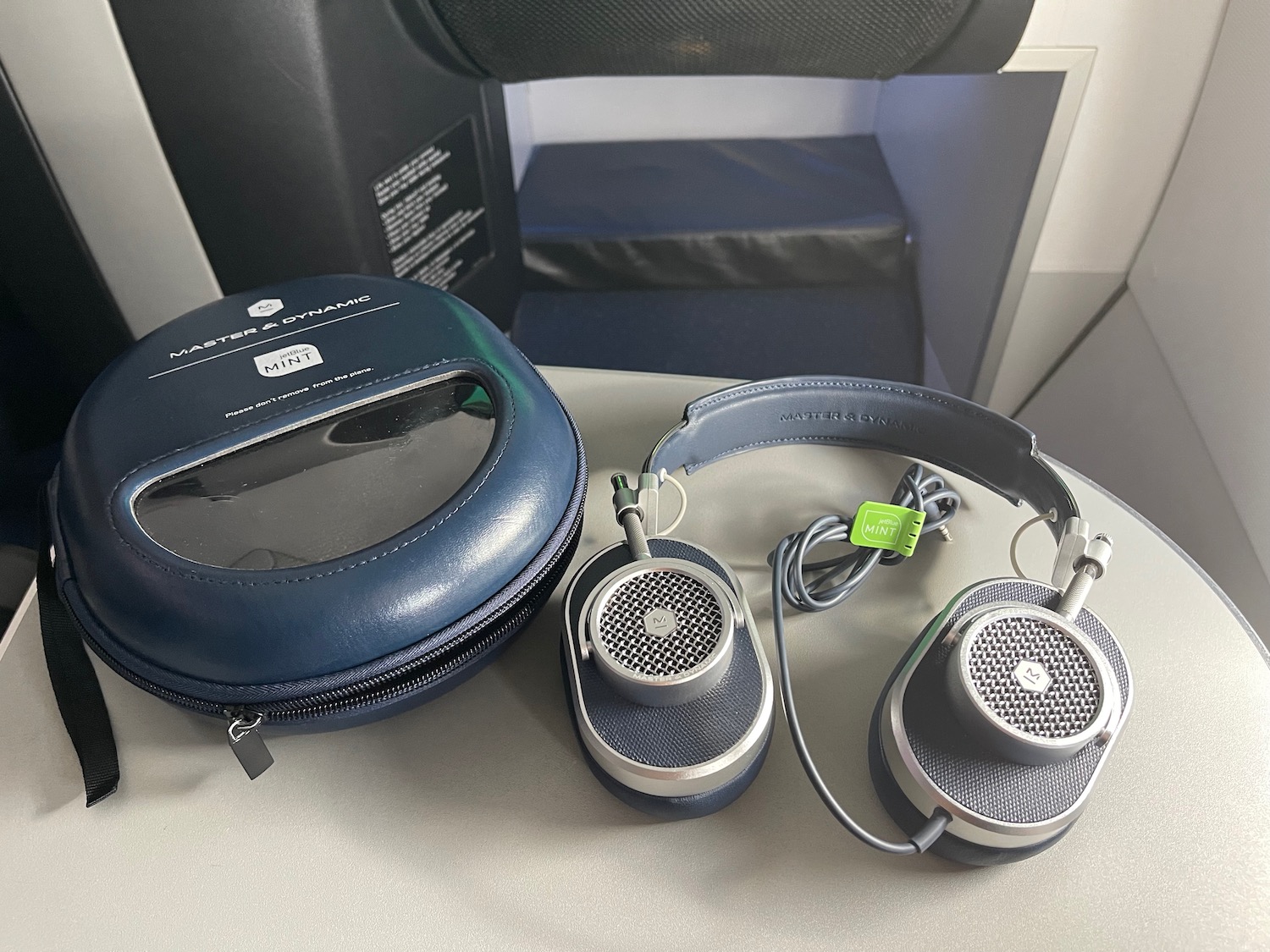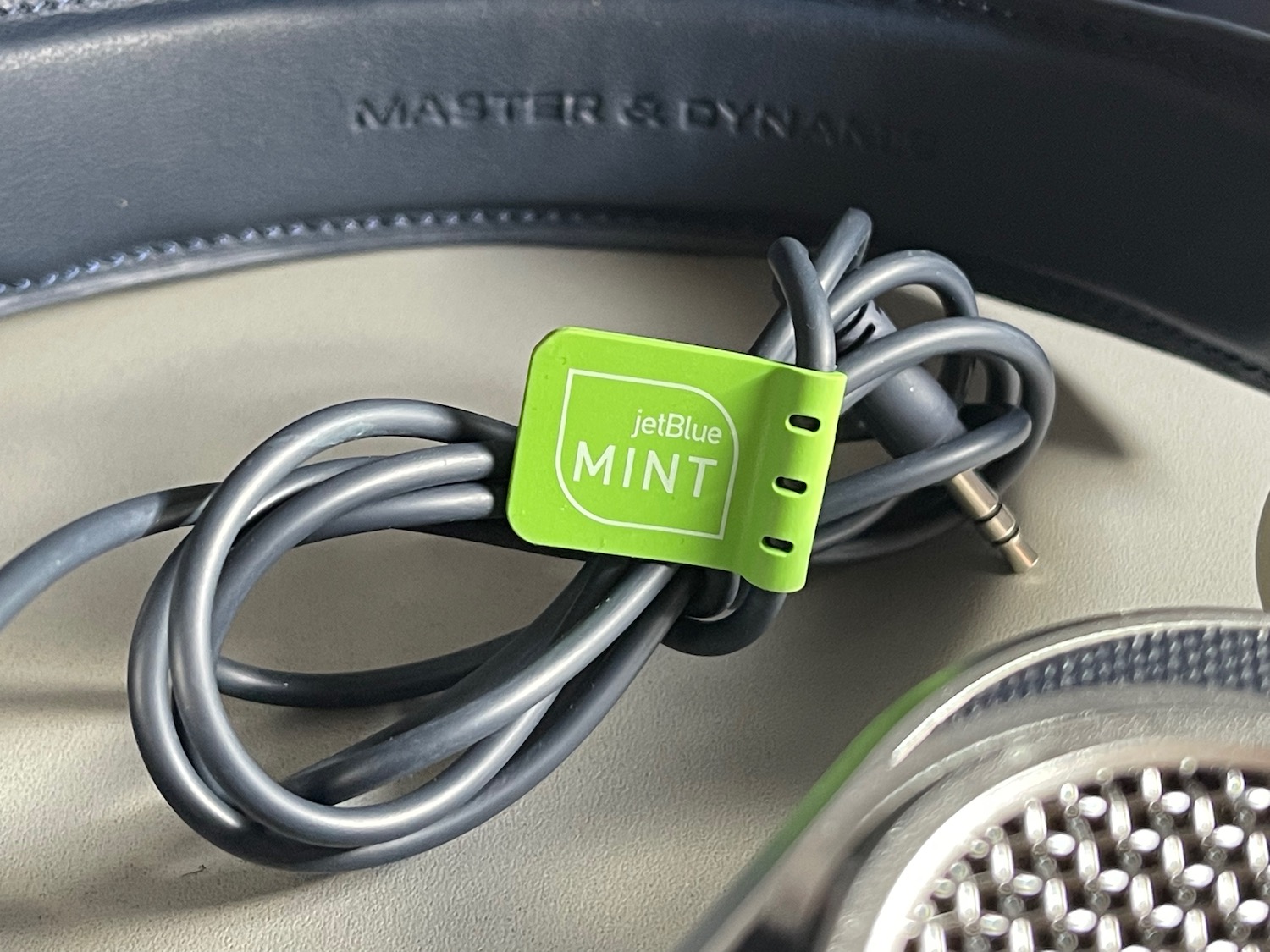 I understand that these are pricey headphones and JetBlue wants to discourage theft, but it is quite annoying (complimentary disposable headsets are offered when the noise-canceling headphones are picked up).
Here are some picture I took out the window during the flight: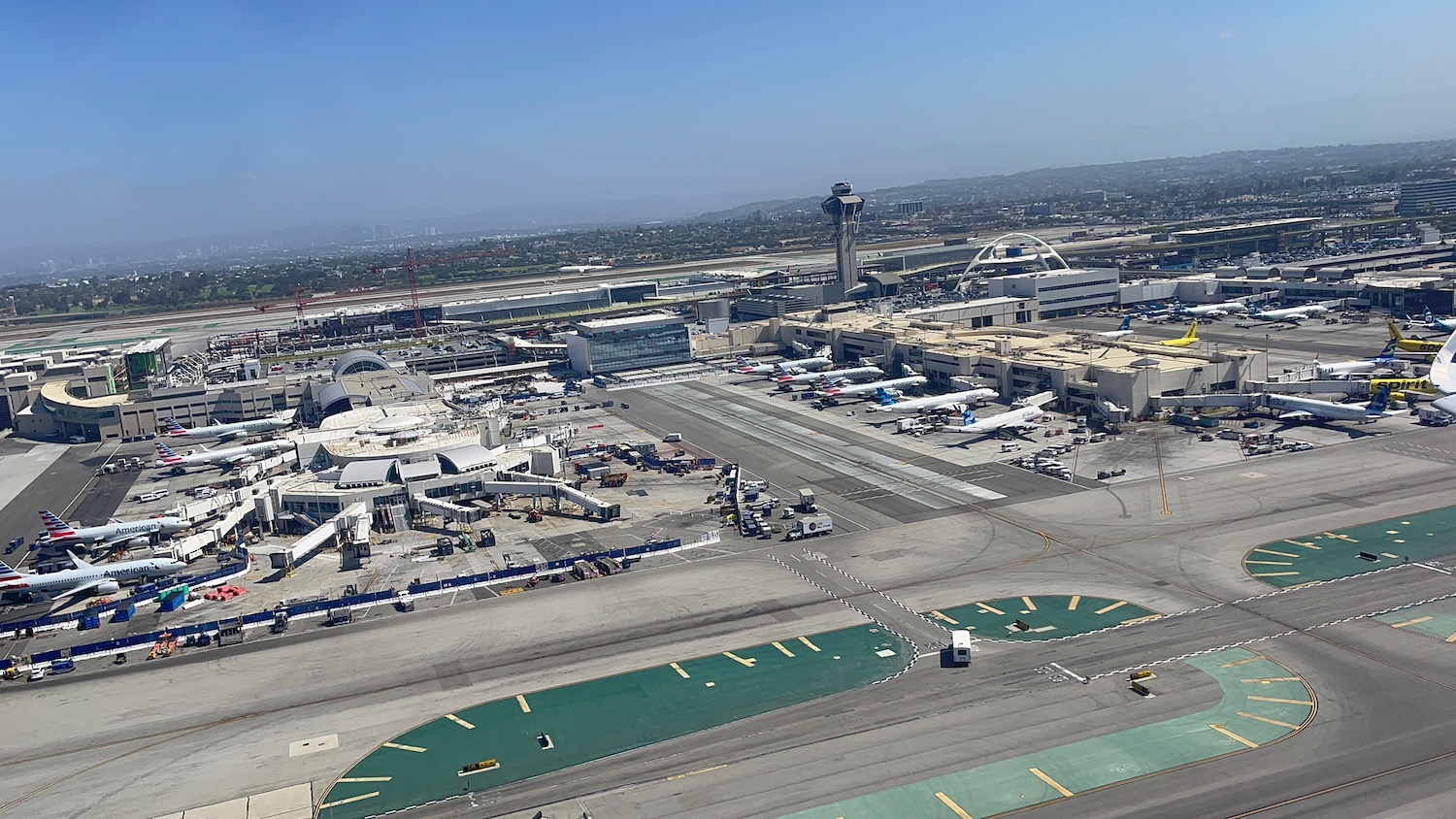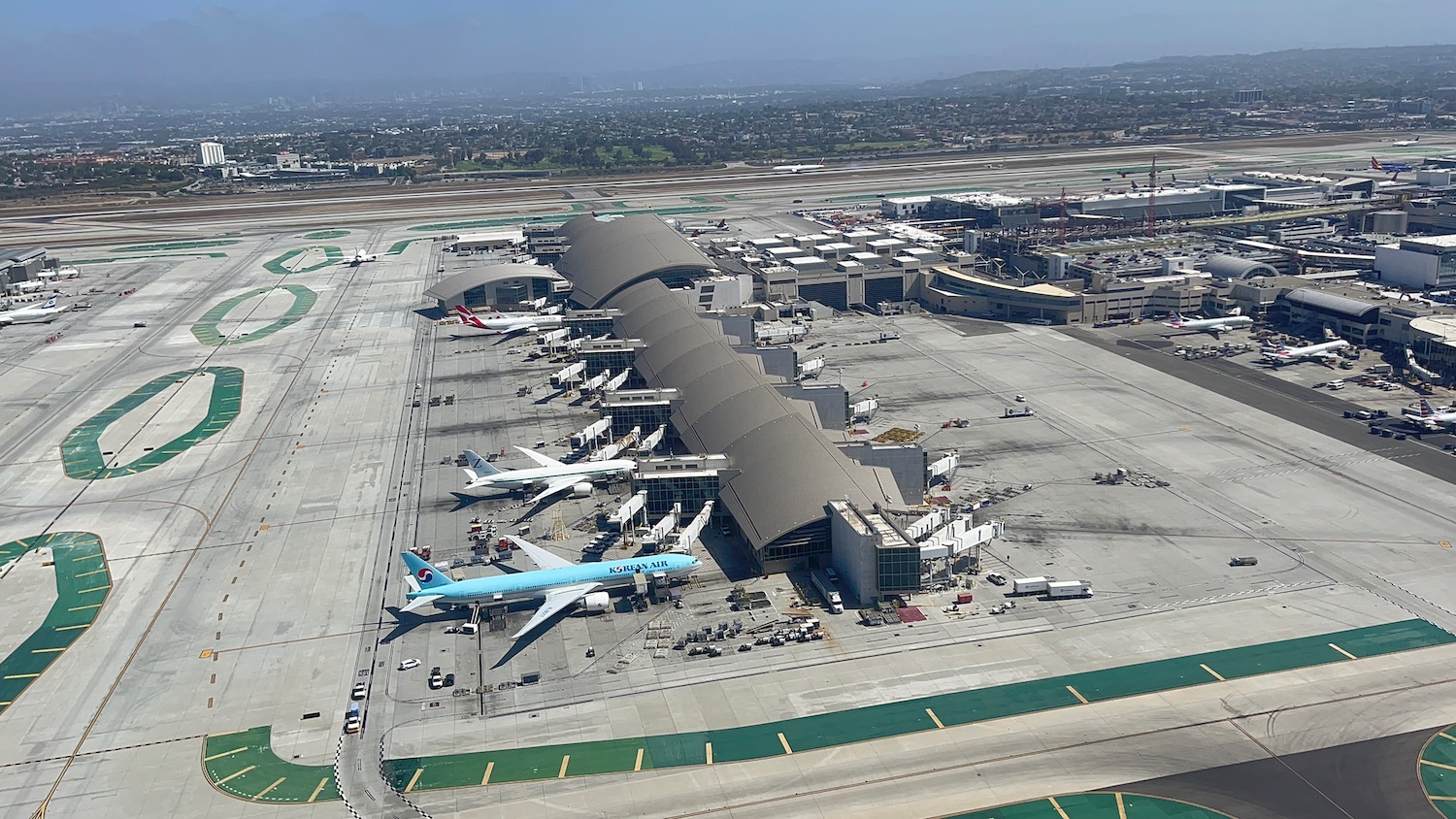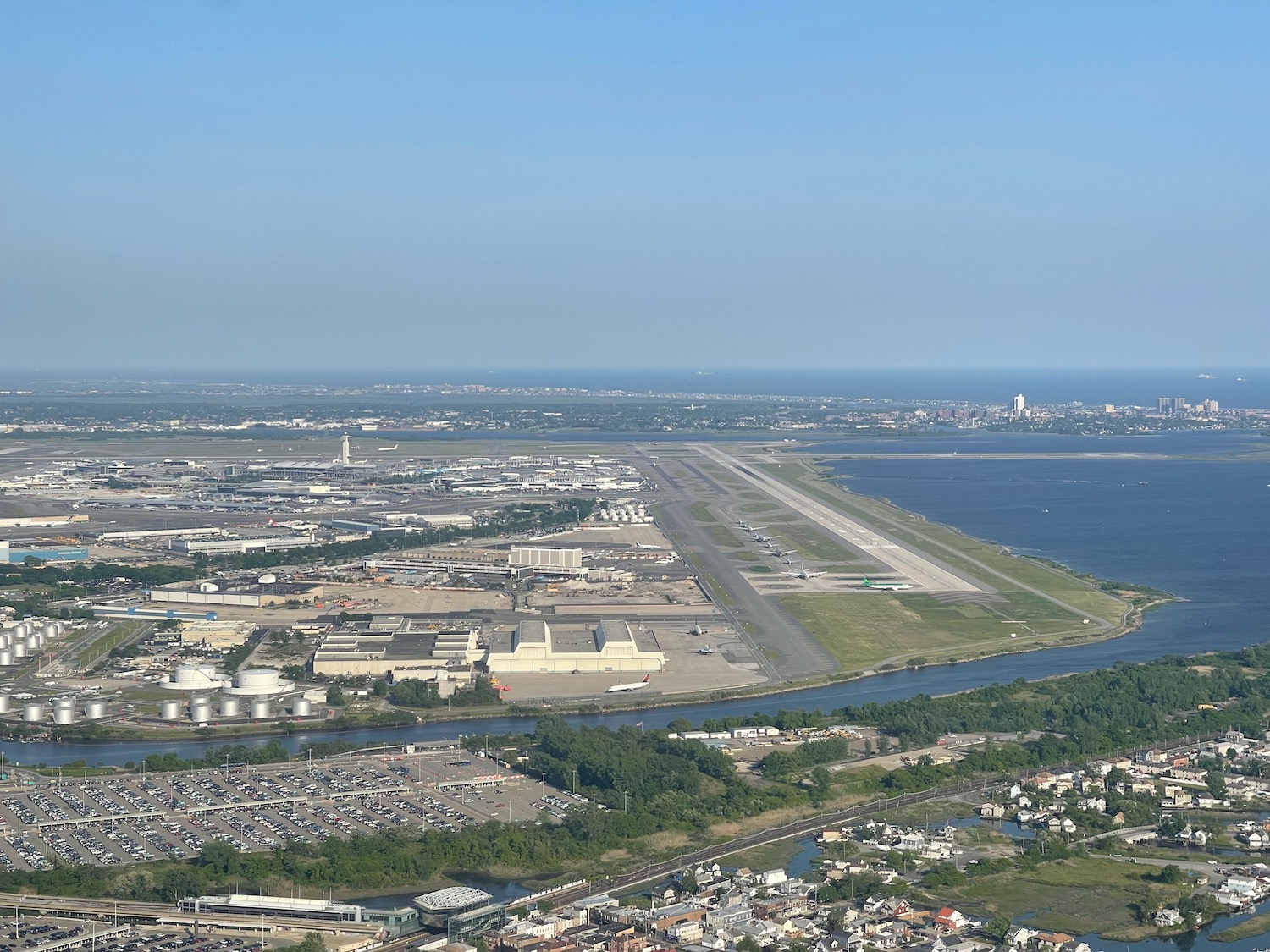 Lavatory
The lavatory was clean but barren, with no extra amenities.
Amenity Kit
I've always found the amenity kits on JetBlue to be quirky and the latest iteration includes a number of fun but fairly unorthodox (at least in terms of what you usually find in an airline amenity kit) items. The pouch is made of paper, though intended to be reusable.
My "wanderdfuel" kit included:
Conscious coconut face wipes
Crushed Tonic anti-aging collagen elixir crush (drinkable)
Scentuals aromatherapy balm
Lumion face mist
B. Soothed elderberry lozenges
socks
Service
Let's talk about the flight attendant call button. Even on JetBlue, I hate to use it. As we neared New York, I felt like an espresso and the flight attendants were nowhere to be seen. I waited patiently, hoping one would walk by. Nope.
Finally, I hit the call button and a flight attendant quickly appeared with a smile on her face. She was happy to make me an espresso.
It's so sad that I've been "scarred" by the annoyance of (some) flight attendant on United that I hesitate to use the call button at all. That's what it is there for and flight attendants actually encourage you to use it.
CONCLUSION
We landed on a busy tarmac at JFK and quickly taxied over to our gate in Terminal 5. These late morning flights are really quite ideal in terms of maximizing sleep…in your own bed. I did not have to wake up early and enjoyed five hours of immense productivity onboard thanks to the high speed wi-fi. I also enjoyed a huge lunch and continue to appreciate the lovely cocktails and coffee JetBlue offers its premium cabin passengers.
Is JetBlue the still the best when it comes to domestic premium transcontinental service? Without a doubt, yes.