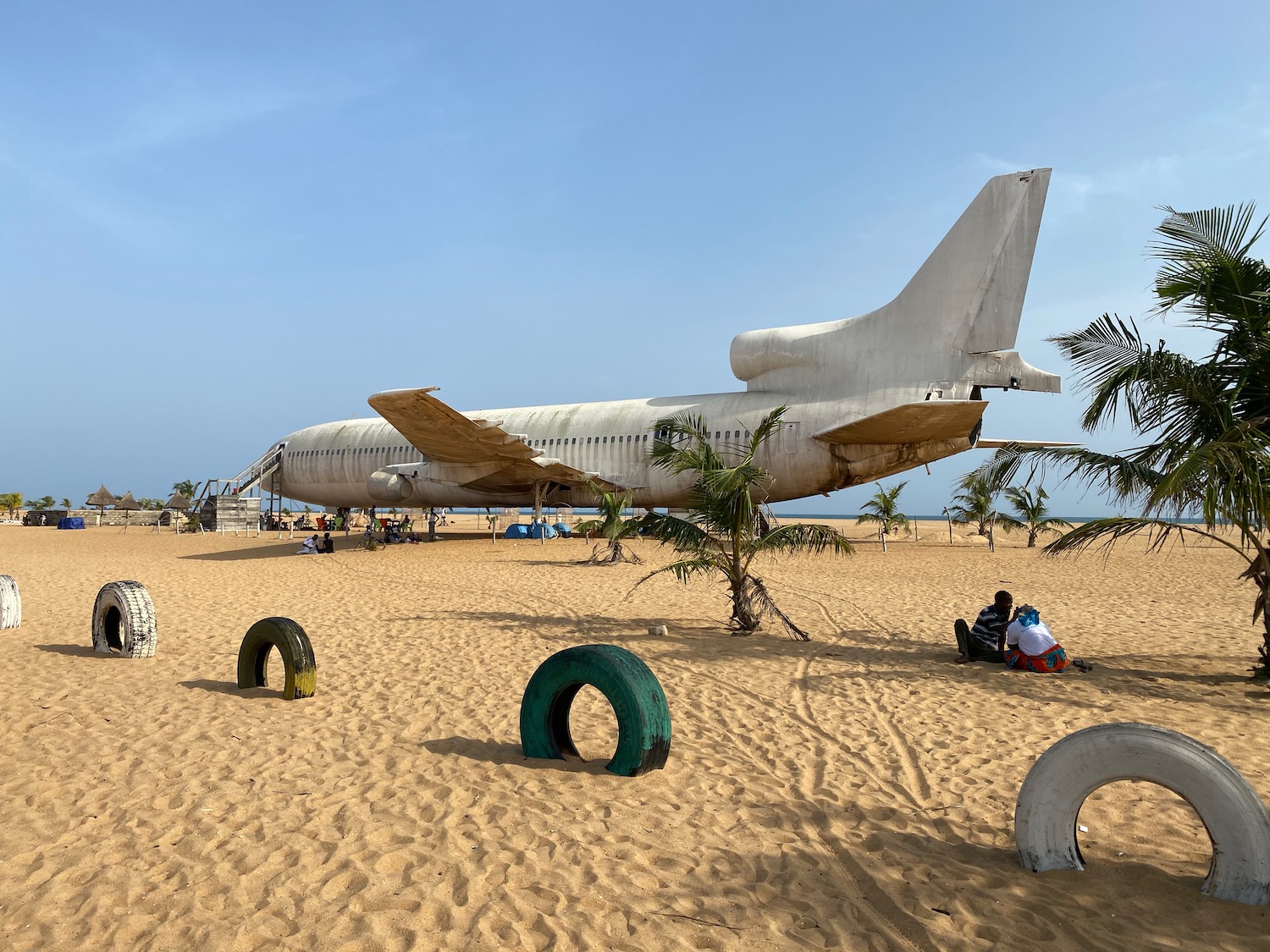 As we were driving along the road in Cotonou, Benin, I noticed an L-1011 just sitting on the beach. This prompted a visit!
I Found A Lockheed L-1011 On The Beach In Cotonou, Benin
When I saw the rusting L-1011 just sitting on the sand, I pointed to it and asked my driver to head over there. He tried to dissuade me, saying it was closed, but I insisted we check it out.
We parked on the side of the road about a half kilometer away and trudged through the sand to the aircraft. I was not expecting to be able to board it, but I at least wanted to look around it.
The Tri-Star had certainly seen better days…
Much to my surprise and delight, the aircraft was open and available for boarding. I walked up the stairs where a man was sleeping on a fold-out chair on the landing just outside the aircraft door. The clanking on the metal air stairs stirred him from his slumber. He asked for 7,500CFA (~14USD) to board the aircraft. There were no signs and he looked quite unofficial, so I shook my head and turned to my driver. Is this a scam? Why should I have to pay to visit an abandoned aircraft on the beach?
Well, after some back and forth we agreed on a price of 5,000CFA (~9USD) for both of us. I was handed a ticket…yes, apparently this was legitimate.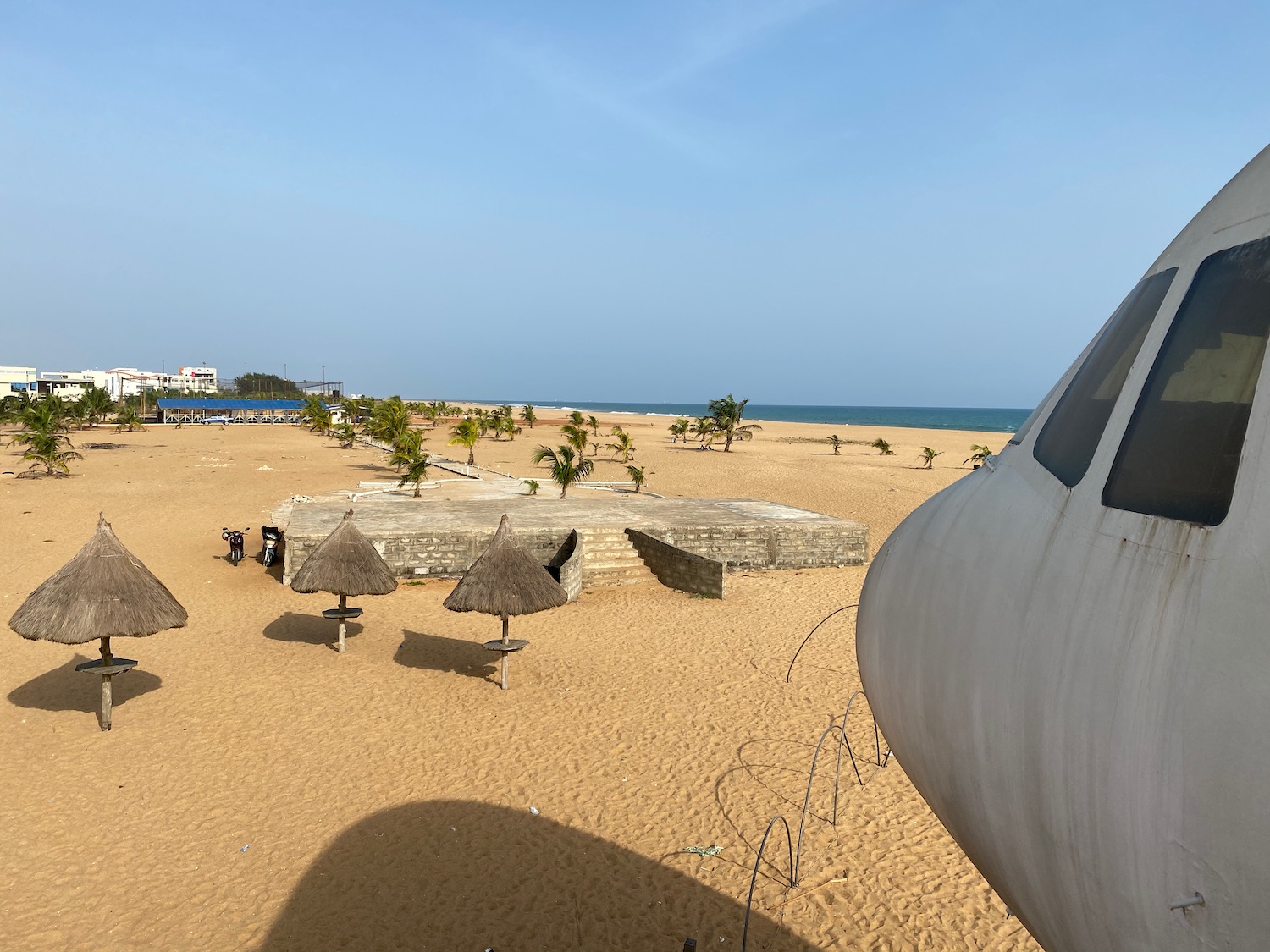 My first stop was the flight deck. The L-1011 operated back in the day when a flight engineer was needed. Compared to modern day "glass" cockpits, it looked so manual!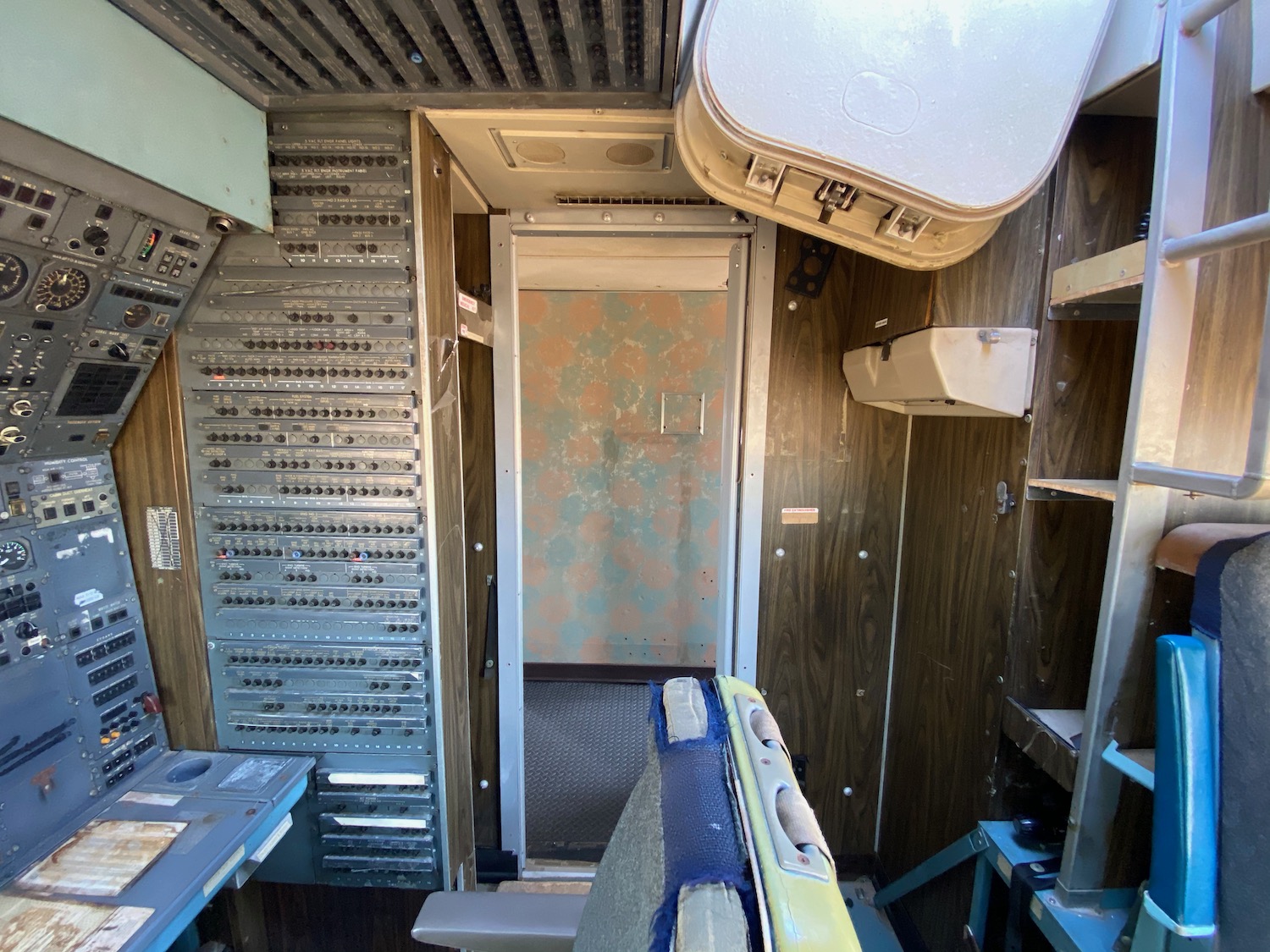 My tour continued through the aircraft, which featured a 2-4-3 all economy class configuration. The front cabin had red seats while the rear cabin had blue seats (smoking, non-smoking?).
No center overhead bins…
I believe this was the trolley that flight attendants used to bring up meals from the galley in the cargo deck.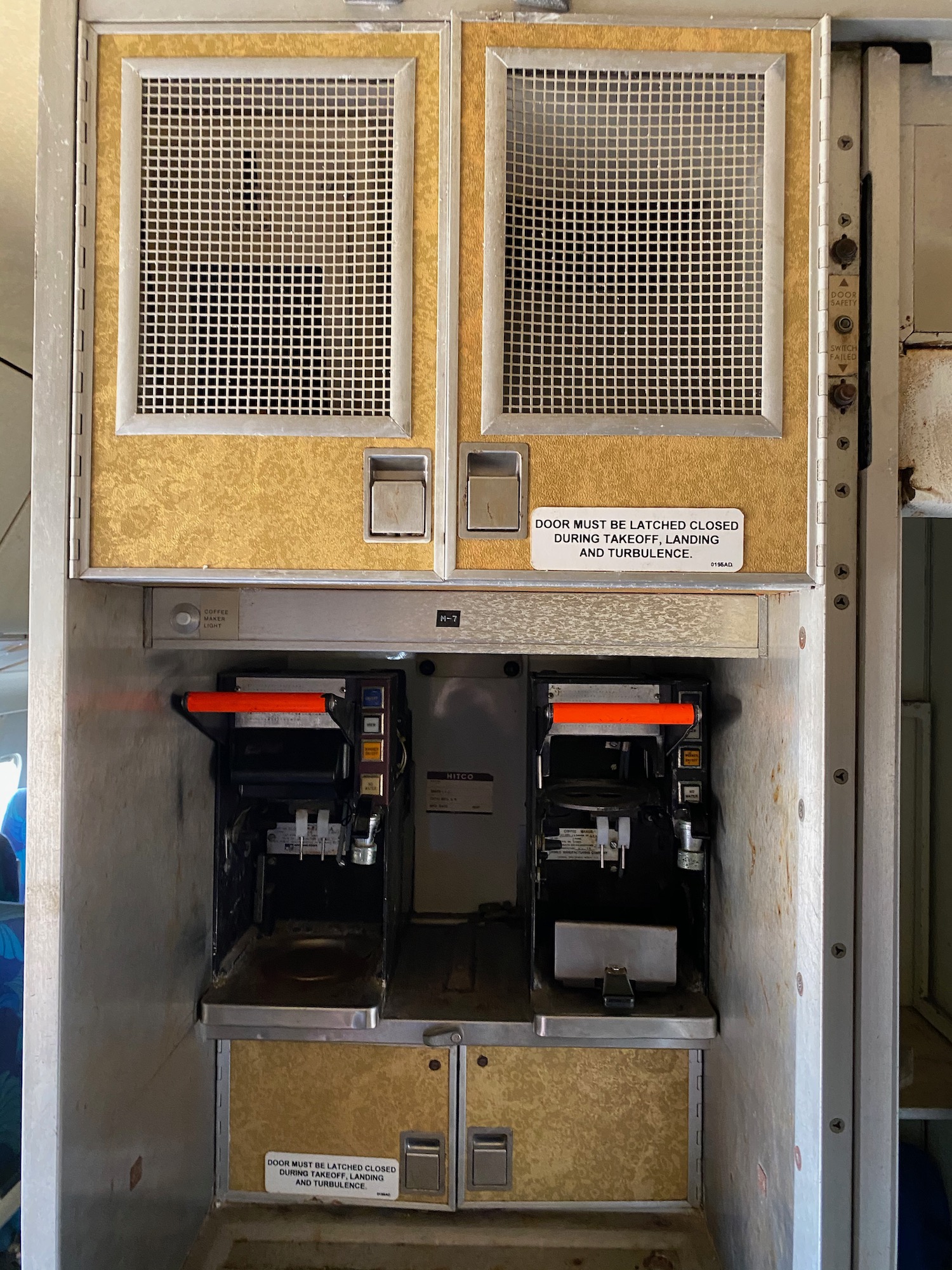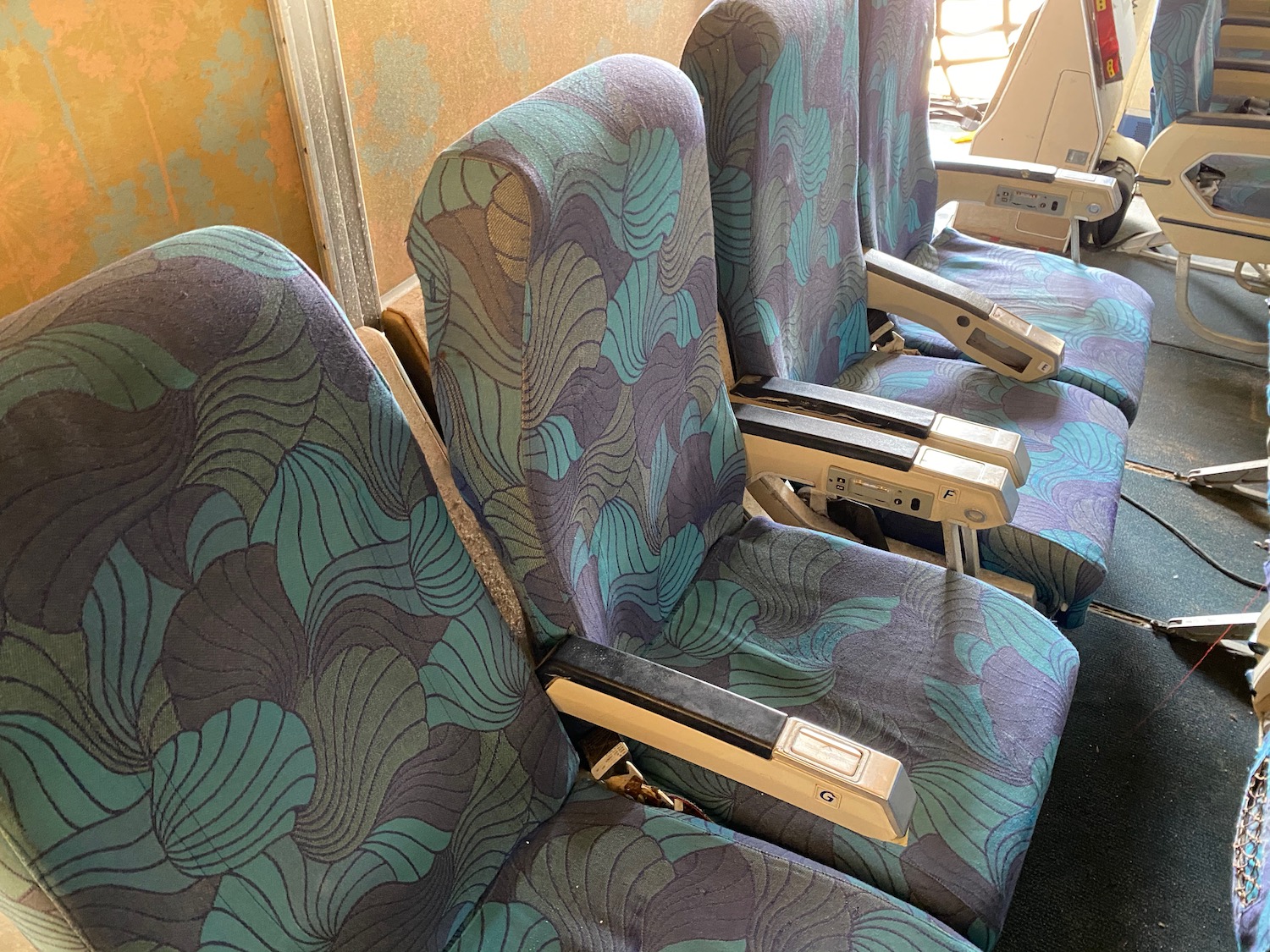 Each seat featured a passenger control unit with a headphone jack, flight attendant call button, volume and channel control, light switch, and button for air (which actually makes a lot more sense than twisting the knob overhead).
In the front of each cabin was a screen along with a projector mounted to the ceiling. I'm old enough to remember these when I was a kid!
Behind the second economy class section the seats had been ripped out. Perhaps a section for cargo?
Lavatories were located in the rear of the aircraft.
Look at these small overhead bins:
There was even a few safety cards onboard. I was told this was last used for Orient Thai Airlines, but see below. That does not seem to be the case.
At the front door, a gold placard stated the L-1011 was owned by Air Rum Ltd. of Sierra Leone. My French was not sufficient enough to discern how it ended up on a beach in Cotonou.
Inside Door 1L was Lockheed's original placard. This beauty was built in 1975. Looking at this history of 193P-1156, it was delivered to Japan's All Nippon Airways and first flew in 1978. In 1996, it was old to Rich International Airways, then to Kampuchea Airlines in 2001 and finally Air Rum in 2004 where it was used to approximately 2008.
The visit was over. It was time to continue my tour of Cotonou.
CONCLUSION
A video really would have been appropriate here and I apologize for only thinking about it after we had left.
My uncle spent his career working for Lockheed in Burbank, California and helped to design the L-1011. One of my greatest regrets in terms of flying was never to fly this aircraft (I had the chance on ATA, but turned it down). But at least now I got to explore one…an absolute must-see if you ever find yourself in Cotonou, Benin.
Back on the road again we passed an old DC-3. I resisted a strong urge to stop and check it out. we continued on our way.
Any idea how this L-1011 reached the beach in Cotonou, Benin?
---
This story is part of my An African Adventure As The World Shut Down trip report.