I've reviewed first class on the Lufthansa 747-8 so many times that I considered skipping this review, especially because the flight took place last year. But I just cannot do so…the flight was spectacular and represented one of my best flights ever on Lufthansa. While I'll structure this Lufthansa First Class review differently than my usual flight reports, the bottom line is that Lufthansa First Class remains one of the best products in the world.
Lufthansa First Class Review: 747-8 From Frankfurt To Chicago
Any Lufthansa First Class journey from Frankfurt property starts at the First Class Terminal, an oasis of tranquility and comfort in one of Europe's busiest hub airports. While the Lufthansa First Class Lounge in Terminal A may be easier for connecting passengers, I find it always worth the walk to the FCT. I was staying at the Hilton Frankfurt Airport the night before, so in the morning it was just as short walk from the hotel, through The Squaire in "New Work City," then downstairs and out past the taxi rank to the Lufthansa First Class Terminal (detailed walking instructions here).
Before the flight, I enjoyed a cup of coffee, freshly-squeezed orange juice, and a bowl of berries.
…and my friend, a bourbon connoisseur, noticed a bottle of Blanton's so we tried that as well. Admittedly, it was the best bourbon I've ever had.
It came time to board and we were escorted downstairs so that we could be driven to our plane. US flights depart from the Terminal 1 Z gates, so the journey is rarely far, yet always enjoyable.
What makes it enjoyable is not just the car ride itself, but being able to snap pictures outside your aircraft, which today was the beautiful Queen of the Skies, the Boeing 747-8.
After a photo op, we were led upstairs to the aircraft.
Lufthansa 430
Frankfurt (FRA) – Chicago (ORD)
Thursday, April 14
Depart: 10:45 AM
Arrive: 01:00 PM
Duration: 9hr, 15min
Distance: 4,344 miles
Aircraft: Boeing 747-8i
Seat: 3K (First Class)
Ah, home sweet home. I so love this plane and this cabin the nose of the 747! Most prefer seat 1A, but I like seat 3K, which is less private but provides a great view of the cabin.
The curvature of the nose of this plane creates a unique lower deck first class cabin, with two rows of 1-1 seating and a third row of 1-2-1 seating. On this flight, there was only one other passenger onboard in first class, which gave us plenty of room to stretch out.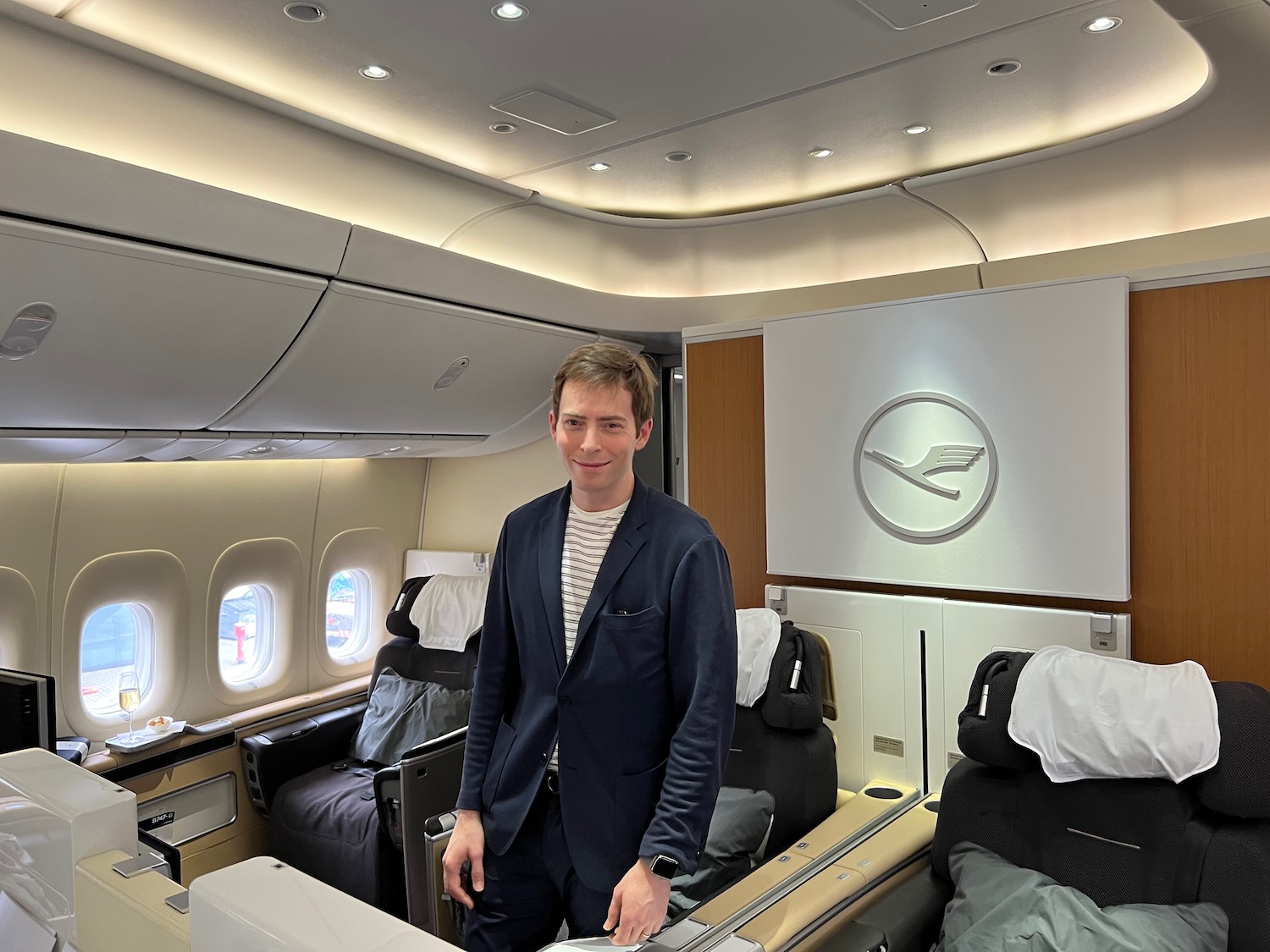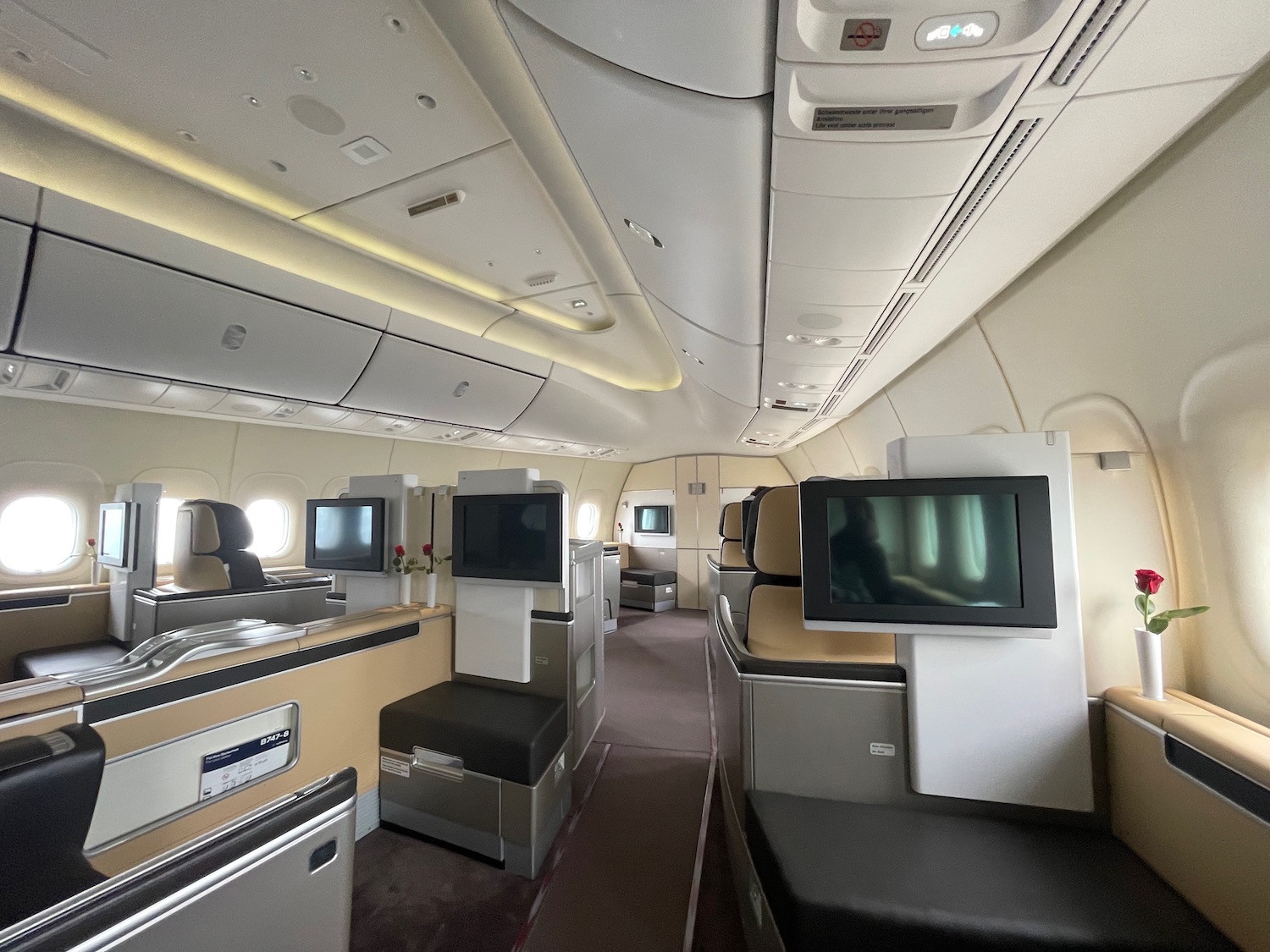 Ok, let's talk about the service, for this is what made an already-excellent flight one of the best I've ever had on Lufthansa in First Class.
Miguel and Patrizia served as the first class flight attendants and these two beautiful souls were the epitome of excellence. So caring, so kind, so attentive. Throughout the flight they constantly anticipated our needs (kept glasses full, engaged in delightful conversation, and always with a smile behind their masks) and made us feel like royalty. I've never had a bad crew in Lufthansa First Class, but Patrizia and Miguel were extra special.
What a blessing to fly with them.
The masks, on the other hadn, were very annoying. Germany was quite late in terms of European nations in lifting its mask mandate and therefore masks were required when not eating or drinking. Thankfully, Germany jettisoned its onboard mask mandate in October 2022 and on trains and busses in February 2023.
A feast awaited us onboard.
We were greeted onboard with a glass of Champagne (2006 Blanc des Millénaires from Charles Heidsieck) and a bowl of macadamia nuts.
Other Lufthansa First Class amenities waiting on the ottoman (which opened and served as a handy storage container) included slippers, van laack pajamas, and an amenity kit. Today's first class amenity kit was a watch case (that's the black padding on top, which you can wrap your watch collection on and place inside the leather box #first_world_concerns).
Menus were also distributed, including a separate wine list.
Let the feast begin! First, an amuse bouche of shrimp over hummus and a Campari Spritz.
I do enjoy caviar in Lufthansa First Class, which is purportedly the world's single largest purchaser of caviar (even more than Emirates…).
Refills were offered, along with warm bread.
Next, I tried all four appetizers, including:
Beef Ham filled with Gorgonzola, Date and Sesame Chutney
Seafood Salad with marinated Root Vegetable
Salad of Salsify, Sauce Bolzano Style and Quail Egg
Seasonal Leaf Salad with Bell Pepper Julienne
Everything was great, though the ham filled with gorgonzola and dates was the highlight.
I appreciate that Lufthansa always offers a soup course on flights out of Germany in first class and found the chestnut soup served with caramelized nuts and diced apple the highlight of the entire meal.
At this point I had eaten more than I typically eat for a meal at home, but the main course had not even yet arrived. Against my better judgment (based upon past experiences in Lufthansa First Class with red meat), I ordered the beef entree:
Tenderloin of Beef with Tomato and Pine Nut Crust, sautéed Brussels Sprouts, Potato and Leek Puree
Why? I love pine nuts, Brussel sprouts, and leaks. The presentation was beautiful:
However, it was cooked to well-done, which really diminished what tasted like a high-quality piece of meat.
I did finish the dish, however.
With the red meat I had a glass of French red wine, a 2010 Château Latour-Martillac, Cru Classé de Graves.
I should have stopped there, but next I moved onto a cheese course.
Langres, St. Germain, Rock Salt Cheese, Goat Cheese with Honey, Saint Agur, garnished with Mango Peperoni Chutney, Grapes, Walnuts and red Radish
It was delicious as always.
I had gone this far…might as well have some dessert as well…and of course some chocolate truffles too.
Carrot Tartlet with Pumpkin Seed Pesto, Orange Gel and Nougat Pavé, accompanied by Sour Cream Ice Cream
What a delicious meal, despite the steak being overcooked. Bravo.
After lunch, I leaned back and relaxed in what really felt like a private cabin.
After a little while, Patrizia made my full size bed and I spent the next few hours napping. Bedding includes a mattress pad, plush duvet, and two pillows.
Prior to landing (as if I needed anything at all for the next two days), another meal was served. To be precise, all meal service in first class on Lufthansa is on-demand, though were were given a "last call" about an hour prior to landing.
I tried a veal burger from the snack menu along with a cappuccino, glass of orange juice, and hot pretzel.
Three Mini Veal Burger with Vegetable Julienne, Wasabi Mayonnaise, Miso Sauce, Tomato, Iceberg Lettuce, Coleslaw and Beetroot Chips
I have to be honest: I didn't care for it.
Pushing my luck since the cabin was only booked 3/8, I inquired if there were any lamb entrees leftover form lunch. Indeed, there was.
Saddle of Lamb enhanced by green Beans and Gnocchi
From the snack menu, I also added a salad:
Fresh green Salad with Bell Pepper Julienne, mixed Kernels and Oven roasted Cocktail Tomatoes, baked Feta Cheese, Yogurt and Herb Dressing
So another full meal before landing…
A delicious dish…better than the steak (though also cooked well-done, which seems unavoidable in Lufthansa First Class).
As an aside, I love German salad dressing and though the yogurt herb dressing on the salad was lovely.
I concluded the meal with fresh berries and one more cappuccino.
The food in Lufthansa First Class is not better than business class on Qatar, ANA, JAL, or Turkish Airlines. However, I love the presentation and the flexibility of eating on-demand. Plus, I appreciate that you can always count upon 1.) great berries, 2.) great orange juice, and 3.) great coffee onboard.
Let's tie up some loose ends. I was surprised to see La Prairie in the lavatory (which I had not seen for several flights and I understand has again been removed).
Noise-cancelling headphones from Bose were present and the IFE library includes hundreds of TV shows, movies, musical selections, and games. The downside on the Lufthansa 747: the screen is smaller than many competitors in business class and the resolution is quite poor. Lufthansa will upgrade this plane with its next-generation Allegris First Class suite, which will solve that problem.
Wi-Fi internet without data caps is complimentary onboard for first class passengers.
As usual, the best views are often out the window (and in Lufthansa First Class, window seats have four windows). The approach in Chicago was particularly beautiful:
CONCLUSION
This review is not an advertisement from Lufthansa, though I realize it may feel like it. I paid 100K Aeroplan points to fly Lufthansa First Class (Istanbul – Frankfurt – Chicago) and think this represents one of the best uses of Star Alliance miles in the entire world (you can also book Lufthansa First Class with 121K United miles between the USA and Germany). Take advantage of this opportunity while you still can and I hope that your next Lufthansa First Class flight is just special as this one was. Do not forget that a pivotal part of the first class product is the ground experience, which is always worth arriving early for or scheduling in a longer layover.
Again, a humble thanks to Miguel and Patrizia for a truly lovely flight.
How was your flight in Lufthansa First Class? Have I just been lucky with my string of recent superb flights on Lufthansa or have you also found the service onboard outstanding?