Lufthansa offers an excellent out-station lounge at Boston Logan Airport with a wide assortment of high-quality food and drinks as well as ample seating.
Lufthansa Lounge Boston Review (BOS)
I visited this lounge prior to my SWISS flight to Zurich.
Access + Hours + Location
This lounge does not have a Senator (Star Alliance Gold) and business class side but instead operates as a single lounge (with a separate first class section I discuss below). It is located in Terminal E, across from gate E11, on the Level 4 (one level above departures). It is open daily from 2:00 pm to 9:15 pm.
Access is reserved for:
Star Alliance business class passengers
Star Alliance Gold members traveling on any Star Alliance flight (in any class of service)
Miles & More Silver members traveling on a Lufthansa Group carrier
While United limits its MileagePlus Premier Gold, Platinum and 1K members from using United Clubs on purely domestic itineraries, a Star Alliance Gold member on United can use this lounge even if just traveling in economy class from Boston to Newark. It is quite a walk, though, from the United gates.
Seating
This is a large lounge, with seating sufficient to handle large crowds for similarly-timed departures to Frankfurt, Munich, and Zurich. While this lounge does fill up, I arrived just after opening time and had it mostly to myself.
When you step in here, you feel like you are in a Lufthansa Lounge in Germany, with similar seats, end tables, and large dining area in surrounding the buffet in the center of the lounge.
Tarmac views are excellent and I was thrilled to see a "vintage" 747-400 pull into the gate with updated livery.
…and a British Airways A380 as well.
Food + Drink
I was quite impressed with the spread of food in this lounge and found it delicious as well. A buffet included salads, soups, sandwiches, wraps, bread, cold cuts, cheese, hot vegetables, pasta with meatballs, and sweets like cake, cookies, and gummy bears.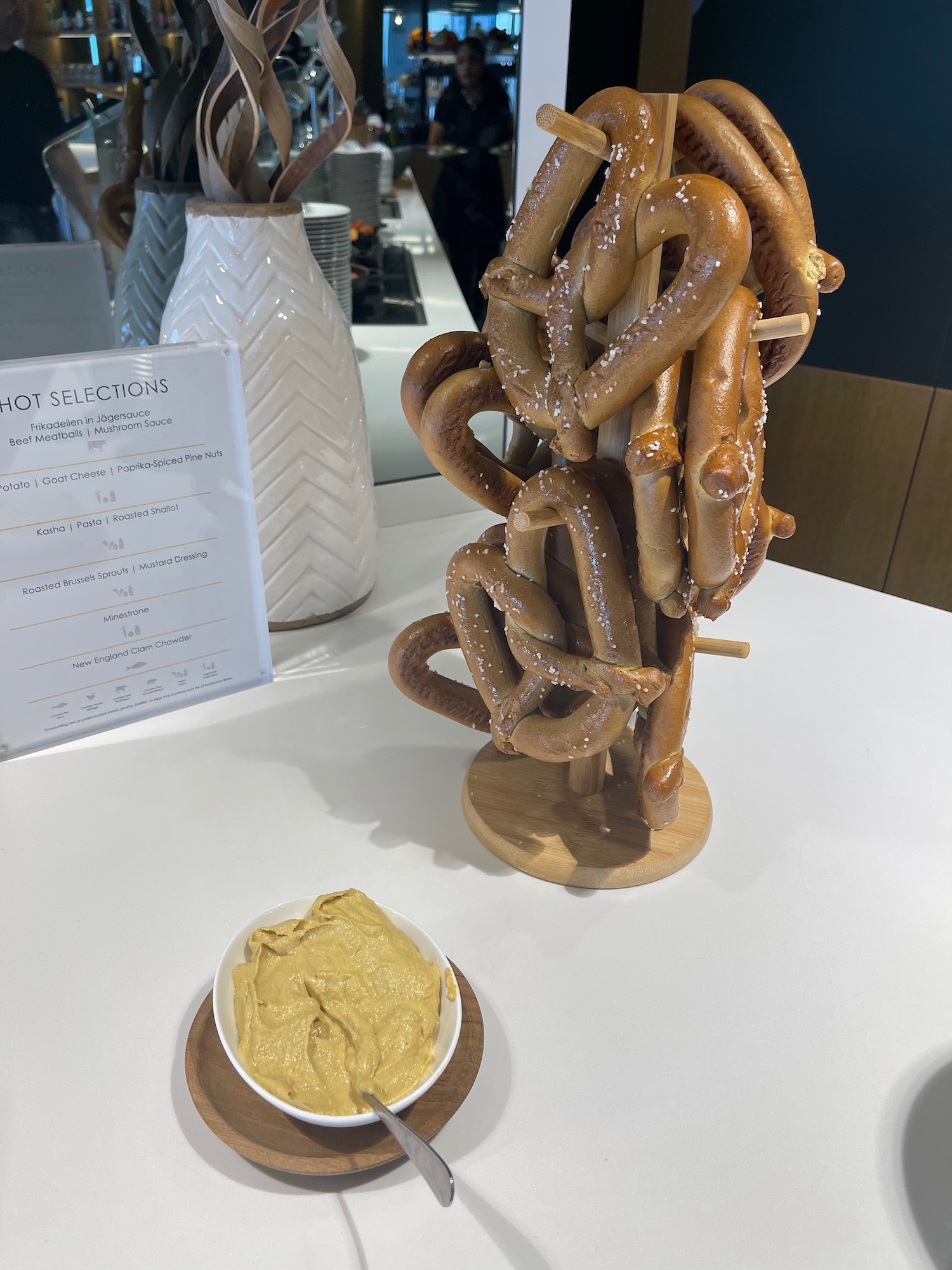 A plate of pasta with meatballs and salad hit the spot.
Later on before my flight to Zurich, the hot dishes were slightly rotates and some delicious pork with chunky garlic mashed potatoes was added.
In terms of drinks, this lounge does not a self-serve bar. Coffee and tea are self-serve, but other drinks are on request. While there was a respectable assortment of beer, wine, and spirit, I did not see any Champagne on offer.
I did see a lovely manual coffee machine and requested a cappuccino, but was told it was broken and directed to the automatic machine. I wonder if it has been fixed yet…
Changing Room
I don't recall ever seeing one of these in another Lufthansa Lounge, but there was a changing room here…with a sink.
Restrooms
This lounge has restrooms, but no showers. The men's restrooms were spotless.
First Class Section
HON Circle members and first class passengers on SWISS and Lufthansa have access to a special lounge-within-a-lounge much like the first class lounge at New York JFK. As I was not flying first class and because there were other guests in there, I do not have pictures inside this room.
CONCLUSION
Perhaps my expectations were too low based upon my visit to the Lufthansa Lounge in Detroit, but I walked away quite impressed. I like this lounge, both the looks of it and the excellent selection of food and drinks. If I were traveling on a transcontinental flight on United, I would make it a point to eat here prior to the flight.