I spent several hours in the United Club Boston and really appreciated the natural light, tarmac views, and spread of food.
United Club Boston Review (BOS)
Last time I was in the club, it was fairly crowded. This time, it was quite empty in the morning just before 9:00 am.
It did fill up a bit on the other side of the lounge, but the rear portion where I was seated remained empty.
The breakfast spread included a scrambled egg station with a number of toppings, bagels, muffins, cereal, hardboiled eggs, yogurt, and fresh berries.
Coffee, tea, and soft drinks were also available.
I enjoyed a strong cappuccino and some berries after a disappointing breakfast at Stephanie's:
That's not a barista-made coffee per se, but what I do is put two shots of espresso in one cup, foamed milk in a second cup, then pour the milk myself into the espresso to create my own flat white.
Bathrooms were clean:
Tarmac views from the lounge are also great:
Before I left, breakfast transitioned to lunch and the selection included a salad bar with chicken, a taco bar, caprese sliders, and New England Clam Chowder Soup.
This remains an excellent United Club and is worth a stop before your flight.
My original review, which was published on October 3, 2022, appears below.
---
The United Club in Boston Logan Terminal B is a solid line station lounge that recognizes the importance of the premium Boston market for United Airlines.
United Club Boston (BOS) Review
United Airlines used to have a different lounge in Terminal C, which I very fondly recall, prior to the merger with Continental Airlines. I wanted to include a few pictures, but because my old pictures lack geotags, I could not locate them (amongst my 300,000 pictures…).
Location + Hours + Access
The "new" United Club Boston is located in Terminal B, near Gate 24. To access the lounge, take the elevator from the departure level up to the third level. The lounge is open from 4:30 am to 10:00 pm daily.
There's a bit of wasted space in the form of a huge lobby area that is mostly empty, though the vintage photographs on the wall are always fun to look at.
Access is reserved for United Club members, Chase United Club Visa holders, Star Alliance Gold travelers, and international business or first class passengers traveling on any Star Alliance flight. Global Services members also enjoy access.
Furthermore, one-time passes from Chase are accepted or can be purchased for $59 (currently on sale for $39). Note that if you hold a Star Alliance Gold card from United Airlines (Premier Gold or higher), you can only access the lounge when traveling in conjunction with an international itinerary. Those who have a Star Gold card from other programs can use the lounge when traveling on any Star Alliance flight in any class of service.
Note that United does not give premium cabin passengers access on domestic flights. The Boston – San Francisco route used to be an exception, but United no longer markets it as a premium transcontinental route and therefore lounge access does not come with a premium cabin ticket.
Seating
The L-shaped lounge includes chairs, tables, and a few couches, with power plugs and USB-A chargers located in end tables between seats.
It can get crowded–
There are also a couple of large "phone booths" ideal for virtual meetings or having a conversation without disturbing others.
Food + Drink
Individually-packaged food items have given way for a return to buffet-style dining. Expect a salad bar with a choice of soup, sandwiches, pita bread with hummus, cheese cubes, whole fruit, and cookies.
In the morning, you can expect yogurt with fresh-cut fruit, bread, pastries, cereal, hot oatmeal, and a hot egg dish.
Water, soft drinks, coffee, and tea are self-serve.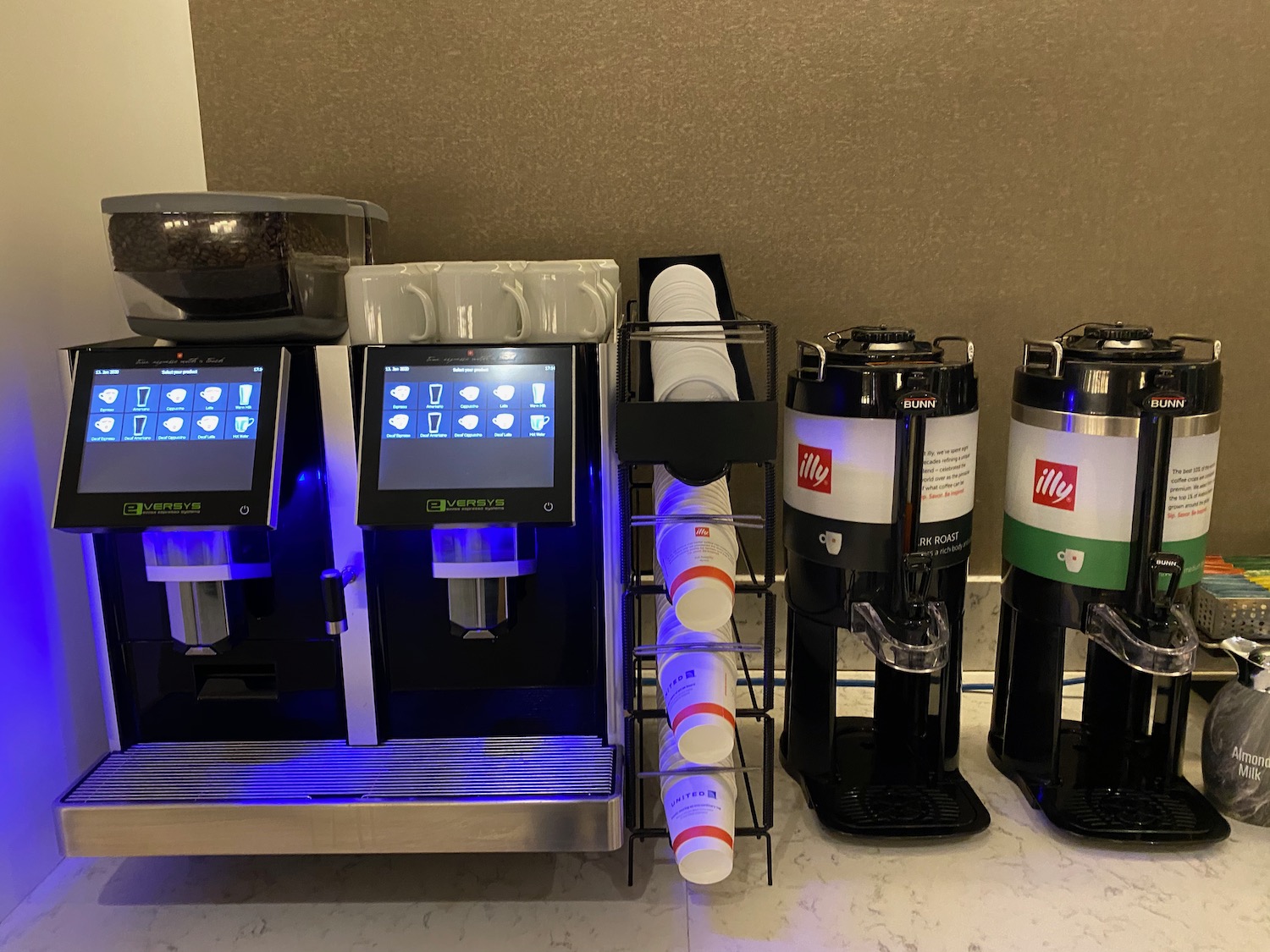 The fully-staffed bar offers a complimentary menu of lower-shelf beer, wine, and spirits as well as higher-quality alochol, including cocktails, for sale.
Restrooms
Restroms are avialble. There are no showers.
Other Amenities
A copy machine and printer are available. These seem like such relics of the past, but a hotel business center saved the day for me recently and I am glad to see these available in an airport lounge.
A magazine rack is also present, though United appears to have cut back on the number of magazines that are available in clubs.
Finally, internet speeds are at the gigabit level, which is greatly appreciated considering how slow the internet was in the nearby Air France lounge.
CONCLUSION
I appreciate this lounge before my United flight, though I do note that Stephanie's Restaurant, part of the Priority Pass network, is located next to the club. You can also access the Lufthansa Lounge in Terminal E and use it (generally open all afternoon and evening), even if you are a United Star Gold member on a domestic flight in economy class. Terminals B, C, and E are now connected airside. There are also other Priority Pass lounges and restaurants plus the Virgin Atlantic Clubhouse in Terminal E, which is accessible via your American Express Platinum card or Capital One Venture X card.
But even with all the lounge choices, it is nice to come into the United lounge and sit down, knowing you can easily find a plug and fast internet.