The oneworld lounge at Los Angeles (LAX) is really starting to wear out, yet resiliently remains one of my favorite business class lounges in the nation.
Oneworld Lounge LAX Review
I have had several chances to visit this lounge since it reopened in 2022 after two years of closure. This review synthesizes those visits.
Access + Hours + Location
This lounge is located in the Tom Bradley International Terminal (TBIT) at Los Angeles International Airport. It is intended as the primary business class and oneworld sapphire lounge for travelers departing on the many oneworld carriers that serve LAX beyond American Airlines.
After clearing security, you head into the Villaraigosa Pavilion (the main terminal area) and then take the escalator or elevator upstairs near PF Changs to reach the lounge (technically, level 5). If you are walking over from Termianl 4, you are already on the correct level. After passing over the security area (you walk literally right over it), do not take the escalator down. Instead, keep left. You will walk past a pet relief area, turn right, walk past the Qantas First Lounge, and then you'll reach the lounge.
Access is reserved for:
oneworld sapphire or oneworld emerald members traveling on any itinerary

those who earned this status via American Airlines or Alaska Airlines must be traveling on a flight outside of North America (Mexico City is no longer an exception).

international passengers traveling on a same-day oneworld airline from LAX in business or first class
Qantas, which operates this lounges, also lets its paid lounge members into this lounge when flying on Qantas.
The lounge is open daily from 6:30 am until the last scheduled Qantas flight departure (which is current 10:30 pm).
Seating
At 42,000 square feet, this is a huge lounge and can comfortably accommodate 600 passengers. During my visits, all in the afternoon, the lounge never got very full. As you enter the lounge, if you proceed left you will come to a work area with desks, chairs, and even a little printing station.
Around the corner are recliners and chairs facing one another.
This opens up to a large seating area with more tables and chairs.
There's even a curtained-off "overflow" room (this used to have a children's play area, but it seems to be a casualty of the pandemic) in case the lounge gets really crowded.
Continuing the circle, you can walk past the buffet and bar area and come to yet another seating area with a fire pit and plenty of additional seating.
This lounge does get crowded at times, but there are so many seats that you should never have to struggle to find one. Plugs and USB charging ports are plentiful.
Falling Apart…
While the lounge has a great design, if you look closely you will notice the furniture is not exactly aging well.
I make note of that not because it particularly detracted from my visit, but because I was frankly surprised that Qantas would let its furniture fall into such disrepair.
Barista-Made Coffee
The highlight of the lounge for me is the barista-made coffee, provisioned by Vittoria Coffee, a well-respected Australian brand.
Flat white? No problem.
Cappuccino? No problem.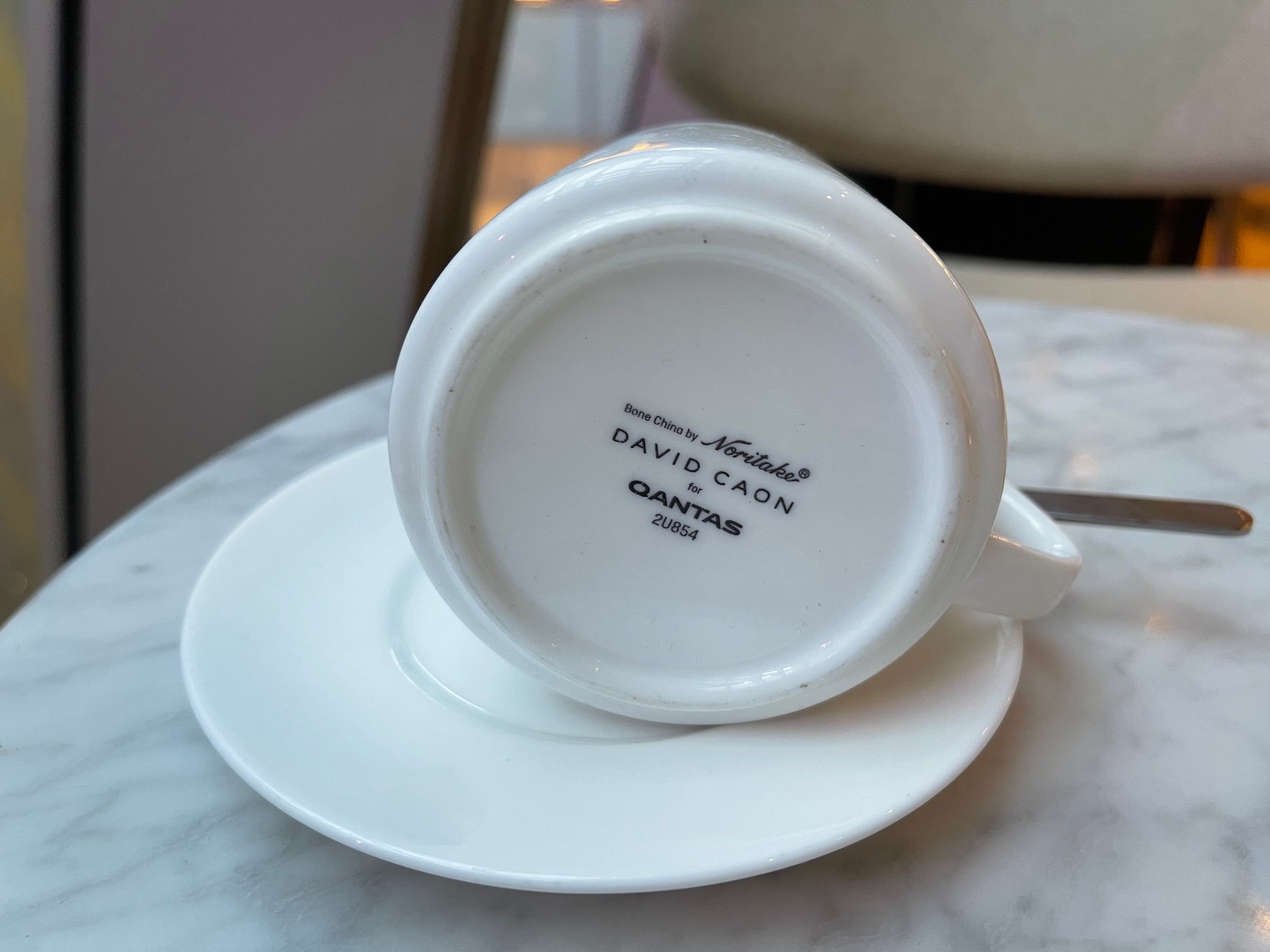 While not all baristas have mastered their latte art, you can count on an excellent cup of coffee.
Food + Drink
Beyond the coffee, this lounge offers an extensive food and beverage options, including a great selection of food options depending upon the time of day, a full-service bar, and several self-service drink stations.
A lunch and dinner buffet features:
Salads
Soup
Chicken and chorizo cassoulet
Jasmine rice
Roasted eggplant
Potato, cauliflower, and chickpea curry with coriander
Cheese board

Swiss
Pepper jack
Cheddar

Tiramisu
Chocolate brownie
Pecan pie
I found the selection to be quite balanced (plenty of vegetarian options) and the quality of the food high. Sometimes a taco cart even rolls in.
Drinks included soft drinks, juice, water, coffee, tea, and an assortment of beer, wine, and spirits at the bar. I did not see a cocktail menu or any sort of bar card, but just tell the bartender what you want…they are usually great. And once more, I'll repeat that you really should avoid using the automatic coffee machines and order from the barista instead.
Restrooms + Showers
Restrooms and showers are available. Shower suites (there are 14) also have their own toilets.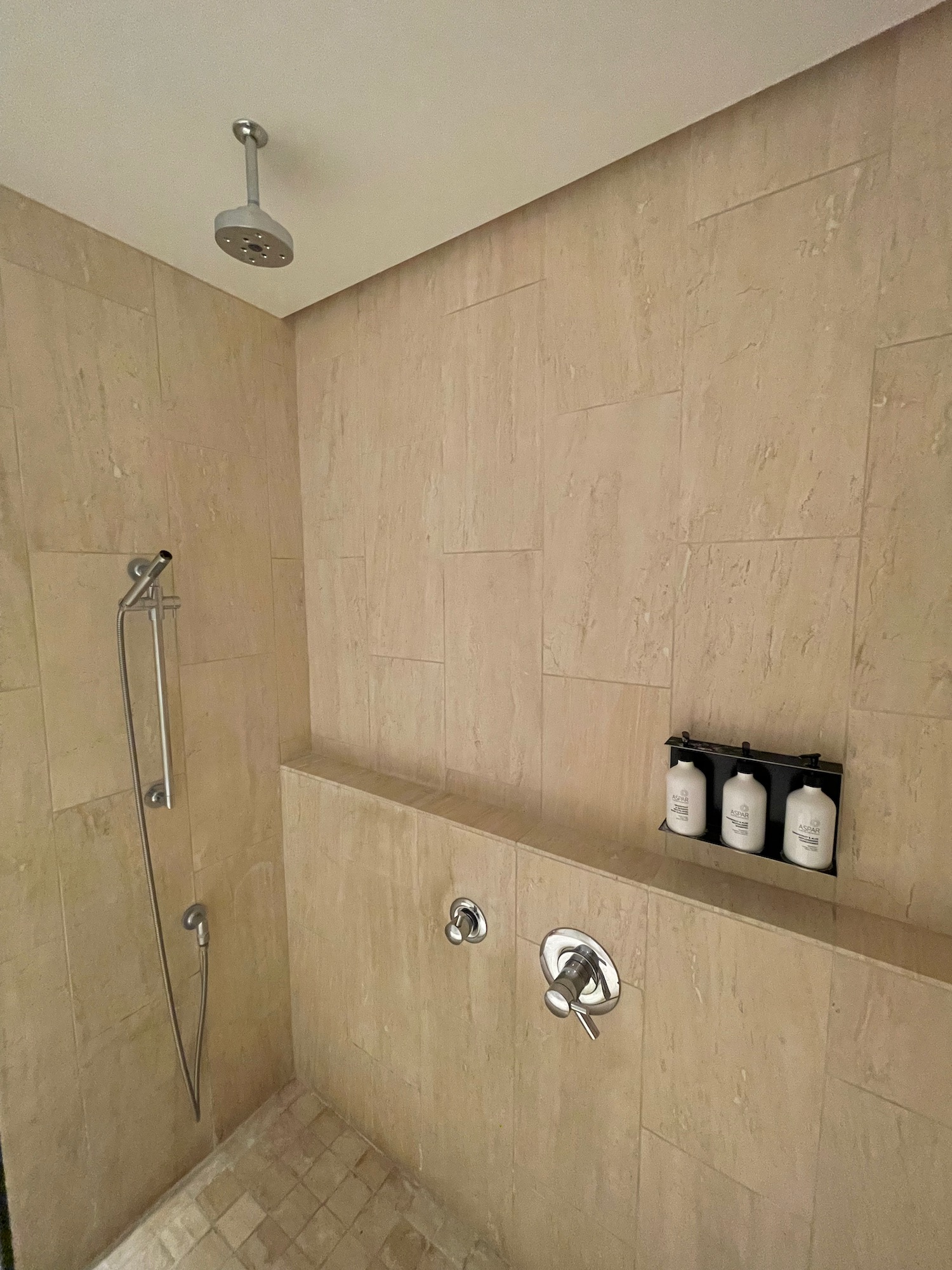 CONCLUSION
In looking at the pictures from my original review, published in 2019, I see that not much has changed. Overall, I love this lounge and even though it is literally falling apart, it remains a lounge that I look forward to visiting…especially if you appreciate a nice cup of coffee.
As an aside, I rate this lounge higher than the Star Alliance Lounge (one level up) because of the barista coffee service and what I feel is a higher quality of food and drink overall. That said, the lounge does feel a bit like a dungeon and some may prefer the natural light and terrace of of the Star Alliance Lounge.
How would you review the Oneworld Lounge at LAX?
My original LAX oneworld lounge review, first published on January 8, 2019, is below.
---
I like the oneworld business class lounge so much at LAX that I'd call it the airport's second best lounge, right behind the other oneworld lounge…
A joint-effort by British Airways, Cathay Pacific, and Qantas, this lounge has every necessary ingredient for a great business class lounge, including:
Quiet Seating
Fast Wi-Fi
Full-service + self-service bar
Great Coffee (barista or machine made)
Buffet
Restrooms
Showers
Flight Rebooking Help
The buffet is excellent and includes a nice selection of hot and cold dishes including salads, soups, and hot dishes from the East and West. One visit I enjoyed lasagna with kale salad and squash soup.
On another, I enjoyed a stuffed pepper with rice, vegetable soup, and Beef bourguignon.
If you're a regular reader, you know that one of my favorite things in life is a nice cappuccino. Here, the lounge does not disappoint. Anytime of day you can enjoy delicious cup of barista-made coffee at the bar.
But even better than the coffee is the taco cart! Yes, look for a taco cart to roll in on select evenings. Talk about authentic LA and offering my favorite comfort food.
CONCLUSION
So all-in-all, I really like this lounge. In fact, I can't think of a single thing wrong with it. Well, maybe one thing. Cell phone reception is very poor in the lounge, at least back when I had T-Mobile.