Rather than provide a specific flight review, I want to give you an idea of what to expect right now if you are flying United Airlines in business class on a premium transcontinental flight.
Premium Transcontinental Flight Review – United Airlines Business Class
United operates premium transcontinental flights between Los Angeles (LAX) / San Francisco (SFO) and Newark (EWR) / New York (JFK). These specially-marketed flights guarantee flat-bed seats in business class, elevated catering, and extra perks like a duvet, pillow, and amenity kit.
Aircraft
A mix of aircraft from the Boeing family are used for these flights, including 757s, 767s, 777s, and 787s. The 757-200 features United's older B/E Diamond seat in business class in a 2-2 configuration:
The 767 most often used is a 767-300 with a 44-seat business class cabin in a 1-1-1 configuration:
The 777 most often used is the 777-200. Most aircraft have a 1-2-1 Polaris configuration:
But you will run into a more dense 777-200 with eight-across 2-4-2 seating business class (yes, quite the difference…).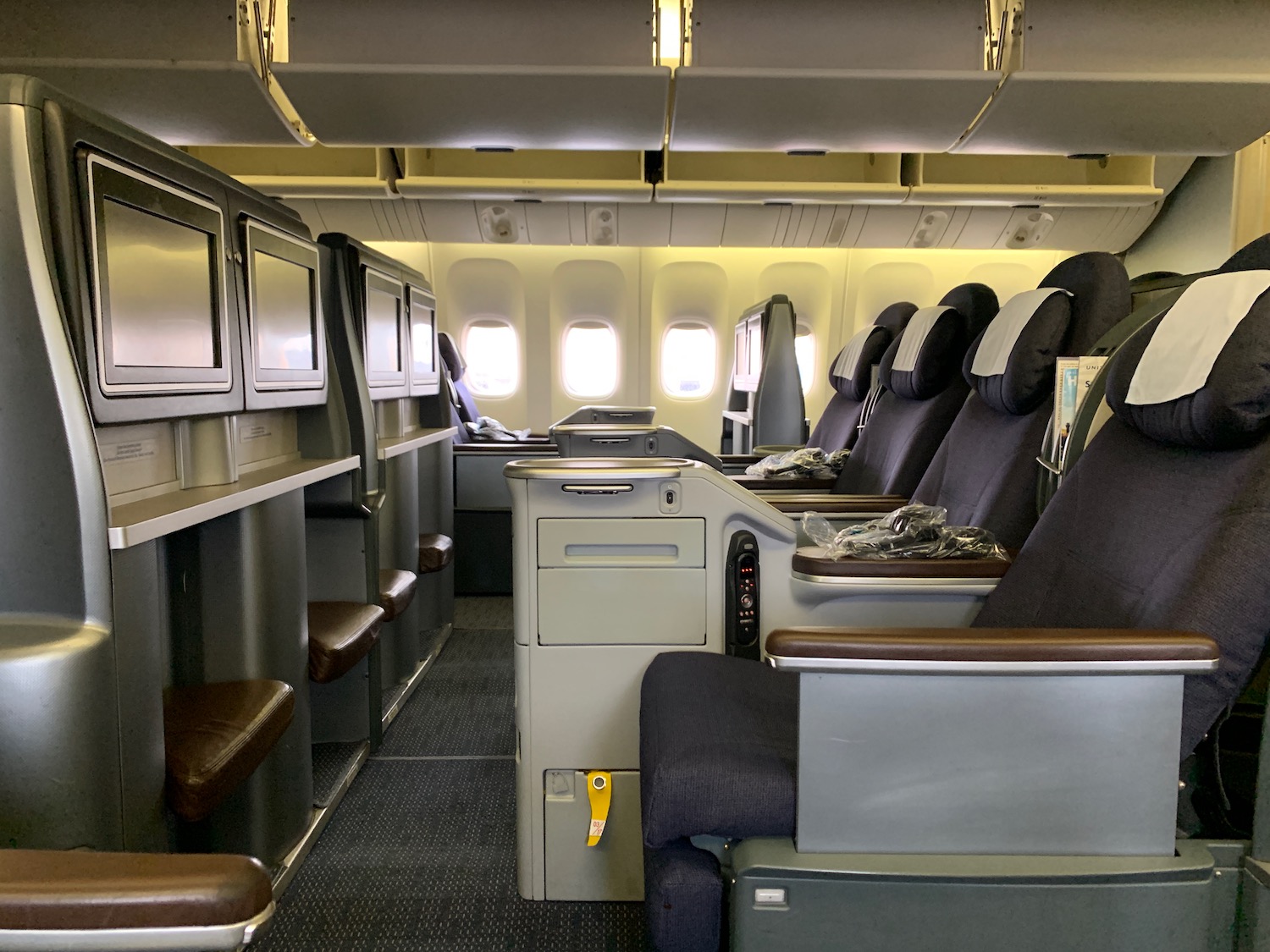 Finally, a mix of Dreamliner 787-8, 787-9, and 787-10 aircraft are used, though mostly the 787-10. All 787-8 and 787-10 aircraft have the latest Polaris seats in a 1-2-1 configuration:
A handful of 787-9 aircraft still have the old B/E Diamond seats, like the 757-200, in a 2-2-2 configuration:
Thus, my advice is to book the 767, 787-8, or 787-10 to guarantee a Polaris lie-flat seat.
Bedding
This month, United has re-introduced duvets and larger pillows on premium transcontinental flights. These Saks Fifth Avenue-branded duvets are light and cool to the touch but keep you warm. You can also expect a fluffy pillow and a cooling foam gel pillow.
IFE + Wi-Fi
In-flight entertainment is available on seatback screens (movies, TV shows, games, music on-demand) and via streaming wi-fi on your devices. If you do plan to use your own device, make sure you have the latest version of the United app installed.
Wi-Fi is available for purchase on all flights at a flat cost of $8 for MileagePlus members and $10 for non-members.
Amenity Kit
A small amenity kit is offered, featuring an eye shade, dental kit, and ear plugs.
Food + Drink
United offers a three-course meal after takeoff followed by a snack before landing in business class on premium transcontinental flights.
Service begins with a choice of beverage and warmed mixed nuts on flights departing after 10:00 am (no nuts on breakfast flights), followed by a one-tray meal service.
Current choices vary based on the route, but have not changed in over a year. On breakfast flights, you can expect an egg dish like kale egg white bites or tomato and kale baked egg white with red pepper sauce or cinnamon French Toast. Meals are served with fruit, yogurt, and a croissant.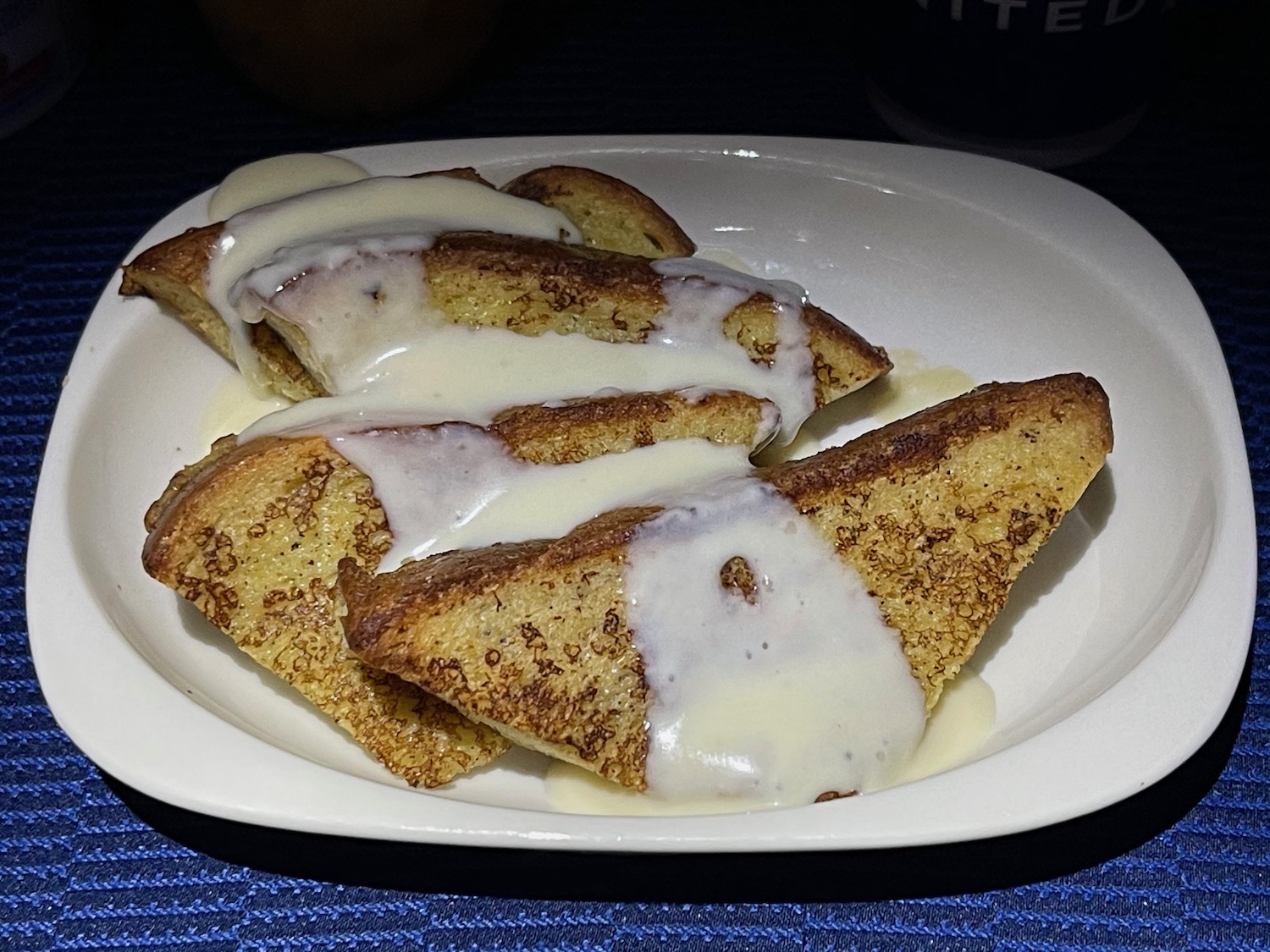 On lunch and dinner flights, you can expect a pasta dish (Cacio e Pepe ravioli or butternut squash ravioli) or a chicken-based dish (Thai chicken with coconut ginger sauce or grilled chicken with morel sauce). Each is served with a side salad, bread, and a packaged cheesecake.
Before landing on daytime flights, a light snack is served, currently a mezze with olives, hummus, tabouli, and grapes or a deli platter with strawberries, grapes, Swiss cheese, Cheddar cheese, sliced roasted turkey breast, and Genoa salami.
Before landing on redeye flights you can expect a warm croissant with preserves and yogurt.
Special meals can be ordered (Kosher, Asian vegetarian, gluten-free, and vegan).
CONCLUSION
This is the state of United's premium transcontinental product these days in business class. In terms of sleep, the most important thing is to choose your aircraft wisely. Bedding, IFE, and internet will be the same on all aircraft. Food will not be fancy but will be filling. I've flown this product numerous times this year and find it, for better or for worse, remarkably consistent.