We found ourselves unexpectedly at the Hyatt Regency Westlake in Westlake Village, California for a night and quite enjoyed the time together.
Review: Hyatt Regency Westlake Village, CA
After our tire blew out enroute to Santa Barbara, we canceled our reservation at the Mar Monte and booked a night at Hyatt Regency Westlake, which was the closely Hyatt hotel to the service center that repaired my car.
It was very late by the time we arrived. In the interest of time and convenience, we stopped at a grocery store across the road from the hotel and picked up some food for a picnic dinner in the room.
The room rate was $168/night. This is a category three Hyatt hotel, meaning World of Hyatt redemption rates range from 9,000 (off-peak) to 12,000 (standard) to 15,000 (peak) points per night. Even at peak level, it made more sense to book the cash rate.
Check-In
I was greeted by the night manager and thanked for my Globalist status. He upgraded me to the California Suite after confirming I would be only staying one night (the room was booked the following evening). We were assigned room 368.
The hotel has a large lobby that stretches down to the hotel restaurant and bar. It was quite crowded during check-in; there appeared to be a corporate holiday party of some kind going on, with a lot of real drunk people milling about.
The next day the lobby was full of people assembling for a big wedding. If you're looking for a tranquil setting, this hotel is probably the wrong choice for you.
Guest Room (California Suite)
Our room was located all the way down the hall on the third floor, room 368. 
While called the California Suite, there was only one large room…but it was a large one (550-square-foot). In one corner was the bathroom and open closet. In another was a living room area with a large L-shaped couch, chair, and coffee table. The room had only one king-sized bed, but the couch folded into the bed, which the kids utilized (although my daughter migrated over to our bed during the night, something we never allow at home).
The bathroom featured a large walk-in shower (it appeared the room was recently remodeled and the shower-tub combo was replaced with a walk-in shower, single sink, and toilet.
Shower amenities were from Pharmacopia.
Fitness Center
The fitness center was located in an annex just behind the restaurant terrace. Open 24/7 and accessible with a room key, it was a large space that featured both cardio and strength training equipment.
Swimming Pool
We spent a lot of time in the swimming pool…an added benefit to this hotel.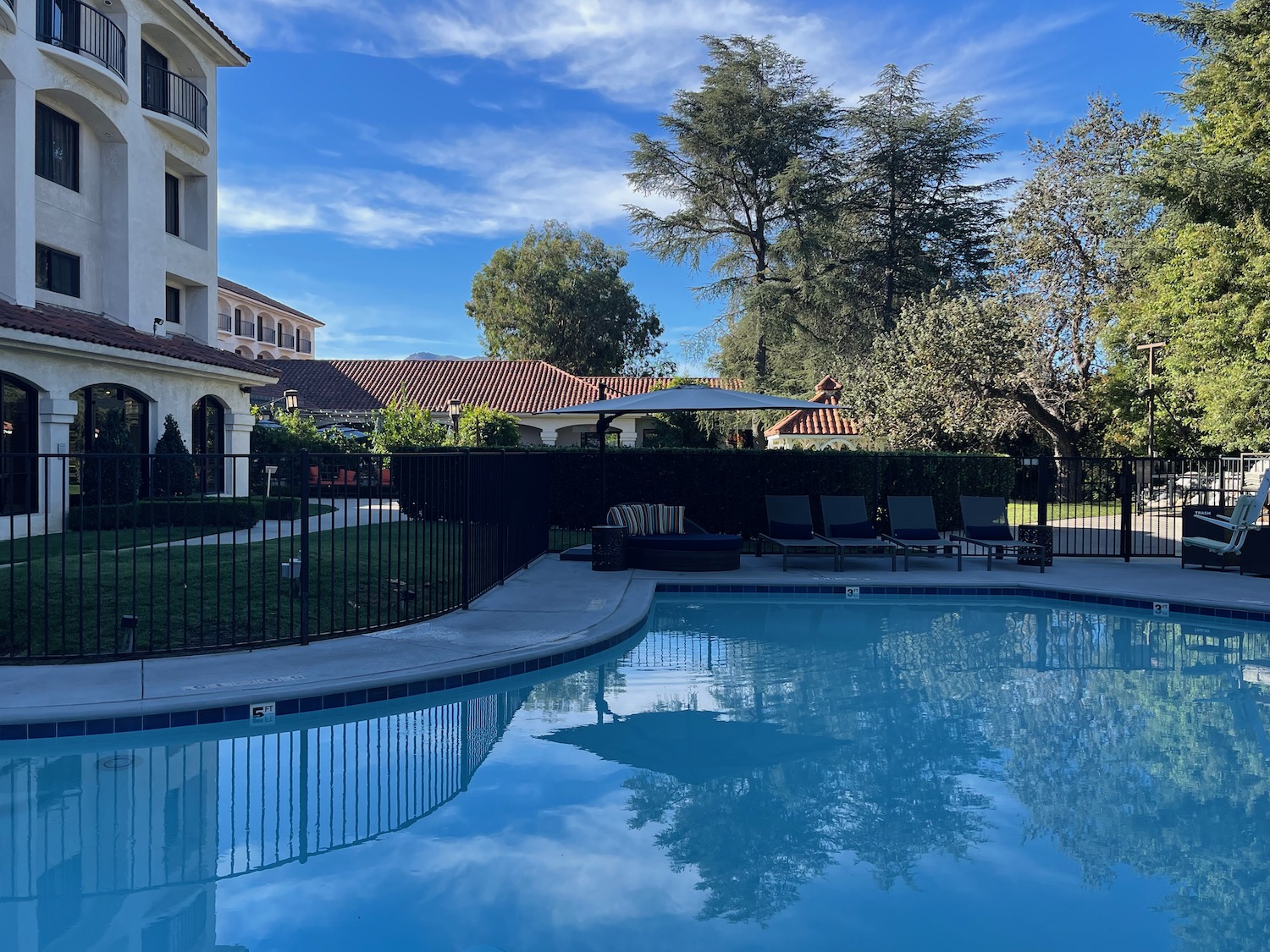 Grounds
This Mediterranean-style hotel is really intended to be used for conferences and weddings. There are several meeting rooms on the lobby level and a large grass area with a gazebo between the pool and fitness center that can accommodate weddings and wedding receptions (indeed, my own brother had a wedding rehearsal reception here).
At night, the trees are lit in various colors.
Coffee Bar (Grab and Go Station)
If you need coffee or a quick bite to eat in the morning, the Grab and Go station serves Starbucks coffee made-to-order (6:30 am – 11:00 am) as well as snacks throughout the day.
Harvest Kitchen & Bar
The hotel's main restaurant bad bar offers breakfast daily from 6:30 am – 11:00 am, lunch from 11:30 am – 4:00 pm, and dinner from 4:00 pm – 10:00 pm (the bar is open until 11:00 pm).
My Globalist status meant free breakfast for my entire family and we enjoyed a number of nice dishes including an egg white omelet, breakfast burrito, salmon frittata, and plenty of fresh berries.
The restaurant also has a very nice outdoor seating area.
Lunch/dinner menu:
Pet-Friendly
If you're a dog lover, this hotel will welcome you with open arms…for a $100 fee (for stays of seven days or less). Your dog must weigh less than 50 pounds. There's a pet-relief area near the pool.
Parking
Parking is complimentary and ample at this hotel.
CONCLUSION
The truth is there was nothing at this hotel that would make me come back to it. That's not an indictment, but it is close enough to home that I simply would not need to return for breakfast or swimming and the location isn't ideal like the Mar Monte in Santa Barbara, our favorite getaway. Nevertheless, all of us greatly enjoyed our night here and were thankful for the opportunity to check out this hotel so close to home.