My dear readers, some links on this site pay us referral fees for sending business and sales. We value your time and money and will not waste it. For our complete advertising policy, click
here
. The content on this page is not provided by any companies mentioned, and has not been reviewed, approved or otherwise endorsed by these entities. Opinions expressed here are the author's alone.
Hyatt has added more than 100 all-inclusive hotels in the last two years, but the greatest so far might just be Impression Isla Mujeres by Secrets. This is not the typical Cancun all-inclusive.
---
If you are considering booking travel or signing up for a new credit card please click here. Both support LiveAndLetsFly.com.
---
If you haven't followed us on Facebook or Instagram, add us today.
Location
Impression Isla Mujeres by Secrets is one of just two such premium Secrets resorts. Isla Mujeres is an island 30 minutes across the water opposite the busy Cancún hotel zone. The property is at the south end of the island which features coral reefs, and is a short bike ride away from the famed Isla Mujeres point, the site of Mayan ruins and its fertility goddess. The south end of the island is mostly residential, underdeveloped, and a good 30-minute drive (longer in a golf cart) to the north end madness near the ferry terminal from Cancún. It's quiet, it's both preserved and reserved.
Address: 009, Manzana 055, 77400 Quintana Roo, Q.R., Mexico
Phone: +52 998 234 8190
Arrival
As a guest of the hotel, arrangements with Amstar (now a division of Hyatt) were made. A staff member met me outside of customs with my name on a placard and took me to a waiting Lincoln Navigator SUV, brand new and pristine. From there, I was taken on a 40-minute car ride that arrived neither at the congested hotel zone nor at the ferry terminal.
Entrance to the Hyatt Inclusive Collection is made by private yacht, in my case I arrived initially on a catamaran from a private marina in Cancún well away from the throngs of tourists for the ferry and a course was charted directly for the resort whereby my butler was awaiting me on the resort's dock, a bellman accompanied her to gather my things.
Drinks and snacks were offered throughout every point of contact (car, marina, onboard, and at check-in.) It set the tone for the best all-inclusive Isla Mujeres has to offer.
Property
Built in the style of a Grecian resort, the stone edifice naturally climbs the hillside. At the base is the semi-enclosed beach (water flows freely under the dock.) The dock rises slightly to a landing check-in lobby (for those who have arrived by boat, there is another reception pictured below for guests who might have come via the ferry and landside entrance.)
A drink was waiting for me as a mocktail, liquor could be added to my specification, and my butler joined me up the stairs. A bellman brought my bag up to the room separately.
Throughout the adults-only all-inclusive property, sharks are a theme with beaded sculptures filling public spaces. Preserving sharks in their natural habitats is a passion of the property's owners.
Stone features and elements of the sea adorn the public spaces, open and breezy with the sea air floating between corridors.
Pools/Sea
There are three pools plus the beach area. On the rooftop, an infinity pool offers maximum sunlight during the day and runs the length of the building with stunning views of the ocean. A large pool off the lobby level features its own dedicated bar opposite the restaurants with hanging rocker seating. A third pool and hot tub is further down the stairs but still above the beach level, hidden away for a more natural feel complete with a waterfall.
A sizable waterslide spills out into the beach but is only available from 3-4 pm daily. Other water sports including stand-up paddle boards are included in the stay.
Loungers, umbrellas, and built-in hammocks around the beach accompany service from staff tending to beachgoers. The immediate area in front of the property is a white sand beach, but coral reef is nearby and the beach is not extensively soft sand outside of this area.
The rooftop Infiniti pool is also home to events during the evenings. Sunscreen and bug spray are offered by the resort in convenient locations near swimming areas.
Fitness Center
The fitness center is located on the second floor and features a variety of types of equipment. There are a number of cardio-focused pieces of equipment as well as some impressive strength equipment too that exceed typical free weights. There were a few using the machines on our Saturday morning tour, but many opted to jog to the south of the island or use the provided bicycles.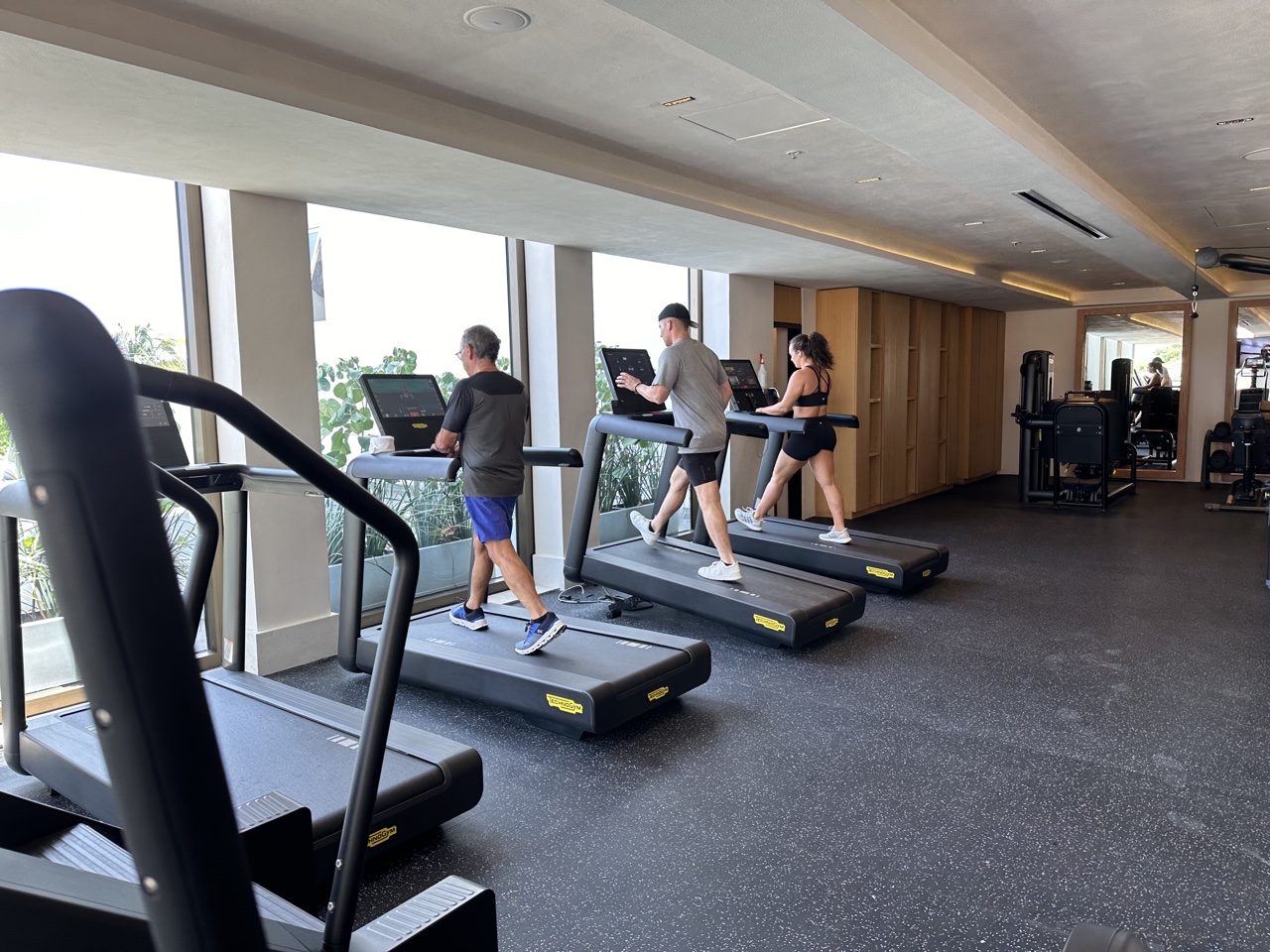 Amenities
The free wifi worked everywhere I was in the resort and a little bit off-site too. This was particularly impressive on the beach.
One of the most exciting features that Impression by Secrets Isla Mujeres offers is butler service. I was looking for opportunities to utilize this offering during my short stay. One thing the butler was able to assist with was my departure information and scheduling a spa appointment. Another was arranging laundry services handled by the resort. To test this service, I brought wrinkled, but clean shirts with me that needed pressing, and the clothing I wore on my inbound travel day. Standard return times are 48 hours but given my short stay, my butler got this expedited.
The property lists the following amenities:
Dedicated butler service
24-hour in-suite dining
24-hour concierge service
Private, furnished balcony or terrace
Luxury linens and bath amenities
In-room wine refrigerator stocked to preference
Twice daily refreshed mini-bar
In-room personal fitness equipment upon request
No check-in or checkout time (subject to availability)
Complimentary Wi-Fi and worldwide calling
Unlike other all-inclusive properties, everything I encountered except for the spa was included. Top-shelf liquors were available and while this might be something of the past, there are no slips to sign.
Benefits
Globalists would usually enjoy benefits that other guests do not, but at an all-inclusive with no check-in and check-out time and every room a suite, what can be done? Globalists might still be granted an upgrade to a better room but there's not a lot more to offer.  My luxury travel agency is one of the few approved to sell Hyatt Privé rates and those benefits often mirror Globalist benefits but with a couple of exceptions.
HYATT PRIVÉ BENEFITS
Benefits for this hotel require a four-night minimum length of stay.
$100 USD Property Credit
Welcome Amenity
Guest Welcome Letter
Early Check-In (already a benefit)
Late Check-Out (already a benefit)
Hydrotherapy Access
Restaurants and Bars
There are more restaurants, bars, and lounges than the ones I will mention below, but I don't see the check-in bar on the dock that is only used once upon arrival and once upon departure as a separate venue. A number of the pools have their own bars (even swim up bars), but to me, so long as someone is walking around to deliver food and beverages, I don't really distinguish between them.
The following are the lead venues for food & drink, some of which I was able to enjoy though not all of them during my short three-night,  four-day stay.
Spezia (Mediterranean)
My group had a dinner with separate entrees and shared appetizers. The restaurant was modeled as "Mediterranean" but everything our group ordered was Italian. Located halfway up the stairs from the beach, the indoor/outdoor restaurant delivered excellent Italian cuisine. There was a sunset on the patio that was the perfect way to end an evening.
WildFire (Steakhouse)
The steakhouse was available during my stay at will, though the property recommends reservations. As I mentioned, I was there with a group and we experienced a custom menu that allowed us to sample a variety of dishes on the menu. Sadly, the lighting was not conducive to nonchalant photography and I am not one to turn on a flash in a dark restaurant so not everything is pictured. The flank steak was excellent, and my favorite item, though the Tabasco pepper ice cream was inspired.
Cafe (24-hour)
Opposite the reception desk on the main floor lobby, the cafe offers to-go sandwich items, healthy alternatives like fruit or salads, ice cream, and coffee. Pastries and treats are available at other times during the day and the skill of the patisserie is incredible.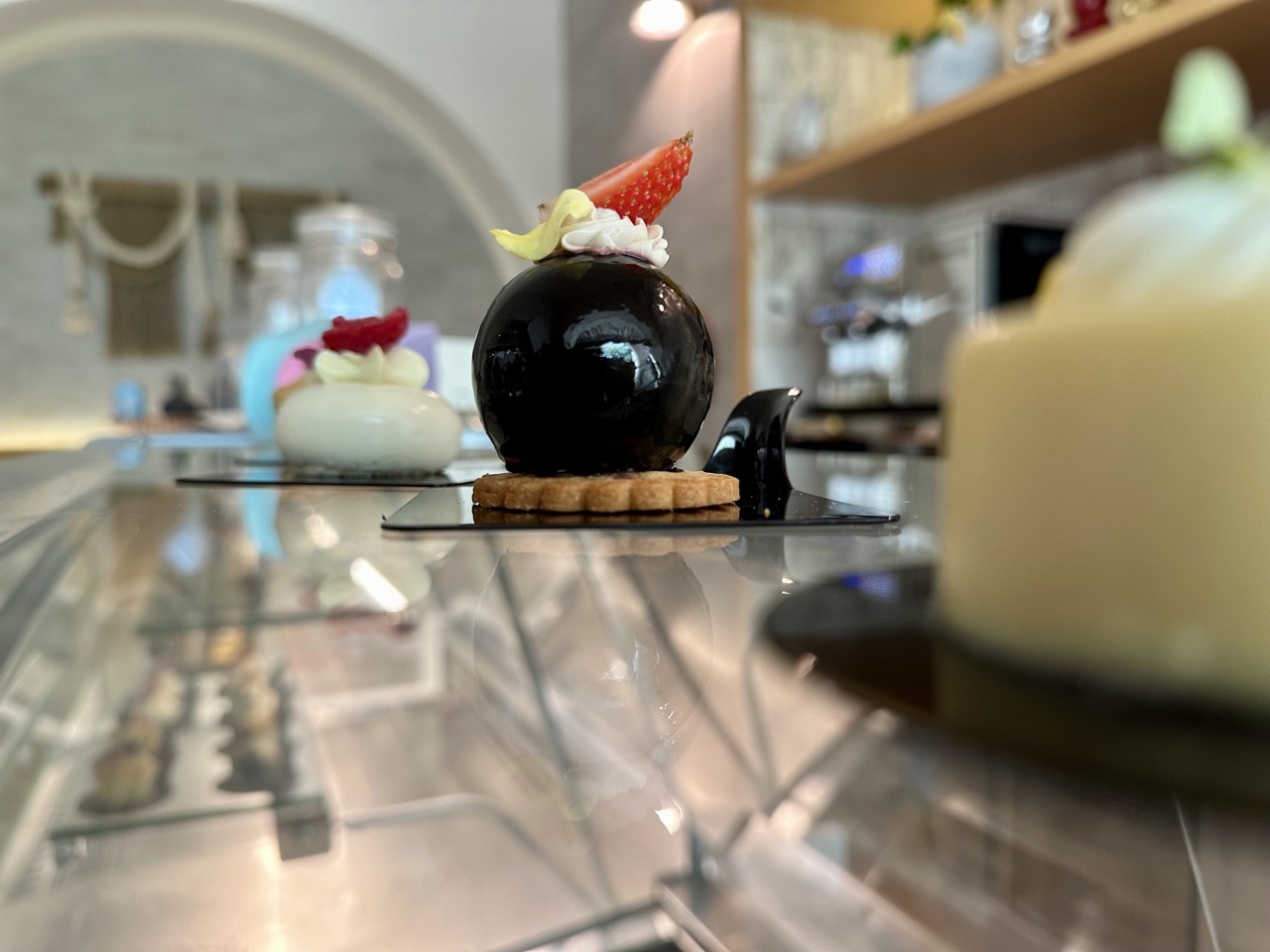 Room Service
I had some morning meetings and conference calls during my stay so I opted out of breakfast in Mercado in favor of room service. I ordered both international and Mexican breakfasts to try it out, but honestly, I would prefer just the Mexican items and highly recommend it. The French Toast was fine, but obviously, the Mexican food was exceptional. Don't be like me, order only the Mexican breakfast items on room service.
(also, the room had snacks upon check-in and replenished throughout my stay.)
Below, Chilaquiles, french toast, and bacon, and a juice-of-the-day.
On another morning, I tried the enchiladas.
In the bathroom, there's a "secret" cabinet that allows staff to collect dishes without entering the room but hides them away from the guest's living space.
When ordering room service, this can be done on a tablet at the bedside table. Delivery times are quoted at 30-40 minutes but there's an option a guest can select or not, t0 confirm the order with a call. I tried it once with the call and once without. If you request the confirmation call, the timer starts at the conclusion of that call and it can add some delay.
The Temple (Cocktail bar)
One of the most prominent bars, Temple is the perfect place to catch a sunset. During my stay, there was a Mayan ceremony with authentic chocolate served along with some bites from around the property.
This four-meter-long whale shark beaded artwork took a small army to move.
Sake (Japanese)
I wanted to eat at Sake but my group had other plans. I wanted to order Ramen, I wanted to order sushi, I wanted to at least try everything on the menu – literally. I didn't get that chance. C'est la vie.
Isola (Lobby bar)
A few events took place in Isola, one of the larger lobby bars. An impressive array of liquors, particularly high end tequilas and mezcals, kept this bar busier than most after hours.
Mercado (Breakfast and lunch)
As mentioned, I didn't get a chance to eat at Mercado but the restaurant toward the top of the stairs up to the hotel focuses on breakfast and lunch. There's a wood-fired oven with pizzas fired continuously throughout the afternoons.
Unik (International rooftop)
The rooftop was a main draw during my stay. Unik is split between the restaurant on one side, and the bar on the other. In between the two are seats and tables and the infinity pool that spans the length of the building. After dark it mostly turns into a club scene with a DJ but special events like a "fire show" night happened during my stay too.
Food on the rooftop was light fare for around the pool. I tried ceviche and fish tacos. Admittedly, I am a harsh critic of fish tacos and haven't really found any that I like – these were excellent. In fact, both were exceptional.
Excursions/Activities
Impression Isla Mujeres offers a full range of activities and entertainment. I wasn't able to enjoy all of the options but here is a small sampling of those on my schedule.
Chocolate Class
An authentic chocolate making class complete with its history was an interesting change of pace. A passionate chocolatier – though more of the bitter and organic chocolate than a sweet candy bar – recounted its discovery, the etymology, and the process. We peeled cacao beans and processed them before adding vanilla and some sugar in the raw. We tried both formed and as a drink.
Bicycle Ride
My group took an electric bike ride one morning. Due to the heat, this left at 8 AM and lasted about 90 minutes with a few stops. This was my first time on an electric bike and while the electric bike stored energy and assisted during the ride, it was still a challenge for just about everyone in my group.
The guide took us to the southern tip of the island where the Caribbean meets the bay and the Mayan ruins for which the island is named. We also stopped by a local cemetary which was prettier and more educational than it might initially sound.
Snorkeling
Another morning, snorkeling was available, again very early in the day. Candidly, I was up late writing blogs for this site and didn't wake up for it, so here is a photo of other snorkelers.
Signature Junior King Ocean View Suite
The sandstone suite and muted earth tones reminded me of an old favorite in Mexico, an Airbnb my family loved. I felt instantly at home.
Bedroom
The suite was a long rectangle facing the sea. The bathroom was to the right upon entry and the room opened up to a sunken sitting space, living room before the patio. The outdoor space included a hamock and hot tub though with temperatures searing during the days, the hot tub was never used during my stay. The views of the Caribbean sea in the morning is just one reason why the property is perhaps the best Isla Mujeres all-inclusive resort.
The suite offered premium technology features, including high-end speakers, a flat-screen tv, and a Nespresso coffee machine stocked and restocked daily or as needed.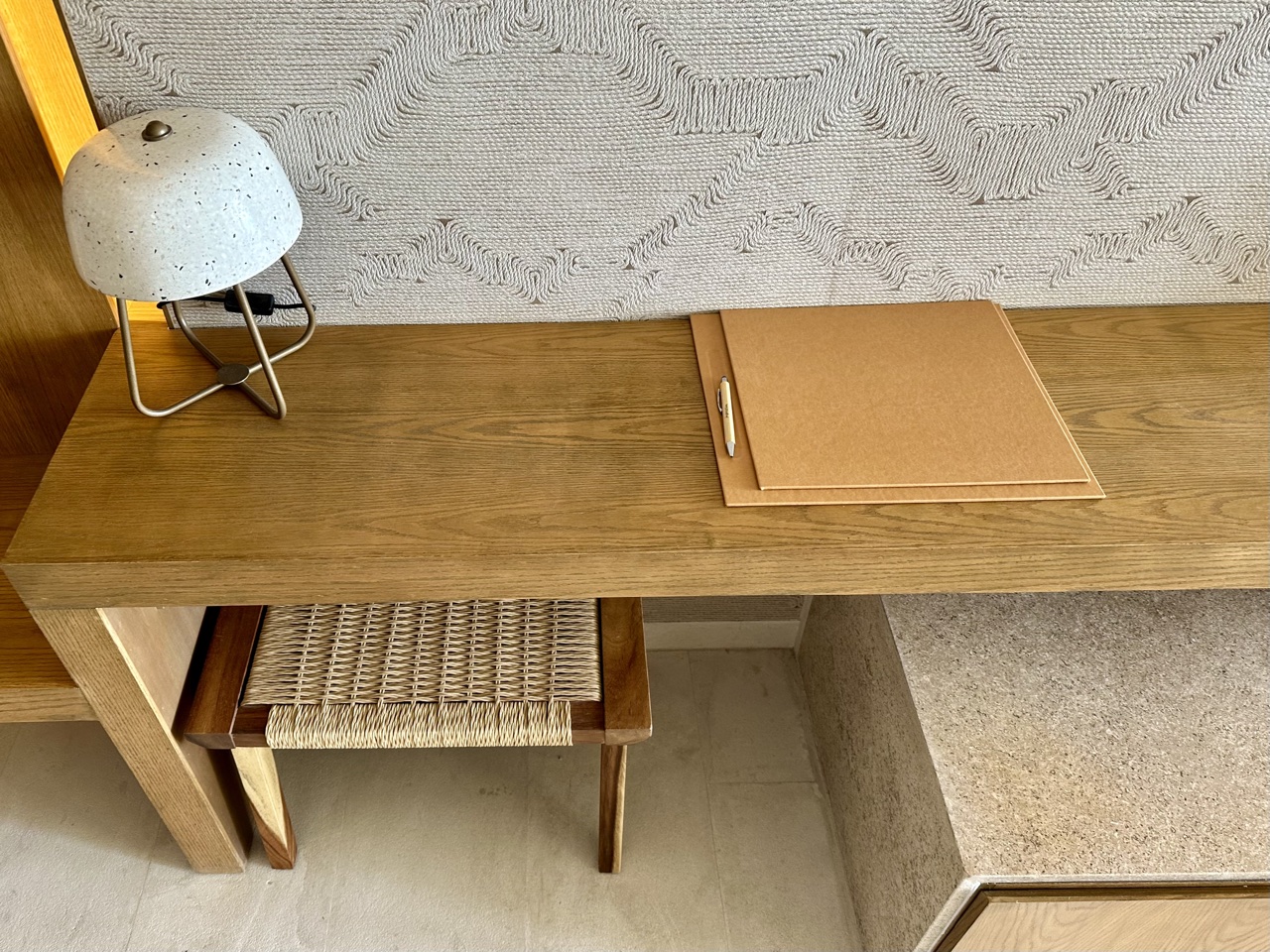 Separate from the mini-fridge was a wine fridge that came with a white, red, and sparkling. Custom stocked wines could replace these upon request.
Bathroom
The bathroom had a split utility as the walk-in closet ran opposite to the double vanity.
Like many premium hotels my family has visited in Asia, the large walk-in shower with seating has a view all the way to the sea. For privacy, a shade can be lowered. The shower had a pair of rain shower heads as well as a handheld sprayer. Le Labo bottles were affixed to the wall.
Balcony
The view from the balcony was incredible. Catamarans and yachts gently sailed by some of the clearest turquoise waters I have ever seen. In the far distance, hotels from Cancún could be seen a world away. I didn't spend much time here on my short stay, but it could be a key strength of the suite during a longer stay.
In some seasons I could see the advantage of a hot tub but a plunge pool would have been more useful during my stay in August.
Value
I'm not sure if other all-inclusives resorts in Isla Mujeres rises to the standard evident throughout the property, but in the case of Impression, every detail made it feel top shelf.
Impression Isla Mujeres by Secrets is a premium all-inclusive, in fact, just two exist in the chain so far. While rates may be offered from time to time from the low $600s/night, most of my sample searches suggested rates of $850-1,100 depending on the timing, room type, and number of guests.
Entry-level junior suites start at 42,000 World of Hyatt points nightly. Live And Let's Fly gives Hyatt some of the highest value points in our annual evaluations because of the value they represent. We value them at approximately 2¢/point which would make the breakeven point on this redemption $840/night. That's about even if not a little better value than standard, however, when applying a second guest (all-inclusive properties must have an accurate head count per room given the additional food & beverage) the value is far better with points than with cash. This is among the better values in the Hyatt system for some dates.
In all, my stay was fantastic. The separation from Cancún while maintaining the convenience of the Cancún airport is a huge advantage. I can't wait to return to Impression Isla Mujeres by Secrets.
What do you think?