The Qatar Airways Al Mourjan Business Lounge in Doha (DOH) remains a superb lounge and is now open to all oneworld business class travelers. I recently spent several hours here prior to my Qatar Airways flight to Copenhagen and again prior to my American Airlines flight to New York and think this lounge is getting better and better.
Qatar Airways Al Mourjan Business Lounge Review – Doha (DOH)
First, the downside. This 24/7 lounge can get very crowded. For my most recent visit, I was in the lounge from about 8:00 pm to 11:00 pm, which is a very busy time ahead of the overnight departure bank. In the past, this lounge was reserved for Qatar Airways' own business class passengers only. Now, this lounge is open to all oneworld business and first class travelers. That is a welcome policy change, though it does make the lounge even more crowded.
During my spring visit, however, I was in the lounge a bit earlier and found the lounge virtually empty: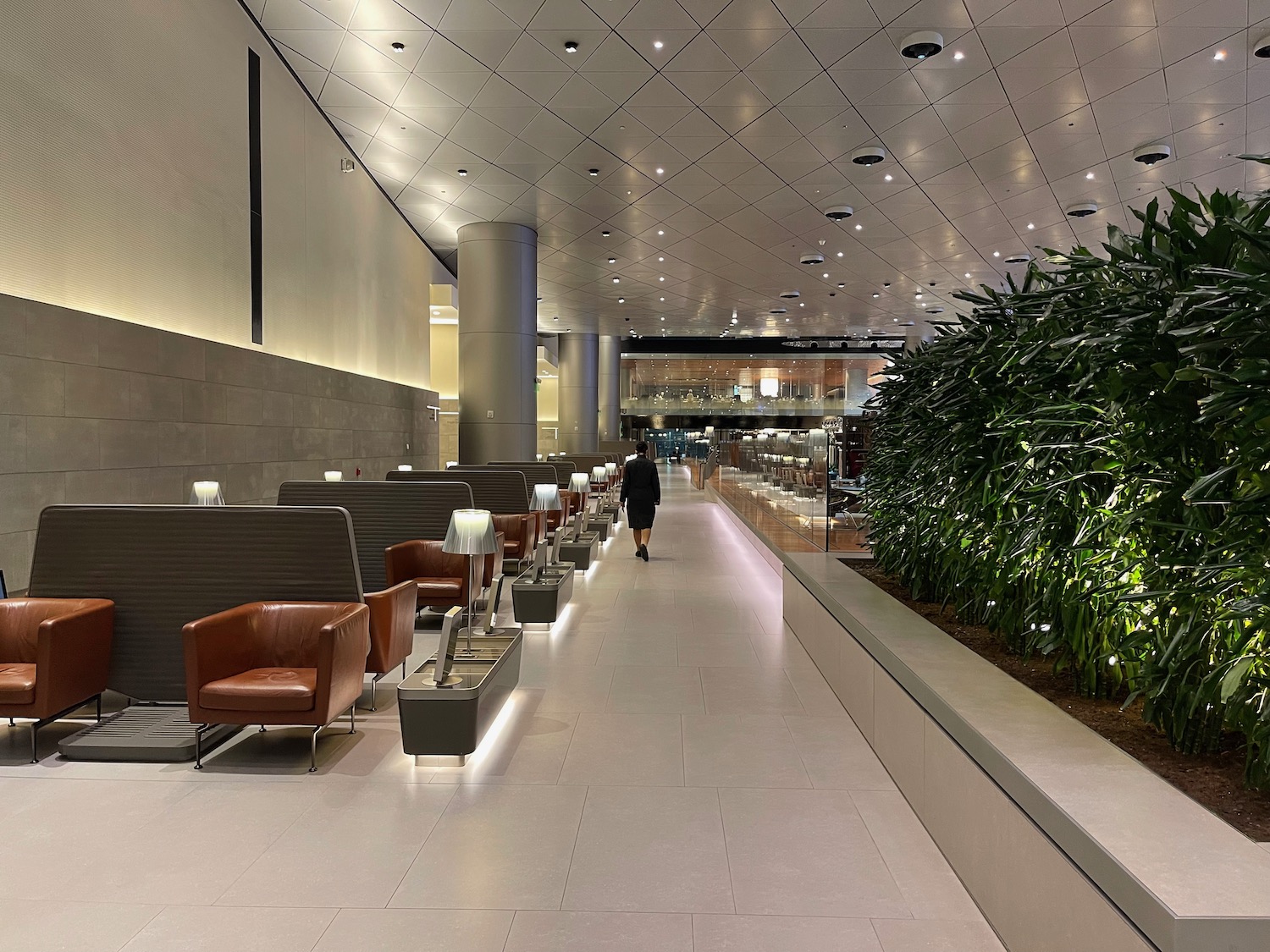 For both visits, I headed upstairs to the restaurant, intending to lightly snack before my flight, but ultimately enjoying a superb multi-course meal. The food here is excellent.
This restaurant gets very crowded as midnight approaches. In fact, many passengers were waiting for tables to open when I arrived. I was seated immediately because I was solo and assigned a small table for two.
The restaurant offers both a buffet and a la carte dining.
Here's the current a la carte menu:
As you can see, it includes a wide variety of choices on par with a first class lounge. Current Champagne choices are Charles Heidsieck Champagne- Rosé, France and Philipponnat Champagne Royale Reserve Brut.
During my visit, salmon and risotto were on the menu and both were beautifully presented and delicious:
During my prior visit, I ordered a steak, which was well-done, but otherwise beautifully presented and delicious:
The buffet includes a salad bar, sushi bar, Arabic mezze, a number of hot dishes, and decadent desserts.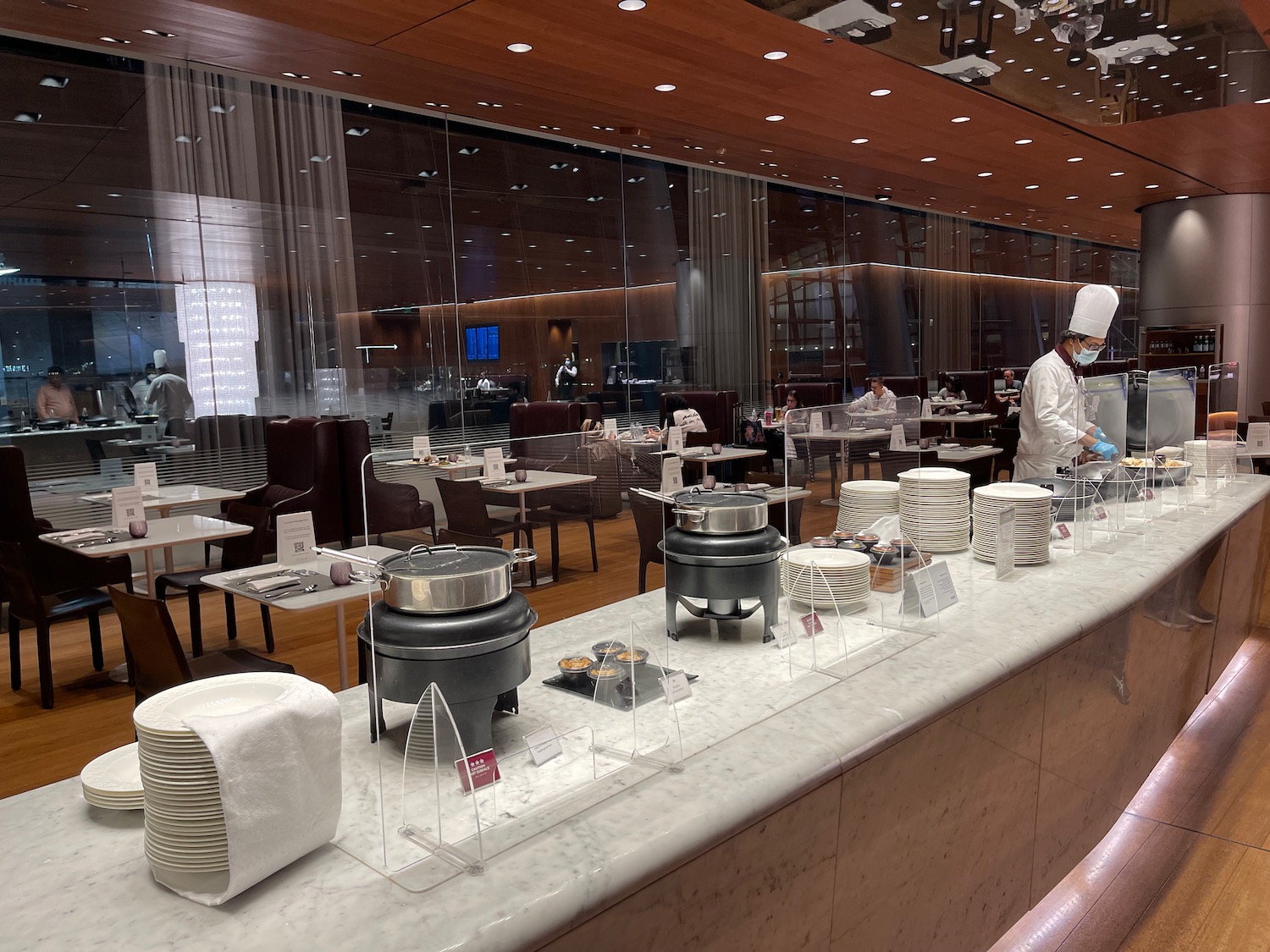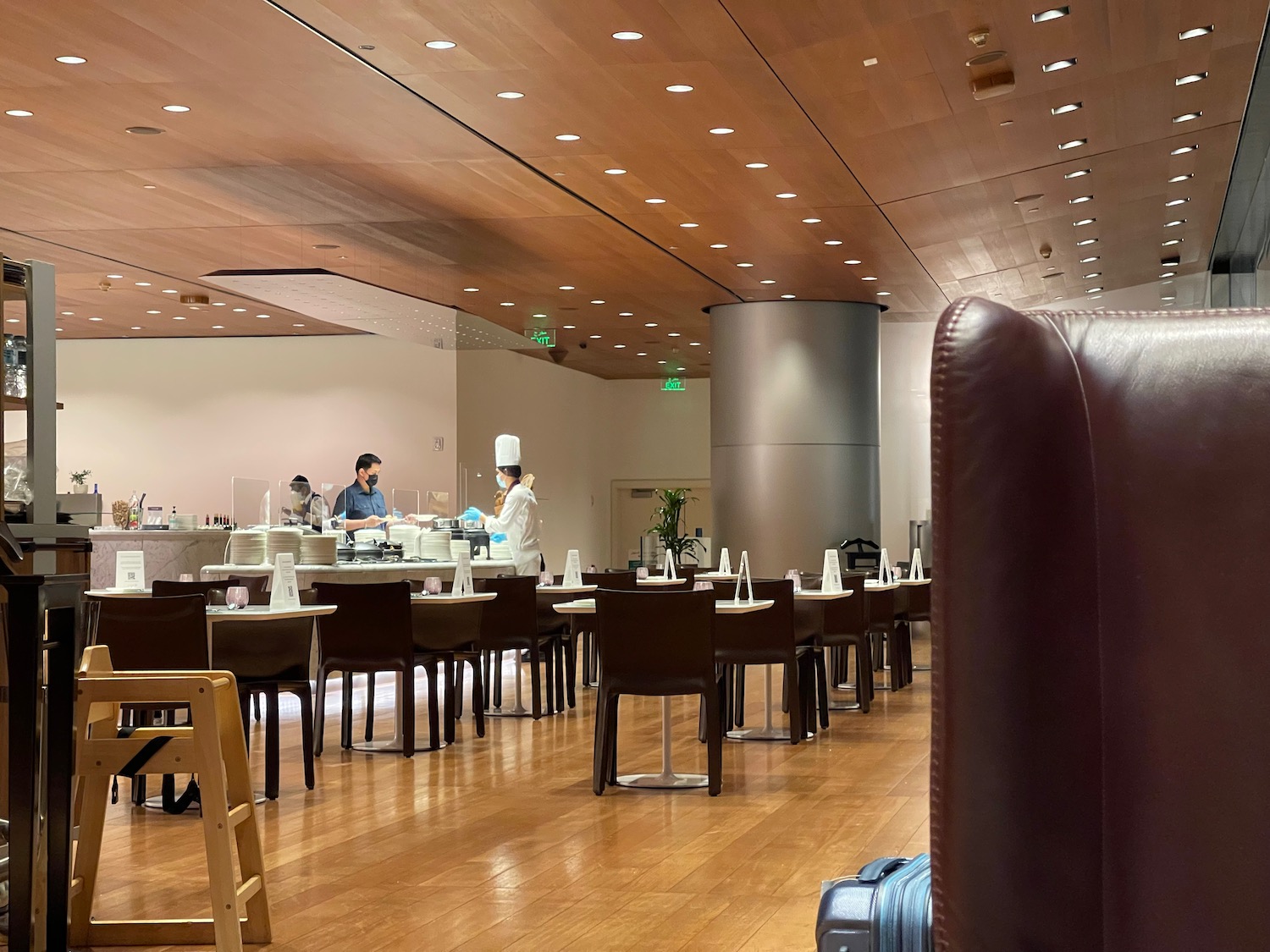 During my recent visit, I had a falafel sandwich, some tabouleh, and the highlight of the meal: herb-encrusted lamb loin. What a feast! Avoiding alcohol in order to avoid jetlag, I enjoyed a glass of freshly squeezed orange juice and a glass of mint lemon juice with my dinner. To finish, I just had a few blueberries…I was about to eat onboard after all.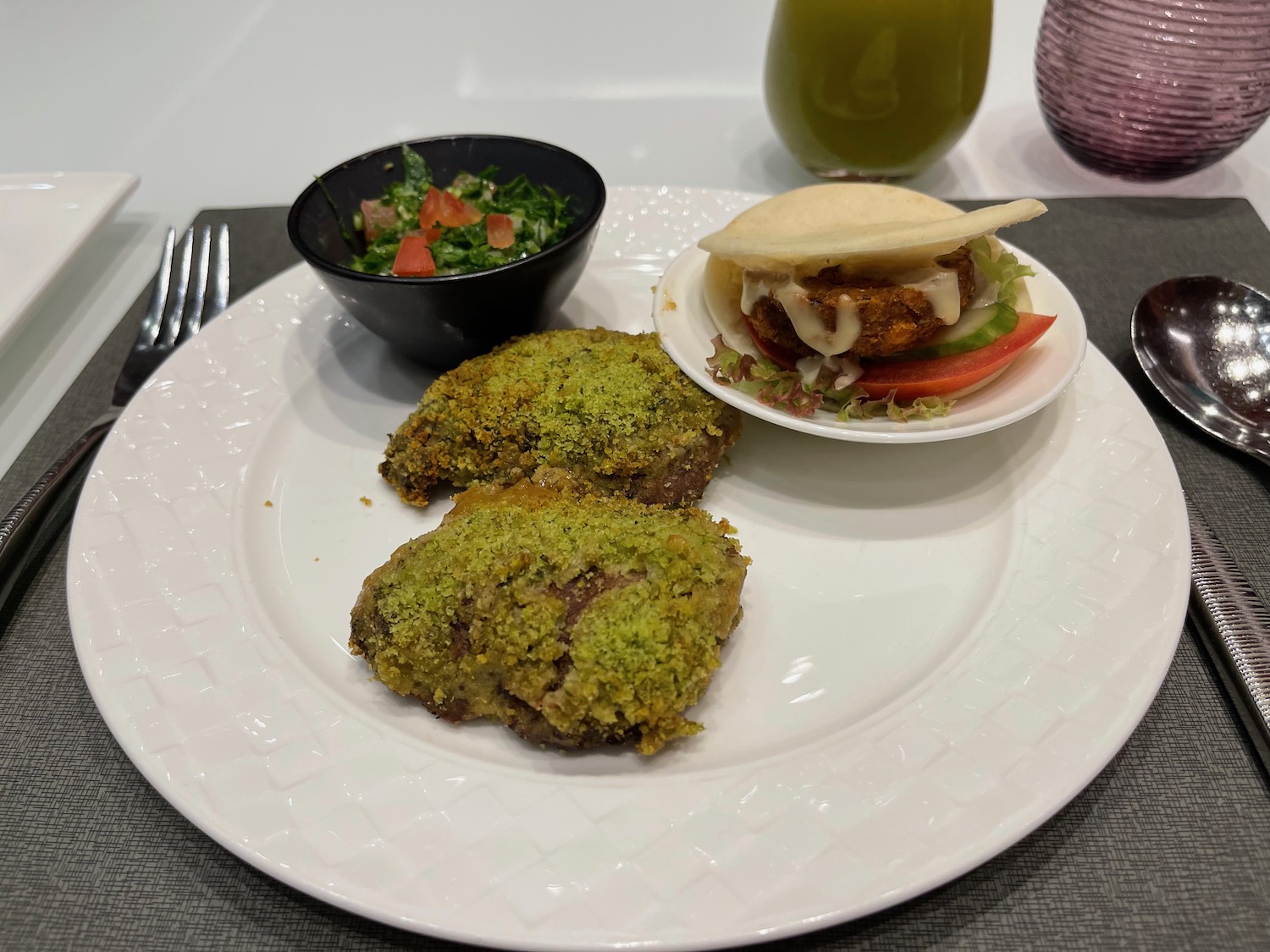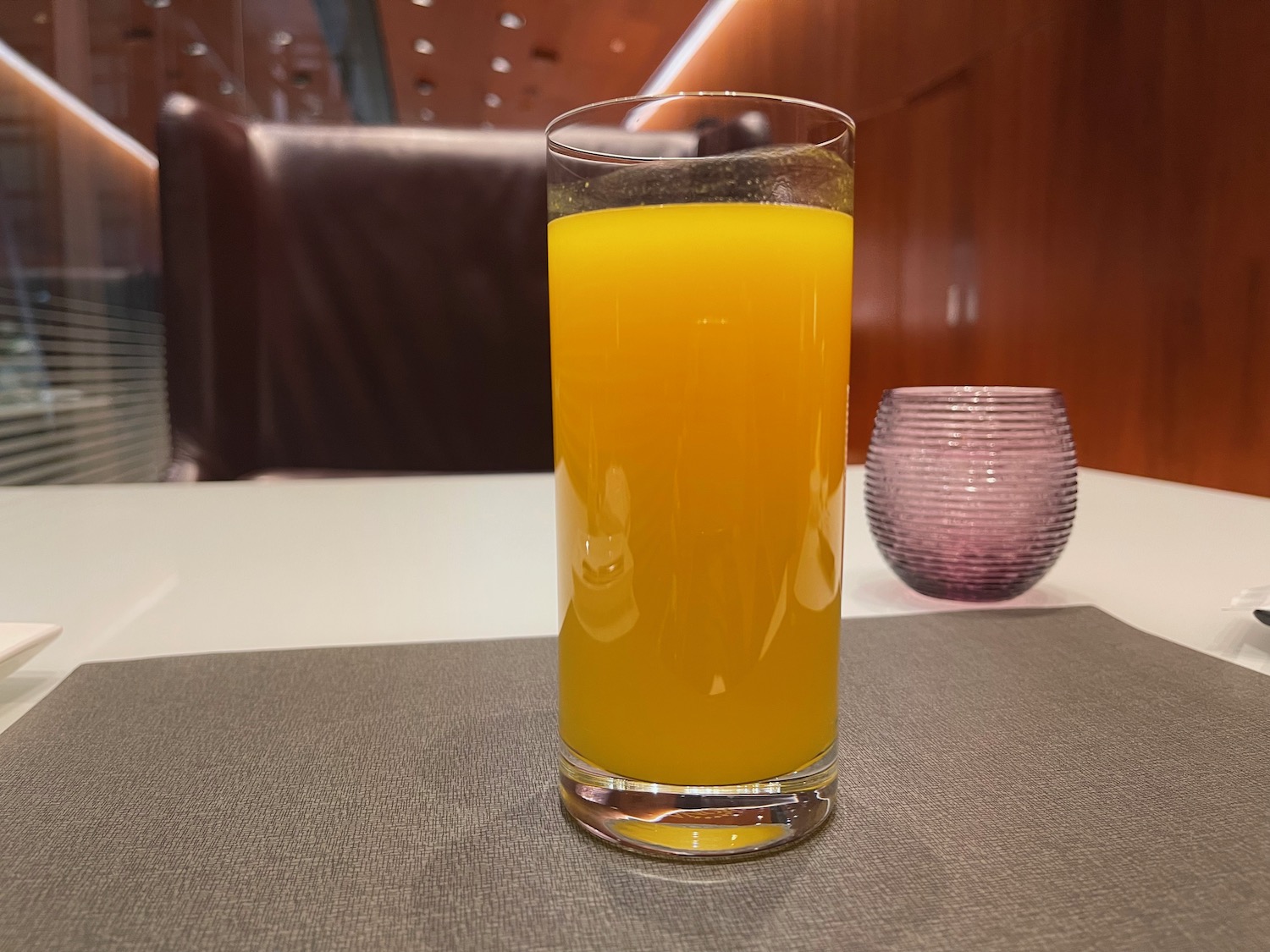 Service was attentive and I was brought a moist towel before and after my meal.
During my prior visit, I had more mezze but the highlight was the lamb loin:
On the other side of the lounge is a café with sandwiches made-to-order and lighter food like salad and soup.
During my spring visit, I even took a 90-minute nap in the relaxation area (there's a separate sleeping area, but it was full, though I thought the first-come, first-served lounging area quite sufficient).
The restaurant is the real highlight of this lounge, but the Al Mourjan lounge is a great place to spend your layover and enjoy a hearty meal before your flight if you wish to maximize sleep onboard your flight.
My original review below was published on August 8, 2017 and is still relevant.
---
Qatar Airways has a tremendous lounge in Doha that is in the running for the best business class lounge in the world.
We had a couple hours between our flight from Casablanca and connection to Colombo, giving us a chance to return to Qatar's excellent Al Mourjan Business Class Lounge. This was not my first visit, but this is the first time I've posted a review.
The lounge is massive. And spacious. And minimalist. That is a winning combination.
I took a lot of pictures — good pictures, I think — and so this will be more of a photo tour than overly descriptive. But a couple thoughts.
First, the staff was very kind. I had a long conversation with the Sri Lankan chef about life in Doha and flight benefits. Every staff member I encountered seemed anxious to serve.
Second, the lounge is not designed for sleeping, but it's not a bad place to spend an overnight layover. Qatar Airways now offers free hotel rooms for transit passengers, but there are worse places to be stuck than a 24/7 lounge with two restaurants, a well-stocked bar (though Krug is no longer served…) and and plenty of seats to relax in.
Here's a look at the amazing lounge:
Qatar Airways Al Mourjan Business Lounge Seating
I hope my pictures make clear the enormous scale of this lounge: it seats over 1,000 guests.
Qatar Airways Al Mourjan Business Lounge Baggage Room
Need to store your bag? Combination lockers are available.
Qatar Airways Al Mourjan Business Lounge Smoking
The pictures below were the two hardest to get, as the smoking lounge (as one might expect in the Middle East) was typically very busy.
Qatar Airways Al Mourjan Business Lounge Prayer Room
For Islamic guests, prayer room is available.
Qatar Airways Al Mourjan Lounge Business Center
The business center is huge! Computer work stations, printers, and even a a large conference room is at your disposal.
Throughout the lounge, automated departure boards keep you updated on your flight. There are no flight departure announcements…or loud music for that matter. The lounge is beautifully serene.
Drink stations are also located all over the lounge so you can always stay hydrated.
Qatar Airways Al Mourjan Lounge Game Room
If you need a break form the kids, a game room should keep them occupied.
Qatar Airways Al Mourjan Business Lounge Dining
The lounge has two main dining areas — a café that serves sandwiches and a main buffet/bar upstairs.
The café offers tremendous sandwiches made-to-order.
Proceed upstairs to the main dining room where there is sufficient seating for several hundred and a 24-hour buffet of food from around the world. The bar is also always open.
Qatar Airways Al Mourjan Business Lounge Showers
Showers are available on a complimentary basis.
Other bathrooms are located throughout the lounge.
CONCLUSION
I think you'll agree this is an amazing lounge on so many levels. Just putting this together today makes me regret not leaving more time to layover on my upcoming Qatar Airways trip.