We spent the night at the Sheraton Gateway Los Angeles Hotel at LAX. While this hotel has seen better days and I greatly prefer the Hyatt Regency LAX a few blocks away, we were thankful for the impromptu staycation after a flight cancellation.
Sheraton Gateway Los Angeles Hotel (LAX) Review
After our Air France flight cancelled, the station manager wrote out an old-school hotel voucher for us:
Shuttle
We then took a shuttle to the hotel (we had to wait about 12 minutes), arriving about 7:00pm. We sat in horrid evening traffic going around the horseshoe at LAX and to the hotel. Like a parking lot, it took 20 minutes to get to the hotel…less than a mile away. It was also a very busy time and the lobby was full of people.
Check-In
Comically, while checking in it took the agent several minutes to fill out 12 meal vouchers cards (four for dinner, four for breakfast, four for lunch). What a waste of time and resources…why not just allocate the dining credit to my room and let me charge against it? I did ask this and the agent explained, "We do think the old way here." Clearly.
We actually could have each and our own room, but we opted for just two rooms with an adjoining door. Heidi and I were assigned a room with a queen bed while the kids each had their own double bed.
The hotel has seen better days and I thought the common areas on the guest room levels looked particularly dated. There was a horrible wait for elevators.
As an aside, I was a Marriott Platinum member at the time, but because we were staying on an Air France vouchers I was told that my elite benefits would not be recognized (therefore, no lounge access).
Room
Unlike the common areas, the rooms appeared updated and were quite comfortable. Power outlets were plentiful, the internet functioned well, and I appreciated the sitting area which allowed all of us to sit together in our room.
The bathroom  was also refurbished, with the bathtub replaced with a walk-in shower.
Shower toiletries were in bulk containers from Gilchrest & Soames.
Augustine created a "to-do" list for us. He spells better than I do…
Dining
Using our meal vouchers, we had both dinner and breakfast at the hotel.
Dinner @ Costero California Bar
We ordered four different dishes. I had chicken tacos (far too much sour cream), Heidi had a salad with salmon, Augustine had an Asian-inspired chicken and rice dish, and Claire Marie had pasta with ratouttile. I thought the food was of low quality (the salmon was just not great Augustine's chicken was full of gristle), but at least we filled up and did not have to go out in the rain.
Service was not great, though not because the waiter was hostile but because he was working far too many tables. It seems that hotel restaurants are chronically understaffed. My voucher did not include a tip, so we left a cash tip at the table.
Breakfast @ Brasserie
We ate a late breakfast at Brasserie. The restaurant was not full, but we ended up waiting 45 minutes for a table. Augustine chose the buffet (a very basic buffet with eggs, bacon, sausage, oatmeal, cereal, bread, and pancakes) while Heidi and I ordered an omelet and berries off the menu. Claire Marie just ate off our plates.
Service was well-intentioned, but also incredibly slow. Waiting 45-minutes for a table demonstrates a great deal of inefficiency, but the empty tables made sense considering the lack of staff.
Starbucks
For those who don't appreciate good coffee, there is a Starbucks I the lobby. 😉
Pool
An outdoor pool was closed due to the rain.
Fitness Center
Heidi and I took turns going downstairs to workout while the other kept the kids occupied. The gym included cardio and strength training equipment and was not empty but also not crowded.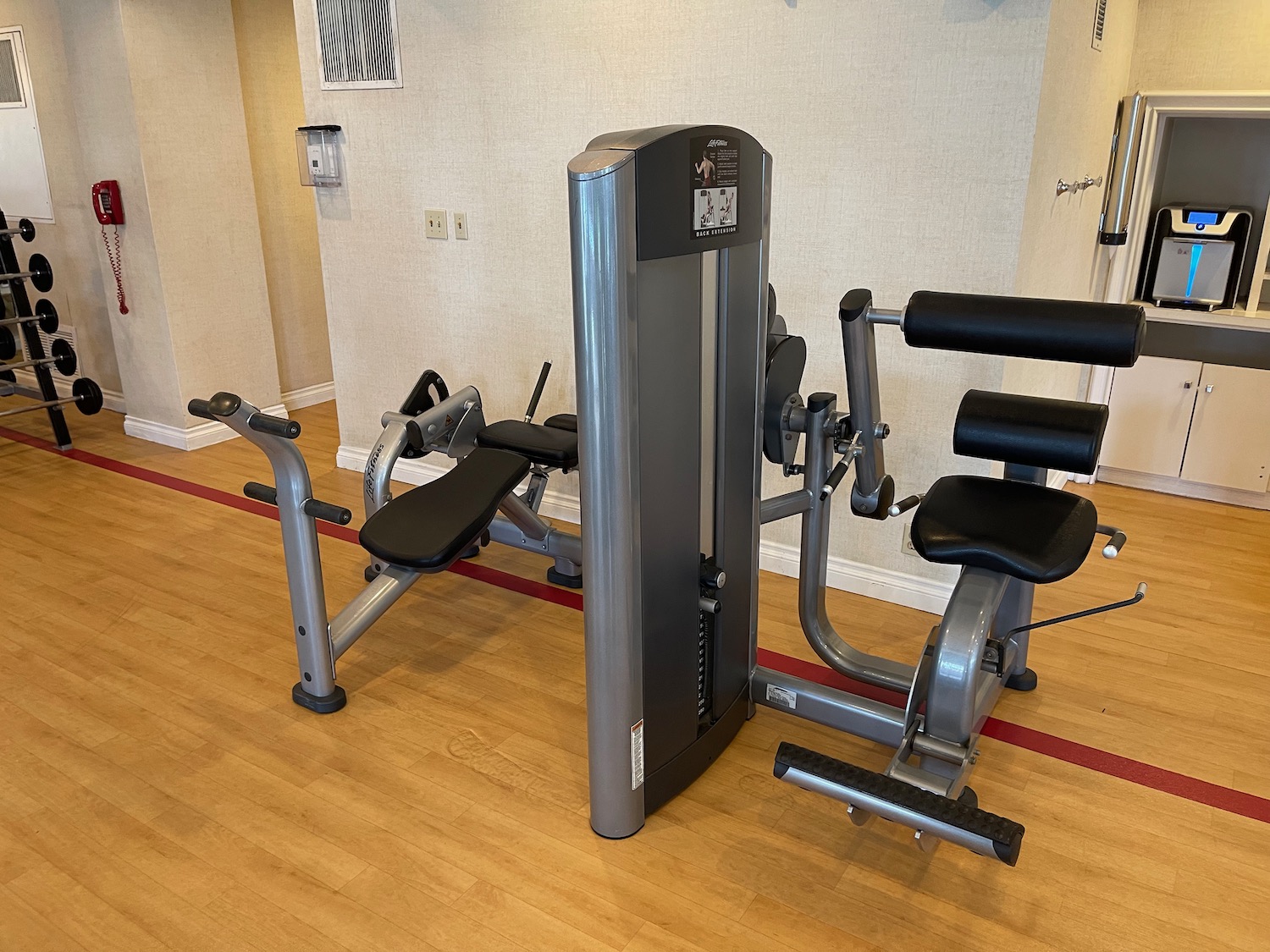 Business Center
A business center near the bar include two computers and a printer, but the printer was out of toner…
Gift Shop
If you need any last-minute LA souvenirs, the gift shop will charge you an arm and a leg for them.
CONCLUSION
It was fun to have a "staycation" at LAX (something I've done with Augustine before), but I will never return to this hotel if I can help it. Not because it was horrible, but because the nearby Hyatt is simply superior in nearly every way. But thank you Air France for the free night (although we would have preferred the night in Paris, of course).