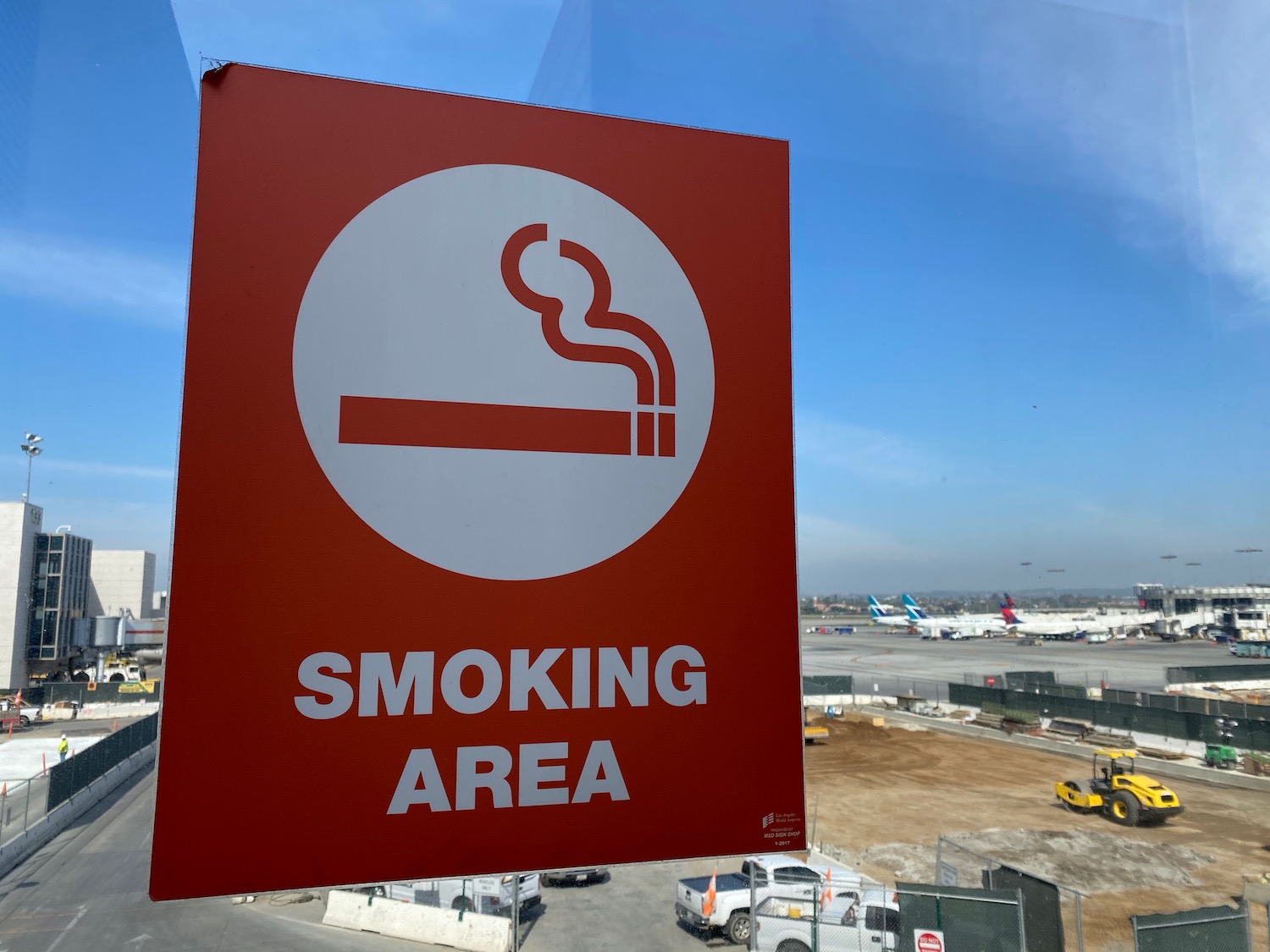 Smoking without leaving security at Los Angeles International Airport (LAX) is possible, depending upon which terminal you are flying out. The relatively-hidden airside smoking patio in the Tom Bradley International Terminal offers a far better alternative than heading out to the curb.
Where To Smoke At LAX
The official LAX website offers no information on designated smoking areas at Los Angeles International Airport. This is by design, as the smoking area is relatively new and undermines the aggressive efforts the City of Los Angeles has taken to snuff out smoking. Nevertheless, the smoking area recognizes that LAX is an international hub catering to travelers from cultures in which smoking is more prevalent.
Historically, the airport had outdoor patios in Terminal 2 and Terminal 6, plus the airline lounges in the Tom Bradley International Terminal (TBIT) offered patios. The former patios have been turned into pet relief areas in which smoking is no longer permitted.
But a new large, outdoor terminal exists in TBIT. You will not find signs for it in the main concourse, but once past security head to Gate 130, near the food court.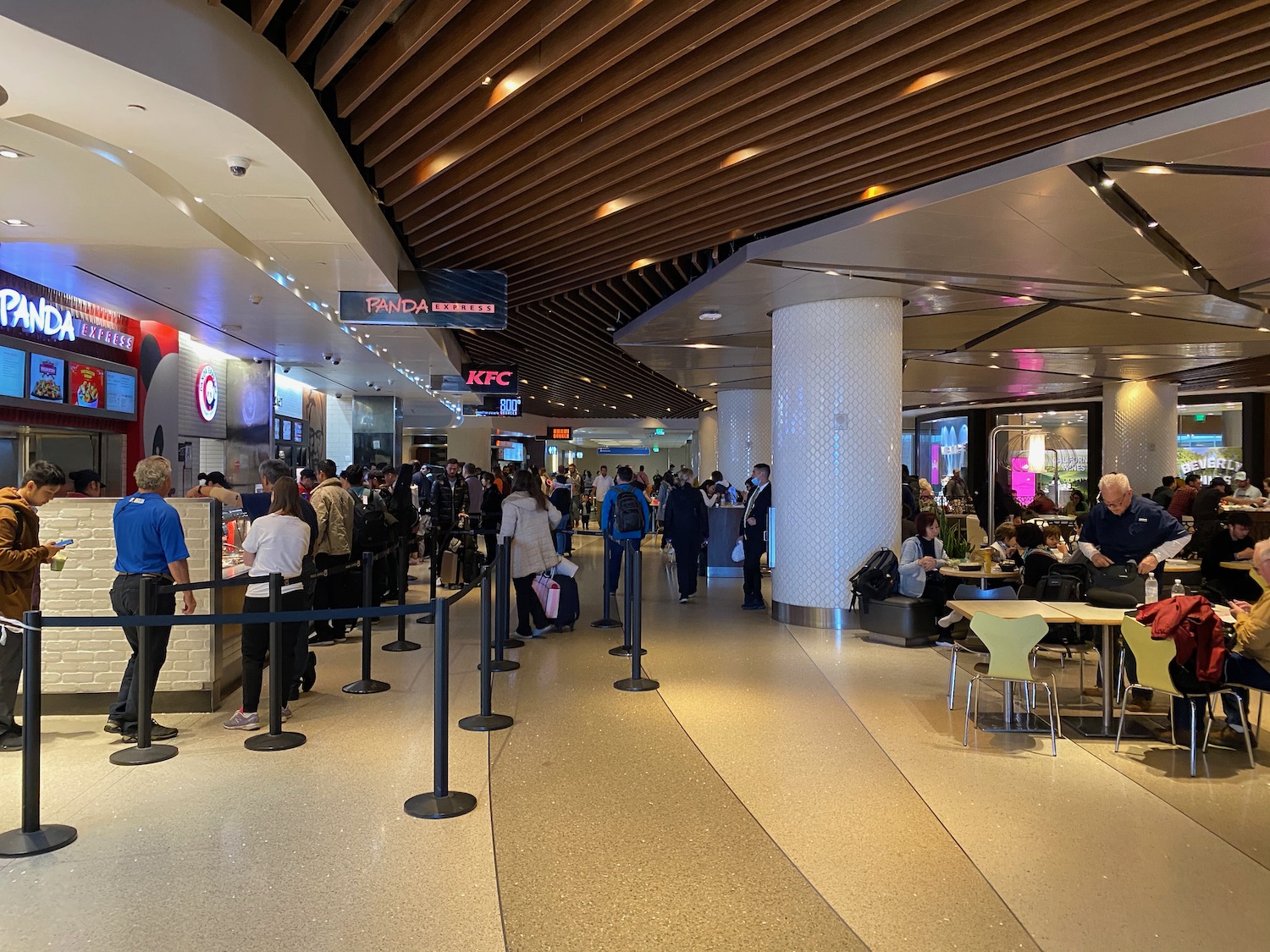 Once you reach the food court, walk through it. On the other side you'll see an overhead sign that mentions the smoking area. Take a left, walk past the restrooms, and you will find a glass door on the right that takes you outside to the smoking patio.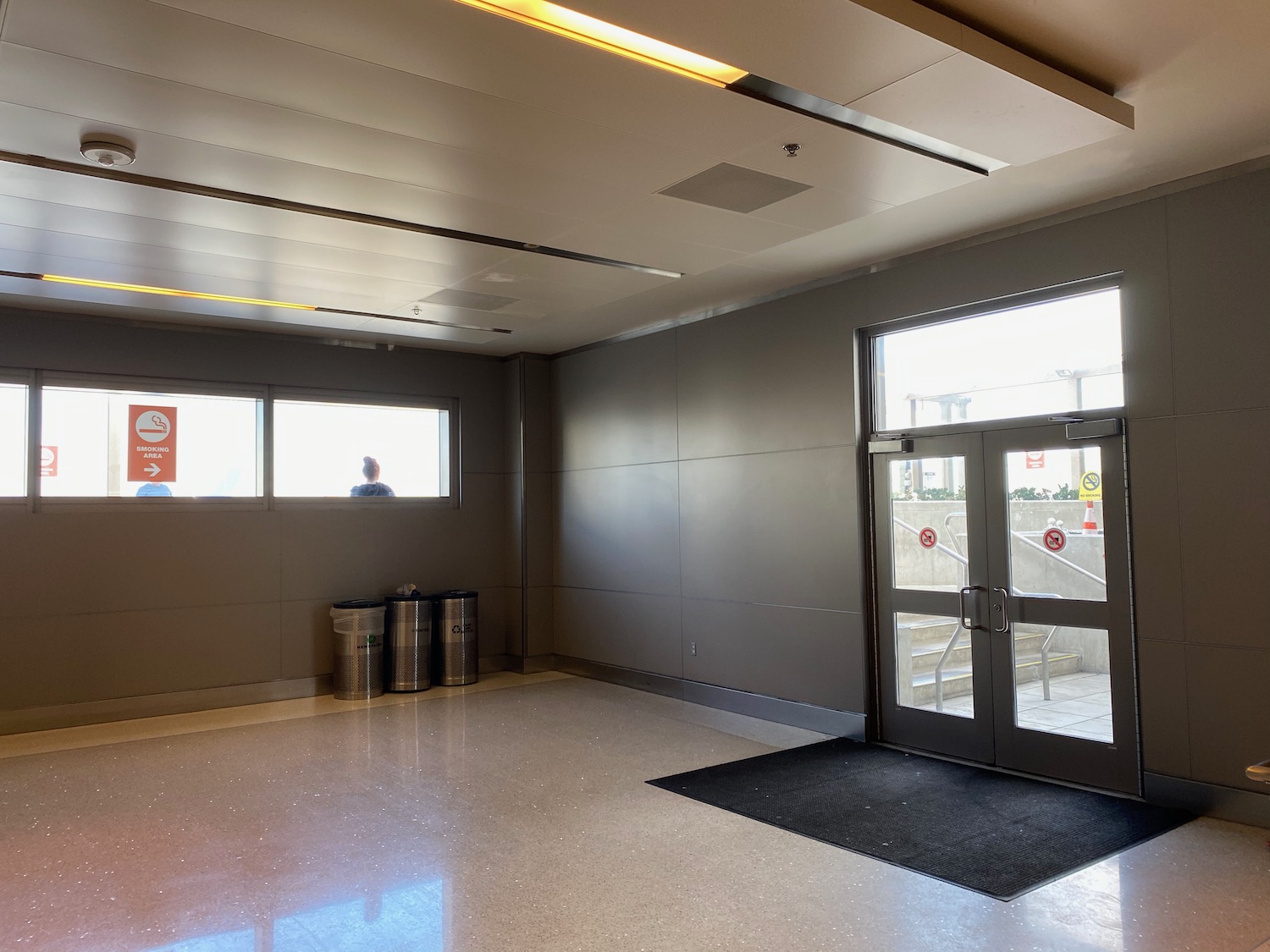 The outdoor patio is enclosed by high glass walls. If you're a planespotter, this also offers a great area to watch aircraft land. Despite the risk of second-hand smoke, I took my son in for a few minutes so we could watch our favorite airplane, a Lufthansa A380, land.
Please be a good neighbor and extinguish your smoking articles in one of the many ashtrays and not on the ground.
How Do I Get There?
Eventually, all terminals will be connected at LAX. For now, terminals 4-8 and TBIT are connected on the secure side (post security). Terminals 6-8 are connected by a ground level walkway while underground tunnels link Terminal 4,5, and 6. Consequently, you can gain access to this smoking area if you are traveling from any of these terminals.
Tip: If flying out of Terminal 7 or 8, give yourself at least 15 minutes in each direction to reach the smoking area. It may be easier just to step outside to smoke and clear security again afterwards.
Where NOT To Smoke At LAX
Again, there are at least three pet relief areas in other terminals (2, 6, and TBIT). These are not smoking areas. Please do no smoke in these areas.
And a personal request. I write these smoking guides even though I am a non-smoker to try to keep people from smoking outside airport entrances. Understand that when you smoke there, everyone walking by inhales your smoke. However, when you use the designated patio in TBIT, no one smells it except those who choose to be there.
CONCLUSION
I am not a smoker, but did verify during a recent visit this is still open. My views on smoking at airports remain unchanged. A warning: the distinct smell of pot was present on the patio and no signs indicated smoking was limited to cigarettes. One traveler was puffing away on a cigar.
But if you have a long layover, you may find this hidden smoking area at LAX a better alternative then heading out to the curb and dealing with another security check.