Delta's new SkyClub at Los Angeles International Airport is a design masterpiece with a number of elements that elevate it to one of my favorite lounges at LAX.
Delta Sky Club Los Angeles (LAX) Terminal 3 Review
Delta's older SkyClub in Terminal 2 at LAX is still open, but this lounge offers an elevated experience including a beautiful terrace and a thoughtful menu of food.
Hours + Access + Location
This lounge is located just past security in the "Sky Way" between Delta's remodeled Terminals 2 and 3 at LAX. After clearing the TSA checkpoint, turn right and you will find the lounge on your right.
It is open daily from 4:15 am to 12:30 am.
Access is available to:
Delta Sky Club members (along with same-day boarding pass for Delta or a partner)

Lifetime members can access the club regardless of the airline they are traveling on
Two guests or immediate family (including all children under age 21) are permitted for "executive" members while "individual" members must pay $39 for guests.

Delta One or SkyTeam premium cabin passengers

Access only when traveling on a branded "Delta One' (versus first class) domestically
Access when connecting to/from a same-day international Delta One flight
No guests permitted

SkyTeam Elite Plus members traveling on an international ticket in any cabin of service

Includes Canada, Mexico
Excludes Caribbean, Guam, Palau, Saipan
One guest permitted

Select credit card holders

Delta SkyMiles Reserve from American Express
American Express Platinum / Centurion
Delta SkyMiles Diners Club card
Delta SkyMiles TRUST CLUB Platinum/Gold Visa card

Virgin Australia Club or Velocity Gold members (through June 12, 2022)
WestJet Business Class passengers
WestJet Rewards Gold and Platinum members

Access only when traveling on a transborder flight
One guest permitted
I recently traveled to Mexico City on Aeromexico and used my ITA Airways status to enter the lounge. Once your credentials are verified, you can take an elevator or escalator to the lounge.
Seating
I've been in this lounge twice and both times it was quite crowded. I try to shield the privacy of other travelers when doing lounge reviews, but it was not possible here because so many were using the lounge.
The (square foot) lounge is naturally divided into sections around two buffets, a bar, and outdoor terrace.
As you enter the lounge, there is a buffet immediately to your right and a seating area around it.
Power plugs and USB ports are conveniently located all over the lounge, although Delta missed out by not installing USB-C ports in more places.
Then more seats, followed by the bar.
The bar has both an indoor and outdoor side and the patio is much larger than the United Club terrace in Terminal 7 (though much more crowded than I've ever seen the UA terrace).
There also appeared to be a pet relief area on the patio, though it was not marked.
Back inside, a TV area was congregated by passengers watching a sporting event (thankfully, with the sound muted).
My favorite part of the lounge is a little alcove called the Coffee Grotto, which was designed in Italy with tiles imported by Italy.
Beyond the alcove was another buffet and a dining room.
You will find unique artwork dispersed throughout the lounge.
Tarmac Views
If you love to watch airplanes, this is a great lounge to do so. My son and I sat out on the terrace and enjoyed watching planes come and go.
Food + Drink
A couple things I loved about this lounge. First, the fresh-squeezed orange juice in the morning. What a treat…what a simple touch that adds (for me at least) so much value.
Second, the live food station is a great feature. During my first visit, avocado toast was offered in the morning and pasta was offered later in the day.
I don't each carbs much these days, but my son enjoyed a plate of pasta.
However, on my second visit I was elated to see delicious street tacos…so delicious and served as a beautiful lunch (and was even more appreciated when the "meal" service on Aeromexico was just a packet of peanuts).
But there's far more than OJ and tacos. The morning buffet includes:
yogurt
overnight oats
croissants
muffins
bagels
scones
omelets (pre-made)
oatmeal
freshly-cut fruit (including berries)
cheese
cold cuts
hardboiled eggs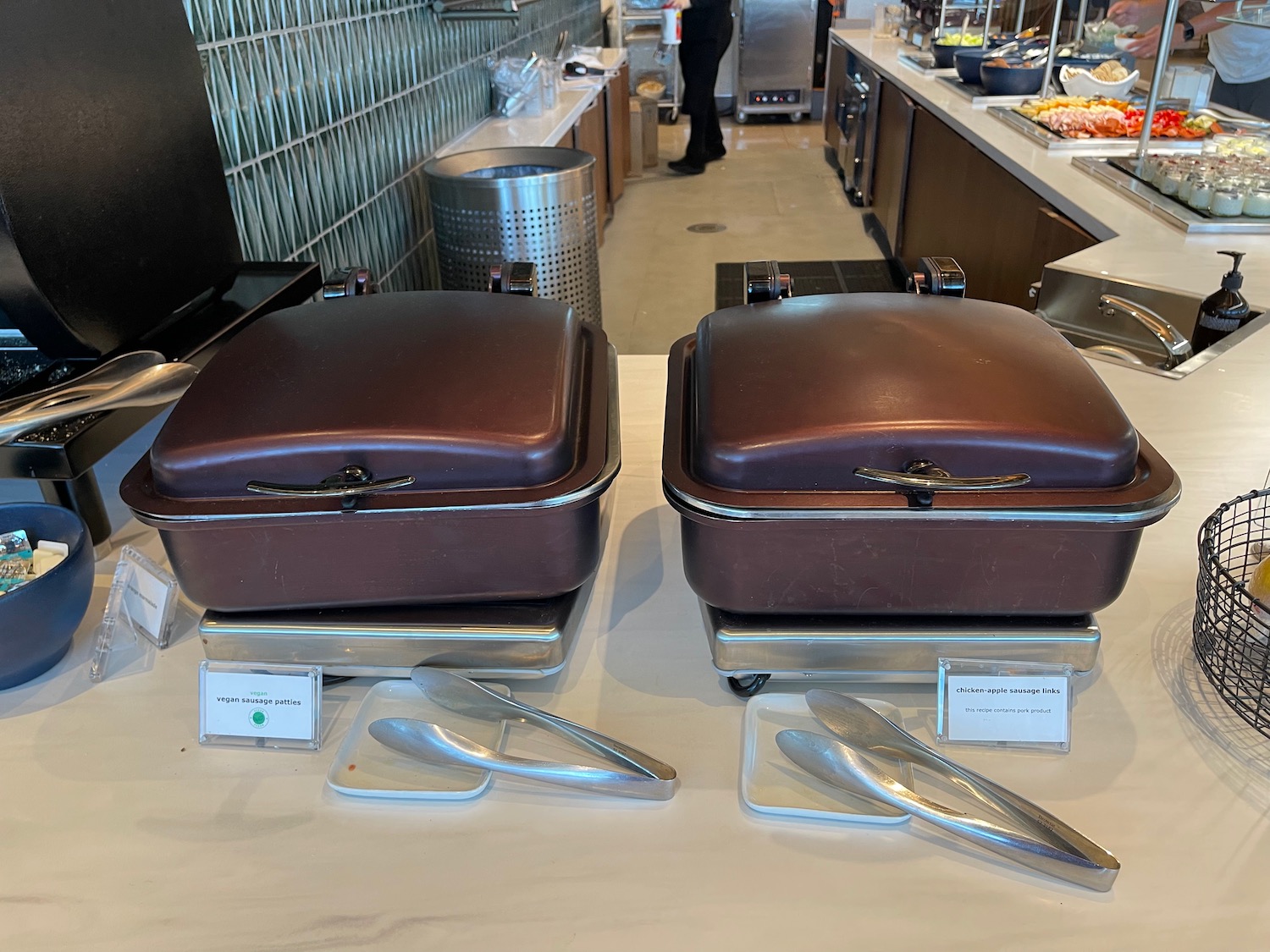 Only the rear buffet had the fresh-squeezed OJ.
Around 10:30 am the buffet transitioned to a lunch/dinner selection, including:
sandwiches
soup
hot meat dish of the day
hot vegetable dish of the day
salads
sliced raw vegetables with hummus
(plus the aforementioned live stations)
The soups and salads were excellent.
There's even a candy station, which I am also trying to avoid but my son took great delight in (it was a special father-son day…I let him indulge).
Packaged snacks are available all day long.
Each buffet also has a beverage station with self-serve soft drinks and coffee.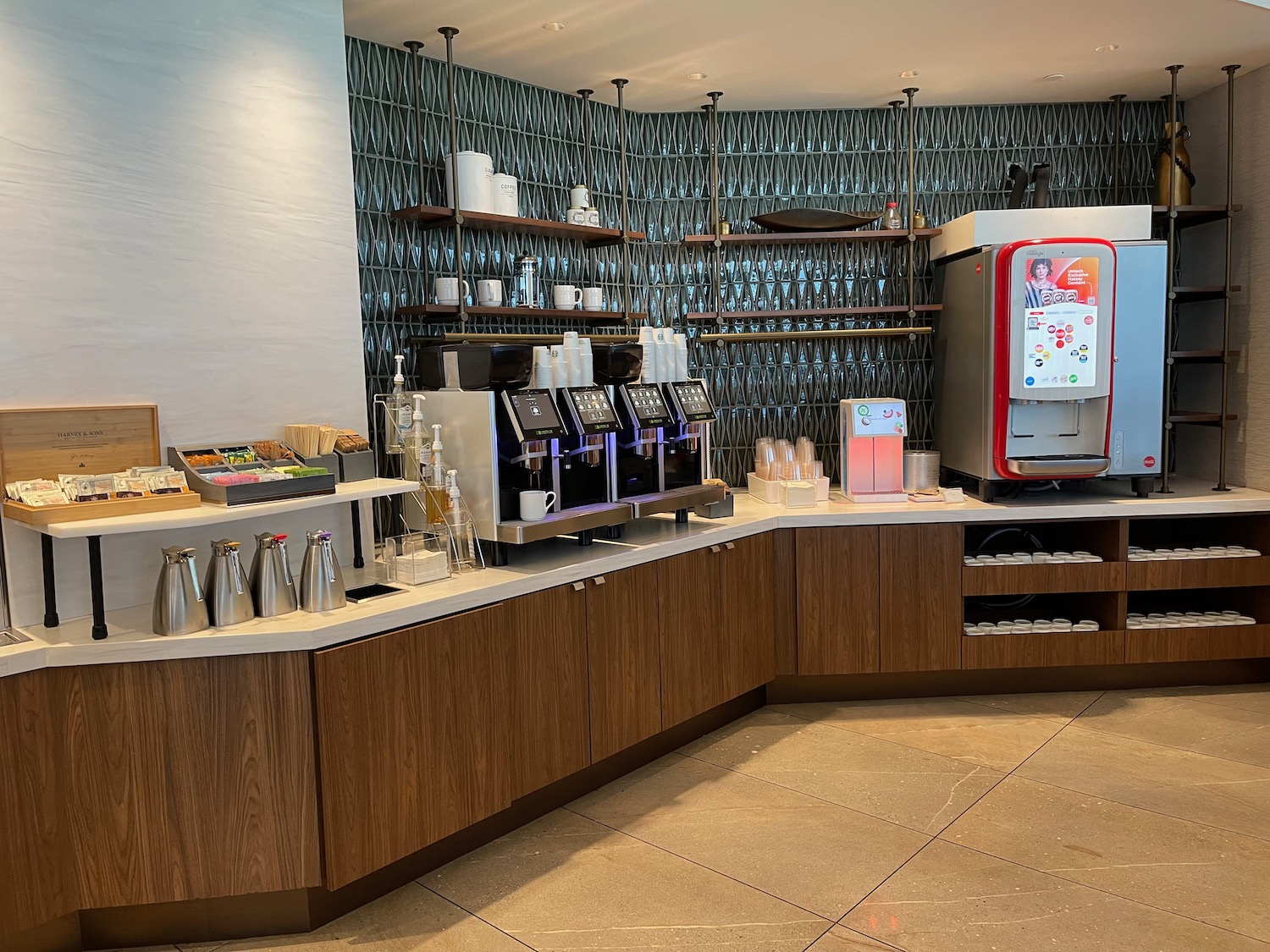 Coffee is provisioned by Starbucks and certainly not my favorite, though I made a decent flat white by foaming the milk myself and pouring it over two shots of espresso.
The bar includes complimentary well drinks, beer, and wine, as well as a large menu of cocktails. Notably, you can also use your Delta SkyMiles to buy whole bottles of alcohol, including Veuve Clicquot La Grande Dame (16,600 SkyMiles – one of the best uses of your miles these days).
Overall, I thought the food and beverage selection was excellent and appreciated fresh berries and OJ in the morning and tacos plus salad in the afternoon.
Restrooms + Showers
Restrooms are large and were very clean.
Unisex individual restrooms are also available as well as shower facilities. Use a kiosk or ask a lounge attendant if you wish to use the showers. I bet these fill up at certain times of day, though there was no wait in the late morning.
Service
I had a bit of trouble getting in, but I do not blame Delta for it. Among the listed SkyTeam partners, ITA Airways (or its predecessor, Alitalia) are not a listed option. ITA has been a poor SkyTeam partner, failing to release any award space to partners and really leaching off the alliance while not reciprocating.
Practically, the self-check machines do not accept an ITA Airways number so I had to visit the front desk. The first agent I dealt with handed me back the card and said there was no access (oh no, not deja vu…). She had never heard of ITA.
I explained that this was a SkyTeam member and she was incredulous. However, a colleague sitting next to her confirmed I was correct, asked for my cards, did some typing, and then said I could proceed. I am not sure whether he was actually successful in inputting my number (it never showed on my boarding pass) or whether he just decided to let me in.
A Delta staff member saw me taking photos and walked over to me. Rather than scolding me, she handed me a booklet that included details about all the original artwork in the lounge (which I proceeded to lose) as well as a box of greeting cards with lounge art on the covers. What a nice touch.
Should you need flight assistance, there is a staffed desk near the escalators.
The staff working behind the buffet counters were charming as well. All things considered, a very pleasant experience with staff here.
CONCLUSION
Delta's new lounge at LAX is beautiful and offers frankly a superior offering to both American Airlines' Admirals Clubs and United Airlines' United Clubs. This is certainly a lounge you should consider arriving earlier for. Well done, Delta.