I arrived into Tokyo Haneda (also known as Tokyo International Airport) at 3:30pm and my connection would not leave until 11:00am the following morning. That left me with a nearly 20-hour layover in HND, most of it spent in the airport terminal.
Tokyo Haneda Transit 2021
Currently, U.S. citizens are not allowed into Japan unless they have a visa (or obviously dual citizenship or permanent residence). Tourism is not permitted and even same-day transit across town between Haneda and Narita airports is not allowed.
Passengers are allowed to make same-day connections in Tokyo Narita and can make overnight connections in Tokyo Haneda, but in both cases are not allowed to actually enter Japan. Instead, they must remain on the sterile side of the airport.
My plan was to stay in the Royal Park Hotel, the airside transit hotel at HND. Small problem: it is still closed due to the pandemic (not that its website reflects this).
After landing and confirming the hotel was closed, I proceeded to the ANA lounge…it did not even dawn on me that I would not have access until the day of my flight to Bangkok, which was the following day.
During the pandemic, ANA is only using its Suites Lounge, normally reserved for first class passengers. I proceeded upstairs, presented my boarding pass, and was very apologetically told that I would not have access to the lounge until the following morning.
My heart sank…she was right. Because my flight departed after 5:00am, I did not have lounge access…yet.
The Japanese are like Germans in that they are precise and pay close attention to detail, but are sticklers for the rules.
I probably could have been an ugly American, created a scene, raised my voice, and gained access to the lounge. Sadly, when people act ugly, they often get what they want. I also could have just booked a business class ticket on United, stuck my tongue out, and gained access to the lounge that way. But no…it's just a lounge.
Maybe she sensed that was going to happen, because the lounge agent breathed a huge sigh of relief and a smile spread across her face when I did not argue and instead just nodded, said "thank you," and took my boarding pass back.
Back downstairs, it was pushing 5:00pm and this night, I really did spend sleeping on airport bench (some of you questioned my use of the word "night" at Washington Dulles).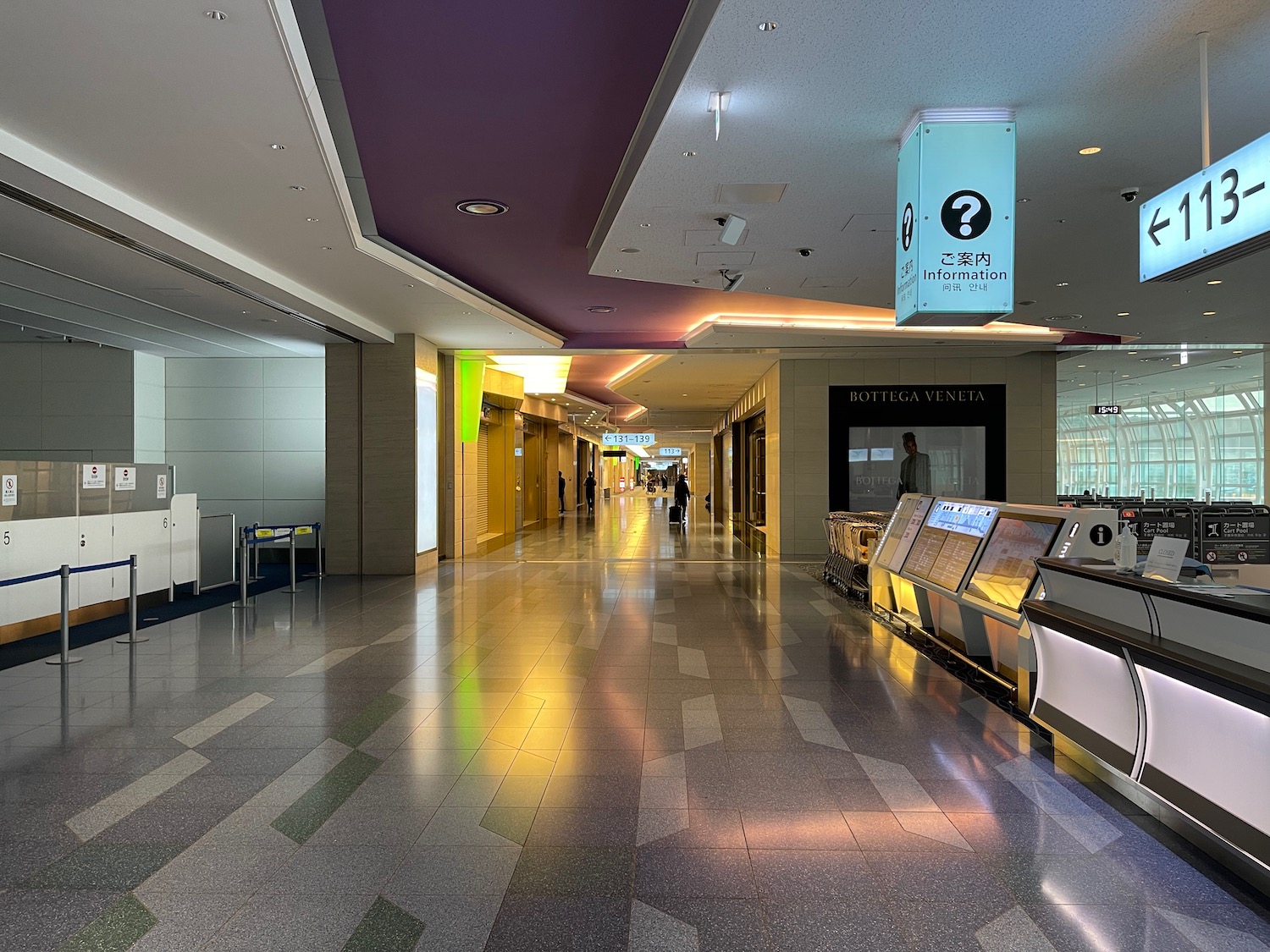 The hours passed and I got a whole lot of work done…and also slept well, using the duvet I brought along and turning my sweater into a pillow.
A few things amazed me, in a very good way:
During the night, my unused gate area was still cleaned every couple hours

Yes, it did wake me up, but I had to smile…only in Japan

Then at about 3:00am a police officer or security guard with a badge noticed that one of the ceiling lights was burned out

I thought he was taking a picture of me, but he was actually taking a picture of the light bulb

30 minutes later, a crew showed up to replace the light bulb
A spotlessly-clean bathroom and drinking fountain were just a few paces away as well as plenty of electrical outlets and complimentary high-speed wi-fi
I made it to 5:00am without even buying food or drink, not that there would have been anything open. The airport was deserted…even during the evening rush.
At just after 5:00am, I proceeded to the lounge where I was welcomed as the first guest. I set my things down and walked over to the kitchen area to make myself a cup of coffee. After a couple espressos and a warm shower, I was feeling great.
The last five hours in the lounge flew by and I soon found myself boarding my Boeing 787-9 for Bangkok.
CONCLUSION
I would not call a 20-hour-layover ideal at any airport when you cannot leave and there is no transit hotel available…but Tokyo Haneda is certainly an airport I'd rather be "trapped" in than most.
Next time I hope to return to the Park Hyatt…but for this trip, my quiet bench was about the best I could hope for.