Tunisair has great potential, but the flag carrier of Tunisia failed to deliver in key areas and left me with an overall unfavorable impression on my 8-hour A330-200 business class flight from Tunis to Montreal.
Tunisair A330-200 Review
Booking
The Tunisair website has a lot of trouble with foreign credit cards: best to book the old fashioned way in a city ticket office (cash only) or using an online travel agency. I used a site called SmartFares, which was cheaper than Expedia or Travelocity.
My Tunis to Montreal ticket cost $976, which was a $400 premium over economy class. One-way prices from Montreal to Tunis are about $1,800 nearly double the price in business class.
Check-In
I arrived only two hours prior to my flight via Bolt, per the guidance of my hotel who suggested more time was not needed. I actually wish I had left a bit earlier, as everything took more time than I imagined.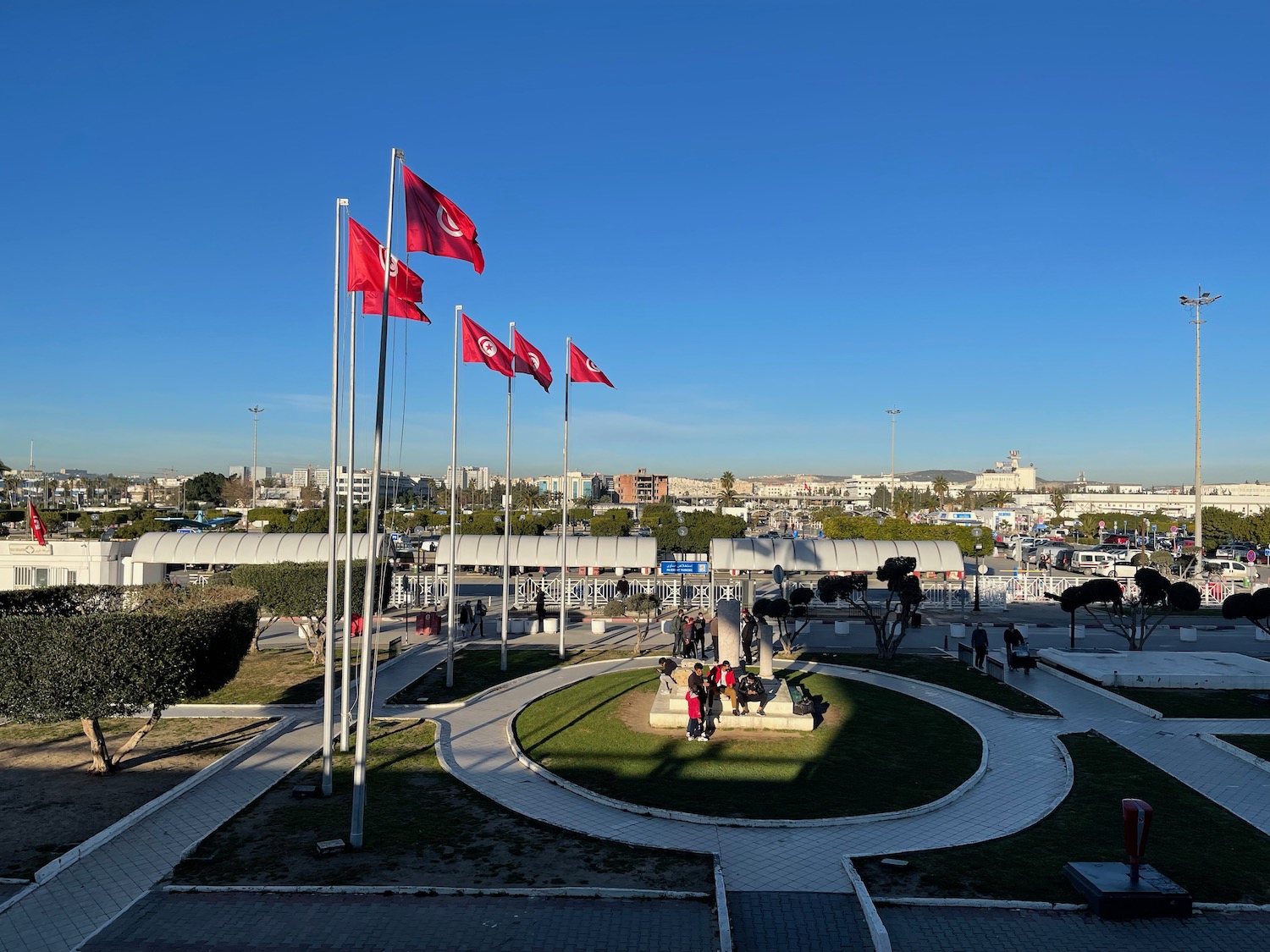 The business class check-in line only had four groups of passengers in front me, but each had issues with their tickets or checked baggage and it took 20 minutes to check me in.
My first impression of Tunisair was with the Tunisair staff member who checked me in. She spoke no English (or so she said), but was very friendly in checking me in and issuing my boarding pass. I even asked her picture, which she agreed to and smiled for (behind the mask):
However a supervisor or colleague noticed I was taking a picture and barked at her something in Arabic, to which she just shrugged and pointed to me. I like how the check-in agents wear pilot uniforms!
The airport itself is showing its age, but still functional. Security and passport control were quick and I was to the lounge in 15 minutes, though that only left me 15 minutes before boarding time.
Lounge
I reviewed the Espace Privilège business class lounge here. This lounge will represent your last call for alcohol if flying Tunisair business class, as the carrier is dry onboard.
---
> Read More: Tunisair Espace Privilege Lounge Review (TUN)
---
Boarding
I proceeded to the gate area about 70 minutes prior to boarding, as the boarding pass indicated boarding would begin one hour prior to departure. 
The gate area involved another security check, though I was waived through without any sort of check when I presented my business class boarding pass. 
Boarding commenced at 55-minutes prior to takeoff and was a free-for-all. Thankfully, I had positioned myself near the jetbridge door in advance and was first onboard.
Tunisair 202
Tunis (TUN) — Montreal (YUL)
Friday, February 4
Depart: 10:20AM
Arrive: 1:15PM
Duration: 8 hours, 55 minutes
Distance: 4,217 miles
Aircraft: Airbus A330-200
Seat: 4A (Business Class)
At the bolding door, I was asked to wait for a moment, then permitted on, with a greeting in French.
Seat
You look at the Tunisair A330 cabin and it looks very dated, as if it is 15-20 years old. It's actually not: for whatever reason, when Tunisair took delivery of its trio of A330 aircraft starting in mid 2015 and it chose an angled lie-flat seat.
The cabin is arranged in a 2-2-2 configuration with 24 seats in business class (four rows, six seats per row) between doors 1 and 2. 
The color scheme is an odd grey and green, odd because the Tunisair's colors, like the flag of Tunisia, are white and red. 
These seats do have immense amounts of legroom (53 inches) and the seats are fairly comfortable for lounging (in fact, they are more comfortable than the brand new Finnair business class seats on its A330s).
Waiting on each seat was also a pillow and blanket, which seemed far more appropriate for economy class than business class. While not scratchy, the blanket was thin and also not large enough. The pillow was also small and encased in a disposable cover with "Tunisair" imprinted on it.
Theoretically, these seats go flat, but slope downwards. I could not, however, fully lower my seat into a lie-flat mode. Furthermore, I wasn't sure if the footrest was meant to flip up, but it would not budge.
Sadly, the cabin was not well-maintained. There was grime and dirt around the reading lamp, seat control buttons, and power ports. It's one thing to have a dated cabin, but quite another to have a dirty one.
I heard a "thud" as we landed. Upon inspection, I found that a panel had fallen from the seat in front of me and was laying on the floor.
Delay
The captain was walking in and out of the cabin (without a mask) to chat with ground staff. Apparently, there was a problem. No announcement ever came from the cockpit, but whatever the issue was required a large cadre of ground staff and delayed us for over an hour. 
Thus, I had been sitting in my seat for almost two hours before we left.
To complicate matters, we encountered fierce headwinds enroute to Montreal, which led to our ultimate arrival into Montreal near three hours late. I had less than an hour to make my international connection…miraculously, I made it.
---
> Read More: My Breathtaking International Transit In Montreal
---
We finally pushed back at 11:15AM and were soon up in the air: it was a beautiful day for flying.
Amenity Kit
No amenity kits were offered on this flight.
IFE + Wi-Fi
A limited library of inflight entertainment included about 30 movies, a smaller selection of TV shows, music, games, and an audio edition of the Quran. There was also a guide to Tunisia.
Poor-quality headsets were distributed and I strained to hear when using them.
What I enjoyed most about the IFE was the detailed section on the history of Tunisair:
For most of the flight, I stay tuned into the map, which tracked our progress across the Atlantic.
There was no wi-fi onboard.
Food + Drink
Lunch began promptly after takeoff, first with a hot towel, followed by a tray which included a smoked salmon appetizer, lukewarm bread roll, and some cheese. Everything was wrapped in plastic.
I loved the dishware and was tempted (though I did not) to pinch the salt and pepper shakers, which included the Tunisair logo.
After the appetizers were delivered, drinks were offered. I ordered sparkling water, which was served in a small Tunisair-branded tumbler.
Juices (not fresh squeezed), soda, coffee, and tea were also available, but no alcohol, which Tunisair does not serve onboard.
After finishing my appetizer, it was cleared away and the tray left on my tray table.
Lunch was delivered without description or choice: some kind of fish coated in sliced almonds and served with rice as well as a sliced pepper and tomato.
It wasn't just the English barrier or being the last row, as I watched the flight attendant serve everyone without offering them a choice.
The fish was edible (not too dry) and thankfully warm, but otherwise not memorable in terms of flavor.
My tray was cleared away and moments later the FA returned with dessert, which included fruit as well as chocolate cake, along with coffee or tea.
The entire meal service took only about an hour, which was understandably efficient considering everyone received the same thing.
About 2.5 hours prior to landing a second lunch was served. This time, all items arrived on a single tray. Appetizers included more smoked salmon, as well as a puff pastry and asparagus tips on a roll with cream cheese. The main course (again there was no choice) was a plate with three shrimp, a chicken breast, and more rice with tomato and peppers. Dessert included sliced fruit and a hazelnut cake.
The chicken was like a Moroccan-style chicken tagine and very delicious while the shrimp was rubbery.
More coffee and tea were served after the meal.
By this time, all the glassware had been used and additional drinks were served in paper cups.
The second meal also took less than hour, leaving us 1.5 hours prior to landing in Montreal.
Photo Incident + Service
I had a small photo incident while boarding which thankfully did not turn into a larger problem. As I often do, I whipped out my camera and began taking pictures of the cabin. After a few pictures, a flight attendant started waving at me to stop and came over and admonished me in French.
I had no idea what he was saying, but got the picture—thankfully I also had my pictures.
I mused on this in my first impressions of this flight, but found it fairly strange that no member of the crew I interacted with spoke English (or at least chose to spoke English). Listen, I try very hard to learn key phrases in the local language of the country I am visiting and am not one of those people who think everyone must speak English.
But I do think on a flight to Canada, it is appropriate that the crew be able to speak the dominant language of the destination nation (even if not the dominant language of the Quebec province). I wasn't the only non-Tunisian onboard.
During our delay, I got up to use the lavatory, but when I asked which one I should use, a flight attendant looked at me totally baffled. Finally I said "toilet" and he got the message and opened one for me (they were all locked, perhaps in preparation for takeoff).
Another FA, a younger man serving my side of the cabin, seemed nice enough, but also did not speak any English. I just found it surprising, especially considering the polyglots I encountered during my walking tour of Tunis.
One other negative note: the crew was not proactive between the meal services in monitoring the cabin. At no points was even a bottle of water offered. Seven hours into the flight I walked back to the galley where the crew were sitting around. There was a small beverage station with plastic cups and I helped myself. They paid me no attention.
Lavatory
Speaking of the lavatory, they I noticed both remained locked for much of the flight. One reason, if I can speculate, is because the passenger restrooms are located behind the business class cabin and perhaps they were locked to prevent economy class passengers from using them.
But the other reason could be simply an attempt to discourage their use. When I used the lavatory, I noticed the sink was clogged…
Before landing, I used the other one and noticed…the sink was also clogged (and much worse).
There is a lavatory in the front of the aircraft outside the flight deck, but it was reserved for crewmember use.
Door 2L Wouldn't Open
After battling headwinds, we finally landed in Montreal and I was ready to dash through immigration in an attempt to make my connection.
A jet bridge pulled up to Door 2L. Then came the two taps, indicating it was safe to open. But a flight attendant could not get the door open. It took several minutes and two flight attendants to finally pry the door open.
CONCLUSION
No, I will not be going out of my way to fly Tunisiar again. In almost every area, the product was below-average and the lack of communication over the delay, poor hygiene of the cabin and lavatories, and limited selection of food and beverages would certainly cause me to book away in the future. 
But I was happy to try it and see so much room for improvement for the Tunisian flag carrier, which could include:
Menu cards with a wide-selection of the dishes unique to Tunisia

 

Better blankets and pillows
Wi-Fi
Larger movie library
Amenity kits
Even without changing the seat or offering alcohol, implementing the changes above would lead to a much greater in-flight experience.
Have you flown Tunisair? What was your experience?