After a few days at home, it was back to Istanbul for the final portion of my trip. As we emerge from the pandemic era, Turkish Airlines can once again be relied upon for a full-service experience filled with culinary delights onboard its 777-300ER in business class.
Turkish Airlines 777 Business Class Review
Using Turkish Airlines miles to book flights on Turkish Airlines is a great deal. Turkish Miles & Smiles represents one of the best transfer partners of Citi and Capital One. A one-way business class ticket from LA to Istanbul is 47,500 miles and about $300 in taxes, a superb buy.
As I arrived at my gate in the Tom Bradley International Terminal, the crew was just boarding. Passenger boarding commenced at 6:15 pm, just 10 minutes prior to our scheduled 6:25 pm departure. Business class passengers have access to the Star Alliance Lounge, though I used the United Polaris Lounge in Terminal 7.
Turkish Airlines 10
Los Angeles (LAX) – Istanbul (IST)
Sunday, April 10
Depart: 06:35 PM
Arrive: 5:35 PM+1
Duration: 13hr, 00min
Distance: 6,851 miles
Aircraft: Boeing 777-300ER
Seat: 3K (Business Class)
Onboard, I was greeted by a flight attendant who took a look at my boarding pass and then pointed toward the starboard side of the plane.
Seat
The Turkish Airlines business class seat on the 777 is controversial. The cabin includes 48 seats spread over two sections with a galley between them. Many dismiss the 2-3-2 configuration as an inherently uncompetitive business class product and I am certainly willing to stipulate I would never wish to be caught in a middle seat. Window seats also do not have direct aisle access.
Nevertheless, I do like these seats because your feet are not constrained in a small compartment. In the lie-flat mode, I find these seats quite comfortable for lounging and sleeping and when you are traveling with a companion and able to score two seats on the side, you have a lot of room to spread out and can easily converse.
I was traveling alone, however, and an Egyptian man sat down next to me and began speaking. I was fine with making small talk (I rarely start a conversation onboard, but will engage), but was happy when the section of three seats in the middle remained open at the conclusion of boarding and he excused himself and moved over.
Seats are controlled by a series of eight buttons and a preferred position can be locked into memory and then recalled on-demand.
On the side of the seat is a passenger service unit and a universal power outlet.
Each business class seat also had personal storage under the built-in ottoman which is large enough for a bag the size of your purse or for your shoes.
There's also storage between monitors:
Bedding includes a pillow and duvet and flight attendants will prepare your bed upon request.
Flight time to Istanbul was just over 12 hours and I slept for over nine hours…it was lovely to wake up as we approach Istanbul well-rested.
I find the use of mood lighting onboard not only gives the cabin modern feel, but helps in adjusting to time change and waking up.
IFE + Wi-Fi
Turkish Airlines offers a large IFE library with hundreds of movies, TV shows, and games, as well as a wide audio selection and five channels of live TV.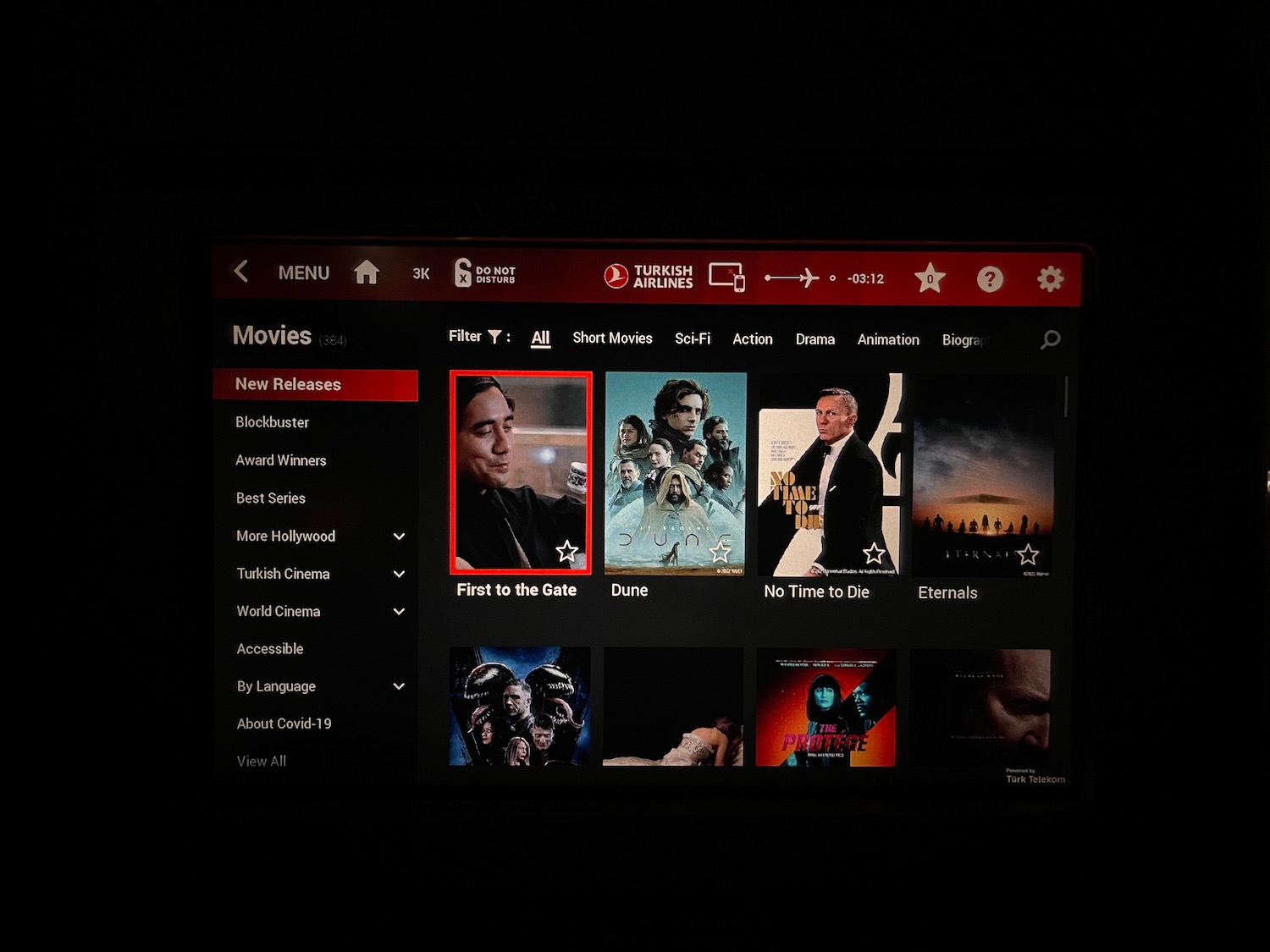 In addition to a moving flight map, the 777 has two cameras onboard, including one pointing downward and another pointing forward.
Noise cancelling headphones from Denon were provided, which worked quite well.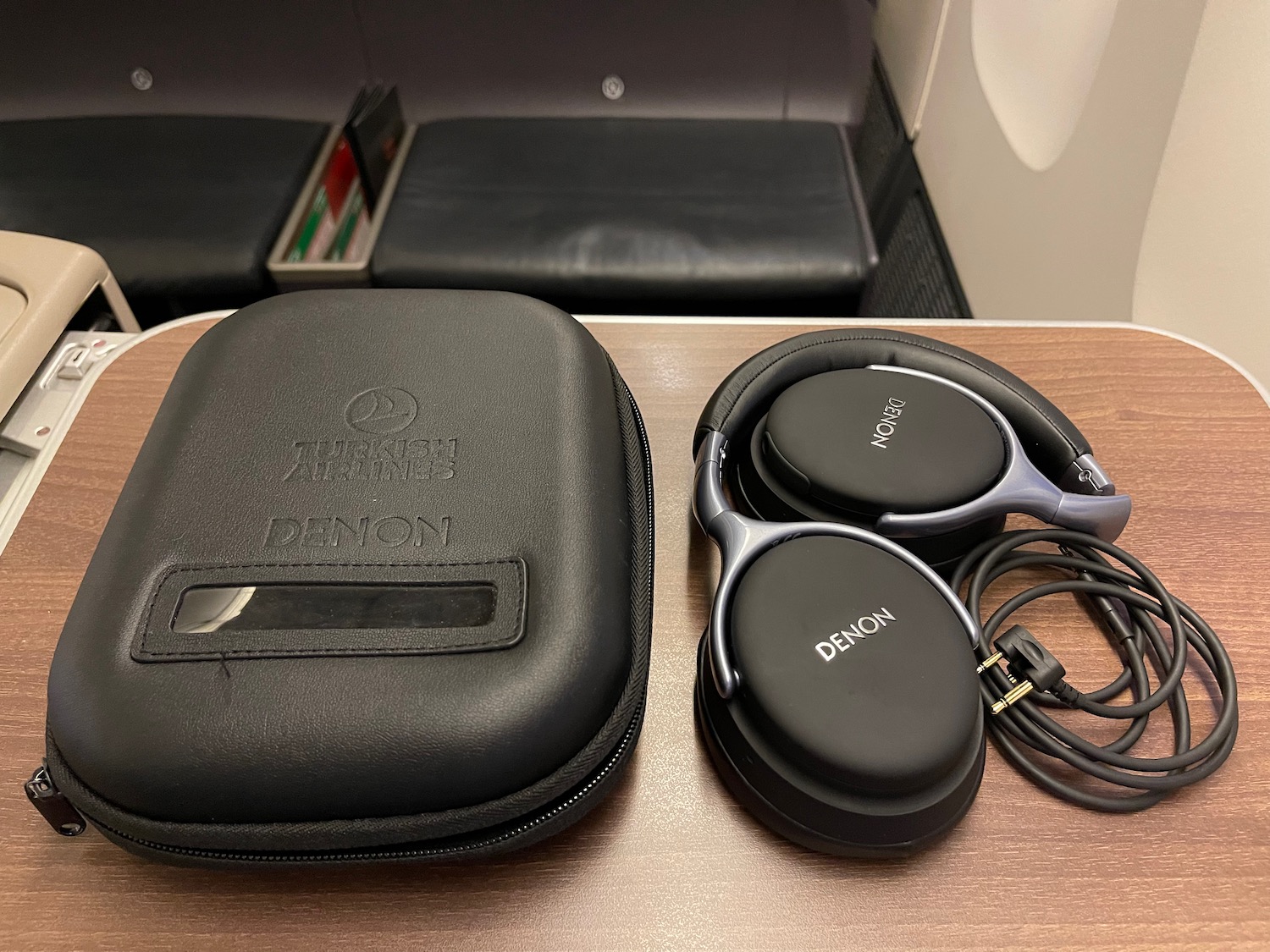 Business class passengers enjoy free wi-fi onboard. Simply enter your seat number and last name on the wi-fi portal and you will be connected. As this was an overnight flight on a Sunday night, I did not have much work to do and spent the flight largely offline.
The views out the window during the first 45 minutes of the flight were breathtakingly beautiful.
Lavatory
Business class passengers have four dedicated lavatories, including two between the two business cabins and two upfront (though one upfront seems to remain locked for the flight crew).
Extra amenities included Paina eau de cologne and perfume, hand creme, and hand wash from Molton Brown (in addition to the standard soap).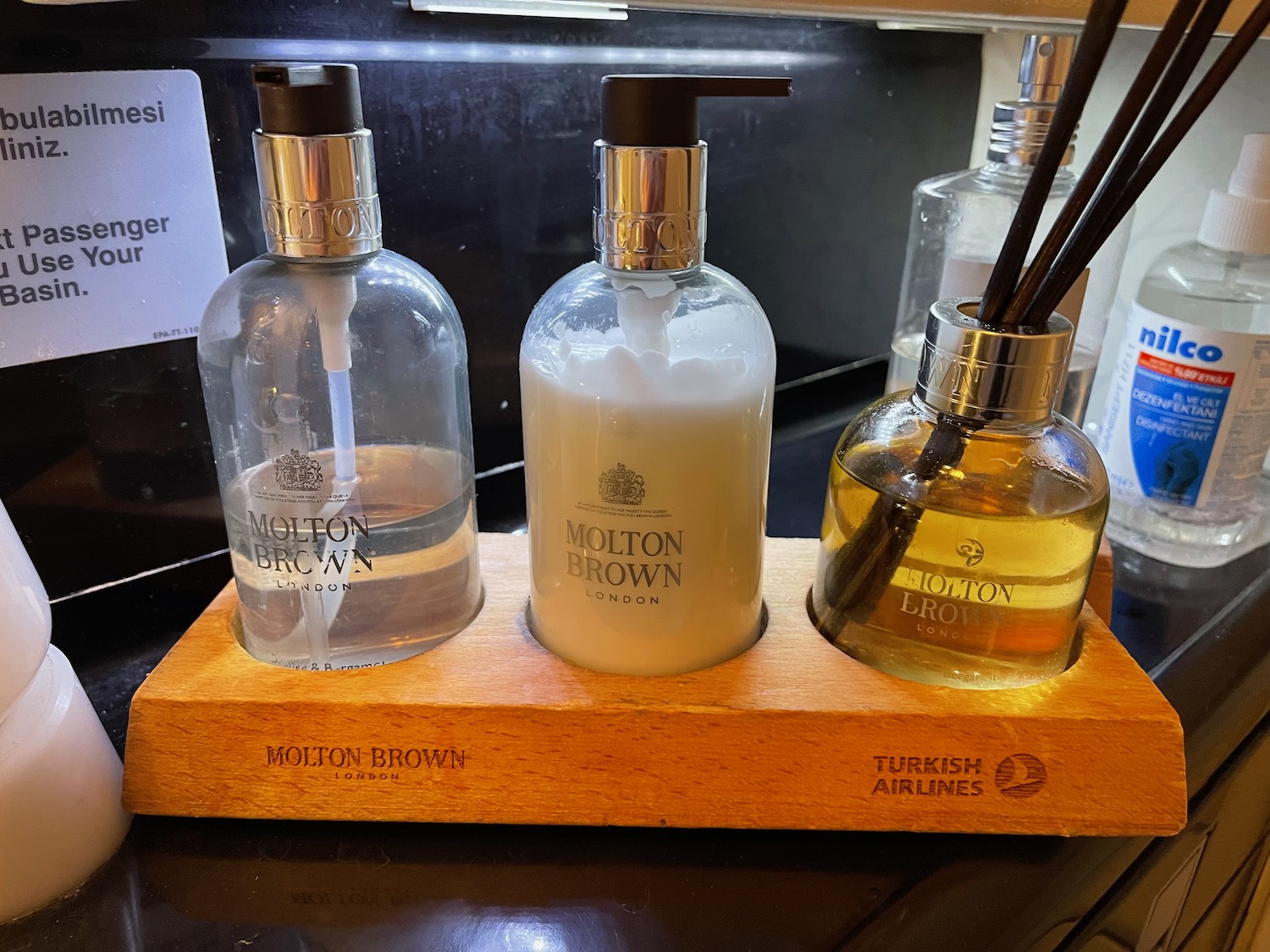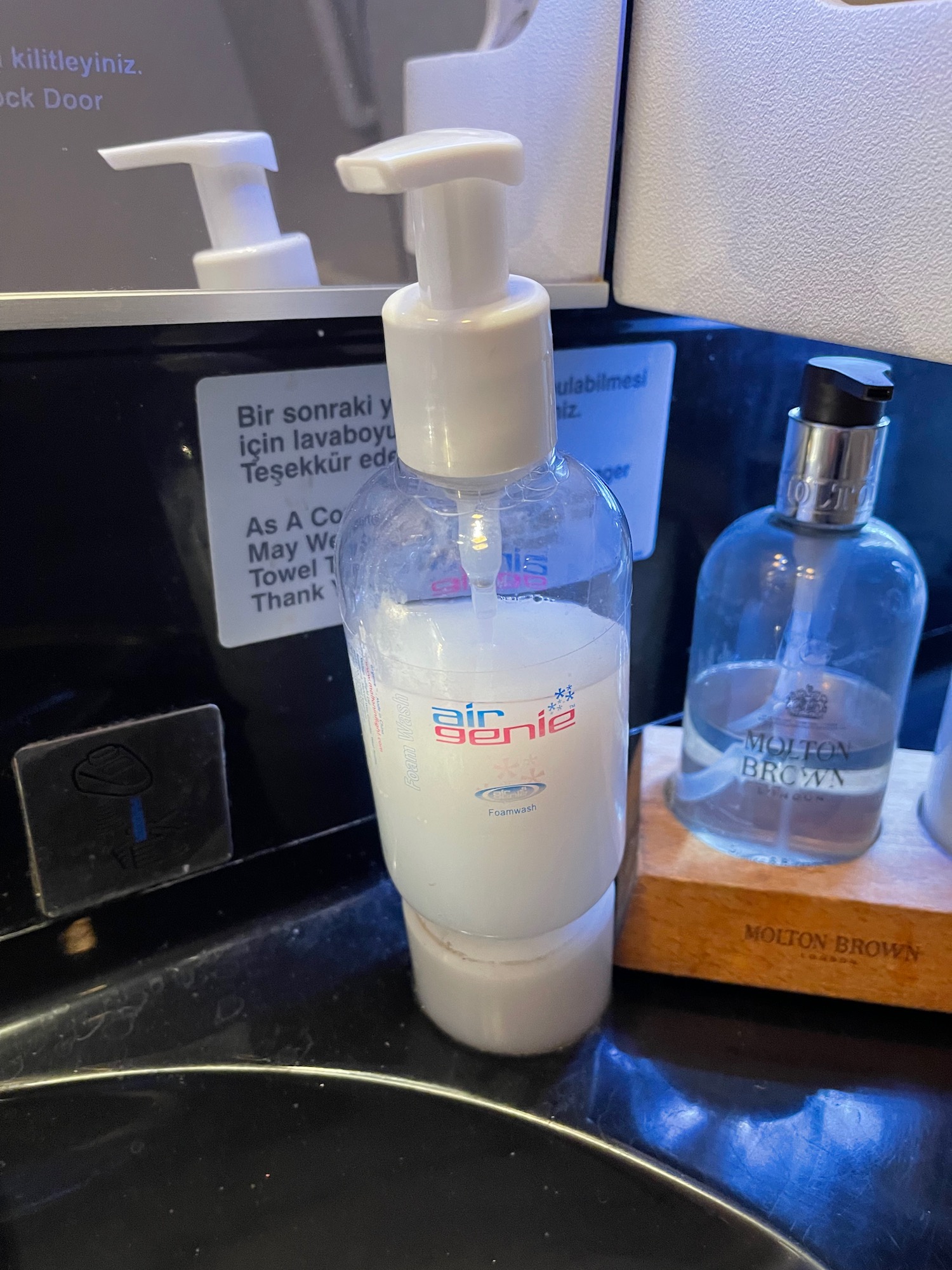 Amenities
Waiting on each seat was a shoe bag with slippers inside.
Flight attendants later distributed a Versace-branded amenity kit which included:
Dental kit
Eye shade
Earp plugs
Socks
Versace-branded skin products
Lip blam
Body lotion
Scented mist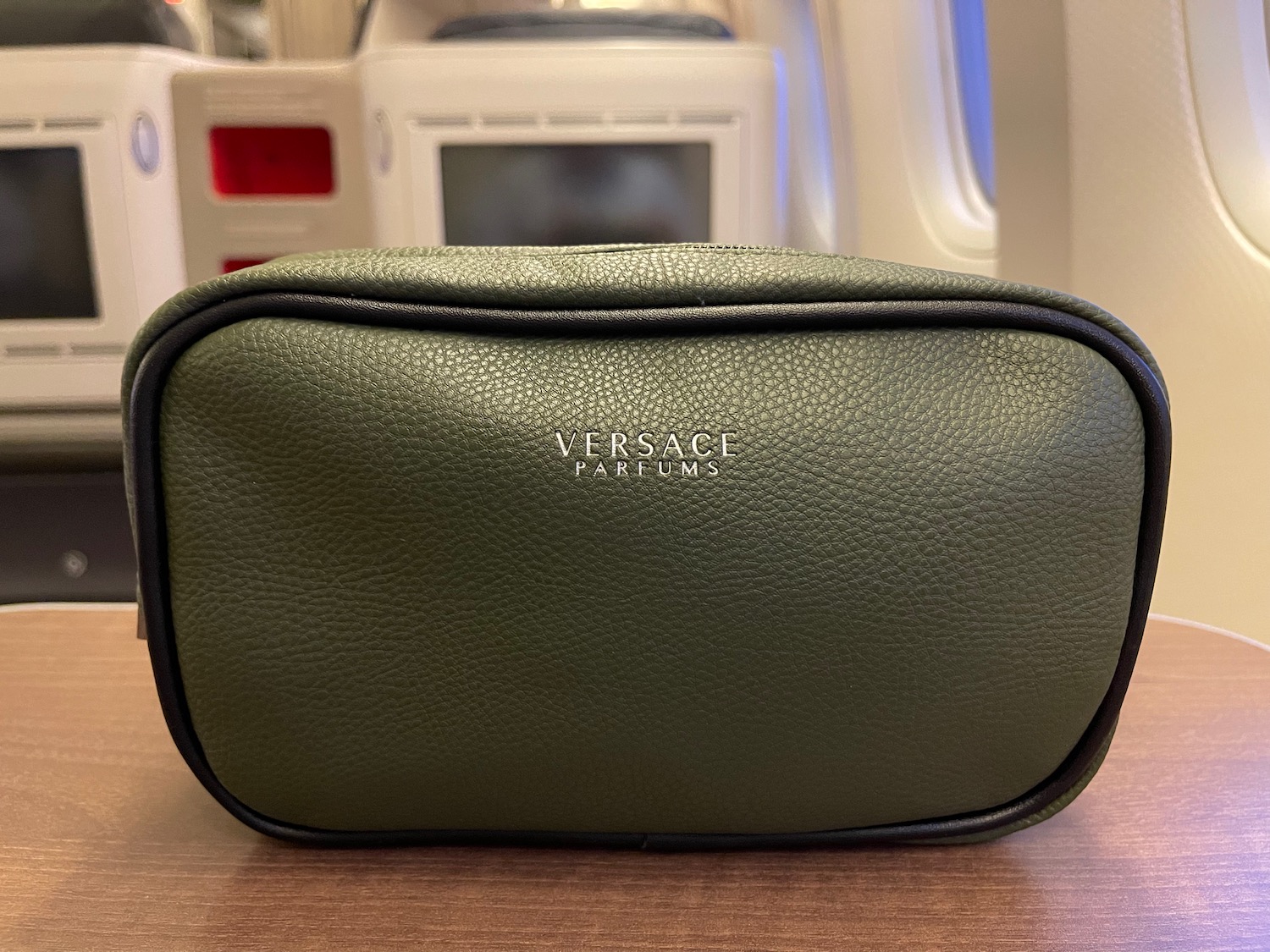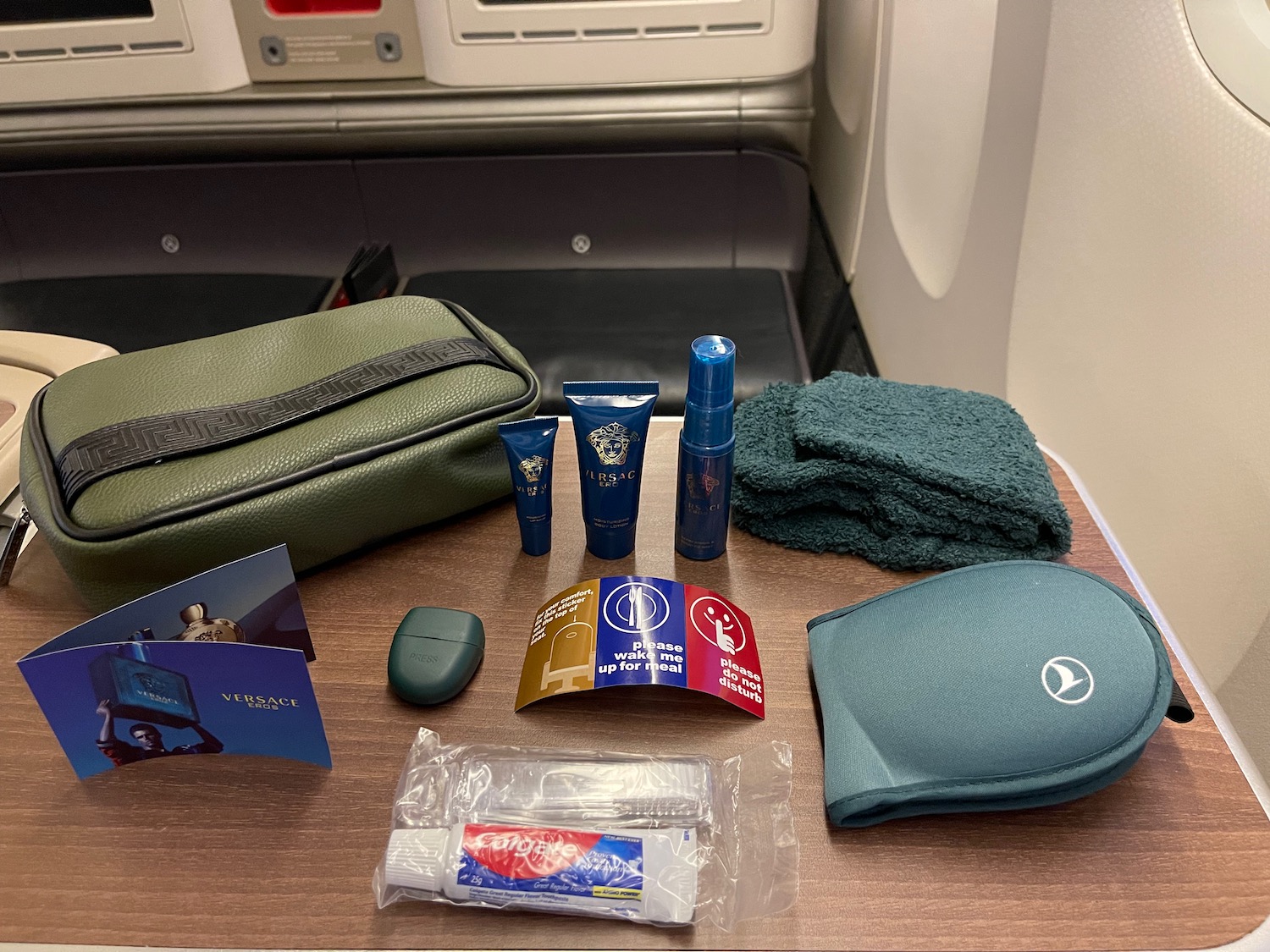 A hygiene kit was also offed with three face masks (early in the pandemic, Turkish authorities required that masks be changed every few hours), wipes, and hand sanitizer.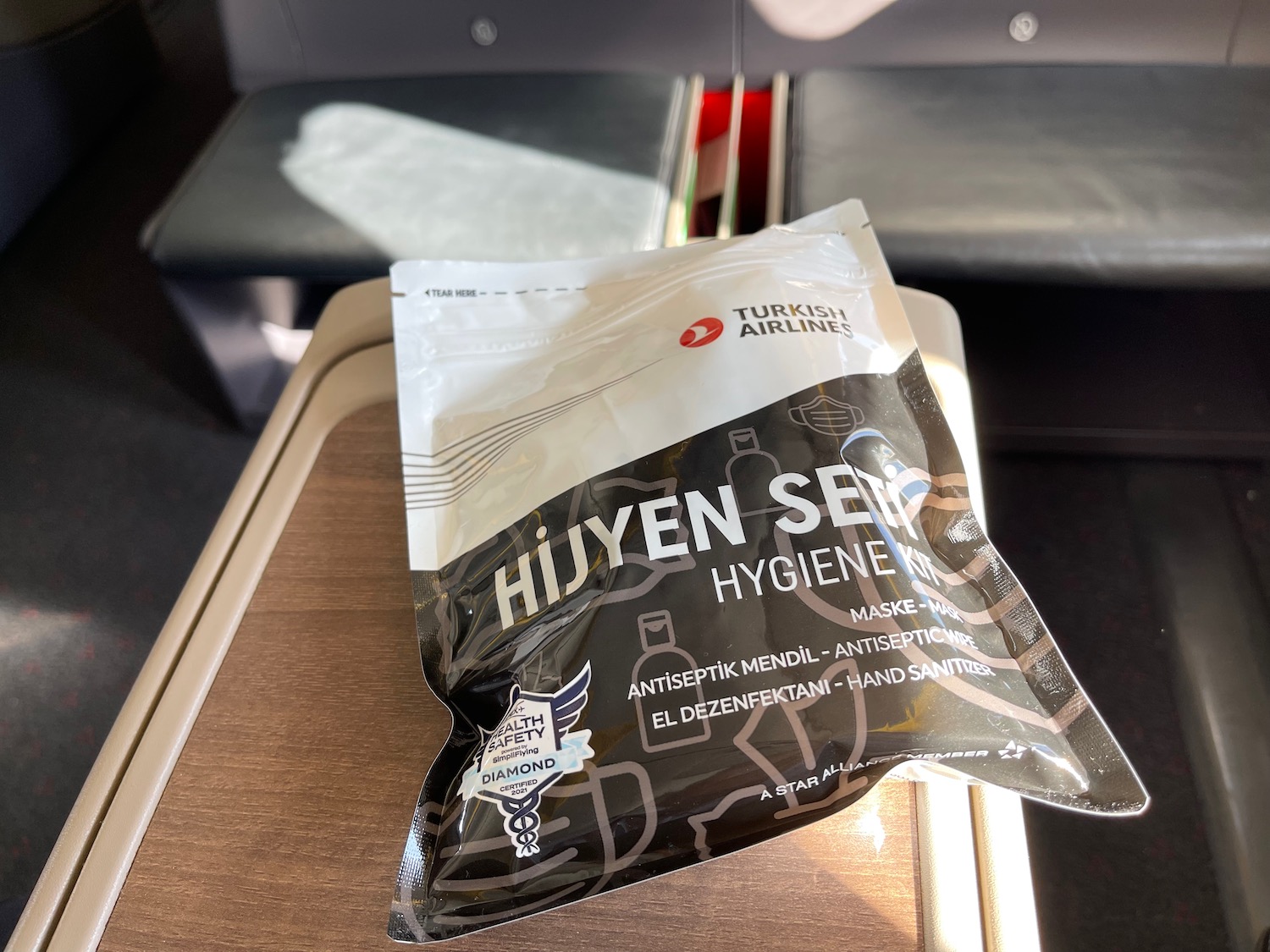 Food + Drink
The highlight of any Turkish Airlines flight is the catering, which includes a sumptuous multi-course meal and a superb beverage selection.
During barding, a pre-departure beverage was offered and I chose Turkish's signature fresh mint lemonade, which is on the sweet side but always refreshing.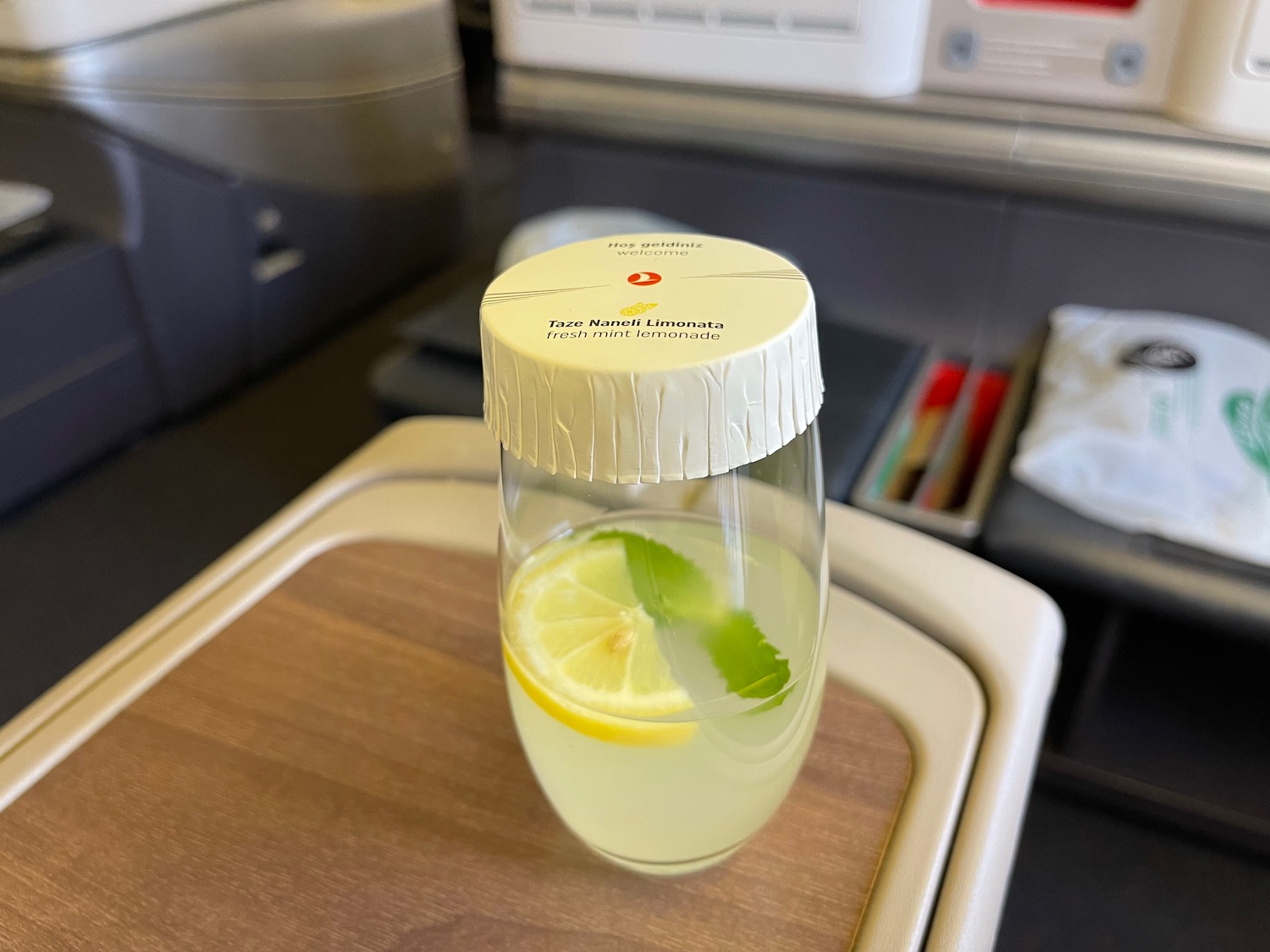 Onboard "chefs" are back (flight attendants dressed as chefs, that is) and these gentlemen welcomed passengers onboard and presented menus for the flight. They would later return to take meal orders and were responsible for plating the food during meal service.
Dinner
After takeoff, drinks and nuts were offered (I tried the rosé wine). Next, my table was set for dinner, including the use of a flickering "candle" to give the meal table a bit more ambiance. Hot towels were also distributed.
Tonight's menu included a selection of mezze, creamy mushroom soup, a garden salad, or seafood with grilled vegetables as the appetizer. You can mix and match, having one or having all four.
I tried the mezze, which included a dollop of tastes ranging from guacamole to tabouleh and hummus to grilled chicken. 
I also had a bowl of soup, which was creamy, rich in mushroom flavor, and topped with croutons.
Finally, I rounded out my appetizer with a small green salad and a selection of bread, beautiful served with butter, olive oil, and Turkish spices.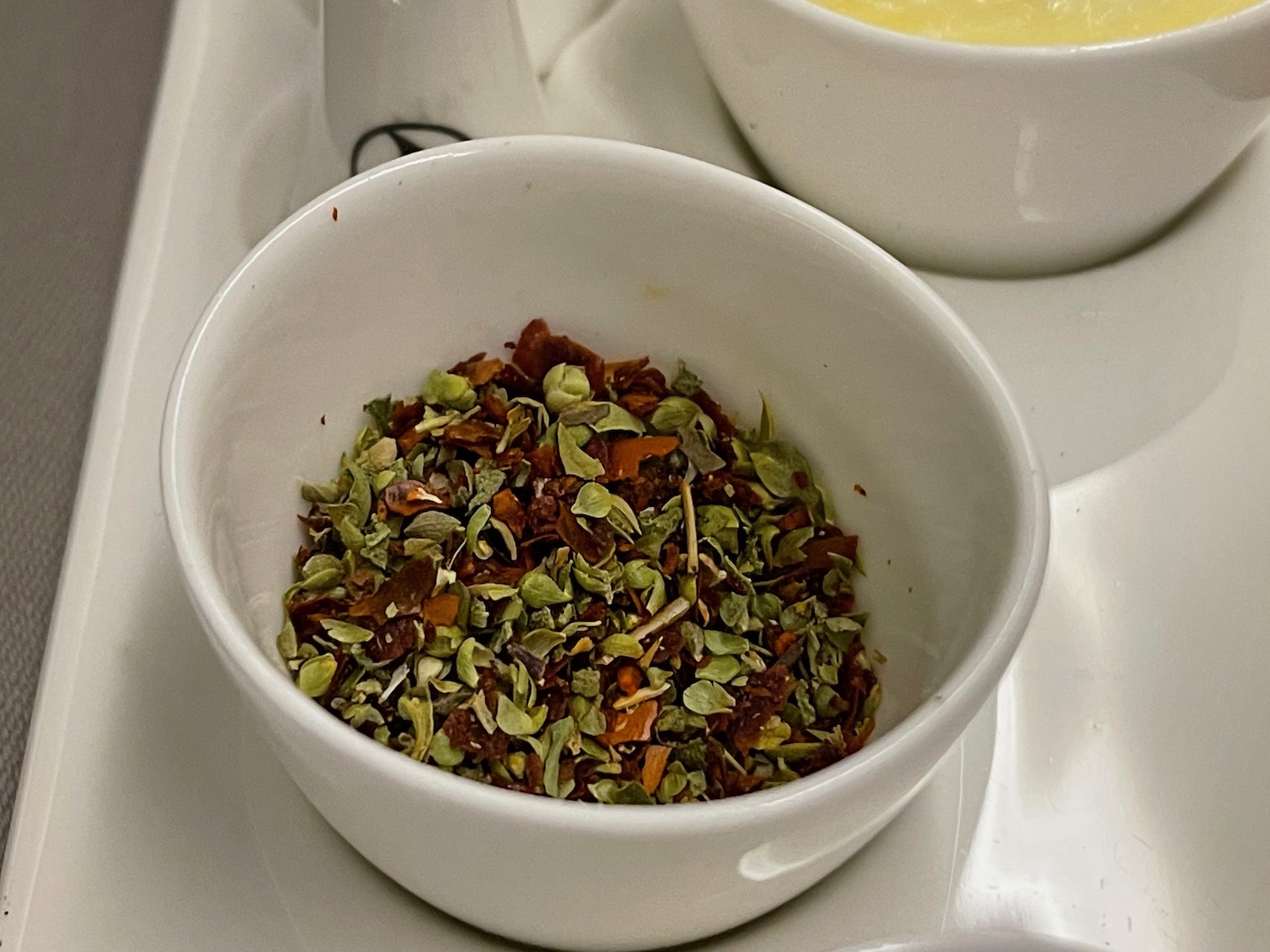 Service was conducted via trolley, which provides the chance to look at the food before selecting it.
The rosé wine, a 2020 Kavaklidere Egeo was from Turkey and very nice.
For my main course, I chose grilled wild sea bass, served with Tuscany style vegetables, herbed potatoes, and a lemon basely sauce on top. The fish was lovely and the rosemary garnish and careful arrangement of the elements made it even better.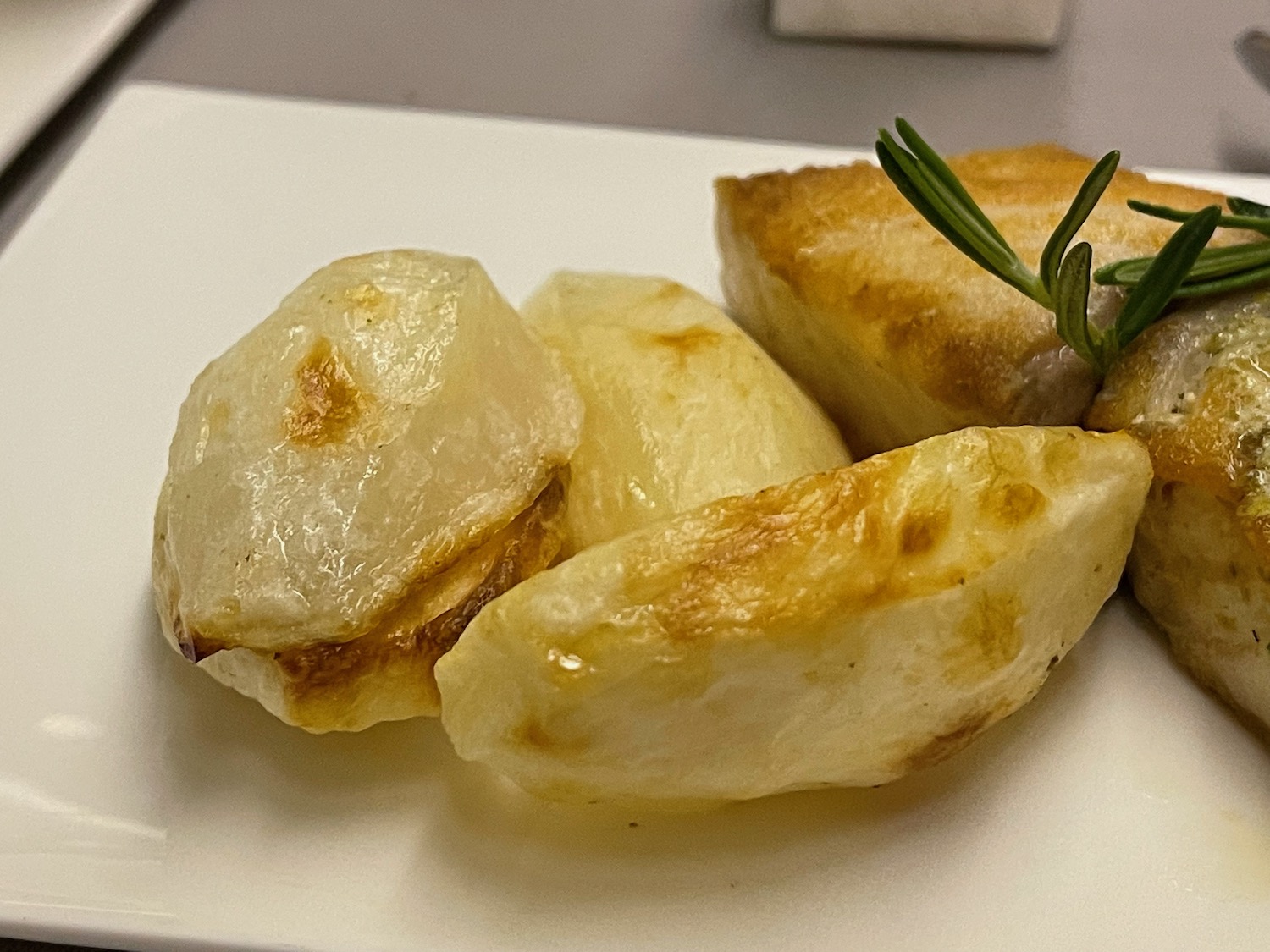 I concluded dinner wtih a slice of chocolate cake, a fruit salad, and herbal tea.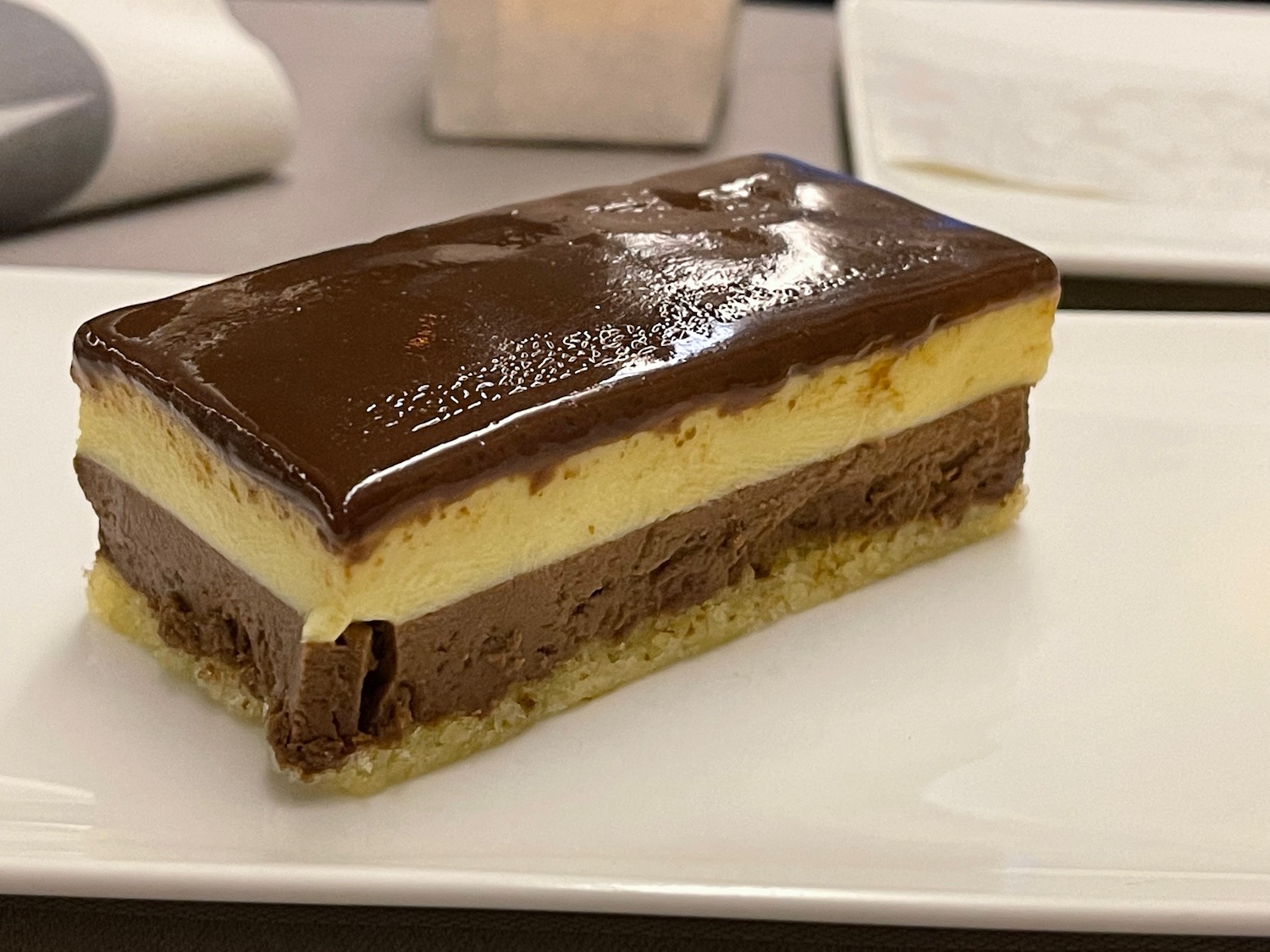 Movie Bar + In-Flight Snack
In between meals, a snack of a mozzarella sandwich with cherry chocolate cake is available, as well as a "Movie Menu" of sweet and savory snacks mixed mixed nuts, dried figs, cookies, and chocolate.
I stayed hydrated by drinking plenty of water. Flight attendants patrolled the cabin and frequently offered water bottles.
Breakfast
About two hours outside of Istanbul, breakfast began: another feast.
I started with a glass of fresh-squeezed orange juice and a cappuccino.
Breakfast starters included a large fruit plate, yogurt with apple compote, a chicken breast and smoked turkey, and a selection of cheese. Pastries and bread were also offered, along with butter and jam.
For my main course, I chose a tomato and mozzarella omelet (with sautéed spinach, buttered potatoes, and grilled tomatoes) over pancakes (with caramelized apple, wild berry compote, and vanilla sauce).
The croissant and danish were hot and flaky…simply perfect.
The omelet was perfectly cooked and goodness…with so much food I could not finish.
I did round out the meal with a Turkish coffee (no sugar please…).
Once again, Turkish demonstrated that its catering is unrivaled in terms of business class. Many come close, including Qatar Airways, Etihad, ANA, and British Airways, but I do believe Turkish Airlines is the best in terms of the quality and presentation.
Service
I have found that service on Turkish Airlines has improved greatly over the last decade. When I first started flying Turkish regularly I found the service to be hit or miss and also found that many flight attendants lacked basic English skills. This is not the case any longer, at least on all my recent flights dating back the last few years.
Crews were gracious, courteous, and attentive. I really felt valued as a guest onboard and appreciated that these flight attendants took pride in providing excellent service onboard. A particular shoutout to Celin, pictured above, who was so kind to me during the flight.
Arrival Into Istanbul
We flew over central Istanbul on our way out the airport, before landing about 30 minutes behind schedule.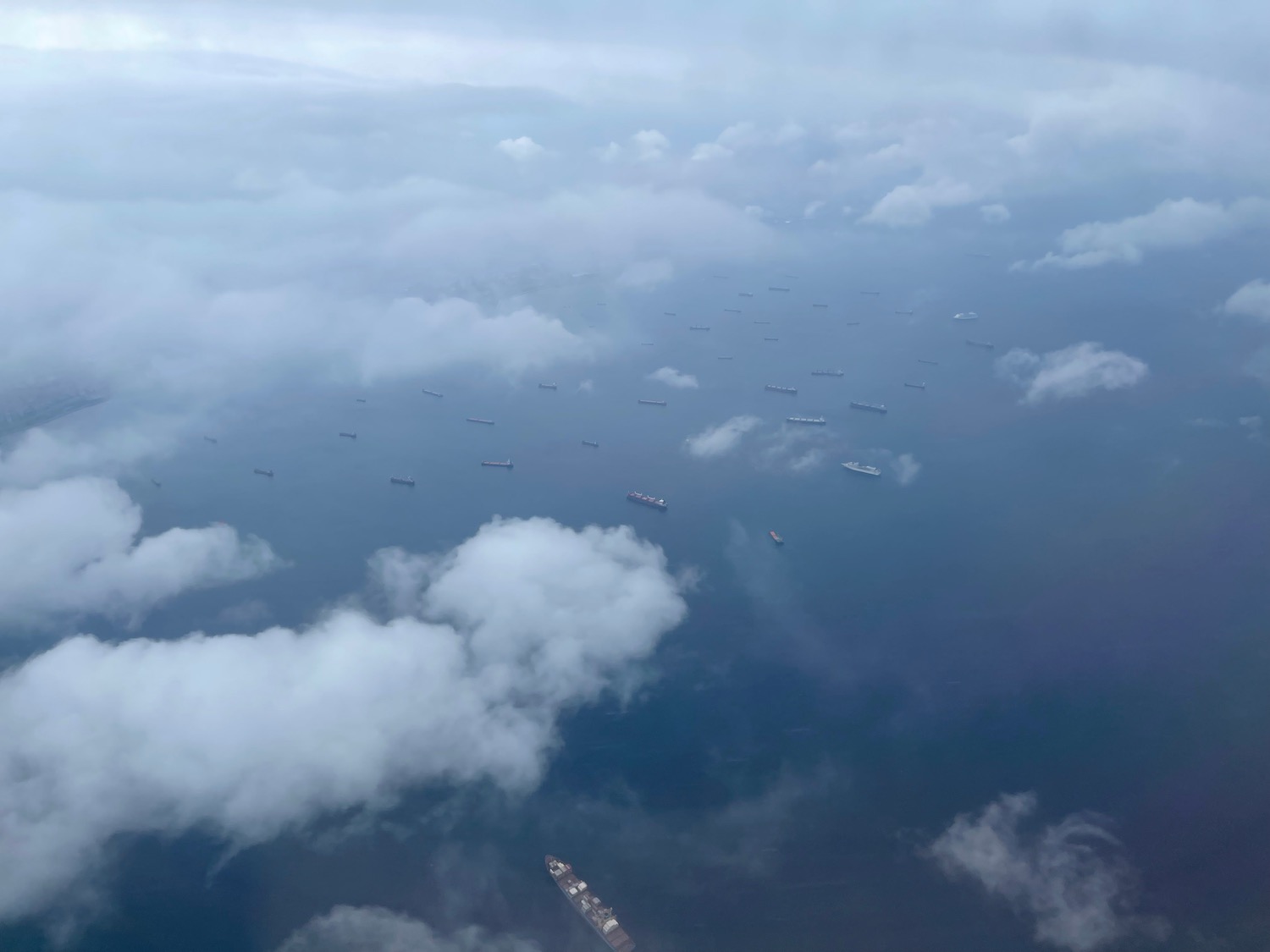 As is often the case at IST, we pulled up to a remote gate and deplaned via air stairs.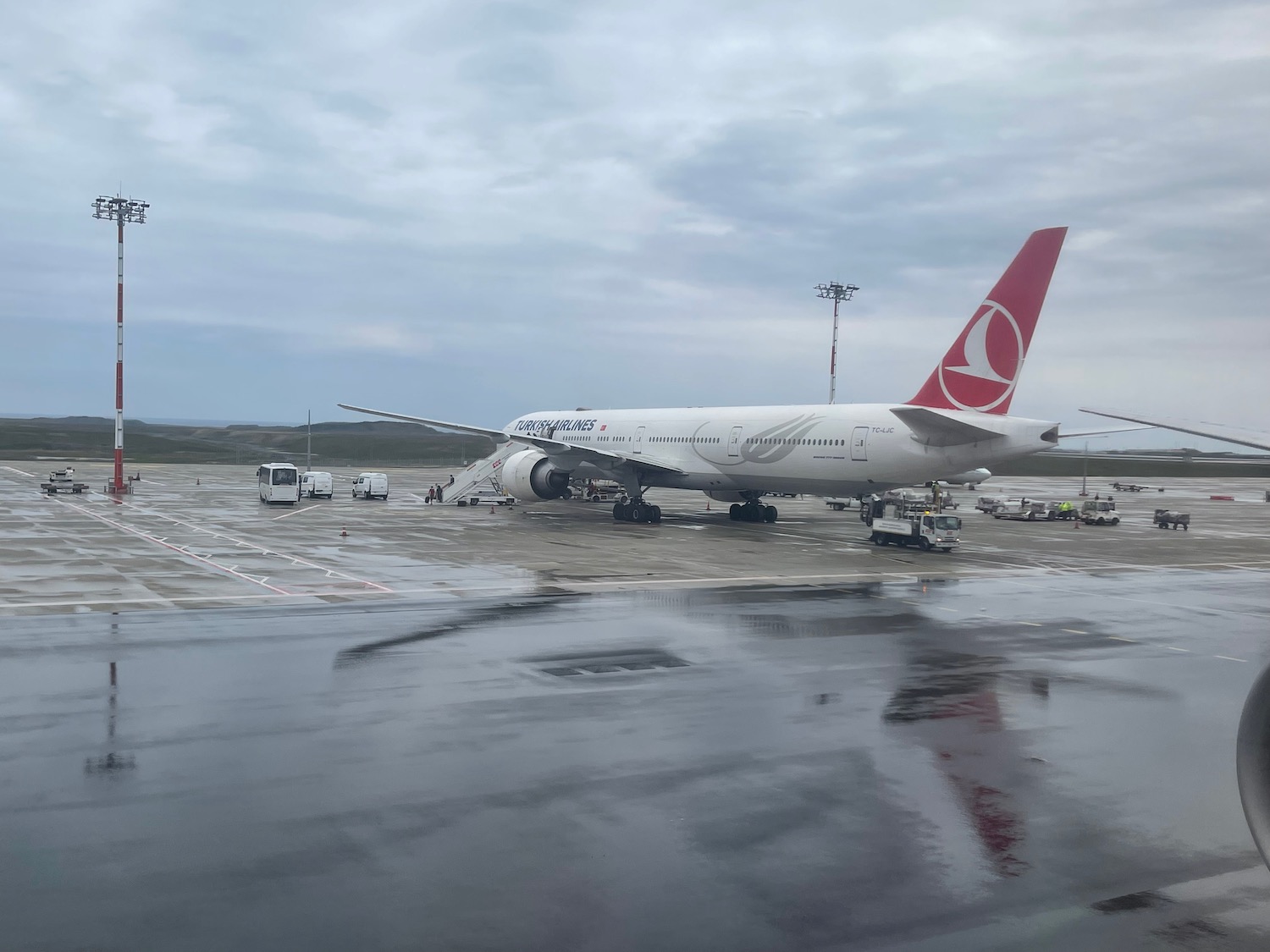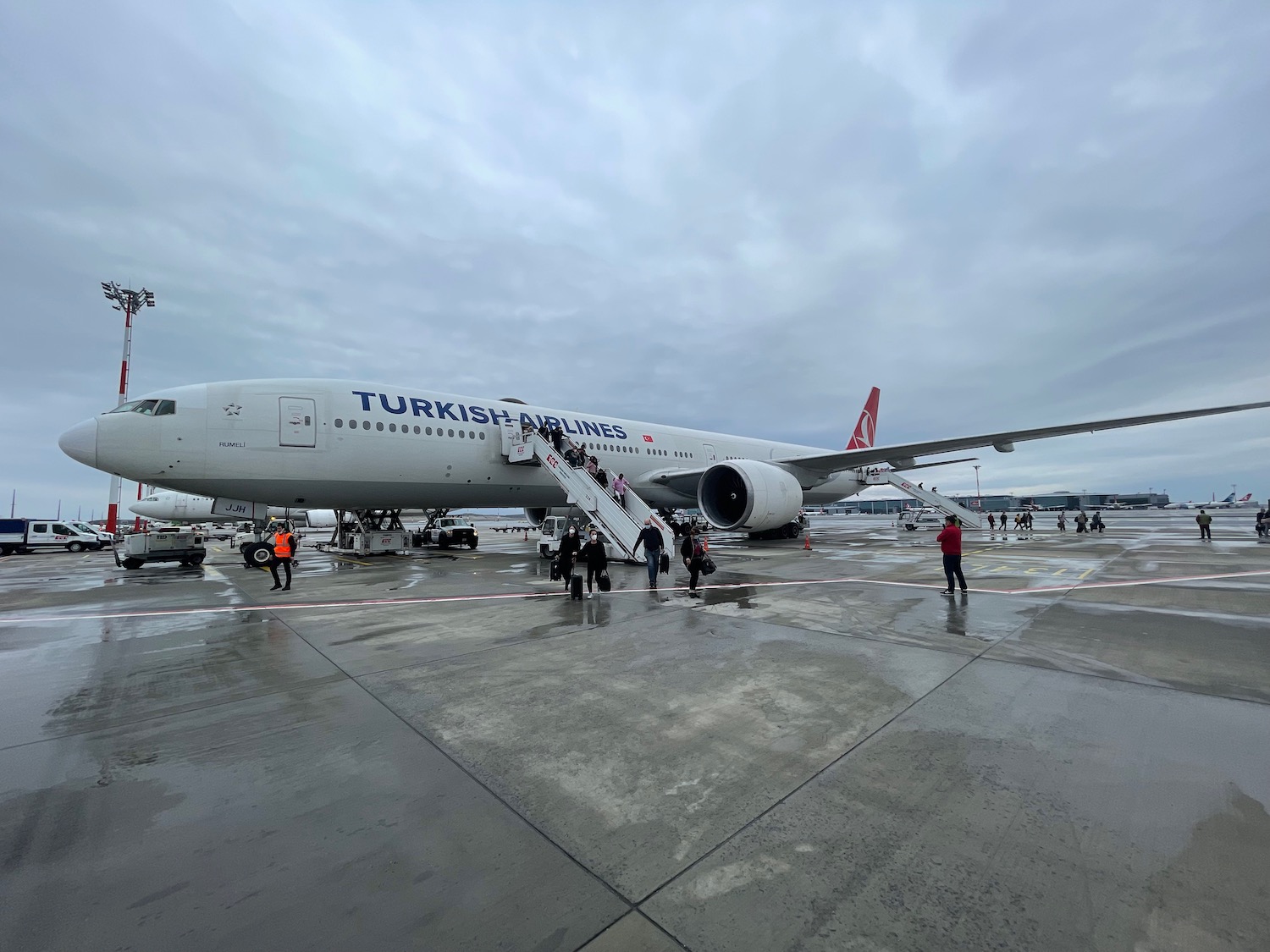 Turkish Airlines offers a dedicated bus for business class passengers which promptly took us to the terminal.
There, I faced a long line for immigration before finally making my way out of the airport and on my way into the city, where I would spend the next few night at the Four Seasons Bosporous.
CONCLUSION
Turkish Airlines offers an excellent in-flight product in business class with comfortable seats, great bedding, and superb food and drinks onboard. While I realize the seat itself on the 777-300ER will be a dealbreaker for some, I would encourage you to approach it with an open mind, especially if you are not traveling alone. For all that this seat lacks in terms of privacy, it makes up for in terms of space to sleep without feeling like you are in a coffin.