Just for fun, I'm going to include a short review of my economy class journey across the country from Newark to Los Angeles on United Airlines onboard the 787-10.
United Airlines 787-10 Economy Class Review (EWR-LAX)
Why economy class? The answer is because I had to get home. My "one day" trip to South Africa was really a three-day trip when you factored in the flights and I wanted to get home as quickly as possible, where an eager family and a lot of work awaited me.
I was originally booked via San Francisco and then down to Los Angeles, with my business class upgrade clearing from EWR to SFO. I gave up my upgrade and wound up in "deep coach" in order to get home five hours earlier. And I didn't regret it…in fact, I ended up sleeping for most of the flight.
After stepping off my Johannesburg flight and clearing immigration, I walked from Terminal B to Terminal C, which seemed much faster than taking the AirTrain.
Boarding was chaotic in Newark. With the flight full, 318 passengers were waiting to board. Boarding commenced on-time and passengers stepped aside to allow priority boarding.
Although as 1K member I can pre-board, I was sitting in the gate area feverishly working prior to the flight.  Internet has been much more dependable on United lately, but I take no chances and had some essential email to send out and a blog post to finalize before stepping onboard.
As boarding neared conclusion, I joined the queue. I was not worried about overhead bin space since I was simply traveling with my small Nomad Lane Bento Bag, which can easily slide underneath my seat.
United Airlines 1499
Newark (EWR) – Los Angeles (LAX)
Thursday, December 16
Depart: 08:29 AM
Arrive: 11:39 AM
Duration: 06hr, 10min
Distance: 2,454 miles
Aircraft: Boeing 787-10
Seat: 45A (Economy Class)
Onboard, a flight attendant said hello and offered me a sanitizing wipe, then asked if I needed help finding my seat.
I found my seat and also found the middle seat still empty. I hoped for a no-show, but my seatmate finally showed up. I don't have cabin pictures because I wanted to respect the privacy of other passengers. I've reviewed this aircraft before in economy class here.
The cabin is configured 3-3-3 and seats have a 31″ pitch with 3″ recline (EconomyPlus, United's extra legroom economy section, has a 34″ pitch with 4″ recline). The seat width is 17.3" and power outlets are available, with two outlets for every section of three seats.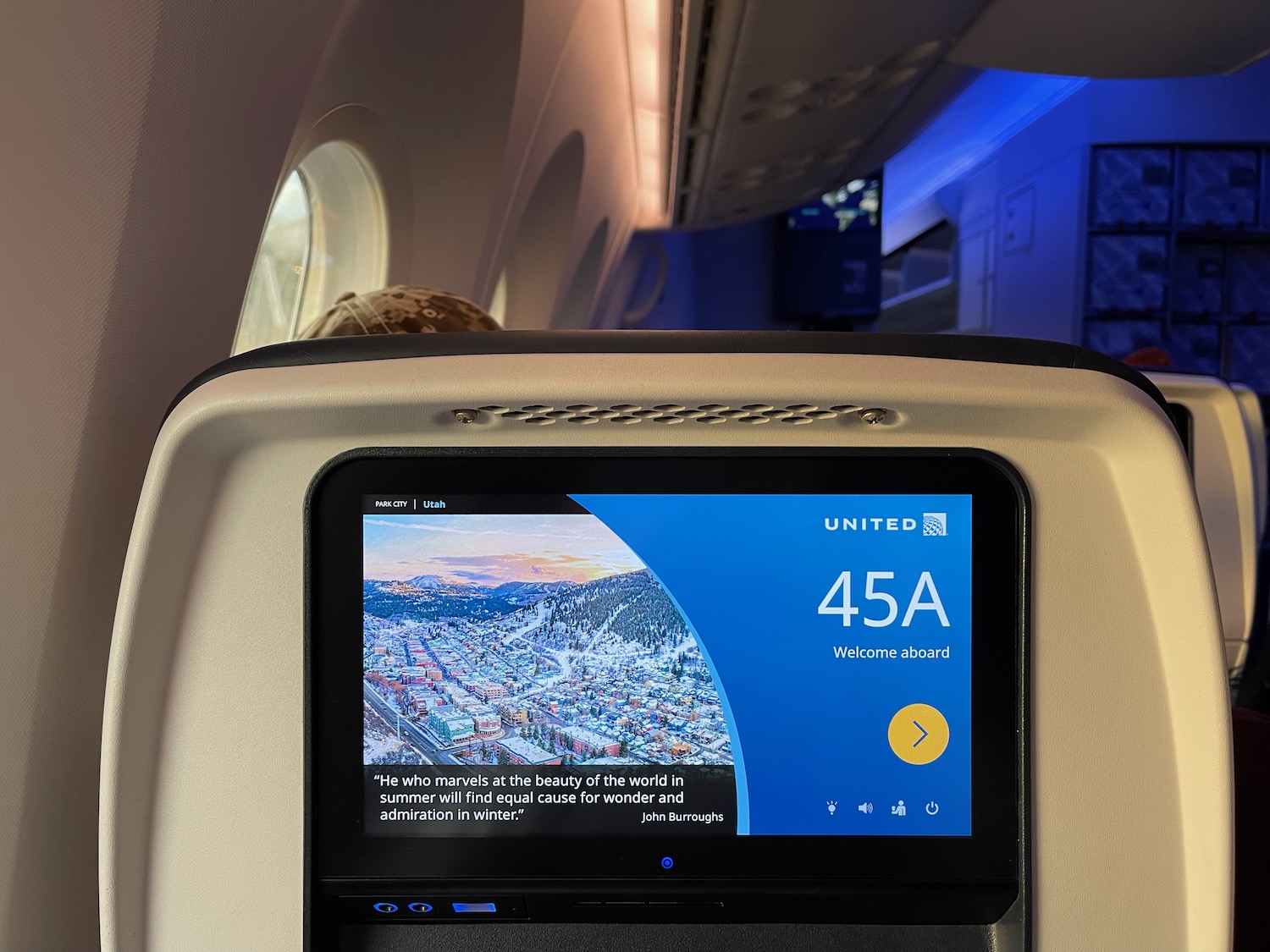 What I like about United's latest Dreamliners is the very modern screens at each seat. There is no more handheld unit, only touchscreen, but the system is highly responsive and easy to use. Complimentary headphones are provided.
We pushed back on time, though there was quite a bit of traffic and it took over an hour to get into the air (this is usually factored in the flight time, but did result in late arrival in LA).
About 30 minutes into the flight, service began with a choice of beverage, free snack (stroopwafel, biscoff, or pretzels), and snacks or meals available for purchase. Meals for purchase included a breakfast croissant sandwich with eggs, Canadian bacon, and cheese or a Beatrix Market chia seed pudding.
.
As a 1K, I was entitled to a free meal plus alcoholic beverage, but I declined during the initial service because I had just had two breakfasts onboard my Johannesburg to Newark flight. Instead, I just took a couple cookies (and placed them in my bag) to go with my cup of coffee.
United uses illy coffee onboard, which is fairly tasty for airline coffee.
I connected to wi-fi ($24.99 for a flight pass) and worked for about three hours. I had planned to have a snack box prior to landing, but ended up falling asleep (shocking after a 16-hour flight in which I spent more than half of it sleeping) and woke up during final approach to Los Angeles.
In that sense, I realize this is a pretty boring report, but helps you understand not all my flights are sexy premium cabin longhaul redemptions.
Upon landing in LA, I encountered crowds like I honestly have not seen before, even before the pandemic:
CONCLUSION
United 1.) got me to LA safely 2.) hydrated and fed me, 3.) provided working internet, and 4.) entertained me with hundreds of movies and TV shows to chose from. While legroom is tight, it was more than manageable for my 6′ 1″ frame and while I will always try to avoid it, when I do get stuck in "deep coach" it is not so bad…