It was a late night at Los Angeles International Airport last night. Very late. In the end, I drove home and climbed into my own bed at 3:15 am. But for six hours I gave it the good fight in an attempt to reach Newark on United Airlines despite a cacophony of delays. But the trip was not meant to be.
United Airlines LAX Delay: Just One Of Those Nights…
I had two appointments in Newark today. One was for an interview (stay tuned) and the other was to preview United's new airport lounge in Terminal A, which opens later this week. On Sunday, I booked a ticket via Washington Dulles on a redeye because I figured that maximized my shot of an upgrade (the cabin was booked 12 out of 20 in business class).
The upgrade cleared on both the Los Angeles – Washington Dulles and Dulles – Newark segments, seemingly validating my routing choice. In the back of my mind, though, I did see the weather forecasts. A large storm was heading for the Atlantic seaboard and the lightning makes travel particularly difficult (ground stops are necessary during lightning due to safety concerns for ground personnel).
Yesterday afternoon the texts from United began. My Los Angeles to Washington flight was delayed, which would lead to a misconnect in Washington.
No problem, I booked on a delayed Los Angeles to Newark flight (originally set to depart at 4:30 pm but delayed to 9:30 pm) that would get me to Newark nonstop and in a lie-flat bed. That's a win.
However, I noticed that my aircraft was coming from Newark and not due in until 9:10 pm. No way we were leaving at 9:30 pm when the aircraft had to be de-boarded, cleaned, and catered.
So I took it easy and did not rush to the airport, arriving just before 9:00 pm. Sure enough, my flight was pushed back to a 10:00 pm departure.
But as I walked into the terminal, the flight was canceled. Crew availability was blamed.
I went up to a kiosk to look at rebooking options…there were none.
With no options, I began walking toward the parking lot to drive home.
However, just before I reached my car I received a text message noting that I had been rebooked.
Ironically, I was rebooked on my original United flight from Los Angeles to Washington with a new connection four hours later to Newark. The LA to Washington flight was now delayed further to 12:30 am. I had lost my lie-flat seat and not brought my bedding along (United only offers bedding on its premium transcontinental flights), but for the sake of my meeting, I was ready to roll with it.
Small problem: our aircraft was coming from Houston and that flight was very delayed.
Hard to depart at 12:30 am 12:45 am when your aircraft does not arrive until 1:23 pm.
Then the Houston – LA delay got worse.
I figured we would cancel, but another aircraft was found. Instead, our aircraft would be arriving from Las Vegas.
For the next couple of hours, I sat in the United Club waiting–not very productive at all. The soup and salad were not bad…
The delay from Las Vegas kept creeping longer.
Just before midnight, the flight from Las Vegas to LA canceled.
I was not surprised considering the reason that the flight was delayed in the first place was to wait for the crew from UA372 (see what I circled in yellow above)…which also canceled.
My pilots were hanging out in the United Club prior to the flight (yes, I had a hunch and spoke to them) and when the Las Vegas flight was canceled, they got up and left. I asked if our IAD flight was still going and they said yes…
At 12:15 am the lounge closed and the staff kicked everyone out…
I proceeded to the gate where I knew the flight would cancel, but like a slow-moving train wreck, I just could not help myself from watching what unfolded next.
At a nearby gate in Terminal 7, Los Angeles – Melbourne canceled because a tire burst during pushback and the captain felt "too tired" to continue the flight (ah, contract negotiation season…).
There was also a medical emergency on a flight to Chicago…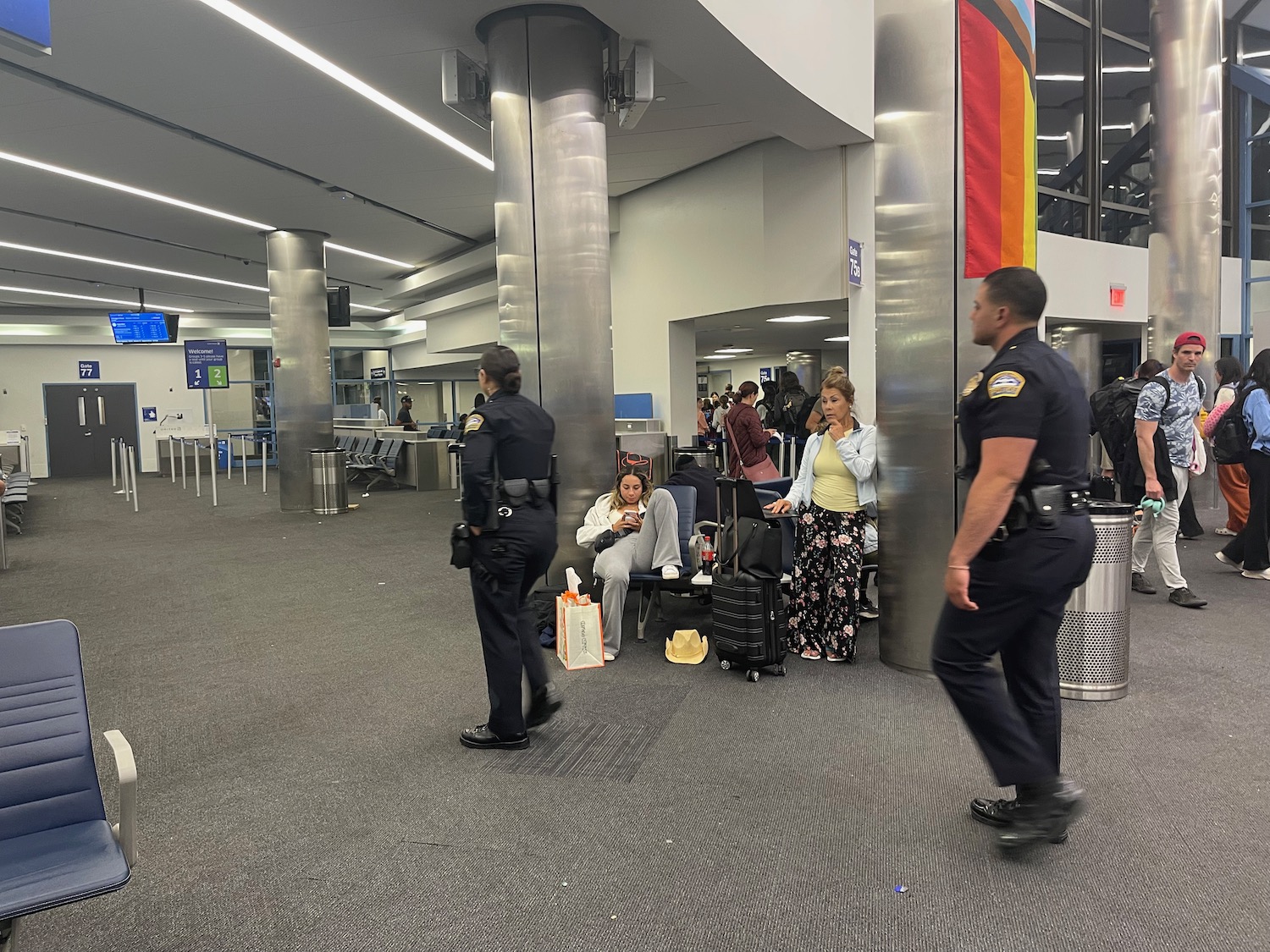 As for our flight, the rolling delay continued and a United Club agent told me before the lounge closed that the internal chatter about the flight was that it would cancel because there was no alternate aircraft at 1:00 am at LAX.
And eventually, the flight did cancel, just before 2:00 am, not that you would know based on the app.
It took the app another 45 minutes to notify us of the cancellation.
United auto-rebooked me this afternoon to Newark via Denver and Las Vegas, including a redeye. No thank you.
By the way, my return from Newark to Los Angeles via Washington also would have been messy. In fact, while driving home I received a text that my return flight from Newark to Dulles this afternoon had cancelled. I had a lie-flat bed from Dulles to Los Angeles, which I hated to miss.
My Takeaways
Here are my takeaways from this incident:
Traveling during a storm is not advised (well, duh)
Delays compound as the day goes on – getting out early in the day seems like your best bet
Rolling delays are not to give false hope, but to avoid foreclosing possibilities, even if remote
I'll miss being in Newark today, but am happy to be at home
Like my recent Delta delay, I feel like United did the best it could in a very unfortunate situation. Yes, this was a bad operational day for United and today is not looking much better. We'll see if it approaches meltdown status, but when the weather does not cooperate (unlike the mechanical delay with Delta), there is only so much you can do. I appreciated that my fellow passengers remained remarkably calm, considering the painful nature of the rolling delay.
On the one hand, there was a high likelihood from the start that my flight would cancel. But I don't blame United for not canceling it right away, because it was actively looking for another aircraft and the crew was there waiting. It was worth looking and not canceling until all possibilities were foreclosed.
But if this foreshadows what we have to expect this summer, I am really going to make every effort to stay home as much as possible (I do have some international trips planned…nothing domestic yet).
CONCLUSION
There's a piano just past the Terminal 7 security checkpoint at LAX.
I took a few years of piano lessons as a child, but one of my greatest regrets is stopping it. Today I really can't play more than the simple melodies of a few hymns by ear.
But on my way out early this morning, I had to stop for a moment and play the melody to Beethoven's Ode To Joy. It just seemed so fitting after such a long day…