For the first leg of my Air Canada mileage run, I flew from Los Angeles (LAX) to Vancouver (YVR) onboard an Air Canada 737 MAX 8 in economy class. While economy class is still economy class, several things impressed me about the product.
Air Canada 737 MAX 8 Economy Class Review
Check-In
Air Canada operates out of Terminal 6 at Los Angeles International Airport. Allowing plenty of time in case there were any issue with my paperwork, I showed up the counter about two hours before departure.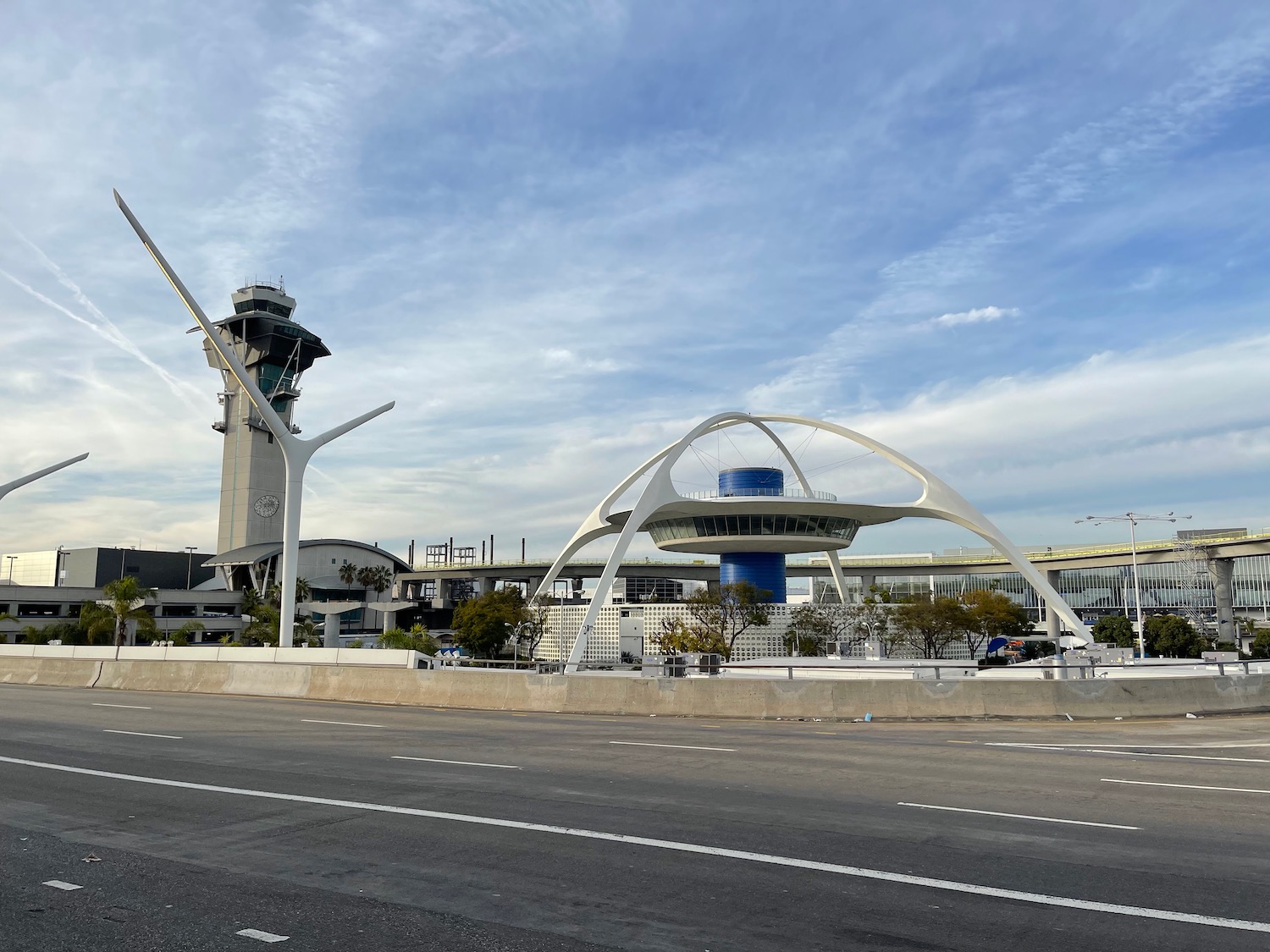 There, I found about five passengers waiting in the economy class line and one gentleman ahead of me in the Star Alliance Gold / business class line. He was an older man connecting from Vancouver to Delhi and had all sorts questions for the check-in agents.
I had access to the priority line because I am an Aeroplan 75K Elite member (I could have used my United Airlines Star Gold status as well). By the way, business class went out half full and I could have easily upgraded on this flight using my e-upgrades, but I chose not to so I could review the economy class product.
When it was my turn, an agent apologized for the delay and quickly checked me in after verifying my ArriveCAN form, vaccine card, and negative COVID-19 test.
With boarding pass in hand, I was directed to the Maple Leaf Lounge past security, which I reviewed here.
---
> Review: Air Canada Maple Leaf Lounge Los Angeles (LAX)
---
Boarding began only 35 minutes prior to departure from Gate 69B.
Air Canada 557
Los Angeles (LAX) – Vancouver (YVR)
Wednesday, February 23
Depart: 5:20PM
Arrive: 8:19 PM
Duration: 02hr, 59min
Distance: 1,081 miles
Aircraft: 737 MAX 8
Seat: 20F (Economy Class)
Onboard, a flight attendant greeted me and offered a hygiene kit.
The aircraft was clean and the larger overhead bin and Boeing sky interior gave it a modern feel.
Seats
The 737 MAX 8 includes four rows of business class in a 2-2 configuration (21 inch width and 38 inch pitch) followed by 153 seats in economy class (18 inches wide with seat pitch ranging from 30-34 inches).
Business Class: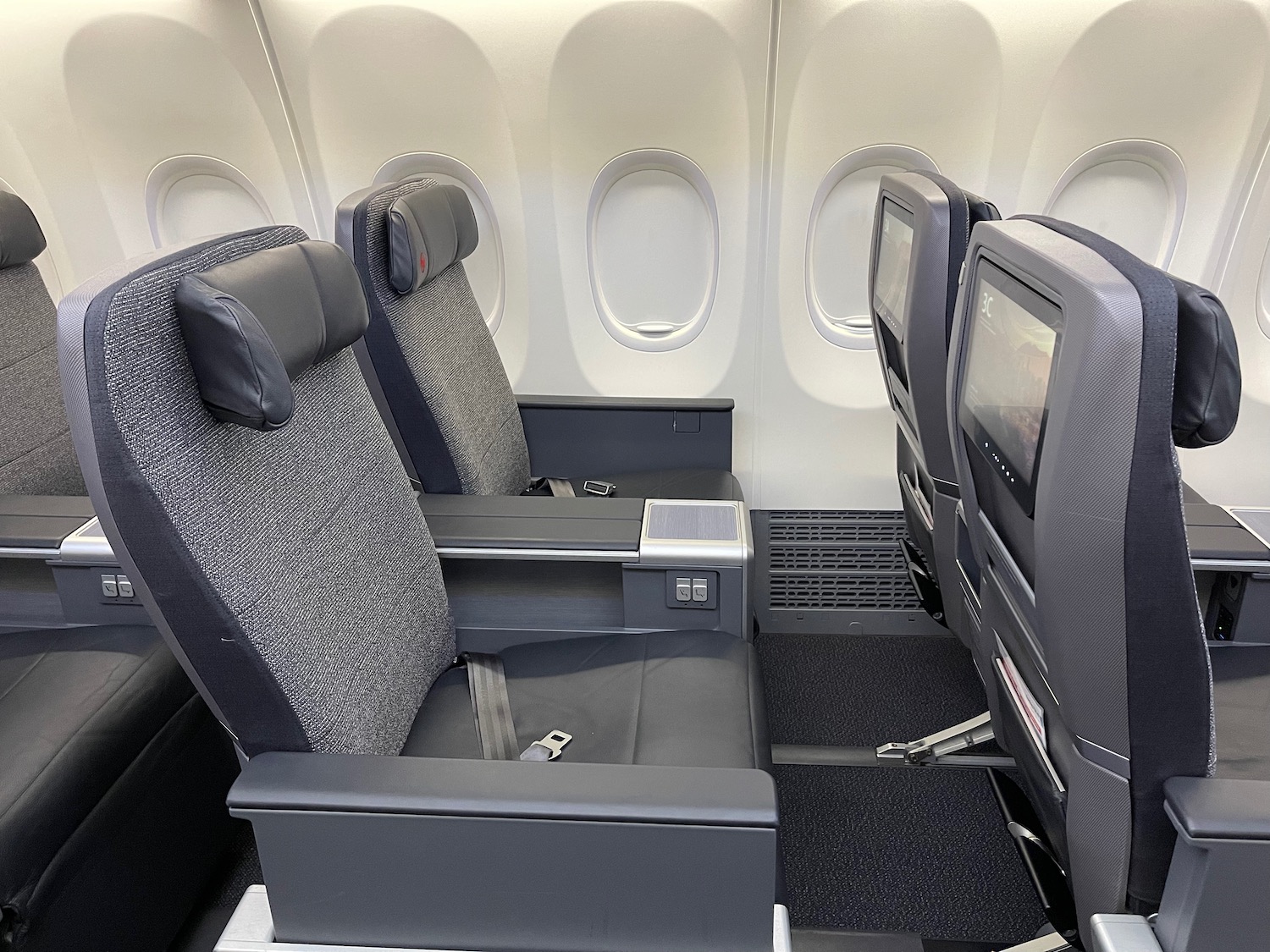 Economy Class: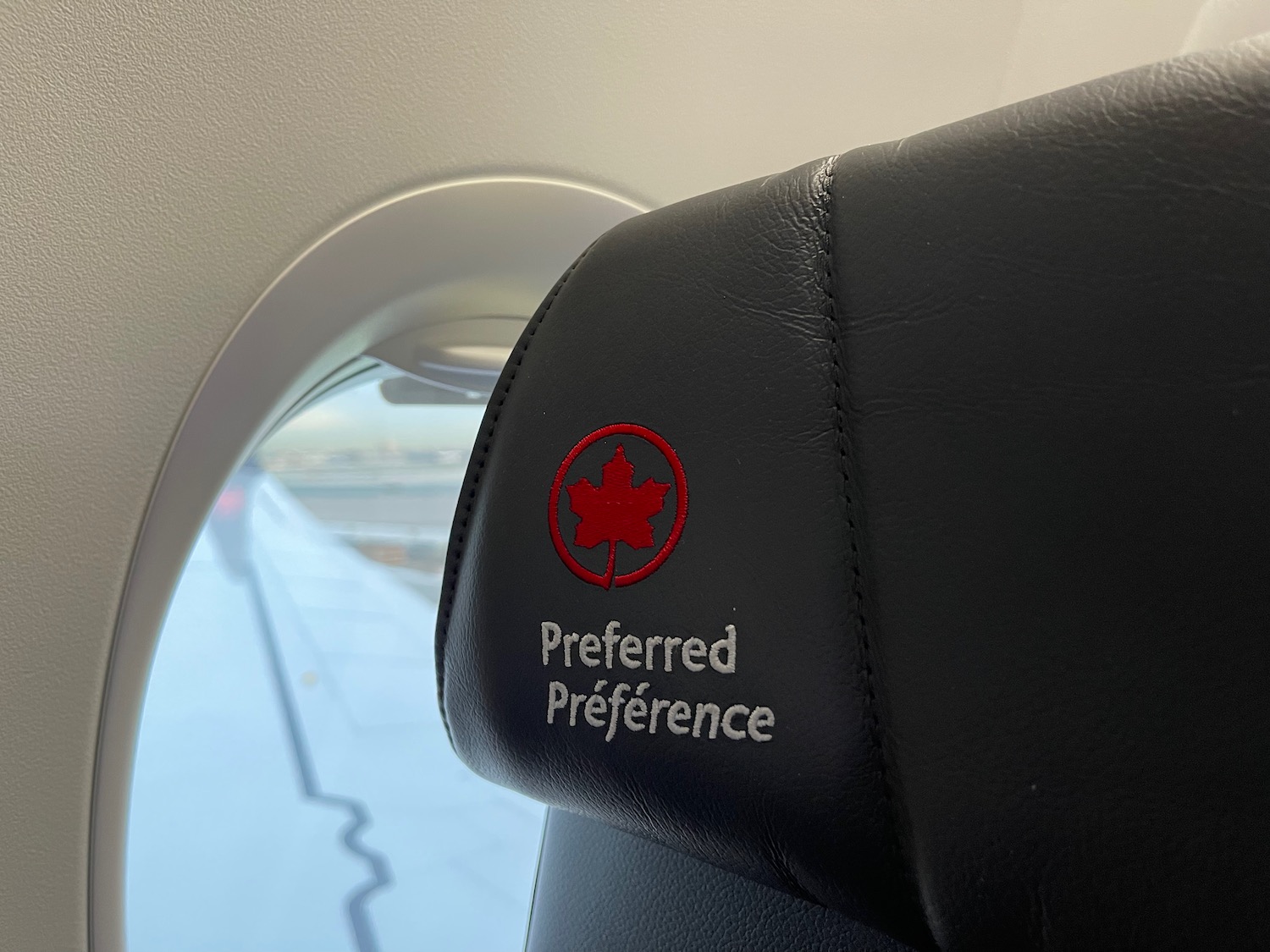 Every seat is provisioned with a universal power plug and fast-charging USB-A outlet.
The economy class seats have an articulating seat pan such that when you recline the seat cushion slides forward to give you the illusion of greater recline. The advantage of this type of seat is that actual seat recline is limited meaning the person in front of you cannot invade your space as much.
I chose an exit row seat, free as a 75K elite, which gave me an immense amount of legroom. At first there was a woman sitting in the aisle seat of my row, but after the door closed she moved to her own row: the flight was only about 1/3 full.
IFE + Wi-Fi
Air Canada offers seatback IFE on all mainline flights and not only was the screen large, but the touch-screen system well-designed and easy to navigate. A wide selection of movies was available as well as TV programs, games, and music.
Furthermore, the in-flight menu, including a full selection of beverages, snacks, and meals for purchase were displayed on the screen, which makes so much more sense to me than printing menus.
Headphones are not provided on a complimentary basis, but can be purchased for C$3.50 (or C$9.95 for noise-reducing silicon earphones in a protective travel case).
The only glitch was the in-flight map, which did not work on my screen:
(I ended up just using the middle seat screen)
Interestingly, wi-fi is not available on the Air Canada 737 MAX, which seems like a huge missed opportunity. I still stayed busy without it.
Lavatory
The aircraft only had three lavatories; one in the front for business class and two in the rear for economy class. The two rear lavatories are very small, with barely enough room to turn around. Thankfully, the water did not splash all over the mirror and door, but that's only because the pressure has been turned down. They are what they are, but as North Americans grow larger, these faculties are pretty poor.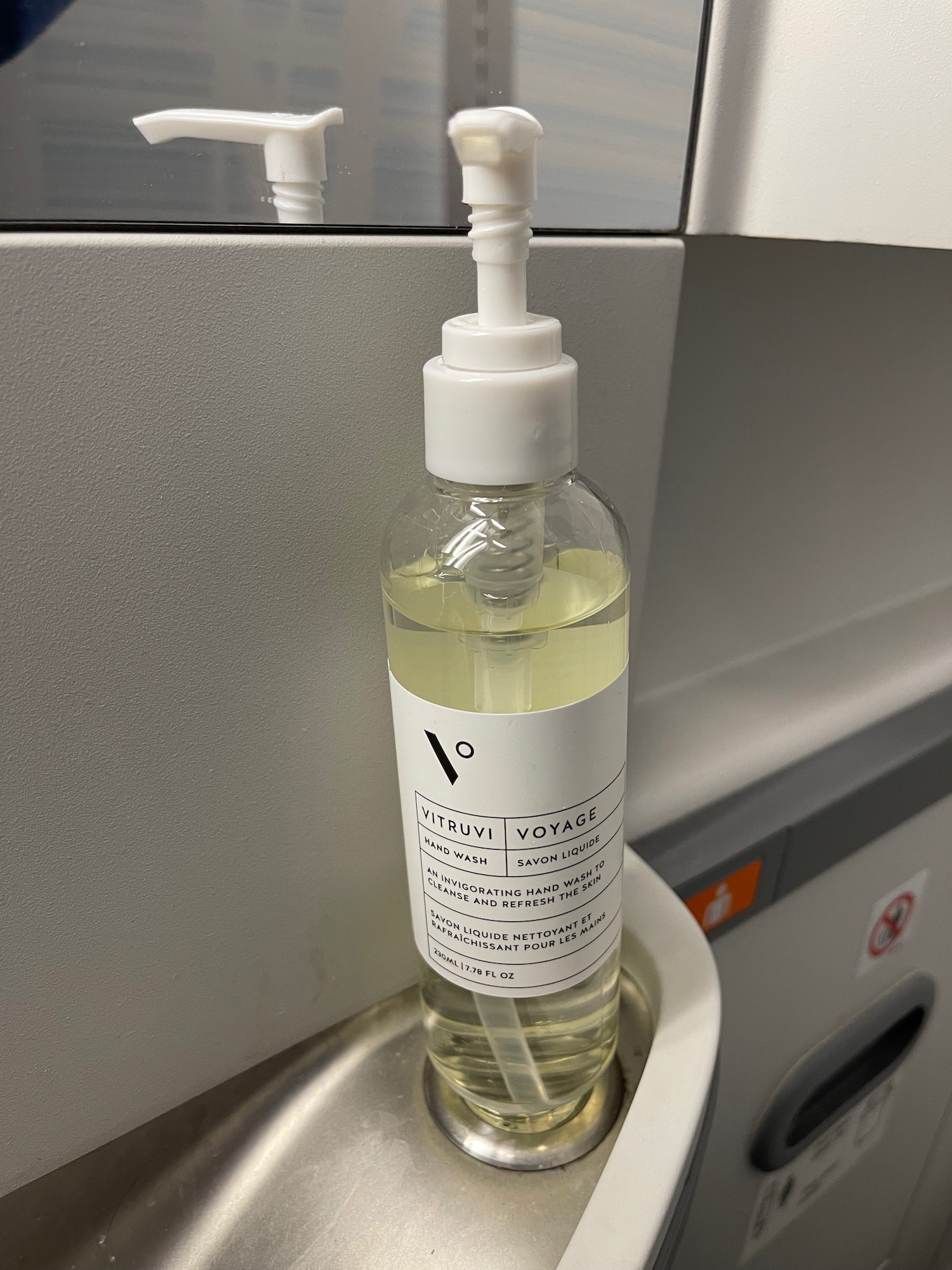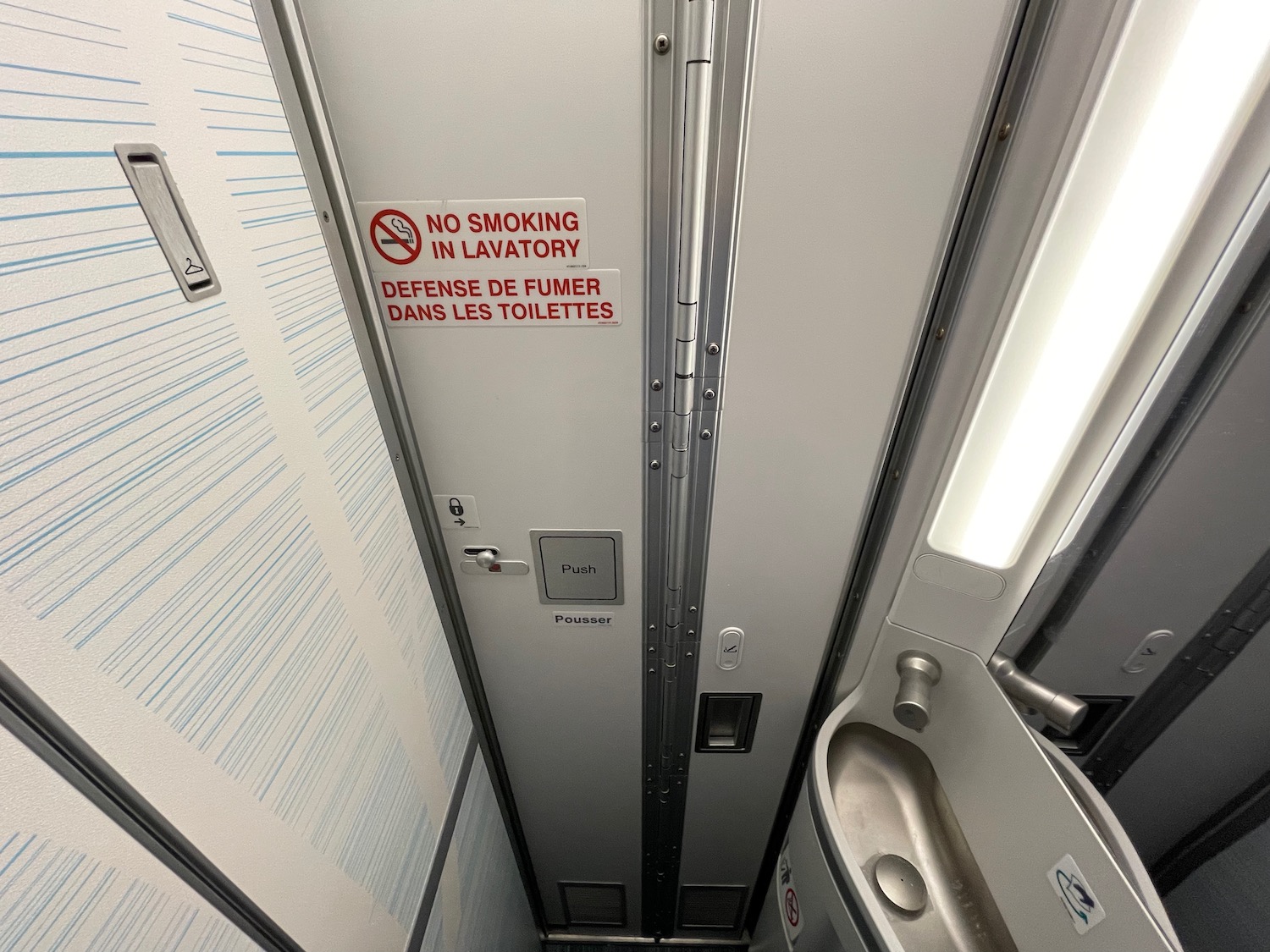 Food + Drink
Flight attendants began service about 30 minutes after takeoff, with economy class passengers offered a complimentary drink. I appreciated that Air Canada has lemon wedges, something that has been missing on United for two years now.
I had originally planned to order pizza, but noticed that unspecified "meals" were available for C$13.5o. I asked what that was and a flight attendant called out to her colleague, asking if there were any business class meals left. Indeed, there was a chicken dish available. C$13.50 for a business class meal? Yes, please.
The meal was delivered covered in foil on a small tray. Unwrapping it, I found chicken in a mushroom sauce with carrots, broccoli, and Israeli couscous. While it was not served with metal cutlery, plastic utensils were provided.
I found the dish very tasty and greatly appreciated the concept of being able to order a business class meal in economy class.
My meal came with a side, and I chose cashews.
Full menu here.
CONCLUSION
We landed ahead of schedule in Vancouver, with an actual flight time of two hours and twenty minutes. As I look back on my flight, I note the missing wi-fi, but loved everything else about this flight, particularly the large IFE screen and meal for purchase. I would not hesitate to fly on the Air Canada 737 MAX 8 again, even if the flight was more crowded.