From Vancouver to Toronto I deliberately turned down an upgrade to business class in order to review premium economy class on the Air Canada 787-9. While I missed the lie-flat seat, especially on a redeye, I enjoyed a very pleasant flight.
Air Canada 787-9 Premium Economy Class Review
Booking + Upgrade
I booked this ticket as part of a round-trip ticket to Toronto (details here). I upgraded from economy class to premium economy using my e-upgrades (it cost seven points).  I could have upgraded to business class for 11 points (points which were expiring anyway) but I figured the premium economy class review would be more relevant to more readers, plus I'd rather fly premium on a domestic flight than a longhaul flight.
Boarding
After spending a couple hours in the domestic Maple Leaf Lounge in Vancouver, I headed over to the gate, where boarding would short commence about 45 minutes prior to departure. The flight would be full and gate agents were soliciting carry-on items to check free of charge.
This would be my first-ever domestic flight in Canada.
Air Canada 128
Vancouver (YVR) – Toronto (YYZ)
Wednesday, January 12
Depart: 10:55PM
Arrive: 6:12AM+1
Duration: 04hr, 19min
Distance: 2,085 miles
Aircraft: 787-9
Seat: 13A (Premium Economy Class)
I was one of the first passengers onboard and a flight attendant greeted me and directed me toward my seat, handing me a sanitation kit with a mask and sanitizer.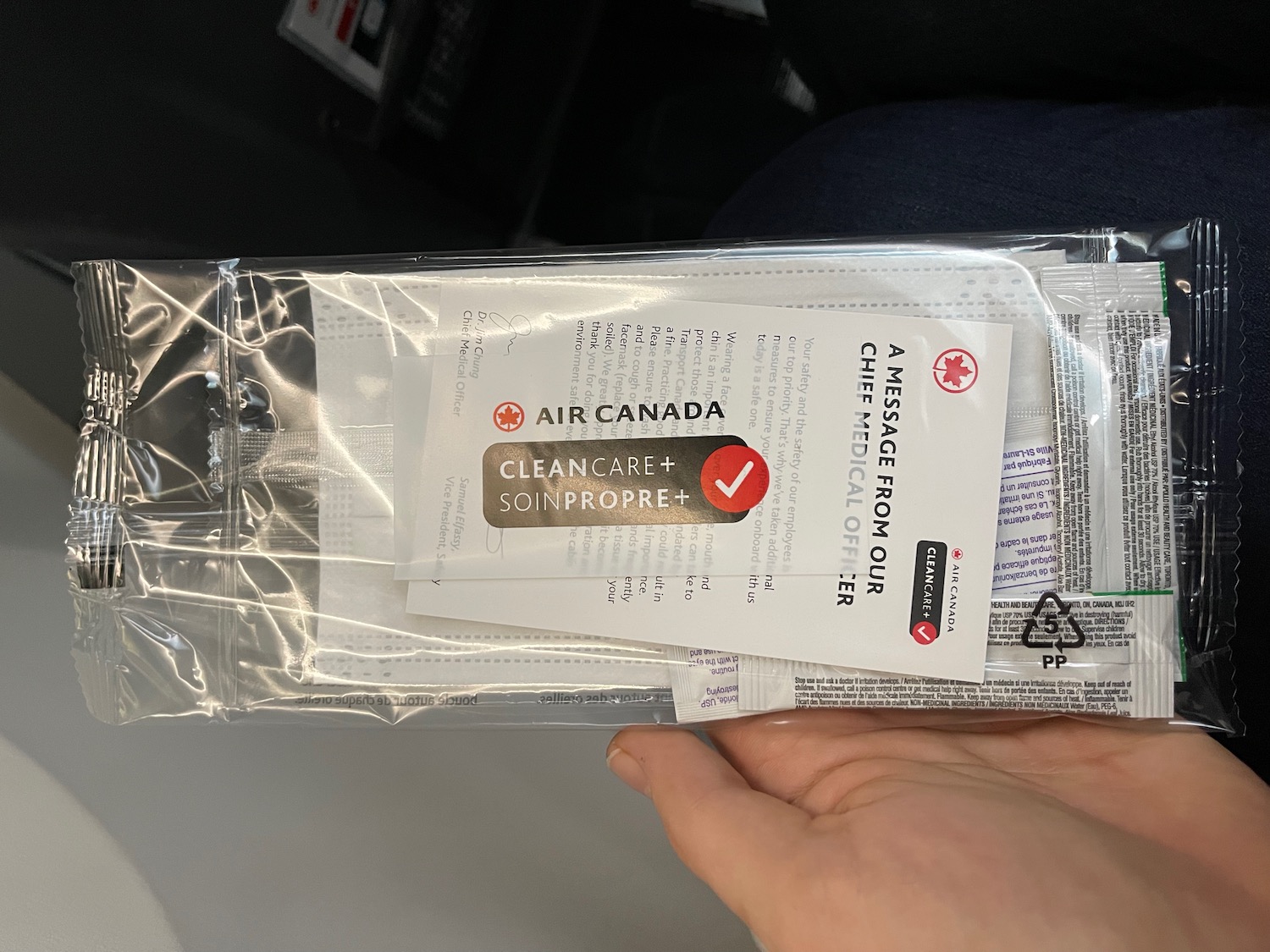 I briefly glanced in the business class cabin, certainly questioning whether I made the right choice in opting not to upgrade to business class. (you can read my business class review of the Air Canada 787-9 here)
---
> Read More: Air Canada 787-9 Business Class Review
---
I made a mistake and took the wrong seat…13K instead of 13A. Eventually the passenger showed up and I shuffled over. Note to self: read the boarding pass.
Seats
Air Canada's premium economy seats on the Boeing 787-9 are arranged in a 2-3-2 configuration with 19 inch width and a 38 inch seat pitch. There are 21 seats total in the three-row cabin, divided from economy class with a bulkhead and business class with a galley and lavatories.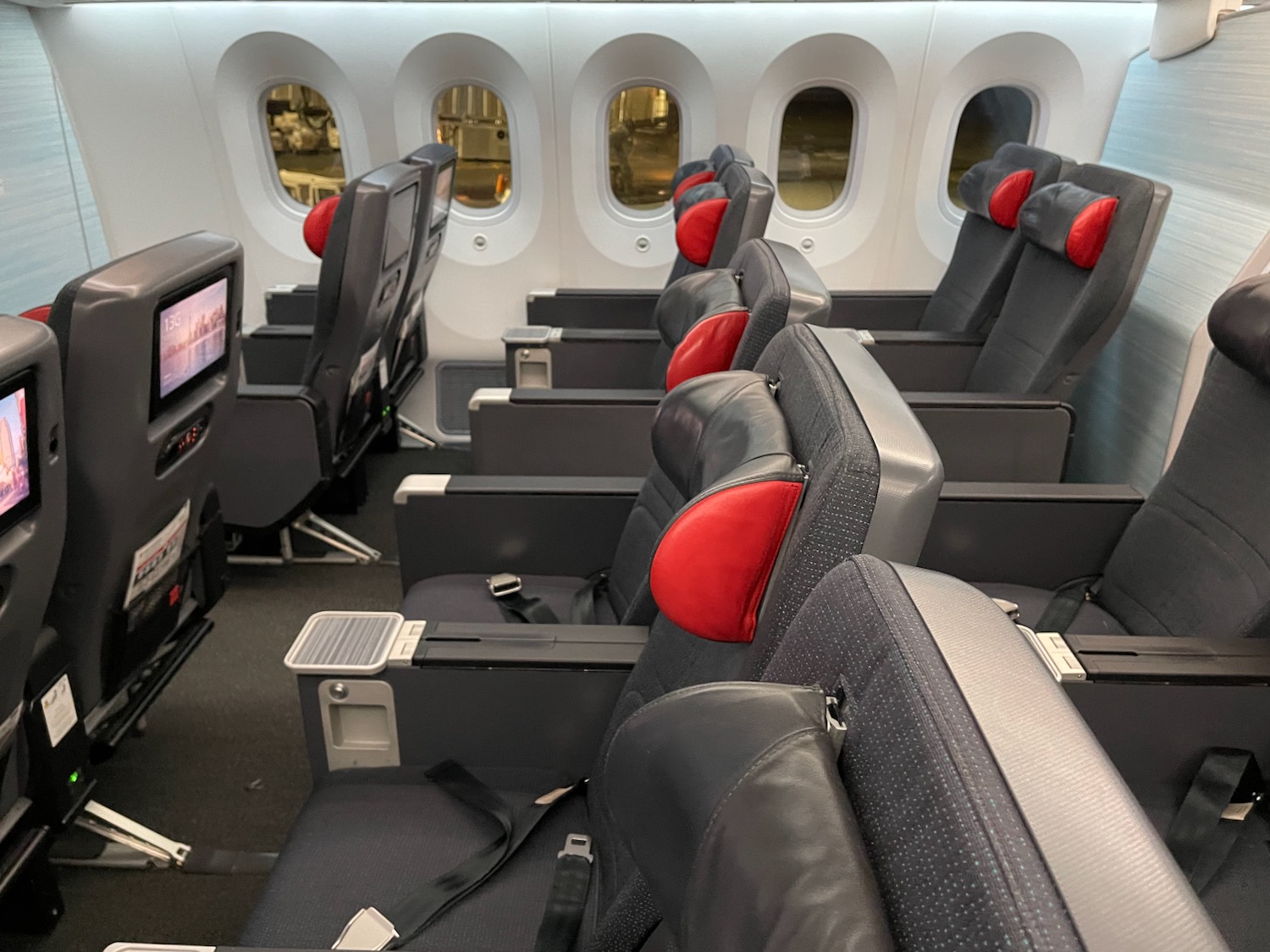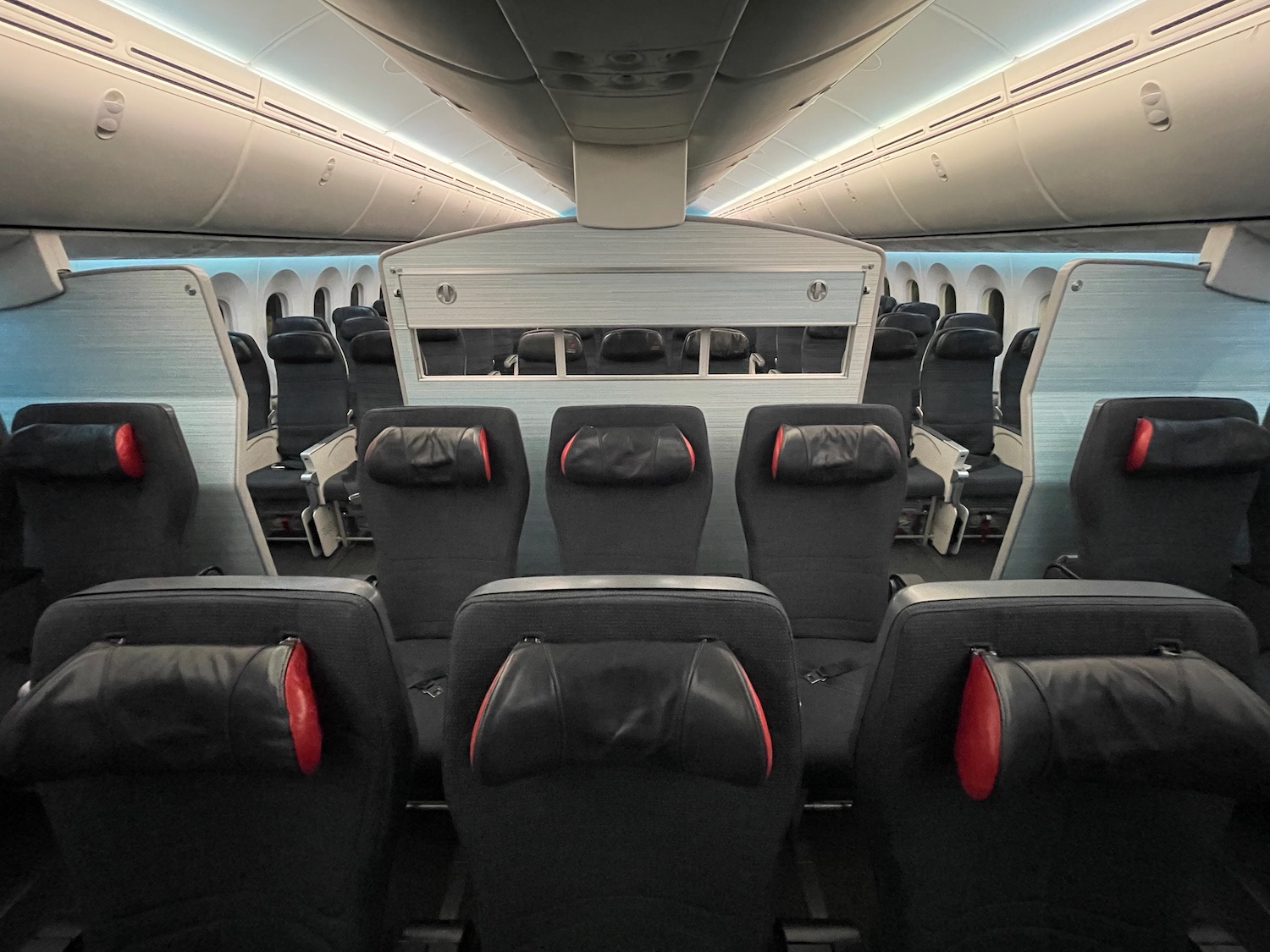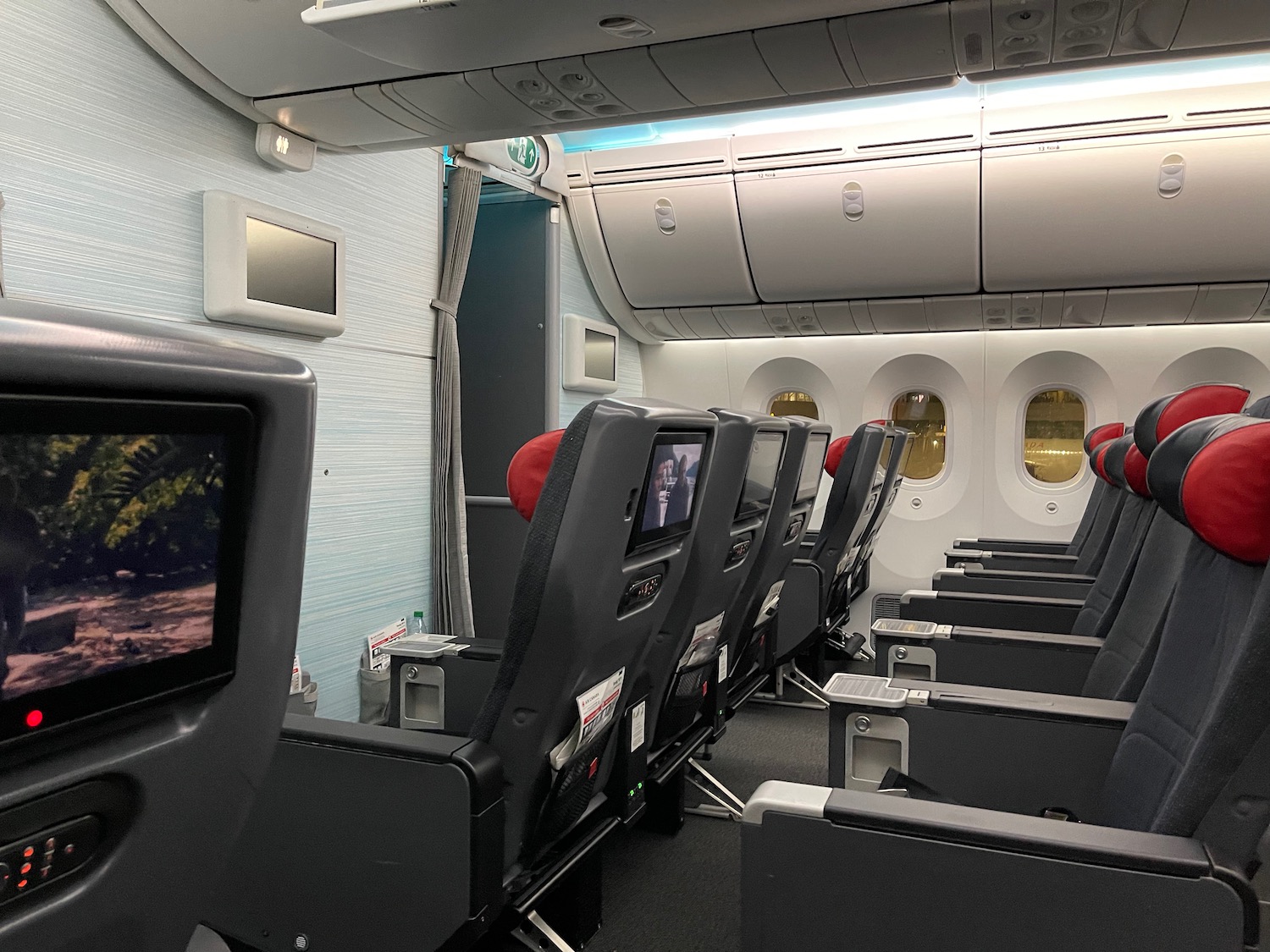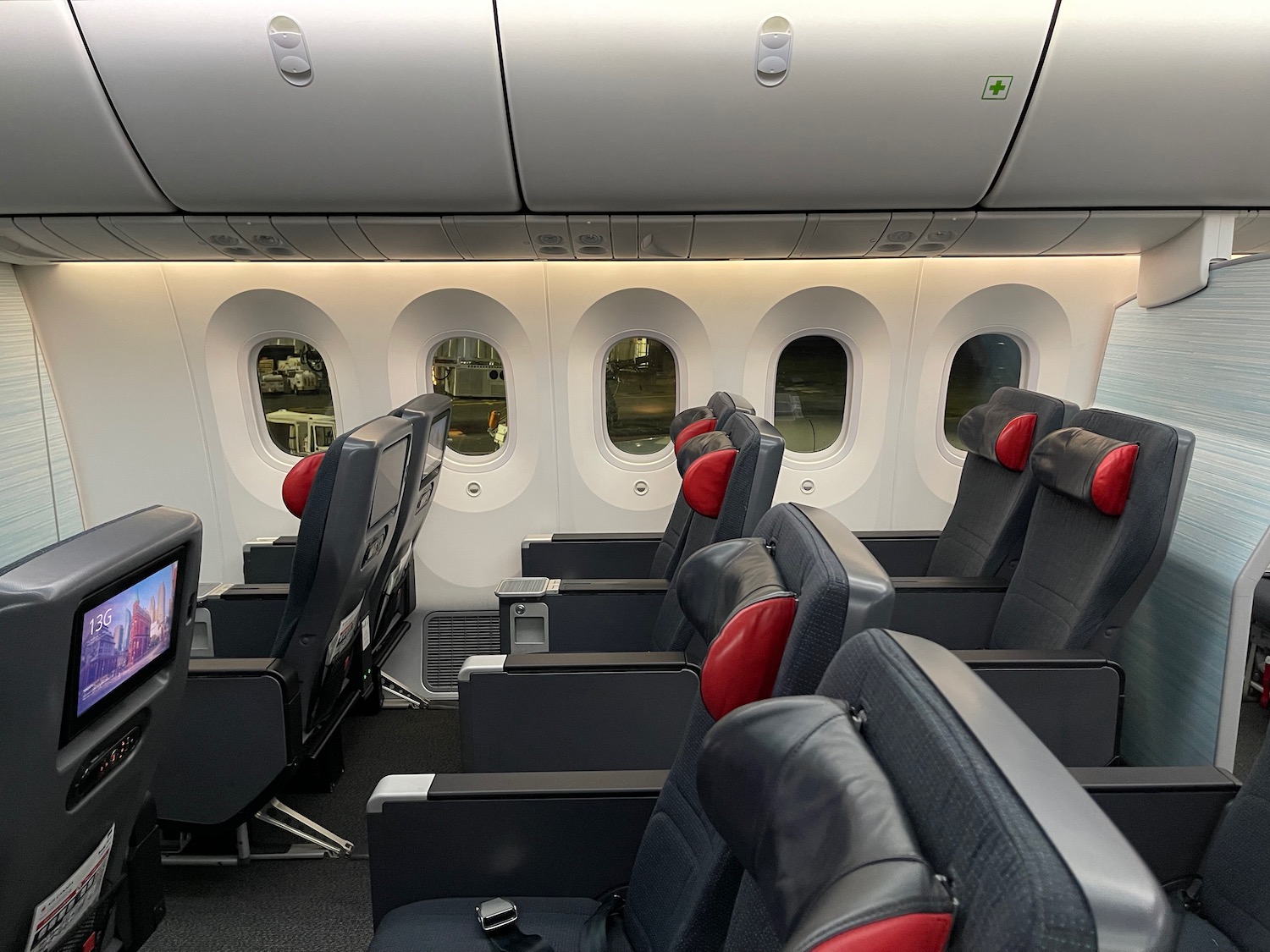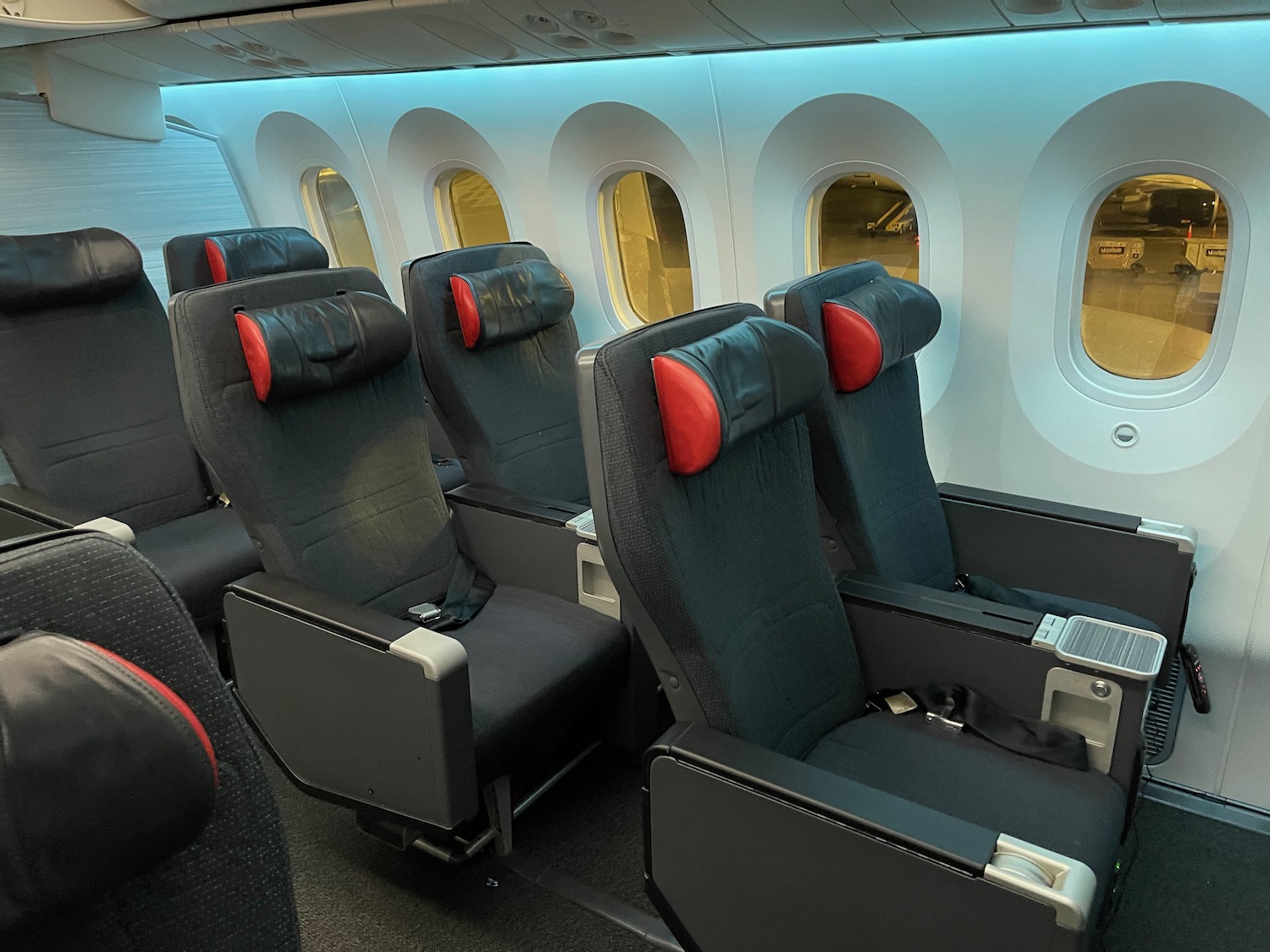 First row seats have a footrest attached to the seat while the second and third rows have a footrest that extends from the seat in front.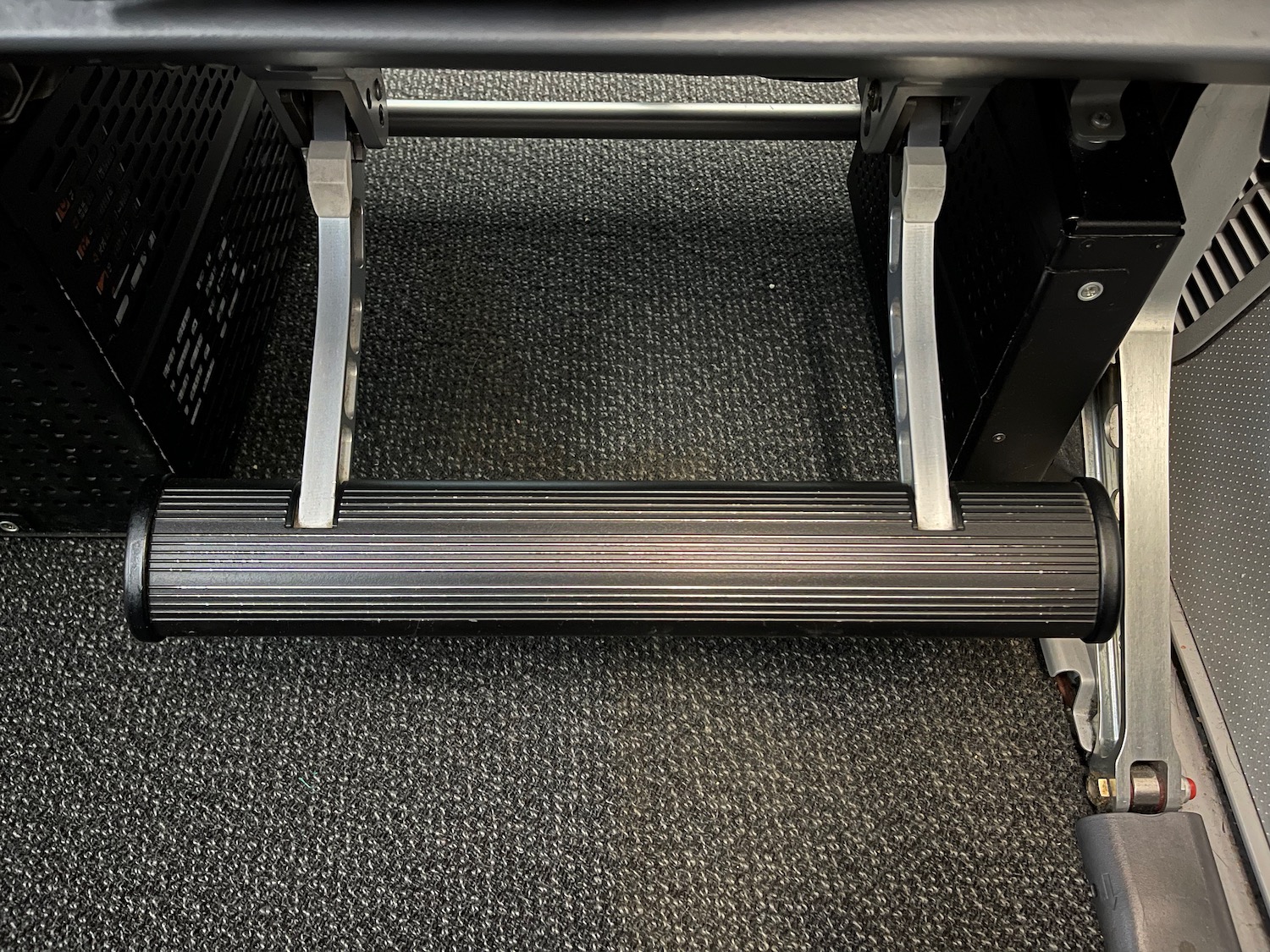 Power ports are easily accessible and there's a small table between seats large enough for two beverages.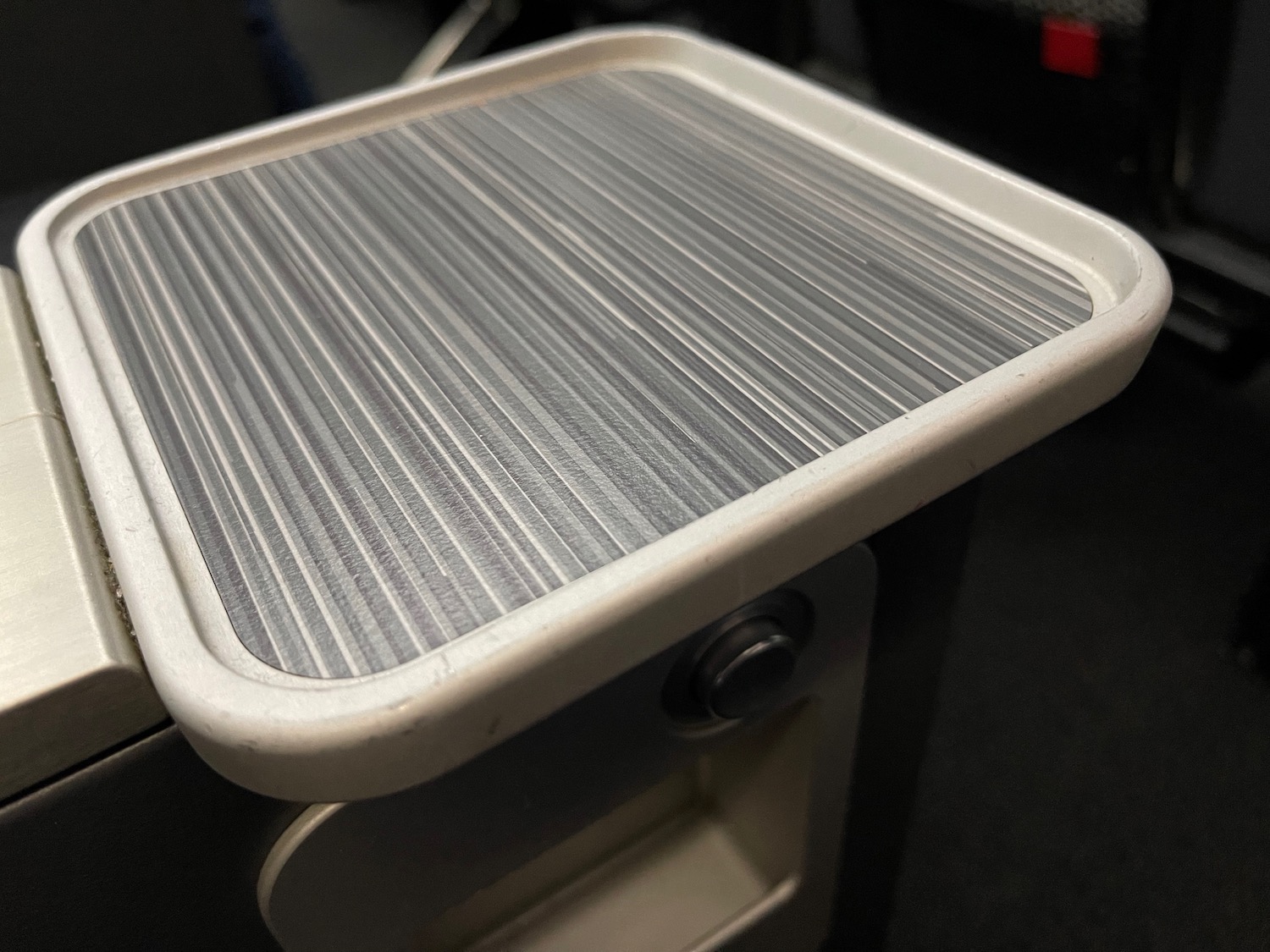 An 11 inch video monitor was attached to the seat in front of me, along with a passenger service unit (the screen was also touchscreen).
Seats also have a coat hook.
Recline was seven inches and I was actually able to sleep well during the flight, though are time in the air was only 3.5 hours and I awoke an hour before landing to eat. The button to recline the seat is manual – you have to lean back to recline the seat.
Blankets and pillows were not provided, but I had brought my own blanket from home and used my sweater as a pillow.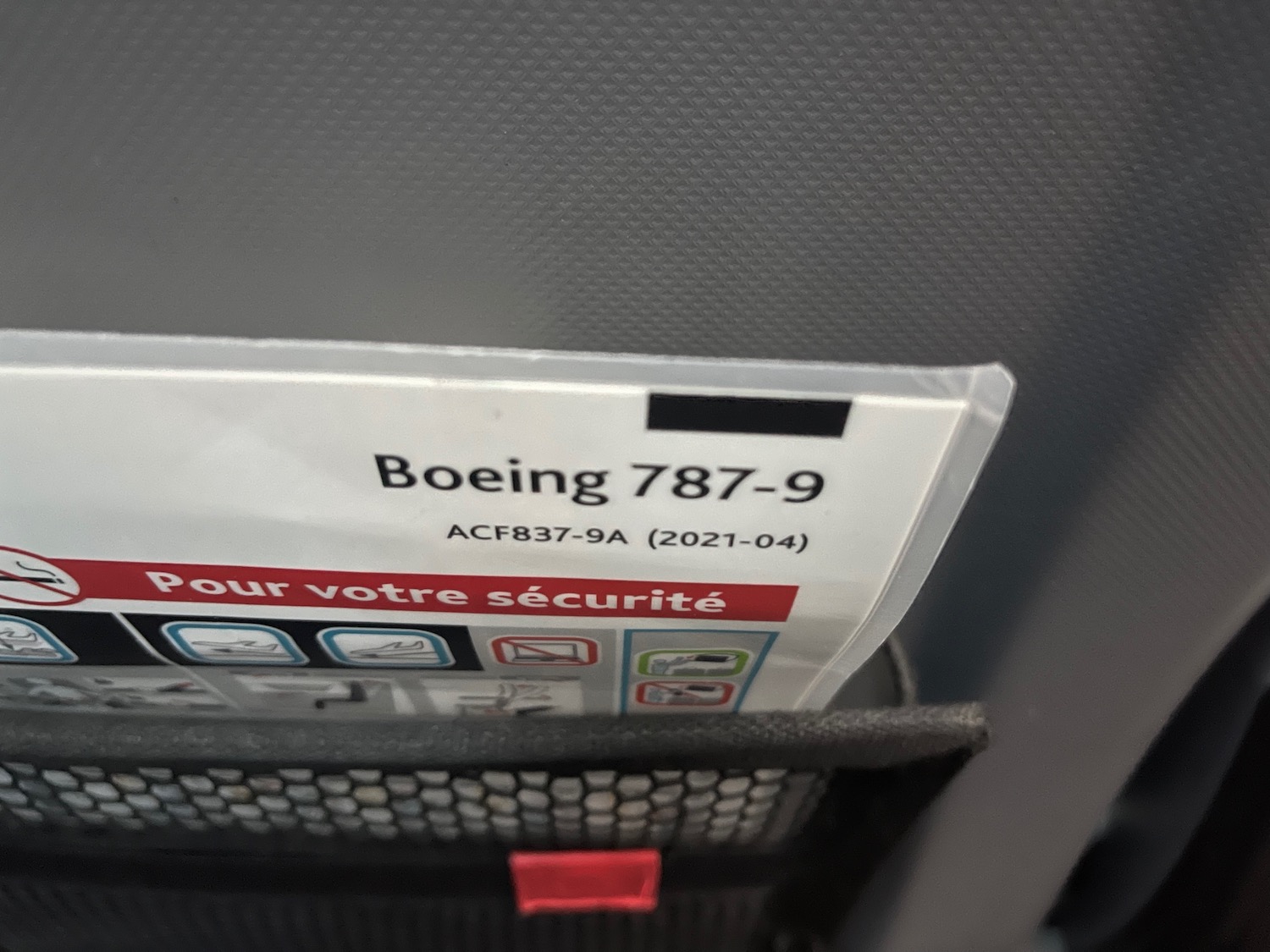 Food + Drink
After takeoff, flight attendants offered a choice of beverage and a snack basket selection. I enjoyed an Canada Dry club soda with lime and a bag of Miss Vickies potato chips. Other selections included chocolate and popcorn.
Menus were distributed and during the initial drink service passengers were asked if they wanted to be awakened prior to landing for breakfast. Even though there was no choice of meal, I appreciated the physical menus.
I like the idea of a pre-arrival breakfast service and being able to go quickly to sleep after takeoff…it's something I wish U.S. carriers would try as well.
About an hour prior to arrival, a flight attendant gently woke me up (kudos to her for doing so, for I would have been upset had I slept through breakfast). The meal service was delivered on a tray and included a croissant, fruit, yogurt, and a covered egg dish (a parsley omelet with hot cottage cheese and salsa, chicken sausage, and potatoes).
I love eggs and thought this was a very tasty dish (it's apparently a staple on Air Canada that has been around for years). I just had another club soda, saving my coffee fix for the Air Canada Café in Toronto Pearson. My only complaint was that the croissant was not warmed…that makes a huge difference.
Finally, kudos to Air Canada for serving premium economy class meals on proper dishes with "real" glasses and cutlery. It's a small but important differentiator from economy class.
In-Flight Entertainment + Wi-Fi
Wi-Fi internet was available for purchase at a cost of CA$11.25 or 1,150 Aeroplan points (horrible deal with points) for the entire flight. I chose not to connect because it was late at night and I just wanted to sleep.
The IFE selection included a large library of music, TV programming, movies, games, and a moving flight map.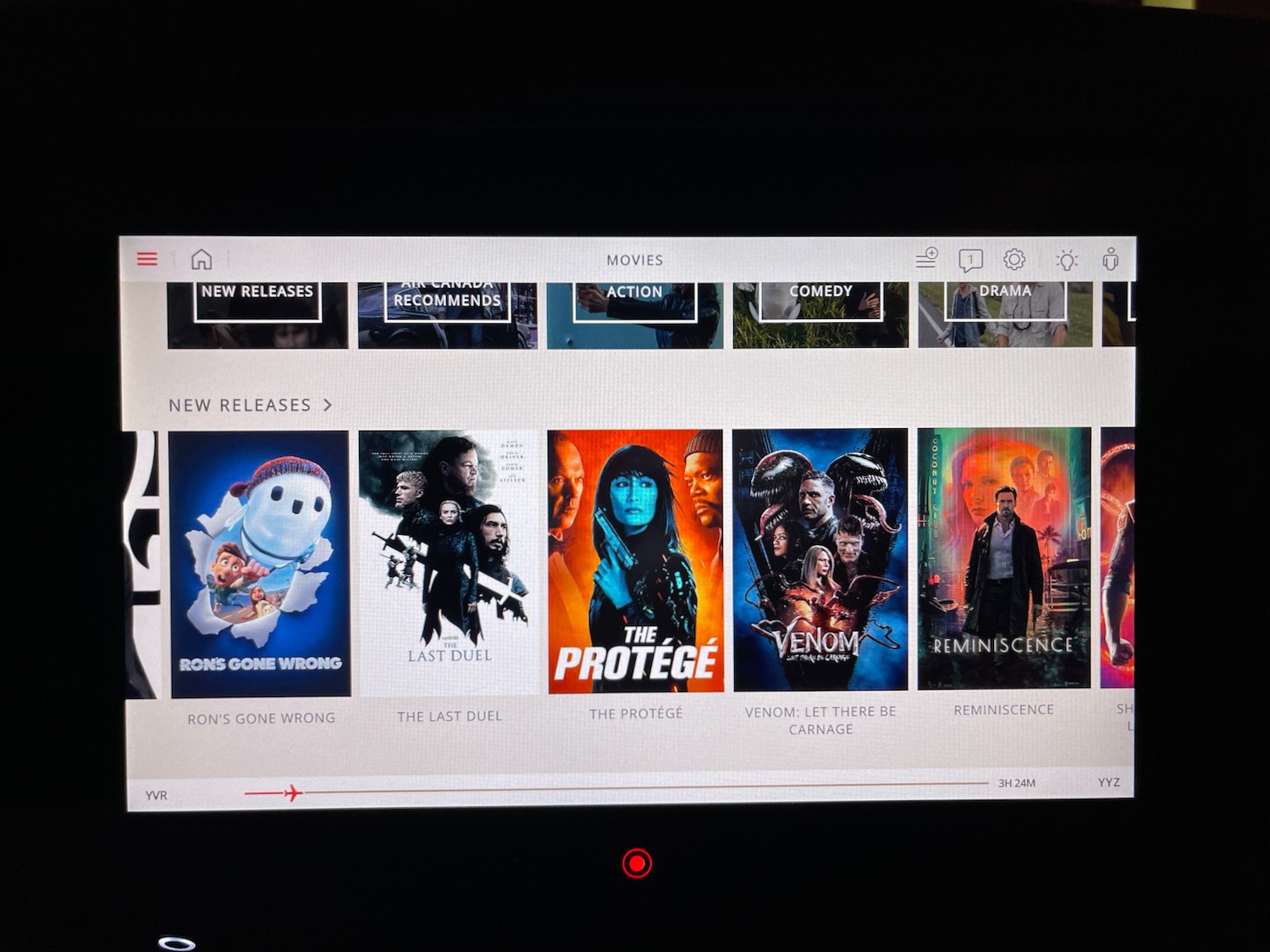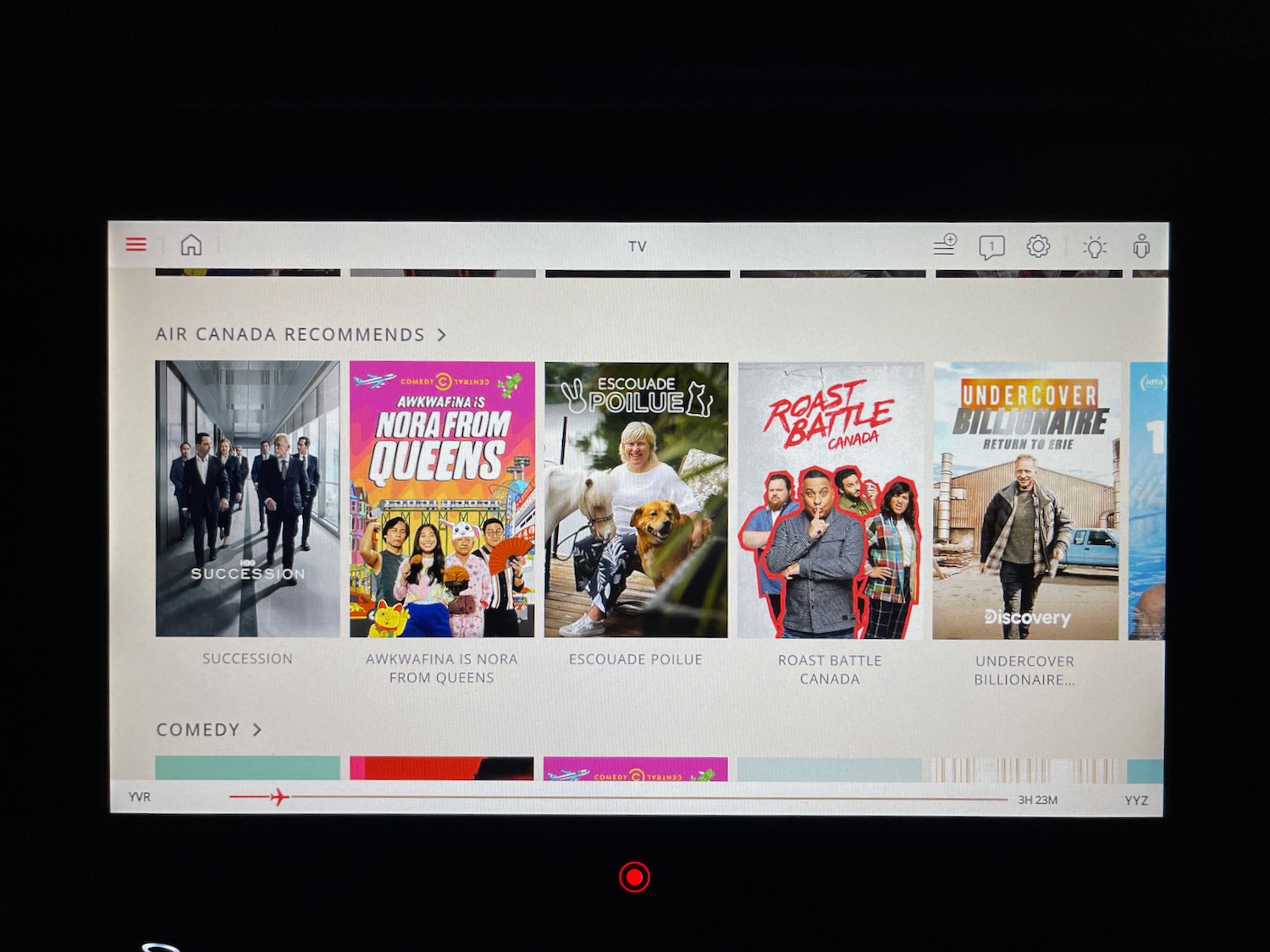 Complimentary earbuds were provided.
Lavatory
The lavatory was clean, but did not include any special amenities. No amenity kits were offered either on this brief overnight service. Soap was from Vitruvi. I did like the blue mood lighting in the lavatory.
Service
Lovely service on this flight, which was not just kind and well-intentioned, but expeditious, which is so important when trying to sleep on a short redeye flight. The flight attendant patrolled the cabin several times after takeoff offering additional bottles of water:
I again note how much I appreciated the service flow on this flight.
CONCLUSION
We landed in Toronto early and I truly did want a bed…but a big day of lounge reviews and more flights was ahead of me. I would not hesitate to fly Air Canada again and found it a nice upgrade over economy class in terms of soft product. My ability to sleep, however, was probably more due to my fatigue than the seat itself. But all in all, a great flight.